Abstract
Purpose
The purpose of this study was to investigate the potential association between central sensitisation inventory (CSI) scores and post-operative patient-reported outcomes (PROs) in patients underwent osteotomy around the knee (OAK), with a CSI cut-off score specific for knee osteoarthritis.
Methods
CSI scores were collected from 173 patients who underwent OAK, along with their knee injury and osteoarthritis outcome score (KOOS) and pain numeric rating scale (NRS) scores. Patients were divided into high-CSI score group and low-CSI score group with a cut-off score of 17. Multivariate linear regression was performed to test the association between CSI scores and post-operative outcomes. Pre-surgery KOOS and NRS scores and the rate of attainment of minimal clinically important difference (MCID) of KOOS scores was analysed as secondary outcomes.
Results
Low-CSI score group had significantly higher post-operative KOOS scores and lower pain NRS scores compared to the high-CSI score group (< p = 0.01) after adjusting for confounding factors. For pre-operative scores, only the KOOS-Symptom score was significantly different between the groups (64.7 ± 20.1 when CSI < 17 vs.55.1 ± 19.7 when CSI ≥ 17; p = 0.008). The low-CSI score group had significantly higher MCID achievement rates of KOOS-Pain, Symptom, and ADL than the high-CSI score group (86% vs. 68%; 74% vs. 55%; 86% vs. 67%, respectively; P < 0.05).
Conclusions
This study established an association between post-operative CSI scores ≥ 17 and poorer outcomes following OAK, highlighting the potential value of the CSI in identifying patients in need of more comprehensive peri-operative pain management.
Level of evidence
Level III. Retrospective comparative study.
Access options
Buy single article
Instant access to the full article PDF.
USD 39.95
Price excludes VAT (USA)
Tax calculation will be finalised during checkout.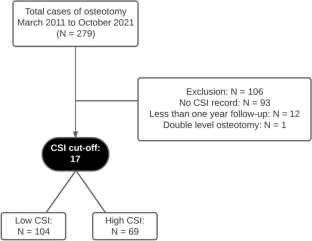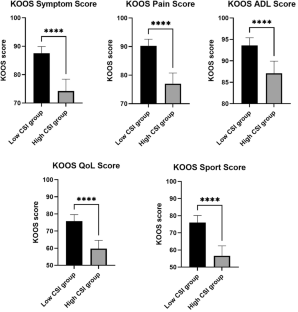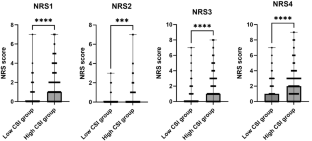 Data availability
The data that support the findings of this study are available from the corresponding author, [YN], upon reasonable request
References
Akinci A, Al Shaker M, Chang MH, Cheung CW, Danilov A, José Dueñas H, Kim YC, Guillen R, Tassanawipas W, Treuer T, Wang Y (2016) Predictive factors and clinical biomarkers for treatment in patients with chronic pain caused by osteoarthritis with a central sensitisation component. Int J Clin Pract 70:31–44

An J, Mabrouk A, Khakha R, Kley K, Koga H, Jacquet C, Ollivier M (2023) Assessment of return to sport and functional outcomes following distal femoral, double level and high tibial osteotomies for active patients with symptomatic varus malalignment. Knee Surg Sports Traumatol Arthrosc 31:4285–4291

Beckwée D, De Hertogh W, Lievens P, Bautmans I, Vaes P (2012) Effect of tens on pain in relation to central sensitisation in patients with osteoarthritis of the knee: study protocol of a randomized controlled trial. Trials 13:21

Cho W, Kim J, Kim W, Kim D, Kim N, Bin S (2018) Mobile-bearing unicompartmental knee arthroplasty in old-aged patients demonstrates superior short-term clinical outcomes to open-wedge high tibial osteotomy in middle-aged patients with advanced isolated medial osteoarthritis. Int Orthop 42:2357–2363

Copay AG, Subach BR, Glassman SD, Polly DW, Schuler TC (2007) Understanding the minimum clinically important difference: a review of concepts and methods. Spine J 7:541–546

Fingleton C, Smart K, Moloney N, Fullen BM, Doody C (2015) Pain sensitisation in people with knee osteoarthritis: a systematic review and meta-analysis. Osteoarthritis Cartilage 23:1043–1056

Gervais-Hupé J, Pollice J, Sadi J, Carlesso LC (2018) Validity of the central sensitisation inventory with measures of sensitisation in people with knee osteoarthritis. Clin Rheumatol 37:3125–3132

Goldhahn S, Takeuchi R, Nakamura N, Nakamura R, Sawaguchi T (2017) Responsiveness of the Knee Injury and Osteoarthritis Outcome Score (KOOS) and the Oxford Knee Score (OKS) in Japanese patients with high tibial osteotomy. J Orthop Sci 22:862–867

Grünwald L, Angele P, Schröter S, Dickschas J, Harrer J, Hinterwimmer S, Feucht MJ, Preiss A, Minzlaff P, Saier T (2019) Patients' expectations of osteotomies around the knee are high regarding activities of daily living. Knee Surg Sports Traumatol Arthrosc 27:3022–3031

Gwilym SE, Keltner JR, Warnaby CE, Carr AJ, Chizh B, Chessell I, Tracey I (2009) Psychophysical and functional imaging evidence supporting the presence of central sensitisation in a cohort of osteoarthritis patients. Arthritis Rheum 61:1226–1234

Hantes ME, Natsaridis P, Koutalos AA, Ono Y, Doxariotis N, Malizos KN (2018) Satisfactory functional and radiological outcomes can be expected in young patients under 45 years old after open wedge high tibial osteotomy in a long-term follow-up. Knee Surg Sports Traumatol Arthrosc 26:3199–3205

Hoorntje A, Pronk Y, Brinkman JM, van Geenen RCI, van Heerwaarden RJ (2023) High tibial osteotomy versus unicompartmental knee arthroplasty for Kellgren-Lawrence grade 3–4 knee osteoarthritis in younger patients: comparable improvements in patient-reported outcomes, adjusted for osteoarthritis grade and sex. Knee Surg Sports Traumatol Arthrosc. https://doi.org/10.1007/s00167-023-07526-5

Kanda Y (2013) Investigation of the freely available easy-to-use software "EZR" for medical statistics. Bone Marrow Transplant 48:452–458

Katagiri H, Nakagawa Y, Miyatake K, Ohara T, Shioda M, Sekiya I, Koga H (2023) Short-term outcomes after high tibial osteotomy aimed at neutral alignment combined with arthroscopic centralization of medial meniscus in osteoarthritis patients. J Knee Surg 36:261–268

Kim J, Koh I, Kim M, Choi K, Kang K, In Y (2022) Central sensitisation is associated with inferior patient-reported outcomes and increased osteotomy site pain in patients undergoing medial opening-wedge high tibial osteotomy. Medicina (Kaunas) 58:1752

Kim MS, Kim JJ, Kang KH, Kim MJ, In Y (2022) Diagnosis of central sensitisation and its effects on postoperative outcomes following total knee arthroplasty: a systematic review and meta-analysis. Diagnostics (Basel) 12:1248

Kim MS, Koh IJ, Sung YG, Park DC, Na JW, In Y (2021) Preemptive duloxetine relieves postoperative pain and lowers wound temperature in centrally sensitized patients undergoing total knee arthroplasty: a randomized, double-blind. Placebo-Controlled Trial J Clin Med 10:2809

Kim MS, Koh IJ, Sohn S, Jeong JH, In Y (2019) Unicompartmental knee arthroplasty is superior to high tibial osteotomy in post-operative recovery and participation in recreational and sports activities. Int Orthop 43:2493–2501

Kim MS, Koh IJ, Lee SY, In Y (2018) Central sensitisation is a risk factor for wound complications after primary total knee arthroplasty. Knee Surg Sports Traumatol Arthrosc 26:3419–3428

Koga H, Watanabe T, Horie M, Katagiri H, Otabe K, Ohara T, Katakura M, Sekiya I, Muneta T (2017) Augmentation of the pullout repair of a medial meniscus posterior root tear by arthroscopic centralization. Arthrosc Tech 6:e1335–e1339

Koh IJ, Kang BM, Kim MS, Choi KY, Sohn S, In Y (2020) How does preoperative central sensitisation affect quality of life following total knee arthroplasty? J Arthroplasty 35:2044–2049

Lluch E, Torres R, Nijs J, Van Oosterwijck J (2014) Evidence for central sensitisation in patients with osteoarthritis pain: a systematic literature review. Eur J Pain 18:1367–1375

Loeser JD, Treede R (2008) The Kyoto protocol of IASP basic pain terminology. Pain 137:473–477

Mayer TG, Neblett R, Cohen H, Howard KJ, Choi YH, Williams MJ, Perez Y, Gatchel RJ (2012) The development and psychometric validation of the central sensitisation inventory. Pain Pract 12:276–285

Mibu A, Nishigami T, Tanaka K, Manfuku M, Yono S (2019) Difference in the impact of central sensitisation on pain-related symptoms between patients with chronic low back pain and knee osteoarthritis. J Pain Res 12:1757–1765

Neblett R, Cohen H, Choi Y, Hartzell MM, Williams M, Mayer TG, Gatchel RJ (2013) The Central sensitisation Inventory (CSI): establishing clinically significant values for identifying central sensitivity syndromes in an outpatient chronic pain sample. J Pain 14:438–445

Nha KW, Oh SM, Ha YW, Patel MK, Seo JH, Lee BH (2019) Radiological grading of osteoarthritis on Rosenberg view has a significant correlation with clinical outcomes after medial open-wedge high-tibial osteotomy. Knee Surg Sports Traumatol Arthrosc 27:2021–2029

Otsuki S, Okamoto Y, Ikeda K, Wakama H, Okayoshi T, Neo M (2022) Perioperative duloxetine administration reduces pain after high tibial osteotomy and non-steroidal anti-inflammatory administration: a prospective, controlled study. Knee 38:42–49

Sasaki E, Kasai T, Araki R, Sasaki T, Wakai Y, Akaishi K, Chiba D, Kimura Y, Yamamoto Y, Tsuda E, Ishibashi Y (2022) Central sensitisation and postoperative improvement of quality of life in total knee and total hip arthroplasty: a prospective observational study. Prog Rehabil Med 7:20220009

Staubli AE, De Simoni C, Babst R, Lobenhoffer P (2003) TomoFix: a new LCP-concept for open wedge osteotomy of the medial proximal tibia–early results in 92 cases. Injury 34(Suppl 2):55

Takeuchi R, Ishikawa H, Miyasaka Y, Sasaki Y, Kuniya T, Tsukahara S (2014) A novel closed-wedge high tibial osteotomy procedure to treat osteoarthritis of the knee: hybrid technique and rehabilitation measures. Arthrosc Tech 3:431
Acknowledgements
The authors thank Toshitaka Yoshii, MD, PhD and Ichiro Sekiya, MD, PhD for continuous support; Miyoko Ojima and Masayo Tsukamoto for organizing data.
Funding
This study received no specific grant from any funding agency in the public, commercial, or not-for-profit sectors.
Ethics declarations
Conflict of interest
The authors declare that they have no conflict of interest.
Ethical approval
This study was approved by the Institutional Review Board in Tokyo Medical and Dental University (research protocol identification number: M2018-133).
Informed consent
All study participants provided their full written informed consent for participation in this clinical research prior to the operative procedure.
Additional information
Publisher's Note
Springer Nature remains neutral with regard to jurisdictional claims in published maps and institutional affiliations.
Rights and permissions
Springer Nature or its licensor (e.g. a society or other partner) holds exclusive rights to this article under a publishing agreement with the author(s) or other rightsholder(s); author self-archiving of the accepted manuscript version of this article is solely governed by the terms of such publishing agreement and applicable law.
About this article
Cite this article
Ding, H., Koga, H., Katagiri, H. et al. Low central sensitisation inventory score is associated with better post-operative outcomes of osteotomy around the knee. Knee Surg Sports Traumatol Arthrosc (2023). https://doi.org/10.1007/s00167-023-07646-y
Received:

Accepted:

Published:

DOI: https://doi.org/10.1007/s00167-023-07646-y
Keywords