Abstract
Purpose
The purpose of this study was to determine the cost-effectiveness of antibiotic-laden bone cement (ALBC) in primary total knee arthroplasty (TKA) from the perspective of a single-payer healthcare system.
Methods
A cost-utility analysis (CUA) was performed over a 2-year time horizon comparing primary TKA with either ALBC or regular bone cement (RBC) from the perspective of the single-payer Canadian healthcare system. All costs were in 2020 Canadian dollars. Health utilities were in the form of quality-adjusted life years (QALYs). Model inputs for cost, utilities and probabilities were derived from the literature as well as regional and national databases. One-way deterministic sensitivity analysis was performed.
Results
Primary TKA with ALBC was found to be more cost-effective compared to primary TKA with RBC with an incremental cost-effectiveness ratio (ICER) of -3,637.79 CAD/QALY. The use of routine ALBC remained cost-effective even with cost increases of up to 50% per bag of ALBC. TKA with ALBC was no longer cost-effective if the rate of PJI following this practice increased 52%, or the rate of PJI following the use of RBC decreased 27%.
Conclusions
The routine use of ALBC in TKA is a cost-effective practice in the single-payer Canadian healthcare system. This remains to be the case even with a 50% increase in the cost of ALBC. Policy makers and hospital administrators of single-payer healthcare systems can leverage this model to inform their local funding policies. Future prospective reviews and randomized controlled trials from the perspective of various healthcare models can further shed light on this issue.
Level of evidence
III.
Access options
Buy single article
Instant access to the full article PDF.
USD 39.95
Price excludes VAT (USA)
Tax calculation will be finalised during checkout.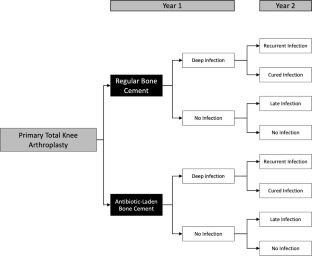 References
Anagnostakos K (2017) Therapeutic use of antibiotic-loaded bone cement in the treatment of hip and knee joint infections. J Bone Jt Infect 2:29–37

Anis HK, Sodhi N, Faour M, Klika AK, Mont MA, Barsoum WK, Higuera CA, Molloy RM (2019) Effect of antibiotic-impregnated bone cement in primary total knee arthroplasty. J Arthroplasty 34:2091-2095.e1

Bendich I, Zhang N, Barry JJ, Ward DT, Whooley MA, Kuo AC (2020) Antibiotic-laden bone cement use and revision risk after primary total knee arthroplasty in U.S. Veterans J Bone Joint Surg Am 102:1939–1947

Boddapati V, Fu MC, Mayman DJ, Su EP, Sculco PK, McLawhorn AS (2018) Revision total knee arthroplasty for periprosthetic joint infection is associated with increased postoperative morbidity and mortality relative to noninfectious revisions. J Arthroplasty 33:521–526

Canada's Drug and Health Technology Agency (CADTH) (2017) Guidelines for the Economic Evaluation of Health Technolo,gies: Canada, 4th edition. Ottawa

Canadian Joint Replacement Registry (2021) CJRR annual report: Hip and knee replacements in Canada.

Drummond MF, O'Brien B, Stoddart GL, Torrance GW (1998) Methods for the Economic Evaluation of Health Care Programmes, 2nd edn. Oxford University Press, Newyork

Ekhtiari S, Wood T, Mundi R, Axelrod D, Khanna V, Adili A, Winemaker M, Bhandari M (2020) Antibiotic Cement in Arthroplasty: A Meta-analysis of Randomized Controlled Trials. Cureus 12:e7893

Farhan-Alanie MM, Burnand HG, Whitehouse MR (2021) The effect of antibiotic-loaded bone cement on risk of revision following hip and knee arthroplasty. Bone Joint J. 103:7–15

Gutowski CJ, Zmistowski BM, Clyde CT, Parvizi J (2014) The economics of using prophylactic antibiotic-loaded bone cement in total knee replacement. Bone Joint J. 96:65–69

Hoskins T, Shah JK, Patel J, Mazzei C, Goyette D, Poletick E, Colella T, Wittig J (2020) The cost-effectiveness of antibiotic-loaded bone cement versus plain bone cement following total and partial knee and hip arthroplasty. J Orthop 20:217–220

Husereau D, Drummond M, Augustovski F, de Bekker-Grob E, Briggs AH, Carswell C, Caulley L, Chaiyakunapruk N, Greenberg D, Loder E, Mauskopf J, Mullins CD, Petrou S, Pwu R-F, Staniszewska S (2022) Consolidated health economic evaluation reporting standards (CHEERS) 2022 explanation and elaboration: a report of the ISPOR CHEERS II good practices task force. Value Heal 25:10–31

Inacio MCS, Graves SE, Pratt NL, Roughead EE, Nemes S (2017) Increase in total joint arthroplasty projected from 2014 to 2046 in australia: a conservative local model with international implications. Clin Orthop Relat Res 475:2130–2137

Inacio MCS, Paxton EW, Graves SE, Namba RS, Nemes S (2017) Projected increase in total knee arthroplasty in the United States – an alternative projection model. Osteoart Cart 25:1797–1803

Jameson SS, Asaad A, Diament M, Kasim A, Bigirumurame T, Baker P, Mason J, Partington P, Reed M (2019) Antibiotic-loaded bone cement is associated with a lower risk of revision following primary cemented total knee arthroplasty: an analysis of 731,214 cases using National Joint Registry data. Bone Joint J. 101:1331–1347

Jiranek WA, Hanssen AD, Greenwald AS (2006) Antibiotic-loaded bone cement for infection prophylaxis in total joint replacement. J Bone Joint Surg Am 88:2487–2500

Kamaruzaman H, Kinghorn P, Oppong R (2017) Cost-effectiveness of surgical interventions for the management of osteoarthritis: a systematic review of the literature. BMC Musculoskelet Disord BMC Musculosk Disord 18:1–17

Klug A, Gramlich Y, Rudert M, Drees P, Hoffmann R, Weißenberger M, Kutzner KP (2021) The projected volume of primary and revision total knee arthroplasty will place an immense burden on future health care systems over the next 30 years. Knee Surg Sports Traumatol Arthrosc 29:3287–3298

Konopka JF, Lee Y-Y, Su EP, McLawhorn AS (2018) Quality-Adjusted Life Years After Hip and Knee Arthroplasty: Health-Related Quality of Life After 12,782 Joint Replacements. JB JS open access 3:e0007

Kunutsor SK, Whitehouse MR, Lenguerrand E, Blom AW, Beswick AD, INFORM Team (2016) Re-Infection Outcomes Following One- And Two-Stage Surgical Revision of Infected Knee Prosthesis: A Systematic Review and Meta-Analysis. PLoS ONE 11:e0151537

Li H-Q, Li P-C, Wei X-C, Shi J-J (2022) Effectiveness of antibiotics loaded bone cement in primary total knee arthroplasty: A systematic review and meta-analysis. Orthop Traumatol Surg Res 108:103295

Lizaur-Utrilla A, Asensio-Pascual A, Gonzalez-Parreño S, Miralles-Muñoz FA, Lopez-Prats FA (2019) Negative impact of prior debridement on functional outcome of subsequent two-stage revision for early knee periprosthetic infection. Knee Surg Sports Traumatol Arthrosc 27:2309–2315

McMaster Arthroplasty Collaborative (MAC) (2020) Risk Factors for Periprosthetic Joint Infection Following Primary Total Hip Arthroplasty: A 15-Year, Population-Based Cohort Study. J Bone Joint Surg Am 102:503–509

Nagra NS, Hamilton TW, Ganatra S, Murray DW, Pandit H (2016) One-stage versus two-stage exchange arthroplasty for infected total knee arthroplasty: a systematic review. Knee Surg Sports Traumatol Arthrosc 24:3106–3114

Namba RS, Prentice HA, Paxton EW, Hinman AD, Kelly MP (2020) Commercially Prepared Antibiotic-Loaded Bone Cement and Infection Risk Following Cemented Primary Total Knee Arthroplasty. J Bone Joint Surg Am 102:1930–1938

Negus JJ, Gifford PB, Haddad FS (2017) Single-Stage Revision Arthroplasty for Infection-An Underutilized Treatment Strategy. J Arthroplasty 32:2051–2055

Premkumar A, Kolin DA, Farley KX, Wilson JM, McLawhorn AS, Cross MB, Sculco PK (2021) Projected economic burden of periprosthetic joint infection of the hip and knee in the United States. J Arthroplasty 36:1484-1489.e3

Sanz-Ruiz P, Matas-Diez JA, Sanchez-Somolinos M, Villanueva-Martinez M, Vaquero-Martín J (2017) Is the commercial antibiotic-loaded bone cement useful in prophylaxis and cost saving after knee and hip joint arthroplasty? the transatlantic paradox. J Arthroplasty 32:1095–1099

Sebastian S, Liu Y, Christensen R, Raina DB, Tägil M, Lidgren L (2020) Antibiotic containing bone cement in prevention of hip and knee prosthetic joint infections: A systematic review and meta-analysis. J Orthop Transl 23:53–60

Shahi A, Parvizi J (2015) Prevention of periprosthetic joint infection. Arch Bone Jt Surg 3:72–81

Springer BD, Cahue S, Etkin CD, Lewallen DG, McGrory BJ (2017) Infection burden in total hip and knee arthroplasties: an international registry-based perspective. Arthroplast Today 3:137–140

Wilson RA, Gwynne-Jones DP, Sullivan TA, Abbott JH (2021) Total hip and knee arthroplasties are highly cost-effective procedures: the importance of duration of follow-Up. J Arthroplasty 36:1864-1872.e10

Yayac M, Rondon AJ, Tan TL, Levy H, Parvizi J, Courtney PM (2019) The economics of antibiotic cement in total knee arthroplasty: added cost with no reduction in infection rates. J Arthroplasty 34:2096–2101

Zhang J, Zhang X-Y, Jiang F-L, Wu Y-P, Yang B-B, Liu Z-Y, Liu D (2019) Antibiotic-impregnated bone cement for preventing infection in patients receiving primary total hip and knee arthroplasty: A meta-analysis. Medicine (Baltimore) 98:18068
Ethics declarations
Conflict of interest
None.
Ethical approval
This article does not contain any studies with human participants or animals performed by any of the authors.
Additional information
Publisher's Note
Springer Nature remains neutral with regard to jurisdictional claims in published maps and institutional affiliations.
Rights and permissions
Springer Nature or its licensor (e.g. a society or other partner) holds exclusive rights to this article under a publishing agreement with the author(s) or other rightsholder(s); author self-archiving of the accepted manuscript version of this article is solely governed by the terms of such publishing agreement and applicable law.
About this article
Cite this article
Abdel Khalik, H., Wood, T.J., Tushinski, D.M. et al. Routine use of antibiotic-laden bone cement in total knee arthroplasty is a cost-effective practice in the single-payer healthcare system. Knee Surg Sports Traumatol Arthrosc (2023). https://doi.org/10.1007/s00167-023-07364-5
Received:

Accepted:

Published:

DOI: https://doi.org/10.1007/s00167-023-07364-5
Keywords
Total knee arthroplasty

Antibiotic-laden bone cement

Periprosthetic joint infection

Surgical site infection

Infection prophylaxis

Health economics

Cost-effectiveness

Cost-utility analysis