Abstract
Purpose
A key part of kinematic alignment (KA) and functional alignment (FA) is to restore the natural femoral joint line, in particular the medial joint line. KA is known to reproduce the femoral joint line accurately; however, direct comparisons with other surgical techniques such as FA are currently lacking. The purpose of this study was to evaluate differences of alignment parameters in KA and FA techniques with a special focus given to the femoral joint line.
Methods
We performed a retrospective radiological analysis of pre- and postoperative long leg radiographs of 221 consecutive patients with varus or neutral leg alignment, who underwent primary total knee arthroplasty (TKA) procedures from 2018 to 2020. Patients were assigned to one of four groups: (1) FA: image-based robotic-assisted TKA, (2) FA: imageless robotic-assisted TKA, (3): restricted KA: 3D cutting block-assisted (patient-specific instruments, PSI) TKA, (4): unrestricted KA: calipered technique. Patients' radiographs were (re)-analyzed for overall limb alignment, medial proximal tibial angle (MPTA), lateral distal femoral angle (LDFA), as well as medial and lateral femoral joint line alteration. Statistical significance was determined using unpaired t testing (FA vs. KA group) and one-way ANOVA (subgroup analyses).
Results
Comparisons of KA vs. FA, as well as individual subgroups of KA and FA did not show any differences in the accuracy of medial joint line reconstruction (< 2 mm, p = 0.384, p = 0.744, respectively) and LDFA alteration (< 2°, p = 0.997, 0.921, respectively). Correction of MPTA (3.4° vs. 2.2°) and lateral femoral joint line (2.1 mm vs. 1.5 mm) was higher for FA and FA subgroups compared to KA and KA subgroups (both p < 0.001).
Conclusion
Kinematic and functional alignments showed a comparable accuracy in reconstruction of the medial femoral joint line and femoral joint line orientation. Increased correction of MPTA and lateral femoral joint line was recorded with FA techniques.
Level of evidence
III.
Access options
Buy single article
Instant access to the full article PDF.
USD 39.95
Price excludes VAT (USA)
Tax calculation will be finalised during checkout.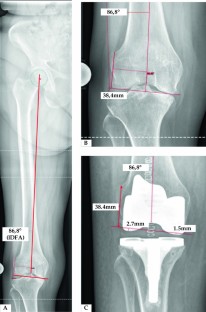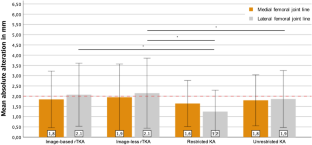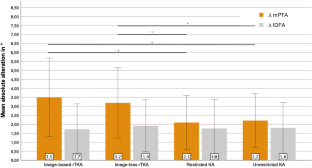 Data availability
The data that support the findings of this study are available from the corresponding author upon reasonable request.
Abbreviations
aHKA:

Arithmetic hip-to-knee angle

AT:

Adductor tubercle

ATJL:

Adductor tubercle joint line distance

BCS:

Bi-cruciate stabilized

CT:

Computed tomography

FA:

Functional alignment

HKA:

Hip-to-knee angle

JL:

Joint line

JLO:

Joint line obliquity

KA:

Kinematic alignment

LDFA:

Lateral distal femoral angle

lJL:

Lateral femoral joint line

mJL:

Medial femoral joint line

MPTA:

Medial proximal tibial angle

OLA:

Overall limb alignment

PSI:

Patient-specific instruments

PS:

Posterior stabilized

rTKA:

Robotic-assisted total knee arthroplasty

SD:

Standard deviation

TKA:

Total knee arthroplasty
References
Agrawal VO, Gadekar AP, Vaidya N (2022) Does robotic technology successfully restore the joint line after total knee arthroplasty? A retrospective analysis. Arthroplasty 4:6

Chang JS, Kayani B, Wallace C, Haddad FS (2021) Functional alignment achieves soft-tissue balance in total knee arthroplasty as measured with quantitative sensor-guided technology. Bone Jt J 103-B:507–514

D'Amato M, Kosse NM, Wymenga AB (2021) Restoration of pre-operative joint line orientation and alignment does not affect KSS and KOOS 1 year after total knee arthroplasty. Knee Surg Sports Traumatol Arthrosc 29:3170–3177

Eckhoff D, Hogan C, DiMatteo L, Robinson M, Bach J (2007) An ABJS BEST PAPER: difference between the epicondylar and cylindrical axis of the knee. Clin Orthop 461:238–244

Hollister AM, Jatana S, Singh AK, Sullivan WW, Lupichuk AG (1993) The axes of rotation of the knee. Clin Orthop 290:259–268

Howell SM (2019) Calipered kinematically aligned total knee arthroplasty: an accurate technique that improves patient outcomes and implant survival. Orthopedics 42:126–135

Howell SM, Nedopil AJ, Hull ML (2022) Negligible effect of surgeon experience on the accuracy and time to perform unrestricted caliper verified kinematically aligned TKA with manual instruments. Knee Surg Sports Traumatol Arthrosc 30:2966–2974

Kayani B, Konan S, Ayuob A, Onochie E, Al-Jabri T, Haddad FS (2019) Robotic technology in total knee arthroplasty: a systematic review. EFORT Open Rev 4:611–617

Kim J-T, Han J, Lim S, Shen QH, Won YY (2019) Kinematically aligned TKA aligns the ankle joint line closer to those of the native ankle than mechanically aligned TKA in bipedal stance. J Knee Surg 32:1033–1038

Li G, Park SE, DeFrate LE, Schutzer ME, Ji L, Gill TJ, Rubash HE (2005) The cartilage thickness distribution in the tibiofemoral joint and its correlation with cartilage-to-cartilage contact. Clin Biomech Bristol Avon 20:736–744

Liow MHL, Xia Z, Wong MK, Tay KJ, Yeo SJ, Chin PL (2014) Robot-assisted total knee arthroplasty accurately restores the joint line and mechanical axis. A prospective randomised study. J Arthroplasty 29:2373–2377

Luyckx T, Vandenneucker H, Ing LS, Vereecke E, Ing AV, Victor J (2018) Raising the joint line in TKA is associated with mid-flexion laxity: a study in cadaver knees. Clin Orthop 476:601–611

MacDessi SJ, Griffiths-Jones W, Harris IA, Bellemans J, Chen DB (2021) Coronal plane alignment of the knee (CPAK) classification: a new system for describing knee phenotypes. Bone Jt J 103-B:329–337

Nedopil AJ, Howell SM, Hull ML (2020) Deviations in femoral joint lines using calipered kinematically aligned TKA from virtually planned joint lines are small and do not affect clinical outcomes. Knee Surg Sports Traumatol Arthrosc 28:3118–3127

Niki Y, Nagura T, Nagai K, Kobayashi S, Harato K (2018) Kinematically aligned total knee arthroplasty reduces knee adduction moment more than mechanically aligned total knee arthroplasty. Knee Surg Sports Traumatol Arthrosc 26:1629–1635

Oussedik S, Abdel MP, Victor J, Pagnano MW, Haddad FS (2020) Alignment in total knee arthroplasty: what's in a name? Bone Jt J 102-B:276–279

Rivière C, Harman C, Boughton O, Cobb J (2020) The kinematic alignment technique for total knee arthroplasty. In: Rivière C, Vendittoli P-A (eds) Pers hip knee jt replace. Springer International Publishing, Cham, pp 175–195

Rivière C, Iranpour F, Harris S, Auvinet E, Aframian A, Chabrand P, Cobb J (2017) The kinematic alignment technique for TKA reliably aligns the femoral component with the cylindrical axis. Orthop Traumatol Surg Res 103:1069–1073

Sappey-Marinier E, Batailler C, Swan J, Schmidt A, Cheze L, MacDessi SJ, Servien E, Lustig S (2021) Mechanical alignment for primary TKA may change both knee phenotype and joint line obliquity without influencing clinical outcomes: a study comparing restored and unrestored joint line obliquity. Knee Surg Sports Traumatol Arthrosc 30:2806–2814

Shah RF, Martinez AM, Pedoia V, Majumdar S, Vail TP, Bini SA (2019) Variation in the thickness of knee cartilage. The use of a novel machine learning algorithm for cartilage segmentation of magnetic resonance images. J Arthroplasty 34:2210–2215

Shatrov J, Battelier C, Sappey-Marinier E, Gunst S, Servien E, Lustig S (2022) Functional alignment philosophy in total knee arthroplasty—rationale and technique for the varus morphotype using a CT based robotic platform and individualized planning. SICOT-J 8:11

Shepherd DET, Seedhom BB (1999) Thickness of human articular cartilage in joints of the lower limb. Ann Rheum Dis 58:27–34

Tuecking L-R, Ettinger M, Nebel D, Welke B, Schwarze M, Windhagen H, Savov P (2021) 3D-surface scan based validated new measurement technique of femoral joint line reconstruction in total knee arthroplasty. J Exp Orthop 8:16

Vaidya NV, Deshpande AN, Panjwani T, Patil R, Jaysingani T, Patil P (2020) Robotic-assisted TKA leads to a better prosthesis alignment and a better joint line restoration as compared to conventional TKA: a prospective randomized controlled trial. Knee Surg Sports Traumatol Arthrosc 30:621–626
Acknowledgements
We thank Felix KF Kommoss for English language editing of the current manuscript.
Funding
This research received no external funding.
Ethics declarations
Conflict of interest
LT, PS, ME and HW are paid educational consultants for Stryker. LT, PS and ME are paid educational consultants for Smith & Nephew. HW is a paid consultant for Medacta. No funding was received for this study. MZ and DJ have no conflict of interest.
Ethical approval
This study was approved by the local ethics committee (8403_BO_S_2019).
Informed consent
Informed consent was not needed due to the use of only anonymized data (radiographs) in this retrospective study.
Additional information
Publisher's Note
Springer Nature remains neutral with regard to jurisdictional claims in published maps and institutional affiliations.
Rights and permissions
Springer Nature or its licensor (e.g. a society or other partner) holds exclusive rights to this article under a publishing agreement with the author(s) or other rightsholder(s); author self-archiving of the accepted manuscript version of this article is solely governed by the terms of such publishing agreement and applicable law.
About this article
Cite this article
Tuecking, LR., Savov, P., Zander, M. et al. Comparable accuracy of femoral joint line reconstruction in different kinematic and functional alignment techniques. Knee Surg Sports Traumatol Arthrosc (2023). https://doi.org/10.1007/s00167-023-07360-9
Received:

Accepted:

Published:

DOI: https://doi.org/10.1007/s00167-023-07360-9
Keywords
Kinematic alignment

Functional alignment

Robotic TKA

RA-TKA

PSI

Unrestricted KA

Joint line

Accuracy

Total knee arthroplasty