Abstract
Purpose
The aim of this ESSKA consensus is to give recommendations based on evidence and expert opinion to improve diagnosis, preoperative planning, indication and surgical strategy in ACL revision.
Methods
The European expert surgeons and scientists were divided into four groups to participate in this consensus. A "literature group" (four surgeons); "steering group" (14 surgeons and scientists); "rating group" (19 surgeons) and finally "peer review group" (51 representatives of the ESSKA-affiliated national societies from 27 countries). The steering group prepared eighteen question–answer sets. The quality of the answers received grades of recommendation ranging from A (high-level scientific support), to B (scientific presumption), C (low level scientific support) or D (expert opinion). These question–answer sets were then evaluated by the rating group. All answers were scored from 1 to 9. The comments of the rating group were incorporated by the steering group and the consensus was submitted to the rating group a second time. Once a general consensus was reached between the steering and rating groups, the question–answer sets were submitted to the peer review group. A final combined meeting of all the members of the consensus was held to ratify the document.
Results
The literature review for the diagnosis and preoperative planning of ACL revision revealed a rather low scientific quality. None of the 18 questions was graded A and six received a grade B. The mean rating of all the questions by the rating group was 8.4 ± 0.3. The questions and recommendations are listed below.
Conclusion
ACL revision surgery is a widely debated subject with many different opinions and techniques. The literature reveals a poor level of standardisation. Therefore, this international consensus project is of great importance.
Level of Evidence
II.
Access options
Buy single article
Instant access to the full article PDF.
USD 39.95
Price excludes VAT (USA)
Tax calculation will be finalised during checkout.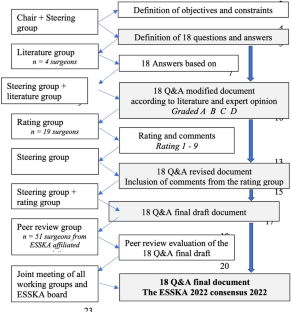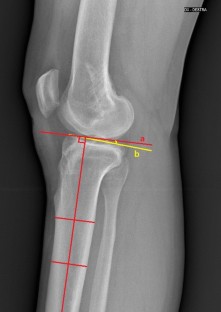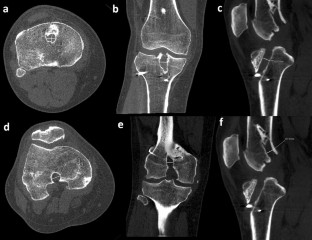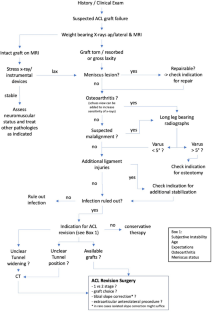 References
Alm L, Krause M, Frosch KH, Akoto R (2020) Preoperative medial knee instability is an underestimated risk factor for failure of revision ACL reconstruction. Knee Surg Sports Traumatol Arthrosc 28(8):2458–2467

Andra K, Kayaalp E, Prill R et al (2021) Joint effusion, anteroposterior stability, muscle strength and degree of patellofemoral osteoarthritis significantly impact outcome following revision ACL reconstruction. J Exp Orthop 8(1):70

Andra K, Prill R, Kayaalp E et al (2021) Increase in cartilage degeneration in all knee compartments after failed ACL reconstruction at 4 years of follow-up. J Orthop Traumatol 22(1):54

Beaufils P, Becker R, Kopf S et al (2017) Surgical management of degenerative meniscus lesions: the 2016 ESSKA meniscus consensus. Knee Surg Sports Traumatol Arthrosc 25(2):335–346

Dejour DH (2018) The role of a scientific society in the training and development of an orthopaedic surgeon. Knee Surg Sports Traumatol Arthrosc 26(11):3197–3198

Feucht MJ, Cotic M, Saier T et al (2016) Patient expectations of primary and revision anterior cruciate ligament reconstruction. Knee Surg Sports Traumatol Arthrosc 24(1):201–207

Grassi A, Kim C, MarcheggianiMuccioli GM et al (2017) What is the mid-term failure rate of revision acl reconstruction? A systematic review. Clin Orthop Relat Res 475(10):2484–2499

Grassi A, Macchiarola L, Urrizola Barrientos F et al (2019) Steep posterior tibial slope, anterior tibial subluxation, deep posterior lateral femoral condyle, and meniscal deficiency are common findings in multiple anterior cruciate ligament failures: an MRI case-control study. Am J Sports Med 47(2):285–295

Group M, Wright RW, Huston LJ et al (2021) Association between graft choice and 6-year outcomes of revision anterior cruciate ligament reconstruction in the MARS cohort. Am J Sports Med 49(10):2589–2598

Jacquet C, Mouton C, Becker R et al (2021) Does practice of meniscus surgery change over time? A report of the 2021 'THE MENISCUS' Webinar. J Exp Orthop 8(1):46

Jacquet C, Pujol N, Pauly V et al (2019) Analysis of the trends in arthroscopic meniscectomy and meniscus repair procedures in France from 2005 to 2017. Orthop Traumatol Surg Res 105(4):677–682

Kopf S, Beaufils P, Hirschmann MT et al (2020) Management of traumatic meniscus tears: the 2019 ESSKA meniscus consensus. Knee Surg Sports Traumatol Arthrosc 28(4):1177–1194

Liechti DJ, Chahla J, Dean CS et al (2016) Outcomes and risk factors of rerevision anterior cruciate ligament reconstruction: a systematic review. Arthroscopy 32(10):2151–2159

Lutter C, Seil R, Best R et al (2021) Results of a tri-national online survey on the current status of sports injury prevention among members of the German-speaking orthopaedic sports medicine society (GOTS). Sportverletz Sportschaden 35(2):80–87

Martin RK, Wastvedt S, Pareek A et al (2022) Predicting anterior cruciate ligament reconstruction revision: a machine learning analysis utilizing the Norwegian knee ligament register. J Bone Joint Surg Am 104(2):145–153

Marx JS, Plantz MA, Gerlach EB et al (2022) Revision ACL reconstruction has higher incidence of 30-day hospital readmission, reoperation, and surgical complications relative to primary procedures. Knee Surg Sports Traumatol Arthrosc 30(5):1605–1610

Santé HAd (2011) "Formal consensus" method. http://www.has-sante.fr/portail/jcms/c_272505/en/-formal-consensus-method. Accessed 23 July 2022

Shekelle PG, Woolf SH, Eccles M, Grimshaw J (1999) Clinical guidelines: developing guidelines. BMJ 318(7183):593–596

Tischer T, Condello V, Menetrey J et al (2022) Time to focus on ACL revision: ESSKA 2022 consensus. Knee Surg Sports Traumatol Arthrosc. https://doi.org/10.1007/s00167-022-06950-3

Wright RW, Johnson L, Brophy RH et al (2019) Revision anterior cruciate ligament reconstruction outcomes at a minimum of 5-Year follow-up: a systematic review. J Knee Surg 32(3):218–221
Acknowledgements
The acknowledgement goes to all members of the rating group: Corrado Bait, Etienne Cavaignac, Riccardo Cristiani, Markas Fiodorovas, Gijs Helmerhorst, Christian Hoser, Mustafa Karahan, George Komnos, Koen Carl Lagae, Vincenzo Madonna, Eduardo Monaco, Juan Carlos Monllau, Matthieu Ollivier, Mikko Ovasaka, Wolf Petersen, Tomasz Piontek, James Robinson, Kristian Samuelson, Sven Scheffler, Bertrand Sonnery-Cottet, the ESSKA office (special thanks to Anna Hansen for administrative support) and to Judy C Mac Donald (proof reading) as well as the peer reviewers of the affiliated national societies (BAKAST, BKS, AOTBIH, CSSTA, SAKS, EASTS, FAKA, SFA, GASSA, AGA, GOTS, DKG, HAA, SIAGASCOT, LAKAS, LIROMS, NVA, NAA, PTA, SPAT, SPOT, SRATS, ASTAOR, RKA, ASTAS, SSASST, SEROD, AEA, SETRADE, SFAIM, TUSYAD, BOSTAA) for their review.
Funding
The consensus project was endorsed by the European Society for Sports Traumatology, Knee Surgery and Arthroscopy (ESSKA).
Ethics declarations
Conflict of interest
The authors declare no conflicts of interest that are relevant to this manuscript.
Ethical approval
This article does not contain any studies with human participants or animals performed by any of the authors.
Additional information
Publisher's Note
Springer Nature remains neutral with regard to jurisdictional claims in published maps and institutional affiliations.
Rights and permissions
Springer Nature or its licensor (e.g. a society or other partner) holds exclusive rights to this article under a publishing agreement with the author(s) or other rightsholder(s); author self-archiving of the accepted manuscript version of this article is solely governed by the terms of such publishing agreement and applicable law.
About this article
Cite this article
Tischer, T., Beaufilis, P., Becker, R. et al. Management of anterior cruciate ligament revision in adults: the 2022 ESSKA consensus part I—diagnostics and preoperative planning. Knee Surg Sports Traumatol Arthrosc 31, 4642–4651 (2023). https://doi.org/10.1007/s00167-022-07214-w
Received:

Accepted:

Published:

Issue Date:

DOI: https://doi.org/10.1007/s00167-022-07214-w
Keywords