Abstract
Purpose
To evaluate the literature on patients undergoing periacetabular osteotomy after failed hip arthroscopy (PAO-FHA) for (1) patient demographics and hip morphology, (2) changes in preoperative to postoperative patient-reported outcomes (PROs), and (3) PROs in comparison to primary periacetabular osteotomy (PAO) patients.
Methods
A systematic literature search of Pubmed, CINAHL/Medline, and cochrane databases was performed in accordance with PRISMA guidelines. The search phrase was "(periacetabular osteotomy or PAO or rotational osteotomy) and (hip arthroscopy or arthroscopic)". The titles, abstracts, and full texts were screened for studies on PAO-FHA. Study quality was assessed, and relevant data were collected. A meta-analysis was not performed due to study heterogeneity.
Results
The search identified 7 studies, including 151 hips (148 patients, 93.9% female) undergoing PAO-FHA, out of an initial 593 studies, with three Level IV and four Level III studies. Mean time from hip arthroscopy to PAO ranged from 17.0 to 29.6 months. Heterogenous hip morphologies and radiologic findings prior to PAO were observed, though patients most frequently demonstrated moderate-to-severe dysplasia (mean or median lateral center edge angle < 20°) and minimal osteoarthritis (Tönnis grade 0 or 1). In all 5 studies that reported concomitant procedures with PAO, femoral and/or acetabular osteoplasty was performed via arthroscopy or arthrotomy. Following PAO-FHA, radiographic acetabular coverage and PROs improved in all 6 studies that reported postoperative outcomes. All four comparative studies of primary PAO vs. PAO-FHA included patients with mean or median LCEAs < 20°, reporting mixed outcomes for the optimal treatment approach.
Conclusion
PAO-FHA is reported in a heterogenous patient population that frequently includes hips with moderate-to-severe dysplasia and minimal osteoarthritis. Regardless of hip morphology or concomitant procedures, all studies that reported postoperative outcomes demonstrated improved PROs following PAO-FHA.
Level of evidence
Level IV.
Access options
Buy single article
Instant access to the full article PDF.
USD 39.95
Price excludes VAT (USA)
Tax calculation will be finalised during checkout.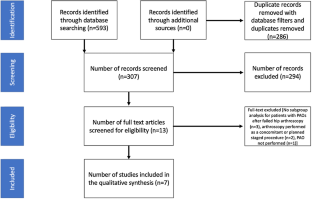 References
Ankem HK, Diulus SC, Kyin C, Jimenez AE, Maldonado DR, Sabetian PW, Saks BR, Lall AC, Domb BG (2021) Favorable outcomes of revision hip arthroscopy irrespective of whether index surgery was performed by the same surgeon or a different surgeon. J Am Acad Orthop Surg Glob Res Rev 5(12):e21.00107. https://doi.org/10.5435/JAAOSGlobal-D-21-00107

Brusalis CM, Peck J, Wilkin GP, Robustelli S, Buly RL, Nawabi DH, Ranawat AS, Kelly BT, Sink EL (2020) Periacetabular osteotomy as a salvage procedure: early outcomes in patients treated for iatrogenic hip instability. J Bone Joint Surg Am 102:73–79

Chandrasekaran S, Darwish N, Martin TJ, Suarez-Ahedo C, Lodhia P, Domb BG (2017) Arthroscopic capsular plication and labral seal restoration in borderline hip dysplasia: 2-year clinical outcomes in 55 cases. Arthroscopy 33:1332–1340

Clohisy JC, Nepple JJ, Larson CM, Zaltz I, Millis M, Academic Network of Conservation Hip Outcome Research (ANCHOR) Members (2013) Persistent structural disease is the most common cause of repeat hip preservation surgery. Clin Orthop Relat Res 471:3788–3794

Cvetanovich GL, Harris JD, Erickson BJ, Bach BR, Bush-Joseph CA, Nho SJ (2015) Revision hip arthroscopy: a systematic review of diagnoses, operative findings, and outcomes. Arthroscopy 31:1382–1390

Duplantier NL, McCulloch PC, Nho SJ, Mather RC, Lewis BD, Harris JD (2016) Hip dislocation or subluxation after hip arthroscopy: a systematic review. Arthroscopy 32:1428–1434

Flores SE, Sheridan JR, Borak KR, Zhang AL (2018) When do patients improve after hip arthroscopy for femoroacetabular impingement? A prospective cohort analysis. Am J Sports Med 46:3111–3118

Hirase T, Mallett J, Barter LE, Dong D, McCulloch PC, Harris JD (2020) Is the iliopsoas a femoral head stabilizer? A systematic review. Arthrosc Sports Med Rehabil 2:e847–e853

Jackson TJ, Watson J, LaReau JM, Domb BG (2014) Periacetabular osteotomy and arthroscopic labral repair after failed hip arthroscopy due to iatrogenic aggravation of hip dysplasia. Knee Surg Sports Traumatol Arthrosc 22:911–914

Jimenez AE, Monahan PF, Miecznikowski KB, Saks BR, Ankem HK, Sabetian PW, Lall AC, Domb BG (2021) Achieving successful outcomes in high-level athletes with borderline hip dysplasia undergoing hip arthroscopy with capsular plication and labral preservation: a propensity-matched controlled study. Am J Sports Med 49:2447–2456

Jimenez AE, Owens JS, Shapira J, Saks BR, Ankem HK, Sabetian PW, Lall AC, Domb BG (2021) Hip Capsular management in patients with femoroacetabular impingement or microinstability: a systematic review of biomechanical studies. Arthroscopy 37:2642–2654

Johannsen AM, Ejnisman L, Behn AW, Shibata K, Thio T, Safran MR (2019) Contributions of the capsule and labrum to hip mechanics in the context of hip microinstability. Orthop J Sports Med 7:2325967119890846

Kain MSH, Novais EN, Vallim C, Millis MB, Kim Y-J (2011) Periacetabular osteotomy after failed hip arthroscopy for labral tears in patients with acetabular dysplasia. J Bone Joint Surg Am 93(Suppl 2):57–61

Kuroda Y, Saito M, Sunil Kumar KH, Malviya A, Khanduja V (2020) Hip arthroscopy and borderline developmental dysplasia of the hip: a systematic review. Arthroscopy 36:2550-2567.e1

Moher D, Liberati A, Tetzlaff J, Altman DG (2009) Preferred reporting items for systematic reviews and meta-analyses: the prisma statement. PLoS Med 6:e1000097

Novais EN, Coobs BR, Nepple JJ, Clohisy JC, ANCHOR Study Group (2018) Previous failed hip arthroscopy negatively impacts early patient-reported outcomes of the periacetabular osteotomy: an ANCHOR matched cohort study. J Hip Preserv Surg 5:370–377

Ricciardi BF, Fields KG, Wentzel C, Kelly BT, Sink EL (2017) Early functional outcomes of periacetabular osteotomy after failed hip arthroscopic surgery for symptomatic acetabular dysplasia. Am J Sports Med 45:2460–2467

Ross JR, Clohisy JC, Baca G, Sink E, Investigators ANCHOR (2014) Patient and disease characteristics associated with hip arthroscopy failure in acetabular dysplasia. J Arthroplasty 29:160–163

Sardana V, Philippon MJ, de Sa D, Bedi A, Ye L, Simunovic N, Ayeni OR (2015) Revision hip arthroscopy indications and outcomes: a systematic review. Arthroscopy 31:2047–2055

Sheean AJ, Barrow AE, Burns TC, Schmitz MR (2017) Iatrogenic hip instability treated with periacetabular osteotomy. J Am Acad Orthop Surg 25:594–599

Shin JJ, de Sa DL, Burnham JM, Mauro CS (2018) Refractory pain following hip arthroscopy: evaluation and management. J Hip Preserv Surg 5:3–14

Slim K, Nini E, Forestier D, Kwiatkowski F, Panis Y, Chipponi J (2003) Methodological index for non-randomized studies (minors): development and validation of a new instrument. ANZ J Surg 73:712–716

Vaudreuil NJ, McClincy MP (2020) Evaluation and treatment of borderline dysplasia: moving beyond the lateral center edge angle. Curr Rev Musculoskelet Med 13:28–37

Yeung M, Kowalczuk M, Simunovic N, Ayeni OR (2016) Hip arthroscopy in the setting of hip dysplasia. Bone Joint Res 5:225–231
Funding
No funding was provided for this study.
Ethics declarations
Conflict of interest
The authors report the following disclosures: CSM - consultant (Arthrex), MPM - royalties (Elizur, LLC). The remaining authors report no disclosures.
Ethical approval
Institutional review board approval was not required for this review study.
Additional information
Publisher's Note
Springer Nature remains neutral with regard to jurisdictional claims in published maps and institutional affiliations.
Electronic supplementary material
Below is the link to the electronic supplementary material.
Rights and permissions
Springer Nature or its licensor holds exclusive rights to this article under a publishing agreement with the author(s) or other rightsholder(s); author self-archiving of the accepted manuscript version of this article is solely governed by the terms of such publishing agreement and applicable law.
About this article
Cite this article
Curley, A.J., Engler, I.D., Ruh, E.R. et al. Periacetabular osteotomy after failed hip arthroscopy demonstrates improved outcomes in a heterogenous patient population: a systematic review. Knee Surg Sports Traumatol Arthrosc (2022). https://doi.org/10.1007/s00167-022-07108-x
Received:

Accepted:

Published:

DOI: https://doi.org/10.1007/s00167-022-07108-x
Keywords
Hip/pelvis/thigh

Dysplasia

Instability

Femoroacetabular impingement

Hip arthroscopy

Periacetabular osteotomy