Abstract
Purpose
This systematic review and meta-analysis analyzed the influence of pre-operative intra-articular injections (IAI) on periprosthetic joint infection (PJI) rates after primary total knee arthroplasty (TKA).
Methods
Studies published between January 1st, 2000 and May 1st, 2021 evaluating PJI rates among TKA patients with and without IAI were identified from PubMed, Cochrane Library, MEDLINE, EBSCO Host, and Google Scholar. The pooled effect of IAI on PJI risk was calculated utilizing Mantel–Haenszel (M–H) models. Sub-analysis comparisons were conducted based on the interval from IAI to TKA: 0–3 months; > 3–6 months; > 6–12 months. The Methodological Index for Non-Randomized Studies (MINORS) and the Risk of Bias in Non-randomized Studies-of Interventions (ROBINS-I) tool were utilized to evaluate the quality of each included study.
Results
The present analysis included 12 studies reporting on 349,605 TKAs (IAI: n = 115,122; No IAI: n = 234,483). Patients receiving an IAI at any point prior to TKA (2850/115,122; 2.48%) had statistically significant increased risk of infection compared to patients not receiving IAIs (4479/234,483; 1.91%; OR: 1.14, 95% CI: 1.08–1.20; p < 0.0001). However, this finding was not demonstrated across sensitivity analyses. Receiving injections within 3 months prior to TKA was associated with increased infection risk (OR: 1.23, 95% CI: 1.14–1.31; p < 0.0001). There were no differences in infection rates when injections were given between > 3 and 6 months (OR: 0.82, 95% CI: 0.47–1.43; p = 0.49) and > 6–12 months prior to TKA (OR: 1.26, 95% CI: 0.89–1.78; p = 0.18).
Conclusions
Based on the current literature, the findings of this analysis suggest that patients receiving IAI should wait at least 3 months before undergoing TKA to mitigate infection risk. Orthopaedic surgeons and patients can utilize this information when undergoing shared decision-making regarding osteoarthritis management options and timing.
Level of evidence
Level III.
Access options
Buy single article
Instant access to the full article PDF.
USD 39.95
Price excludes VAT (USA)
Tax calculation will be finalised during checkout.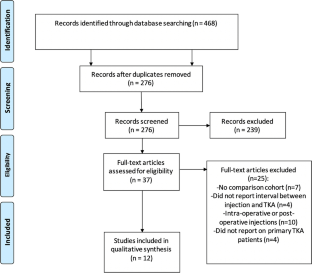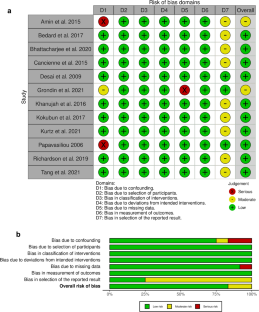 References
American Academy of Orthopaedic Surgeons (AAOS) Limited evidence suggests intra-articular injection performed prior to total joint arthroplasty may have a time-dependent association for increased risk of PJI. https://www.orthoguidelines.org/go/cpg/detail.cfm?id=1495

Amin NH, Omiyi D, Kuczynski B, Cushner FD, Scuderi GR (2016) The risk of a deep infection associated with intraarticular injections before a total knee arthroplasty. J Arthroplasty 31:240–244

Bannuru RR, Vaysbrot EE, Sullivan MC, McAlindon TE (2014) Relative efficacy of hyaluronic acid in comparison with NSAIDs for knee osteoarthritis: a systematic review and meta-analysis. Semin Arthritis Rheum 43:593–599

Bedard NA, Pugely AJ, Elkins JM, Duchman KR, Westermann RW, Liu SS, Gao Y, Callaghan JJ (2017) The John N. Insall award: do intraarticular injections increase the risk of infection after TKA? Clin Orthop Relat Res 475:45–52

Bedard NA, Sierra RJ, Mabry T (2018) Commentary & perspective opioids after orthopaedic surgery: there is a need for universal prescribing recommendations. J Bone Joint Surg Am 100:17–18

Bhattacharjee S, Wallace S, Luu HH, Shi LL, Lee MJ, Chen AF (2021) Do we need to wait 3 months after corticosteroid injections to reduce the risk of infection after total knee arthroplasty? J Am Acad Orthop Surg 29:e714–e721

Blankstein M, Lentine B, Nelms NJ (2021) Common practices in intra-articular corticosteroid injection for the treatment of knee osteoarthritis: a survey of the American Association of Hip and Knee Surgeons membership. J Arthroplasty 36:845–850

Cancienne JM, Werner BC, Luetkemeyer LM, Browne JA (2015) Does timing of previous intra-articular steroid injection affect the post-operative rate of infection in total knee arthroplasty? J Arthroplasty 30:1879–1882

Chandrasekaran S, Lodhia P, Suarez-Ahedo C, Vemula SP, Martin TJ, Domb BG (2016) Symposium: evidence for the use of intra-articular cortisone or hyaluronic acid injection in the hip. J Hip Preserv Surg 3:5

Charalambous CP, Prodromidis AD, Kwaees TA (2014) Do intra-articular steroid injection increase infection. Rates in subsequent arthroplasty? A systematic review and meta-analysis of comparative studies. J Arthroplasty 29:2175–2180

Charalambous CP, Tryfonidis M, Sadiq S, Hirst P, Paul A (2003) Septic arthritis following intra-articular steroid injection of the knee—a survey of current practice regarding antiseptic technique used during intra-articular steroid injection of the knee. Clin Rheumatol 22:386–390

Chitre AR, Fehily MJ, Bamford DJ (2007) Total hip replacement after intra-articular injection of local anaesthetic and steroid. J Bone Joint Surg Br 89:166–168

Cochrane Training Cochrane Handbook for Systematic Reviews of Interventions|Cochrane Training (2020) https://training.cochrane.org/cochrane-handbook-systematic-reviews-interventions

Desai A, Ramankutty S, Board T, Raut V (2009) Does intraarticular steroid infiltration increase the rate of infection in subsequent total knee replacements? Knee 16:262–264

Eymard F, Ornetti P, Maillet J, Noel É, Adam P, Legré-Boyer V, Boyer T, Allali F, Gremeaux V, Kaux JF, Louati K, Lamontagne M, Michel F, Richette P, Bard H (2021) Intra-articular injections of platelet-rich plasma in symptomatic knee osteoarthritis: a consensus statement from French-speaking experts. Knee Surg Sports Traumatol Arthrosc 29:3195–3210

Grondin J, Menu P, Métayer B, Crenn V, Dauty M, Fouasson-Chailloux A (2021) Intra-articular injections prior to total knee arthroplasty do not increase the risk of periprosthetic joint infection: a prospective cohort study. Antibiotics (Basel) 10:330

Kasparde SJ (2005) Infection in hip arthroplasty after previous injection of steroid. J Bone Joint Surg Br 87:454–457

Khanuja HS, Banerjee S, Sodhi GS, Mont MA (2016) Do prior intra-articular corticosteroid injections or time of administration increase the risks of subsequent periprosthetic joint injections after total knee arthroplasty? J Long Term Eff Med Implants 26:191–197

Kurtz SM, Mont MA, Chen MA, Valle CD, Sodhi N, Lau E, Ong KL (2021) Intra-articular corticosteroid or hyaluronic acid injections are not associated with periprosthetic joint infection risk following total knee arthroplasty. J Knee Surg. https://doi.org/10.1055/s-0040-1721128

Lenguerrand E, Whitehouse MR, Beswick AD, Kunutsor SK, Burston B, Porter M, Blom AW (2018) Risk factors associated with revision for prosthetic joint infection after hip replacement: a prospective observational cohort study. Lancet Infect Dis 18:1004–1014

Lentino JR (2003) Prosthetic joint infections: bane of orthopedists, challenge for infectious disease specialists. Clin Infect Dis Narnia 36:1157–1161

Li H, Xing D, Ke Y, Lin J (2018) Safety of intra-articular steroid injections prior to arthroplasty: best evidence selection and risk of bias considerations. Int J Rheum Dis 21:982–991

Marculescu CE, Berbari EF, Hanssen AD, Steckelberg JM, Harmsen SW, Mandrekar JN, Osmon DR (2006) Outcome of prosthetic joint infections treated with debridement and retention of components. Clin Infect Dis 42:471–478

Marsland D, Mumith A, Barlow IW (2014) Systematic review: the safety of intra-articular corticosteroid injection prior to total knee arthroplasty. Knee 21:6–11

Martin SD, Conaway WK, Lei P (2018) Use of intra-articular corticosteroids in orthopaedics. J Bone Joint Surg Am 100:885–891

McMahon S, Le Roux J, Smith T, Hing C (2013) Total joint arthroplasty following intra-articular steroid injection: a literature review. Acta Orthop Belg 79:672–679

Nie F, Li W (2021) Impact of prior intra-articular injections on the risk of prosthetic joint infection following total joint arthroplasty: a systematic review and meta-analysis. Front Surg 8:737529

O'Toole P, Maltenfort MG, Chen AF, Parvizi J (2016) Projected increase in periprosthetic joint infections secondary to rise in diabetes and obesity. J Arthroplasty 31:7–10

Papavasiliou AV, Isaac DL, Marimuthu R, Skyrme A, Armitage A (2006) Infection in knee replacements after previous injection of intra-articular steroid. J Bone Joint Surg Br 8:321–323

Parvizi J, Tan TL, Goswami K, Higuera C, Della Valle C, Chen AF, Shohat N (2018) The 2018 definition of periprosthetic hip and knee infection: an evidence-based and validated criteria. J Arthroplasty 33:1309-1314.e2

Peel TN, Dowsey MM, Buising KL, Liew D, Choong PFM (2013) Cost analysis of debridement and retention for management of prosthetic joint infection. Clin Microbiol Infect 19:181–186

Preferred Reporting Items for Systematic Reviews and Meta-Analyses (PRISMA) PRISMA Checklist (2020) www.prisma-statement.org

Premkumar A, Kolin DA, Farley KX, Wilson JM, McLawhorn AS, Cross MB, Sculco PK (2021) Projected economic burden of periprosthetic joint infection of the hip and knee in the United States. J Arthroplasty 36:1484-1489.e3

Rhode DT, Siegel MA, Volchenko E, Patetta MJ, Schwarzman GR, Chmell SJ, Gonzalez MH (2021) Do intra-articular corticosteroid injections prior to total knee arthroplasty increase postoperative complication rates: A Retrospective Review. J Knee Surg. https://doi.org/10.1055/s-0041-1731327

Richardson SS, Schairer WW, Sculco TP, Sculco PK (2019) Comparison of infection risk with corticosteroid or hyaluronic acid injection prior to total knee arthroplasty. J Bone Joint Surg 101:112–118

Schairer WW, Nwachukwu BU, Mayman DJ, Lyman S, Jerabek SA (2016) Preoperative hip injections increase the rate of periprosthetic infection after total hip arthroplasty. J Arthroplasty 31:166-169.e1

Senneville E, Joulie D, Legout L, Valette M, Dezeque H, Beltrand E, Rosele B, d'Escrivan T, Loiez C, Caillaux M, Yazdanpanah Y, Maynou C, Migaud H (2011) Outcome and predictors of treatment failure in total hip/knee prosthetic joint infections due to Staphylococcus aureus. Clin Infect Dis 53:334–340

Singh H, Knapik DM, Polce EM, Eikani CK, Bjornstad AH, Gursoy S, Perry AK, Westrick JC, Yanke AB, Verma NN, Cole BJ, Chahla JA (2021) Relative efficacy of intra-articular injections in the treatment of knee osteoarthritis: a systematic review and network meta-analysis. Am J Sports Med. https://doi.org/10.1177/03635465211029659

Slim K, Nini E, Forestier D, Kwiatkowski F, Panis Y, Chipponi J (2003) Methodological index for non-randomized studies (MINORS): development and validation of a new instrument. ANZ J Surg 73:712–716

Sterne JA, Hernán MA, Reeves BC, Savović J, Berkman ND, Viswanathan M, Henry D, Altman DG, Ansari MT, Boutron I, Carpenter JR, Chan AW, Churchill R, Deeks JJ, Hróbjartsson A, Kirkham J, Jüni P, Loke YK, Pigott TD, Ramsay CR, Regidor D, Rothstein HR, Sandhu L, Santaguida PL, Schünemann HJ, Shea B, Shrier I, Tugwell P, Turner L, Valentine JC, Waddington H, Waters E, Wells GA, Whiting PF, Higgins JP (2016) ROBINS-I: a tool for assessing risk of bias in non-randomised studies of interventions. BMJ 2016:355

Tang A, Almetwali O, Zak SG, Bernstein JA, Schwarzkopf R, Aggarwal VK (2021) Do preoperative intra-articular corticosteroid and hyaluronic acid injections affect time to total joint arthroplasty? J Clin Orthop Trauma 16:49–57

Villa JM, Pannu TS, Piuzzi N, Riesgo AM, Higuera CA (2020) Evolution of diagnostic definitions for periprosthetic joint infection in total hip and knee arthroplasty. J Arthroplasty 35:S9–S13

Wang Q, Jiang X, Tian W (2014) Does previous intra-articular steroid injection increase the risk of joint infection following total hip arthroplasty or total knee arthroplasty? A meta-analysis. Med Sci 20:1878–1883

Wang Y, Leng V, Patel V, Phillips KS (2017) Injections through skin colonized with Staphylococcus aureus biofilm introduce contamination despite standard antimicrobial preparation procedures. Sci Rep 7:1–9
Funding
No funding was received for this analysis.
Ethics declarations
Conflict of interest
A.F.K. reports the following disclosures: research support (Signature Orthopaedics), paid presenter or speaker (DePuy Synthes and Zimmer Biomet), paid consultant (DePuy Synthes and Zimmer Biomet), stock or stock options (Zimmer Biomet, Johnson & Johnson, and Procter & Gamble), IP royalties (Innomed), and board or committee member (AAOS, AAHKS, and Anterior Hip Foundation). The remaining authors have nothing to disclose.
Ethical Approval
As our analysis used publicly available and de-identified data, it was exempt from Insitutional Review Board (IRB) approval.
Additional information
Publisher's Note
Springer Nature remains neutral with regard to jurisdictional claims in published maps and institutional affiliations.
About this article
Cite this article
Avila, A., Acuña, A.J., Do, M.T. et al. Intra-articular injection receipt within 3 months prior to primary total knee arthroplasty is associated with increased periprosthetic joint infection risk. Knee Surg Sports Traumatol Arthrosc 30, 4088–4097 (2022). https://doi.org/10.1007/s00167-022-06942-3
Received:

Accepted:

Published:

Issue Date:

DOI: https://doi.org/10.1007/s00167-022-06942-3
Keywords
Total knee arthroplasty (TKA)

Periprosthetic joint infection (PJI)

Intra-articular injections (IAIs)

Systematic review

Meta-analysis

3-Month waiting period

Increased infection risk