Abstract
Purpose
To describe the bilateral coracohumeral morphological discrepancy in rotator cuff rupture patients with and without subscapularis (SSC) involvement and to investigate its association with SSC tears.
Methods
Two hundred and thirteen consecutive patients who were scheduled to have arthroscopic rotator cuff repair were prospectively enrolled in the current study. Patients with acute traumatic rotator cuff rupture, glenohumeral osteoarthritis, bilateral rotator cuff rupture, recurrent shoulder instability, systemic inflammatory disease, and previous shoulder surgery history were excluded. Coracohumeral distance (CHD), coracoid overlap (CO), lesser tuberosity index (LTI) and acromiohumeral interval (AHI) were measured bilaterally using CT scans. Based on arthroscopic findings, patients were included in either the SSC tear group (n = 72) or the control group (n = 141).
Results
In the SSC tear group, the affected shoulder possessed a significantly smaller CHD [95% confidence interval (CI) 6.1–7.2 vs. 7.2–8.0 mm, p < 0.0001], larger LTI (95% CI 9.4–9.9 vs. 9.0–9.6 mm, p < 0.0001), and smaller AHI (95% CI 5.0–5.5 vs. 7.1–7.5 mm, p < 0.0001) than the contralateral normal shoulder. In the control group, there was no significant difference between bilateral CHD and CO, and the AHI bilateral discrepancy was less distinct. CO did not differ significantly in the bilateral comparison in either group. Among all evaluated parameters, bilateral CHD discrepancy was the best predictor of SSC tears, with an area under the curve (AUC) of 0.882. A cutoff value of 0.5 mm had a sensitivity of 76.4% and specificity of 99.3% for SSC tears.
Conclusion
The CHD values are significantly different between affected and contralateral shoulders in SSC tear patients. Bilateral CHD discrepancy is closely associated with subcoracoid impingement and SSC tears, and its presence warrants specific intraoperative SSC inspection.
Level of evidence
Level II.
Access options
Buy single article
Instant access to the full article PDF.
US$ 39.95
Tax calculation will be finalised during checkout.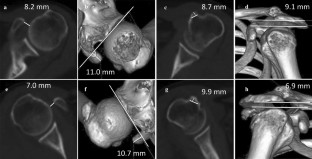 References
1.

Adams CR, Schoolfield JD, Burkhart SS (2010) Accuracy of preoperative magnetic resonance imaging in predicting a subscapularis tendon tear based on arthroscopy. Arthroscopy 26:1427–1433

2.

Arai R, Sugaya H, Mochizuki T, Nimura A, Moriishi J, Akita K (2008) Subscapularis tendon tear: an anatomic and clinical investigation. Arthroscopy 24:997–1004

3.

Balke M, Banerjee M, Greshake O, Hoeher J, Bouillon B, Liem D (2016) The coracohumeral distance in shoulders with traumatic and degenerative subscapularis tendon tears. Am J Sports Med 44:198–201

4.

Bergin D, Parker L, Zoga A, Morrison W (2006) Abnormalities on MRI of the subscapularis tendon in the presence of a full-thickness supraspinatus tendon tear. Am J Roentgenol 186:454–459

5.

Chen S, He Y, Wu D, Hu N, Liang X, Jiang D, Huang W, Chen H (2020) Postoperative bone marrow edema lasts no more than 6 months after uncomplicated arthroscopic double-row rotator cuff repair with PEEK anchors. Knee Surg Sports Traumatol Arthrosc. https://doi.org/10.1007/s00167-020-05897-7

6.

Cetinkaya M, Ataoglu MB, Ozer M, Ayanoglu T, Kanatli U (2017) Subscapularis tendon slip number and coracoid overlap are more related parameters for subcoracoid impingement in subscapularis tears: a magnetic resonance imaging comparison study. Arthroscopy 33:734–742

7.

Dugarte AJ, Davis RJ, Lynch TS, Schickendantz MS, Farrow LD (2017) Anatomic study of subcoracoid morphology in 418 shoulders: potential implications for subcoracoid impingement. Orthop J Sports Med 5:2325967117731996

8.

Dyrna F, Beitzel K, Pauzenberger L, Dwyer CR, Obopilwe E, Mazzocca AD, Imhoff AB, Braun S (2019) A superolaterally placed anchor for subscapularis "leading-edge" refixation: a biomechanical study. Arthroscopy 35(1306–1313):e1301

9.

Gausden EB, McCarthy MM, Kontaxis A, Corpus KT, Gulotta LV, Kelly AM (2017) Subscapularis tendon loading during activities of daily living. J Shoulder Elb Surg 26:331–336

10.

Kim SJ, Choi YR, Jung M, Yoon YK, Chun YM (2018) Concomitant coracoplasty during arthroscopic subscapularis repair does not yield better clinical outcomes and structural integrity. Knee Surg Sports Traumatol Arthrosc 26:56–62

11.

Leite MJ, Sa MC, Lopes MJ, Matos RM, Sousa AN, Torres JM (2019) Coracohumeral distance and coracoid overlap as predictors of subscapularis and long head of the biceps injuries. J Shoulder Elb Surg 28:1723–1727

12.

Li X, Xu W, Hu N, Liang X, Huang W, Jiang D, Chen H (2017) Relationship between acromial morphological variation and subacromial impingement: a three-dimensional analysis. PLoS ONE 12:e0176193

13.

Liljequist D, Elfving B, Skavberg Roaldsen K (2019) Intraclass correlation—a discussion and demonstration of basic features. PLoS ONE 14:e0219854

14.

Lin L, Yan H, Xiao J, Ao Y, Cui G (2015) Internal rotation resistance test at abduction and external rotation: a new clinical test for diagnosing subscapularis lesions. Knee Surg Sports Traumatol Arthrosc 23:1247–1252

15.

Lin L, Yan H, Xiao J, He Z, Luo H, Cheng X, Ao Y, Cui G (2016) The diagnostic value of magnetic resonance imaging for different types of subscapularis lesions. Knee Surg Sports Traumatol Arthrosc 24:2252–2258

16.

Lo IK, Burkhart SS (2003) The etiology and assessment of subscapularis tendon tears: a case for subcoracoid impingement, the roller-wringer effect, and TUFF lesions of the subscapularis. Arthroscopy 19:1142–1150

17.

Malavolta EA, Assuncao JH, Gracitelli MEC, Yen TK, Bordalo-Rodrigues M, Ferreira Neto AA (2019) Accuracy of magnetic resonance imaging (MRI) for subscapularis tear: a systematic review and meta-analysis of diagnostic studies. Arch Orthop Trauma Surg 139:659–667

18.

Martetschlager F, Rios D, Boykin RE, Giphart JE, de Waha A, Millett PJ (2012) Coracoid impingement: current concepts. Knee Surg Sports Traumatol Arthrosc 20:2148–2155

19.

McKernan MJ, Schickendantz MS, Frangiamore SJ (2021) Diagnosis and management of subcoracoid impingement. J Am Acad Orthop Surg 29:100–107

20.

Oh JH, Song BW, Choi JA, Lee GY, Kim SH, Kim DH (2016) Measurement of coracohumeral distance in 3 shoulder positions using dynamic ultrasonography: correlation with subscapularis tear. Arthroscopy 32:1502–1508

21.

Richards DP, Burkhart SS, Campbell SE (2005) Relation between narrowed coracohumeral distance and subscapularis tears. Arthroscopy 21:1223–1228

22.

Sahu D, Fullick R, Giannakos A, Lafosse L (2016) Sentinel sign: a sign of biceps tendon which indicates the presence of subscapularis tendon rupture. Knee Surg Sports Traumatol Arthrosc 24:3745–3749

23.

Saltzman BM, Collins MJ, Leroux T, Arns TA, Griffin JW, Romeo AA, Verma NN, Forsythe B (2017) Arthroscopic repair of isolated subscapularis tears: a systematic review of technique-specific outcomes. Arthroscopy 33:849–860

24.

Shim JW, Pang CH, Min SK, Jeong JY, Yoo JC (2019) A novel diagnostic method to predict subscapularis tendon tear with sagittal oblique view magnetic resonance imaging. Knee Surg Sports Traumatol Arthrosc 27:277–288

25.

Sundararajan SR, Joseph JB, Ramakanth R, Jha AK, Rajasekaran S (2020) Do coracohumeral interval and glenoid version play a role in subscapularis tears? JSES Int 4:888–892

26.

Tan V, Moore RS Jr, Omarini L, Kneeland JB, Williams GR Jr, Iannotti JP (2002) Magnetic resonance imaging analysis of coracoid morphology and its relation to rotator cuff tear. Am J Orthop (Belle Mead NJ) 31:329–333

27.

Ticker JB, Burkhart SS (2011) Why repair the subscapularis? A logical rationale. Arthroscopy 27:1123–1128

28.

Tollemar VC, Wang J, Koh JL, Lee MJ, Shi LL (2020) Coracoid morphology is not associated with subscapularis tears. J Shoulder Elb Surg 29:1162–1167

29.

Zhang H, Zhang Q, Li ZL (2019) Coracohumeral index and coracoglenoid inclination as predictors for different types of degenerative subscapularis tendon tears. Int Orthop 43:1909–1916
Ethics declarations
Conflict of interest
Author Sizheng Zhu, Jixiang Tan, Dandong Wu, Ning Hu, Wei Huang and Hong Chen declare that they have no conflict of interest.
Ethical approval
All procedures performed in this prospective study were in accordance with the ethical standards of the First Affiliated Hospital of Chongqing Medical University. This study was approved by our institutional review board (IRB, No. 20194701) and registered in the Chinese Clinical Trial Register (ChiCTR1900026059).
Additional information
Publisher's Note
Springer Nature remains neutral with regard to jurisdictional claims in published maps and institutional affiliations.
About this article
Cite this article
Zhu, S., Tan, J., Wu, D. et al. Bilateral coracohumeral distance discrepancy is associated with subscapularis tear in rotator cuff rupture patients. Knee Surg Sports Traumatol Arthrosc (2021). https://doi.org/10.1007/s00167-021-06597-6
Received:

Accepted:

Published:
Keywords
Subscapularis tear

Coracohumeral distance

Coracoid overlap

Subcoracoid impingement