Abstract
Purpose
The aim of this study was to investigate whether computer-assisted cryotherapy is effective in reducing postoperative pain and analgesics consumption, next to improving functional outcome and patient satisfaction after total knee arthroplasty (TKA). The hypothesis is that computer-assisted cryotherapy has positive effects on postoperative pain after TKA.
Methods
A single-centre non-blinded randomised controlled trial was designed to study the early (first postoperative week) and late (2 and 6 weeks postoperatively) additive effect of computer-assisted cooling after TKA. Participants scheduled for a TKA were randomly allocated to a cold (cryotherapy) C-group or a regular (control) R-group. Next to usual postoperative care for both groups, the C-group received computer-assisted cryotherapy during the first seven postoperative days. Primary outcome was pain, monitored with the numerical rating scale for pain and use of opioid escape medication. Secondary outcomes were function and swelling, monitored by active range of motion, timed up and go test and circumference measurements; patient-reported outcome measurements (KOOS and WORQ questionnaires); and patient satisfaction, monitored by the numerical rating scale for satisfaction.
Results
102 patients participated in this study, both groups contained 51 patients. On most days during the first week, patients in the C-group scored significantly lower NRS pain scores and registered significantly less use of opioid escape medication. In a sub-analysis of 57 patients using the same standard pain protocol, patients in the C-group (n = 28) used less oxycodone during the first postoperative week. There were no significant differences between both groups in active range of motion, timed up and go, or circumference measurements. For the WORQ questionnaire, there was a significant difference between the two groups 6 weeks postoperatively in favour of the C-group. This could be however due to a reduced validity of this questionnaire shortly after TKA. The satisfaction score was not significantly different between both groups.
Conclusion
Computer-assisted cryotherapy following TKA can be beneficial during the first postoperative week in terms of pain reduction and diminished opioid consumption. No clear differences in knee function or swelling were seen.
Level of evidence
Therapeutic study with level of evidence I.
Access options
Buy single article
Instant access to the full article PDF.
USD 39.95
Price excludes VAT (USA)
Tax calculation will be finalised during checkout.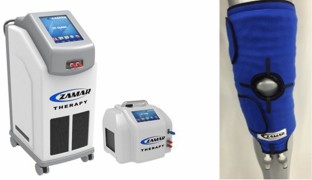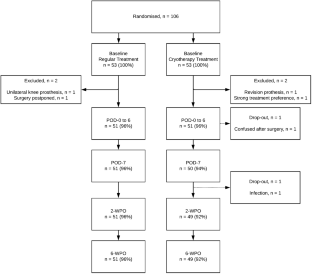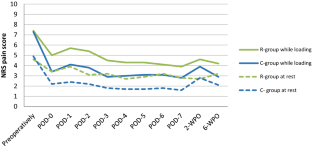 Abbreviations
ADL:

Activities of daily living

AROM:

Active range of motion

ASA:

American Society of Anaesthesiologists

BMI:

Body mass index

CAC:

Computer-assisted cryotherapy

KOOS:

Knee Injury and Osteoarthritis Outcome Score

MIC:

Minimal important change

NRS:

Numeric rating scale

OA:

Osteoarthritis

POD:

Postoperative day

PROMs:

Patient-reported outcome measurements

RCT:

Randomised controlled trial

ROM:

Range of motion

RR:

Rapid recovery

TKA:

Total knee arthroplasty

TUG:

Timed up and go

WORQ:

Work, Osteoarthritis and Joint-Replacement Questionnaire

WPO:

Weeks postoperatively
References
Bourne RB, McCalden RW, MacDonald SJ, Mokete L, Guerin J (2007) Influence of patient factors on TKA outcomes at 5 to 11 years followup. Clin Orthop 464:27–31

Collins NJ, Prinsen CA, Christensen R, Bartels EM, Terwee CB, Roos EM (2016) Knee Injury and Osteoarthritis Outcome Score (KOOS): systematic review and meta-analysis of measurement properties. Osteoarthr Cartil 24(8):1317–1329

Jakobsen TL, Christensen M, Christensen SS, Olsen M, Bandholm T (2010) Reliability of knee joint range of motion and circumference measurements after total knee arthroplasty: does tester experience matter? Physiother Res Int 15(3):126–134

Kendrick DB, Strout TD (2005) The minimum clinically significant difference in patient-assigned numeric scores for pain. Am J Emerg Med 23(7):828–832

Kievit AJ, Kuijer PP, Kievit RA, Sierevelt IN, Blankevoort L, Frings-Dresen MH (2014) A reliable, valid and responsive questionnaire to score the impact of knee complaints on work following total knee arthroplasty: the WORQ. J Arthroplasty 29(6):1169–1175

Kong L, Cao J, Zhang Y, Ding W, Shen Y (2017) Risk factors for periprosthetic joint infection following primary total hip or knee arthroplasty: a meta-analysis. Int Wound J 14(3):529–536

Levy N, Quinlan J, El-Boghdadly K, Fawcett WJ, Agarwal V, Bastable RB, Cox FJ, de Boer HD, Dowdy SC, Hattingh K, Knaggs RD, Mariano ER, Pelosi P, Scott MJ, Lobo DN, Macintyre PE (2020) An international multidisciplinary consensus statement on the prevention of opioid-related harm in adult surgical patients. Anaesthesia 76:520–536

Martin SS, Spindler KP, Tarter JW, Detwiler KB (2002) Does cryotherapy affect intraarticular temperature after knee arthroscopy? Clin Orthop 400:184–189

Mizner RL, Petterson SC, Clements KE, Zeni JA Jr, Irrgang JJ, Snyder-Mackler L (2011) Measuring functional improvement after total knee arthroplasty requires both performance-based and patient-report assessments: a longitudinal analysis of outcomes. J Arthroplasty 26(5):728–737

Namba RS, Inacio MC, Paxton EW (2013) Risk factors associated with deep surgical site infections after primary total knee arthroplasty: an analysis of 56,216 knees. J Bone Jt Surg Am. 95(9):775–782

Ruffilli A, Castagnini F, Traina F, Corneti I, Fenga D, Giannini S, Faldini C (2017) Temperature-controlled continuous cold flow device after total knee arthroplasty: a randomized controlled trial study. J Knee Surg 30(7):675–681

Sadoghi P, Hasenhütl S, Gruber G et al (2018) Impact of a new cryotherapy device on early rehabilitation after primary total knee arthroplasty (TKA): a prospective randomised controlled trial. Int Orthop 42(6):1265–1273

Soffin EM, YaDeau JT (2016) Enhanced recovery after surgery for primary hip and knee arthroplasty: a review of the evidence. Br J Anaesth. 117(suppl 3):iii62–iii72

Thacoor A, Sandiford NA (2019) Cryotherapy following total knee arthroplasty: what is the evidence? J Orthop Surg 27(1):1–6

Thienpont E (2014) Does advanced cryotherapy reduce pain and narcotic consumption after knee arthroplasty? Clin Orthop 472(11):3417–3423

Thijs E, Schotanus MGM, Bemelmans YFL, Kort NP (2019) Reduced opiate use after total knee arthroplasty using computer-assisted cryotherapy. Knee Surg Sports Traumatol Arthrosc 27(4):1204–1212

Yuksel E, Kalkan S, Cekmece S, Unver B, Karatosun V (2017) Assessing minimal detectable changes and test-retest reliability of the timed up and go test and the 2-minute walk test in patients with total knee arthroplasty. J Arthroplasty 32(2):426–430
Acknowledgements
We thank M.J. de Ronde and J.M. Hut-de Jong for their practical work on this project.
Funding
The study was funded by the Martini research and innovation fund.
Ethics declarations
Conflict of interest
The authors declare that they have no conflict of interest.
Ethical approval
The Local Medical Ethics Committee approved the study protocol (MEC no. 2018-128).
Informed consent
All participants gave signed informed consent before participation.
Additional information
Publisher's Note
Springer Nature remains neutral with regard to jurisdictional claims in published maps and institutional affiliations.
About this article
Cite this article
Brouwers, H.F.G., de Vries, A.J., van Zuilen, M. et al. The role of computer-assisted cryotherapy in the postoperative treatment after total knee arthroplasty: positive effects on pain and opioid consumption. Knee Surg Sports Traumatol Arthrosc 30, 2698–2706 (2022). https://doi.org/10.1007/s00167-021-06568-x
Received:

Accepted:

Published:

Issue Date:

DOI: https://doi.org/10.1007/s00167-021-06568-x
Keywords