Abstract
Purpose
Discoid menisci can be symptomatic from instability or a tear. A torn discoid meniscus is likely to require repair to preserve meniscal function and should not be missed. This is the first study to evaluate a range of pre-operative methods to predict the likelihood of a torn discoid meniscus.
Methods
A retrospective analysis of prospectively collected data was performed. Clinical, radiographic and operative data were reviewed. Patients were grouped based on the presence of a tear or not during surgery. All patients underwent MRI scans pre-operatively which were validated with arthroscopy findings to calculate sensitivity. All patients completed Pedi-KOOS and Pedi-IKDC pre-operative scores.
Results
There were 32 discoid menisci in 27 patients. Mean age at surgery was 10.4 years (6–16). Nineteen patients were female. Seventeen menisci were identified as torn at time of arthroscopy (53%), 15 were unstable but not torn. Clinical findings did not differentiate between the torn or unstable menisci. MRI was only 75% sensitive and 50% specific at identifying a torn discoid meniscus. There was no statistical difference between KOOS-child (n.s.) and Pedi-IKDC (n.s.) scores between the groups.
Conclusion
MRI is neither sensitive nor specific at identifying tears in discoid menisci. There is no difference in pre-operative outcome scores for patients with a torn or unstable discoid meniscus; pre-operative PROMs are a poor predictor of a meniscal tear. This study emphasises that pre-operative tests and clinical findings are not conclusive for identifying a meniscal tear and the operating surgeon should be vigilant in identifying and repairing tears at the time of surgery. Pre-operative findings poorly correlate to arthroscopic findings and potential surgical interventions required. Patients and parents/carers should, therefore, be appropriately counselled prior to surgery that post-operative measures are dependent on intra-operative findings and not pre-operative findings in patients.
Level of evidence
III.
Access options
Buy single article
Instant access to the full article PDF.
USD 39.95
Price includes VAT (USA)
Tax calculation will be finalised during checkout.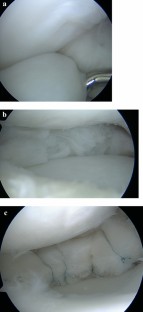 References
1.

Araki Y, Ashikaga R, Fujii K, Ishida O, Hamada M, Ueda J, Tsukaguchi I (1998) MR imaging of meniscal tears with discoid lateral meniscus. Eur J Radiol 27(2):153–160

2.

Atay OA, Doral MN, Leblebicoglu G, Tetik O, Aydingoz U (2003) Management of discoid meniscus lateral meniscus tears: Observations in 34 knees. Arthroscopy 19(4):346–352

3.

Baldwin JN, McKay MJ, Simic M, Hiller CE, Moloney N, Nightingale EJ, Burns J, 1000 Norms project consortium (2017) Self-reported knee pain and disability among healthy individuals: reference data and factors associated with the Knee injury and Osteoarthritis Outcome Score (KOOS) and KOOS-Child. Osteoarthr Cartil 25(8):1282–1290

4.

Cavanaugh JT, Killian SE (2012) Rehabilitation following meniscal repair. Curr Rev Musculoskelet Med 5(1):46–58

5.

Connolly B, Babyn PS, Wright JG, Thorner PS (1996) Discoid meniscus in children: magnetic resonance imaging characteristics. Can Assoc Radiol J 47(5):347–354

6.

Crues JV 3rd, Mink J, Levy TL, Stoller DW (1987) Meniscal tears of the knee: accuracy of MR imaging. Radiology 164(2):445–448

7.

Davidson D, Letts M, Glasgow R (2013) Discoid meniscus in children: treatment and outcome. Can J Surg 46(5):350–358

8.

Habata T, Uematsu K, Kasanami R, Hattori K, Takakura Y, Tohma Y, Fujisawa Y (2006) Long-term clinical and radiographic follow-up of total resection for discoid lateral meniscus. Arthroscopy 22(6):1339–1343

9.

Hart ES, Kalra KP, Grottkau BE, Albright M, Shannon EG (2008) Discoid lateral meniscus in children. Orthop Nurs 27(3):174–179 (quiz 180–1)

10.

Haskel JD, Uppstrom TJ, Dare DM, Rodeo SA, Green DW (2018) Decline in clinical scores at long-term follow-up of arthroscopically treated discoid lateral meniscus in children. Knee Surg Sports Traumatol Arthrosc 26(10):2609–2911

11.

Jackson T, Fabricant PD, Beck N, Storey E, Patel NM, Ganley TJ (2019) Epidemiology, injury patterns, and treatment of meniscal tears in pediatric patients: a 16-year experience of a single center. Orthop J Sports Med 7(12):2325967119890325

12.

Jacobsen JS, Knudsen P, Fynbo C, Rolving N, Warming S (2016) Reproducibility and responsiveness of a Danish Pedi-IKDC subjective knee form for children with knee disorders. Scand J Med Sci Sport 26(12):1408–1414

13.

Kim SJ, Chun YM, Jeong JH, Ryu SW, Oh KS, Lubis AM (2007) Effects of arthroscopic meniscectomy on the long-term prognosis for the discoid lateral meniscus. Knee Surg Sports Traumatol Arthrosc 15:1315–1320

14.

Kocher MS, Smith JT, Iversen MD, Brustowicz K, Ogunwole O, Andersen J (2011) Reliability, validity, and responsiveness of a modified international knee documentation committee subjective knee form (Pedi-IKDC) in children with knee disorders. Am J Sports Med 39(5):933–939

15.

Lee DH, Kim TH, Kim JM, Bin SI (2009) Results of subtotal/total or partial meniscectomy for discoid lateral meniscus in children. Arthroscopy 25(5):496–503

16.

Lee YS, Teo SH, Ahn JH, Lee OS, Lee SH, Lee JH (2017) Systematic review of the long-term surgical outcomes of discoid lateral meniscus. Arthroscopy 33(10):1884–1895

17.

Ng YH, Tan SHS, Lim AKS (2020) Meniscoplasty leads to good mid-term to long-term outcomes for children and adolescents with discoid lateral meniscus. Knee Surg Sports Traumatol Arthrosc (Epub ahead of print PMID: 32166389)

18.

O'Donnell K, Freedman KB, Tjoumakaris FP (2017) Rehabilitation protocols after isolated meniscal repair: a systematic review. Am J Sports Med 45(7):1687–1697

19.

Ortqvist M, Roos EM, Brostrom EW, Janarv PM, Iversen MD (2012) Development of the knee injury and osteoarthritis outcome score for children (KOOS-child): comprehensibility and content validity. Acta Orthop 83(6):666–673

20.

Park Y, Kim SH, Ha C (2020) A predictive model with radiographic signs can be a useful supplementary diagnostic tool for complete discoid lateral meniscus in adults. Knee Surg Sports Traumatol Arthrosc. https://doi.org/10.1007/s00167-020-05972-z (PMID: 32246171)

21.

Perkins CA, Busch MT, Christino MA, Willimon SC (2020) Saucerization and repair of discoid lateral menisci with peripheral rim instability: intermediate-term outcomes in children and adolescents. J Pediatr Orthop. https://doi.org/10.1097/bpo.0000000000001695 (PMID: 33044260)

22.

Ryu KN, Kim IS, Kim EJ, Ahn JW, Bae DK, Sartoris DJ (1998) MR imaging of tears of discoid lateral menisci. AJR Am J Roentgenol 171(4):963–967

23.

Sabbag OD, Hevesi M, Sanders TL (2018) Incidence and treatment trends of symptomatic discoid lateral menisci: an 18-year population-based study. Orthop J Sports Med 6(9):2325967118797886

24.

Sabbag OD, Hevesi M, Sanders TL (2019) High rate of recurrent meniscal tear and lateral compartment osteoarthritis in patients treated for symptomatic lateral discoid meniscus: a population-based study. Orthop J Sports Med 7(7):2325967119856284

25.

Stilli S, Marchesini Reggiani L, Marcheggiani Muccioli GM, Cappella M, Donzelli O (2011) Arthroscopic treatment for symptomatic discoid lateral meniscus during childhood. Knee Surg Sports Traumatol Arthrosc 19(8):1337–1342

26.

Woods GW, Whelan JM (1990) Discoid meniscus. Clin Sports Med 9:695–706

27.

Yang BW, Liotta ES, Paschos N (2019) Outcomes of meniscus repair in children and adolescents. Curr Rev Musculoskelet Med 12(2):233–238

28.

Yang SJ, Ding ZJ, Li J, Xue Y, Chen G (2020) Factors influencing postoperative outcomes in patients with symptomatic discoid lateral meniscus. BMC Musculoskelet Disord 21(1):551
Funding
We received no sources of support for this study, no funding was required, and no industry was involved in setting up or performing this study. No funding was received from any parties for this study.
Ethics declarations
Conflict of interest
The authors declare that they have no conflict of interest.
Ethical approval
All procedures performed in studies involving human participants were in accordance with the ethical standards of the institutional and/or national research committee and with the 1964 Helsinki declaration and its later amendments or comparable ethical standards.
Additional information
Publisher's Note
Springer Nature remains neutral with regard to jurisdictional claims in published maps and institutional affiliations.
About this article
Cite this article
Hampton, M., Hancock, G., Christou, A. et al. Clinical presentation, MRI and clinical outcome scores do not accurately predict an important meniscal tear in a symptomatic discoid meniscus. Knee Surg Sports Traumatol Arthrosc 29, 3133–3138 (2021). https://doi.org/10.1007/s00167-020-06375-w
Received:

Accepted:

Published:

Issue Date:
Keywords
Knee

Meniscus

Discoid

Discoid tear