Abstract
Purpose
The aim of this study was to describe the sagittal geometry of the trochlear groove in patients who underwent primary TKA, based on intraoperative data acquired with a navigation system.
Methods
Intraoperative navigation data were collected from 110 patients. All operations were guided by a non-image-based navigation system (BLU-IGS, Orthokey Italia Srl). The trochlear groove has been described on the three anatomical planes; in particular, on the sagittal plane the hypothesis has been verified that the acquired points are referable to a circle. Using the data collected during intraoperative navigation, possible correlation between the radius of the trochlear groove and other femur dimension (length, AP dimension) was analyzed; the orientation of the trochlear sulcus with respect to the mechanical axis and the posterior condyle axis was analyzed too, searching for possible correlation between groove alignment (frontal and axial) or groove radius and the hip–knee–ankle (HKA).
Results
The average radius of curvature of the femoral trochlea was 25.5 ± 5.6 mm; the difference was not statistically significant between the men and women (n.s. p value). No correlation was found between the trochlear groove radius and the femur length (r = − 0.02) or the HKA-phenotypes (r = 0.03) and between the groove alignment and HKA-phenotypes. On axial plane, the trochlear groove was 3.2° ± 4.3° externally rotated, with respect to the posterior condylar axis; on frontal plane, the trochlear groove was 3.9° ± 5.3° externally rotated, with respect to the mechanical axis. In both cases, no statistically significant differences were found between male and female and between left and right limb (p > 0.05).
Conclusion
The present study shows that the sagittal plane geometry of the femoral trochlea in patients affected by osteoarthritis could be described accurately as a circle. The acquisition of the trochlear morphology intraoperatively can lead to more anatomically shape definition, to investigate deeper its radius of curvature and geometry. Trochlear shape could be used as landmarks for femoral component positioning, thus customizing the implant design, optimize the outcomes and improving anterior knee pain after TKA.
Level of evidence
IV.
Access options
Buy single article
Instant access to the full article PDF.
US$ 39.95
Tax calculation will be finalised during checkout.
Subscribe to journal
Immediate online access to all issues from 2019. Subscription will auto renew annually.
US$ 119
Tax calculation will be finalised during checkout.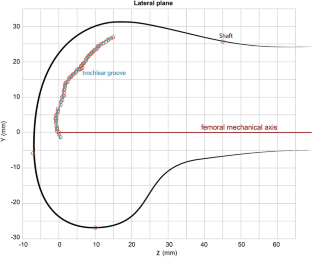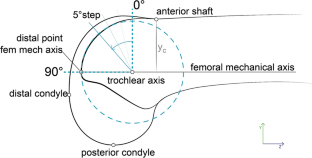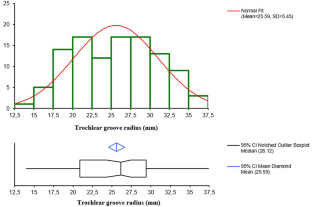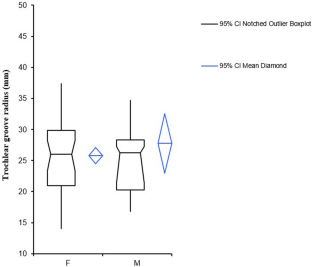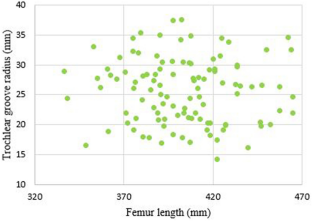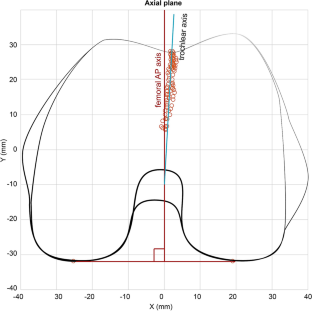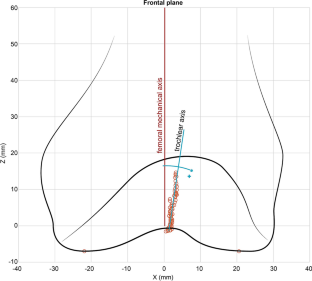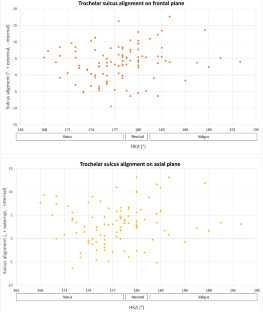 References
1.

Bignozzi S, Lopomo N, Zaffagnini S, Martelli S, Bruni D, Marcacci M (2008) Accuracy, reliability, and repeatability of navigation systems in clinical practice. Oper Tech Orthop 18:154–157

2.

Casino D, Zaffagnini S, Martelli S, Lopomo N, Bignozzi S, Iacono F, Russo A, Marcacci M (2009) Intraoperative evaluation of total knee replacement: kinematic assessment with a navigation system. Knee Surg Sports Traumatol Arthrosc 17:369–373

3.

Culvenor AG, Eckstein F, Wirth W, Lohmander LS, Frobell R (2019) Loss of patellofemoral cartilage thickness over 5 years following ACL injury depends on the initial treatment strategy: results from the KANON trial. Br J Sports Med 53:1168–1173

4.

Dejour D, Ntagiopoulos PG, Saffarini M (2014) Evidence of trochlear dysplasia in femoral component designs. Knee Surg Sports Traumatol Arthrosc 22:2599–2607

5.

Du Z, Chen S, Yan M, Yue B, Zeng Y, Wang Y (2017) Do size, shape, and alignment parameters of the femoral condyle affect the trochlear groove tracking? A morphometric study based on 3D- computed tomography models in Chinese people. BMC Musculoskelet Disord 18:1–7

6.

Evangelista PJ, Laster SK, Lenz NM, Sheth NP, Schwarzkopf R (2018) A computer model of mid-flexion instability in a balanced total knee arthroplasty. J Arthroplasty 33:S265–S269

7.

Hochreiter B, Hirschmann MT, Amsler F, Behrend H (2019) Highly variable tibial tubercle–trochlear groove distance (TT–TG) in osteoarthritic knees should be considered when performing TKA. Knee Surg Sports Traumatol Arthrosc 27:1403–1409

8.

Iagnocco A, Coari G, Zoppini A (1992) Sonographic evaluation of femoral condylar cartilage in osteoarthritis and rheumatoid arthritis. Scand J Rheumatol 21:201–203

9.

Iranpour F, Merican AM, Baena FRY, Cobb JP, Amis AA (2010) Patellofemoral joint kinematics: the circular path of the patella around the trochlear axis. J Orthop Res 28:589–594

10.

Iranpour F, Merican AM, Dandachli W, Amis AA, Cobb JP (2010) The geometry of the trochlear groove. Clin Orthop Relat Res 468:782–788

11.

Maillot C, Leong A, Harman C, Morelli A, Mospan R, Cobb J, Rivière C (2019) Poor relationship between frontal tibiofemoral and trochlear anatomic parameters: implications for designing a trochlea for kinematic alignment. Knee 26:106–114

12.

Mihalko W, Fishkin Z, Krakow K (2006) Patellofemoral overstuff and its relationship to flexion after total knee arthroplasty. Clin Orthop Relat Res 449:283–287

13.

Monk AP, Choji K, O'Connor JJ, Goodfellow JW, Murray DW (2014) The shape of the distal femur: a geometrical study using MRI. Bone Jt J 96B:1623–1630

14.

Nam D, Nunley RM, Barrack RL (2014) Patient dissatisfaction following total knee replacement: a growing concern? Bone Jt J 96B:96–100

15.

O'Connor JJ, Shercliff TL, Biden E, Goodfellow JW (1989) The geometry of the knee in the sagittal plane. Proc Inst Mech Eng Part H J Eng Med 203:223–233

16.

Petersen W, Rembitzki IV, Brüggemann GP, Ellermann A, Best R, Koppenburg AG, Liebau C (2014) Anterior knee pain after total knee arthroplasty: a narrative review. Int Orthop 38:319–328

17.

Rivière C, Dhaif F, Shah H, Ali A, Auvinet E, Aframian A, Cobb J, Howell S, Harris S (2018) Kinematic alignment of current TKA implants does not restore the native trochlear anatomy. Orthop Traumatol Surg Res 104:983–995

18.

Schub DL, Frisch NC, Bachmann KR, Winalski C, Saluan PM (2013) Mapping of cartilage depth in the knee and elbow for use in osteochondral autograft procedures. Am J Sports Med 41:903–907

19.

Talbot S, Dimitriou P, Radic R, Zordan R, Bartlett J (2015) The sulcus line of the trochlear groove is more accurate than Whiteside's Line in determining femoral component rotation. Knee Surg Sports Traumatol Arthrosc 23:3306–3316

20.

Vajapey SP, Pettit RJ, Li M, Chen AF, Spitzer AI, Glassman AH (2020) Risk factors for mid-flexion instability after total knee arthroplasty: a systematic review. J Arthroplasty. https://doi.org/10.1016/j.arth.2020.05.026

21.

Varadarajan KM, Rubash HE, Li G (2011) Are current total knee arthroplasty implants designed to restore normal trochlear groove anatomy? J Arthroplasty 26:274–281

22.

Wang J, Yue B, Wang Y, Yan M, Zeng Y (2012) The 3D analysis of the sagittal curvature of the femoral trochlea in the Chinese population. Knee Surg Sports Traumatol Arthrosc 20:957–963
Acknowledgements
We would like to thank Mr. David Burlot for his precious contribution in data collection and management.
Ethics declarations
Conflict of interest
Simone Bignozzi is an employee of Orthokey Italia srl. Other authors have no conflict of interest.
Funding
No fundings have been received for this work.
Ethical approval
Clinical data were collected under authorization of CNIL.
Additional information
Publisher's Note
Springer Nature remains neutral with regard to jurisdictional claims in published maps and institutional affiliations.
About this article
Cite this article
Grassi, A., Asmonti, I., Bignozzi, S. et al. The sagittal geometry of the trochlear groove could be described as a circle: an intraoperative assessment with navigation. Knee Surg Sports Traumatol Arthrosc 29, 1769–1776 (2021). https://doi.org/10.1007/s00167-020-06224-w
Received:

Accepted:

Published:

Issue Date:
Keywords
Femoral trochlea

Trochlear groove

Sagittal curvature

Knee arthroplasty

Navigation system