Abstract
Purpose
To evaluate the significance of untreated primary acromioclavicular joint (ACJ) osteoarthritis, encountered during arthroscopic rotator cuff repair (RCR), as a cause of persistent symptomatology and need for revision surgery.
Methods
In a cohort of 811 consecutive patients older than 55 years who underwent RCR, the effect of primary ACJ osteoarthritis presence was prospectively examined. A total of 497 patients with mild/moderate and severe ACJ osteoarthritis based on preoperative MRI evaluation were allocated to Group A (n = 185, symptomatic ACJ) and Group B (n = 312, asymptomatic ACJ). Distal clavicle excision was not performed regardless of the presence of pain. The minimum follow-up was 28 months (28–46). The visual analogue scale (VAS) pain scores were assessed for ACJ pain on palpation, the cross body adduction test, the Constant-Murley, and the American Shoulder and Elbow Surgeons (ASES).
Results
The overall loss to follow-up rate was 3.82% (19 patients: 11 in Group A and eight in Group B). The mean ASES score at the latest follow-up was 91.16 ± 9.3 and 92.37 ± 10.44 in Groups A and B, respectively, and the mean Constant-Murley score was 96.36 ± 5.7 and 95.76 ± 4.6 in Groups A and B, respectively. There was no statistical significance between regarding both scores. Localised ACJ pain on palpation and pain on cross body adduction were diminished in both the symptomatic and asymptomatic group. There were five cases (1%: two in Group A and three in Group B) with persistent ACJ pain who had failed the conservative treatment, and ACJ excision was necessary to alleviate the symptoms. All revision operations were uncomplicated with symptom resolution.
Conclusion
Untreated ACJ osteoarthritis, symptomatic or not, encountered during arthroscopic RCR is associated with a low percentage of failure. Routine distal clavicle excision is not absolutely necessary, even in patients with symptomatic ACJ osteoarthritis.
Level of evidence
II, Prospective cohort study.
Access options
Buy single article
Instant access to the full article PDF.
USD 39.95
Price includes VAT (USA)
Tax calculation will be finalised during checkout.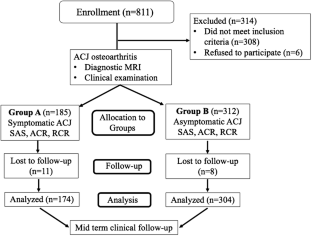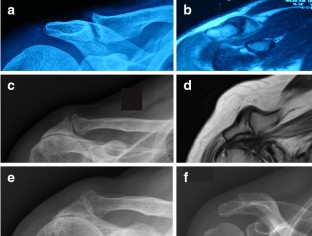 Abbreviations
ACJ:

Acromioclavicular joint

BME:

Bone marrow edema

RC:

Rotator cuff

RCR:

Rotator cuff repair

MRI:

Magnetic resonance imaging
References
1.

Amirtharaj MJ, Wang D, McGraw MH, Camp CL, Degen RA, Dines DM, Dines JS (2018) Trends in the surgical management of acromioclavicular joint arthritis among board-eligible US orthopaedic surgeons. Arthroscopy 34(6):1799–1805

2.

Brochin RL, Zastrow R, Hussey-Andersen L, Parsons BO, Cagle PJ (2020) Revision rotator cuff repair: a systematic review. J Shoulder Elb Surg 29(3):624–633

3.

Brown JN, Roberts SNJ, Hayes MG, Sales AD (2000) Shoulder pathology associated with symptomatic acromioclavicular joint degeneration. J Shoulder Elb Surg 9(3):173–176

4.

Chalmers PN, Granger E, Ross H, Burks RT, Tashjian RZ (2019) Preoperative factors associated with subsequent distal clavicle resection after rotator cuff repair. Orthop J Sports Med 7(5):2325967119844295

5.

Chronopoulos E, Gill HS, Freehill MT, Petersen SA, McFarland EG (2008) Complications after open distal clavicle excision. Clin Orthop Relat Res 466(3):646–651

6.

Fischer BW, Gross RM, McCarthy JA, Arroyo JS (1999) Incidence of acromioclavicular joint complications after arthroscopic subacromial decompression. Arthroscopy 15(3):241–248

7.

Frigg A, Song D, Willi J, Freiburghaus AU, Grehn H (2019) Seven-year course of asymptomatic acromioclavicular osteoarthritis diagnosed by MRI. J Shoulder Elb Surg 28(10):S1058–S2746

8.

Gulotta LV, Nho SJ, Dodson CC, Adler RS, Altchek DW, MacGillivray JD (2011) Prospective evaluation of arthroscopic rotator cuff repairs at 5 years: part II—prognostic factors for clinical and radiographic outcomes. J Shoulder Elb Surg 20(6):941–946

9.

Hossain S, Jacobs LGH, Hashmi R (2008) The long-term effectiveness of steroid injections in primary acromioclavicular joint arthritis: a five-year prospective study. J Shoulder Elb Surg 17(4):535–538

10.

Kharrazi FD, Busfield BT, Khorshad DS (2007) Acromioclavicular Joint reoperation after arthroscopic subacromial decompression with and without concomitant acromioclavicular surgery. Arthroscopy 23(8):804–808

11.

Kim J, Chung J, Ok H (2011) Asymptomatic acromioclavicular joint arthritis in arthroscopic rotator cuff tendon repair: A prospective randomized comparison study. Arch Orthop Trauma Surg 131(3):363–369

12.

Lambers Heerspink FO, Dorrestijn O, Van Raay JJAM, Diercks RL (2014) Specific patient-related prognostic factors for rotator cuff repair: a systematic review. J Shoulder Elb Surg 23(7):1073–1080

13.

Livingstone A, Asaid R, Moaveni AK (2019) Is routine distal clavicle resection necessary in rotator cuff repair surgery? A systematic review and meta-analysis. Shoulder Elb 11(1 Suppl):39–45

14.

Nho SJ, Brown BS, Lyman S, Adler RS, Altchek DW, MacGillivray JD (2009) Prospective analysis of arthroscopic rotator cuff repair: prognostic factors affecting clinical and ultrasound outcome. J Shoulder Elb Surg 18(1):13–20

15.

Oh JH, Kim JY, Choi JH, Park SM (2014) Is arthroscopic distal clavicle resection necessary for patients with radiological acromioclavicular joint arthritis and rotator cuff tears? A prospective randomized comparative study. Am J Sports Med 42(11):2567–2573

16.

Park YB, Koh KH, Shon MS, Park YE, Yoo JC (2015) Arthroscopic distal clavicle resection in symptomatic acromioclavicular joint arthritis combined with rotator cuff tear: a prospective randomized trial. Am J Sports Med 43(4):985–990

17.

Razmjou H, ElMaraghy A, Dwyer T, Fournier-Gosselin S, Devereaux M, Holtby R (2015) Outcome of distal clavicle resection in patients with acromioclavicular joint osteoarthritis and full-thickness rotator cuff tear. Knee Surg Sports Traumatol Arthrosc 23(2):585–590

18.

Saccomanno MF, Sircana G, Cazzato G, Donati F, Randelli P, Milano G (2016) Prognostic factors influencing the outcome of rotator cuff repair: a systematic review. Knee Surg Sports Traumatol Arthrosc 24(12):3809–3819

19.

Shubin Stein BE, Ahmad CS, Pfaff CH, Bigliani LU, Levine WN (2006) A comparison of magnetic resonance imaging findings of the acromioclavicular joint in symptomatic versus asymptomatic patients. J Shoulder Elb Surg 15(1):56–59

20.

Shubin Stein BE, Wiater JM, Pfaff HC, Bigliani LU, Levine WN (2001) Detection of acromioclavicular joint pathology in asymptomatic shoulders with magnetic resonance imaging. J Shoulder Elb Surg 10(3):204–208

21.

Singh B, Gulihar A, Bilagi P, Goyal A, Goyal P, Bawale R, Pillai D (2018) Magnetic resonance imaging scans are not a reliable tool for predicting symptomatic acromioclavicular arthritis. Shoulder Elb 10(4):250–254

22.

Strauss EJ, Barker JU, McGill K, Verma NN (2010) The evaluation and management of failed distal clavicle excision. Sports Med Arthrosc Rev 18(3):213–219

23.

Strobel K, Pfirrmann CWA, Zanetti M, Nagy L, Hodler J (2003) MRI features of the acromioclavicular joint that predict pain relief from intraarticular injection. Am J Roentgenol 181(3):755–760

24.

Valencia Mora M, Morcillo Barrenechea D, Martín Ríos MD, Foruria AM, Calvo E (2017) Clinical outcome and prognostic factors of revision arthroscopic rotator cuff tear repair. Knee Surg Sports Traumatol Arthrosc 25(7):2157–2163

25.

Wang J, Ma JX, Zhu SW, Jia HB, Ma XL (2018) Does distal clavicle resection decrease pain or improve shoulder function in patients with acromioclavicular joint arthritis and rotator cuff tears? A meta-analysis. Clin Orthop Relat Res 476(12):2402–2414
Funding
There was no external source of funding for this study.
Ethics declarations
Conflict of interest
The authors of this study declare that they have no conflicts of interest related to this study. No benefits in any form have been received or will be received from a commercial party related directly or indirectly to the subject of this article.
Ethical approval
Prior to the start of the study, approval was obtained from the Institutional Review Board in accordance with the ethical standards of the Declaration of Helsinki (1964) and its later amendments (PRO15060142).
Additional information
Publisher's Note
Springer Nature remains neutral with regard to jurisdictional claims in published maps and institutional affiliations.
About this article
Cite this article
Yiannakopoulos, C.K., Vlastos, I., Theotokatos, G. et al. Acromioclavicular joint arthritis is not an indication for routine distal clavicle excision in arthroscopic rotator cuff repair. Knee Surg Sports Traumatol Arthrosc 29, 2090–2095 (2021). https://doi.org/10.1007/s00167-020-06098-y
Received:

Accepted:

Published:

Issue Date:
Keywords
Acromioclavicular joint

Osteoarthritis

Rotator cuff

Rotator cuff repair

Shoulder