Abstract
Purpose
To evaluate the clinical relevance of the newly identified malalignment sign in predicting excessive femoral anteversion in patients with patellar dislocations.
Methods
A total of 55 patients with patellar dislocation who underwent surgical treatment between 2016 and 2019 were included in this study. Femoral anteversion, tibial torsion, and the femorotibial index were measured via a CT scan. The malalignment sign on the knee MRI was defined as a malalignment between the lateral side of the intercondylar fossa of the femur and the lateral intercondylar eminence of the tibial plateau.
Results
A positive malalignment sign was observed in 36 of the 55 patients. Increased femoral anteversion was significantly correlated with the number of frames with a positive malalignment sign (r = 0.511, P < 0.001). The value of femoral anteversion was significantly greater in the group with a positive malalignment sign (P = 0.02). For a femoral anteversion value of 32°, the sensitivity and specificity of the malalignment sign reached the maximal level of 89.5% and 47.2%, respectively.
Conclusion
Increased femoral anteversion correlated significantly with a positive malalignment sign on knee MRI. However, tibial torsion did not affect the malalignment sign. A positive malalignment sign is evidence for femoral derotation osteotomy.
Level of evidence
Level IV.
Access options
Buy single article
Instant access to the full article PDF.
USD 39.95
Price includes VAT (USA)
Tax calculation will be finalised during checkout.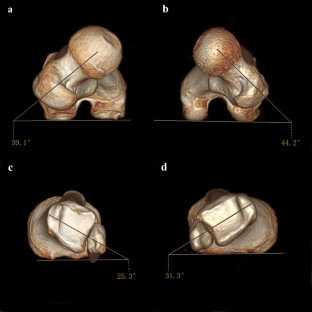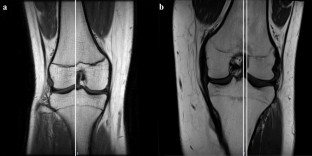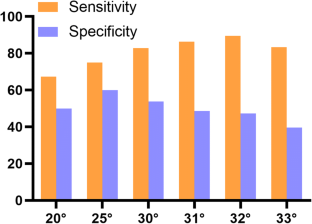 References
1.

Ateschrang A, Freude T, Grunwald L, Schaffler A, Stockle U, Schroter S (2014) Patella dislocation: an algorithm for diagnostic and treatment considering the rotation. Z Orthop Unfall 152:59–67

2.

Botser I, Ozoude G, Martin D, Siddiqi A, Kuppuswami S, Domb B (2012) Femoral anteversion in the hip: comparison of measurement by computed tomography, magnetic resonance imaging, and physical examination. Arthroscopy 28:619–627

3.

Bouras T, Edmond U, Brown A, Gallacher P, Barnett A (2019) Isolated medial patellofemoral ligament reconstruction significantly improved quality of life in patients with recurrent patella dislocation. Knee Surg Sports Traumatol Arthrosc 27:3513–3517

4.

Camathias C, Ammann E, Meier RL, Rutz E, Vavken P, Studer K (2020) Recurrent patellar dislocations in adolescents result in decreased knee flexion during the entire gait cycle. Knee Surg Sports Traumatol Arthrosc. https://doi.org/10.1007/s00167-020-05911-y

5.

Chen X, Li D, Wang W, Xin H, Wang Y, Wang J (2015) Cartilage status in knees with recurrent patellar instability using magnetic resonance imaging T2 relaxation time value. Knee Surg Sports Traumatol Arthrosc 23:2292–2296

6.

Dickschas J, Harrer J, Reuter B, Schwitulla J, Strecker W (2015) Torsional osteotomies of the femur. J Orthop Res 33:318–324

7.

Diederichs G, Kohlitz T, Kornaropoulos E, Heller MO, Vollnberg B, Scheffler S (2013) Magnetic resonance imaging analysis of rotational alignment in patients with patellar dislocations. Am J Sports Med 41:51–57

8.

Fabricant P, Fields K, Taylor S, Magennis E, Bedi A, Kelly B (2015) The effect of femoral and acetabular version on clinical outcomes after arthroscopic femoroacetabular impingement surgery. J Bone Joint Surg Am 97:537–543

9.

Franciozi CE, Ambra LF, Albertoni LJ, Debieux P, Rezende FC, Oliveira MA et al (2017) Increased femoral anteversion influence over surgically treated recurrent patellar instability patients. Arthroscopy 33:633–640

10.

Frosch KH, Schmeling A (2016) A new classification system of patellar instability and patellar maltracking. Arch Orthop Trauma Surg 136:485–497

11.

Goutallier D, Van Driessche S, Manicom O, Sariali E, Bernageau J, Radier C (2006) Influence of lower-limb torsion on long-term outcomes of tibial valgus osteotomy for medial compartment knee osteoarthritis. J Bone Joint Surg Am 88:2439–2447

12.

Hiemstra L, Kerslake S, Lafave M (2017) Assessment of demographic and pathoanatomic risk factors in recurrent patellofemoral instability. Knee Surg Sports Traumatol Arthrosc 25:3849–3855

13.

Hiemstra LA, Kerslake SA, Lafave MR (2019) Influence of risky pathoanatomy and demographic factors on clinical outcomes after isolated medial patellofemoral ligament reconstruction: a regression analysis. Am J Sports Med 47:2904–2909

14.

Imhoff FB, Funke V, Muench LN, Sauter A, Englmaier M, Woertler K et al (2020) The complexity of bony malalignment in patellofemoral disorders: femoral and tibial torsion, trochlear dysplasia, TT-TG distance, and frontal mechanical axis correlate with each other. Knee Surg Sports Traumatol Arthrosc 28:897–904

15.

Liebensteiner MC, Ressler J, Seitlinger G, Djurdjevic T, El Attal R, Ferlic PW (2016) High femoral anteversion is related to femoral trochlea dysplasia. Arthroscopy 32:2295–2299

16.

Liu JN, Wu HH, Garcia GH, Kalbian IL, Strickland SM, Shubin Stein BE (2018) Return to sports after tibial tubercle osteotomy for patellofemoral pain and osteoarthritis. Arthroscopy 34:1022–1029

17.

Moiz M, Smith N, Smith TO, Chawla A, Thompson P, Metcalfe A (2018) Clinical outcomes after the nonoperative management of lateral patellar dislocations: a systematic review. Orthop J Sports Med 6:2325967118766275

18.

Murphy SB, Simon SR, Kijewski PK, Wilkinson RH, Griscom NT (1987) Femoral anteversion. J Bone Joint Surg Am 69:1169–1176

19.

Nelitz M, Dreyhaupt J, Williams SR, Dornacher D (2015) Combined supracondylar femoral derotation osteotomy and patellofemoral ligament reconstruction for recurrent patellar dislocation and severe femoral anteversion syndrome: surgical technique and clinical outcome. Int Orthop 39:2355–2362

20.

Nguyen A, Boling M, Levine B, Shultz S (2009) Relationships between lower extremity alignment and the quadriceps angle. Clin J Sport Med 19:201–206

21.

Nwachukwu B, So C, Schairer W, Shubin-Stein B, Strickland S, Green D et al (2017) Economic decision model for first-time traumatic patellar dislocations in adolescents. Am J Sports Med 45:2267–2275

22.

Qin L, Li M, Yao W, Shen J (2017) Relationship between bony tunnel and knee function in patients after patellar dislocation triple surgeries-a CT-based study. Sci Rep 7:41360

23.

Quanbeck AE, Russell JA, Handley SC, Quanbeck DS (2017) Kinematic analysis of hip and knee rotation and other contributors to ballet turnout. J Sports Sci 35:331–338

24.

Seitlinger G, Moroder P, Scheurecker G, Hofmann S, Grelsamer RP (2016) The contribution of different femur segments to overall femoral torsion. Am J Sports Med 44:1796–1800

25.

Sherman SL, Humpherys J, Farr J (2019) Optimizing patellofemoral cartilage restoration and instability with tibial tubercle osteotomy. Arthroscopy 35:2255–2256

26.

Smith TO, Donell S, Song F, Hing CB (2015) Surgical versus non-surgical interventions for treating patellar dislocation. Cochrane Database Syst Rev. https://doi.org/10.1002/14651858.CD008106.pub3Cd008106

27.

Xu Z, Zhang H, Chen J, Mohamed SI, Zhou A (2020) Femoral anteversion is related to tibial tubercle-trochlear groove distance in patients with patellar dislocation. Arthroscopy 36:1114–1120

28.

Yang GM, Wang YY, Zuo LX, Li FQ, Dai YK, Wang F (2019) Good outcomes of combined femoral derotation osteotomy and medial retinaculum plasty in patients with recurrent patellar dislocation. Orthop Surg 11:578–585

29.

Zaffagnini S, Previtali D, Tamborini S, Pagliazzi G, Filardo G, Candrian C (2019) Recurrent patellar dislocations: trochleoplasty improves the results of medial patellofemoral ligament surgery only in severe trochlear dysplasia. Knee Surg Sports Traumatol Arthrosc 27:3599–3613

30.

Zhang Z, Zhang H, Song G, Wang X, Zhang J, Zheng T et al (2020) A high-grade j sign is more likely to yield higher postoperative patellar laxity and residual maltracking in patients with recurrent patellar dislocation treated with derotational distal femoral osteotomy. Am J Sports Med 48:117–127

31.

Zhang Z, Zhang H, Song G, Zheng T, Feng H (2019) A pre-operative grade 3 J-sign adversely affects short-term clinical outcome and is more likely to yield MPFL residual graft laxity in recurrent patellar dislocation. Knee Surg Sports Traumatol Arthrosc. https://doi.org/10.1007/s00167-019-05736-4

32.

Zhang Z, Zhang H, Song G, Zheng T, Ni Q, Feng H (2019) Increased femoral anteversion is associated with inferior clinical outcomes after MPFL reconstruction and combined tibial tubercle osteotomy for the treatment of recurrent patellar instability. Knee Surg Sports Traumatol Arthrosc. https://doi.org/10.1007/s00167-019-05818-3
Ethics declarations
Conflict of interest
The authors declare that they have no conflict of interest.
Ethical approval
The study was approved by the Ethics Board of the First Affiliated Hospital of Chongqing Medical University (IRB approval number: 2019-230).
Informed consent
For this type of article informed consent is not required.
Additional information
Publisher's Note
Springer Nature remains neutral with regard to jurisdictional claims in published maps and institutional affiliations.
About this article
Cite this article
Xu, Z., Zhang, H., Guo, M. et al. Malalignment sign on knee magnetic resonance imaging: a new predictor for excessive femoral anteversion in patients with patellar dislocation. Knee Surg Sports Traumatol Arthrosc 29, 1075–1082 (2021). https://doi.org/10.1007/s00167-020-06080-8
Received:

Accepted:

Published:

Issue Date:
Keywords
Patellar dislocation

Patellar instability

Femoral anteversion

Femoral derotation osteotomy

Malalignment sign