Abstract
Purpose
To investigate if a trochleoplasty increases knee flexion angles and extensor moments in the gait of patients with patellar instability and to compare postoperative gait to a healthy control group.
Methods
A bilateral dislocation group (6 patients) and a unilateral dislocation group (14 patients) were treated with bilateral and unilateral trochleoplasty, respectively. Kinematics and kinetics of the lower extremity were captured using 3D-gait analysis (VICON, 12 cameras, 200 Hz, plug-in-gait, two force plates). The mean of six trials was computed. The gait cycles were compared pre to postoperatively for each group. The gait of the two groups was compared to each other and the gait of a healthy population (54 knees).
Results
After trochleoplasty, the knee flexion angles and knee extensor moments only increased in the bilateral dislocation group, whereas the gait pattern of the unilateral dislocation group remained unchanged. Compared to the healthy population, the postoperative gait pattern of the bilateral dislocation group did not differ. In contrast, knee flexion angles and extensor moments of the unilateral dislocation group were still lower.
Conclusion
In adolescents with bilateral recurrent patellar dislocations, trochleoplasty of both knees increases knee flexion angles and knee extensor moments comparable to normal gait. Unilateral symptomatic patients undergoing a unilateral trochleoplasty did not achieve normal walking. These findings point out that patellar instability should be considered as a bilateral problem, even in patients with unilateral dislocations.
Level of evidence
III.
Access options
Buy single article
Instant access to the full article PDF.
USD 39.95
Price excludes VAT (USA)
Tax calculation will be finalised during checkout.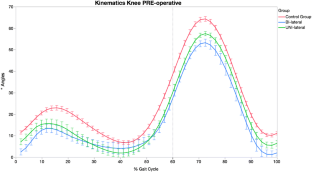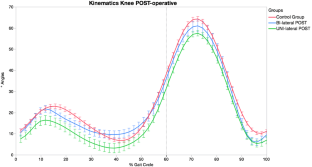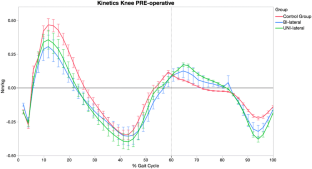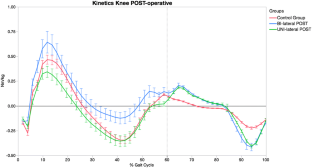 References
Amis AA, Firer P, Mountney J, Senavongse W, Thomas NP (2003) Anatomy and biomechanics of the medial patellofemoral ligament. Knee 10:215–220

Andriacchi TP, Mündermann A, Smith RL, Alexander EJ, Dyrby CO, Koo S (2004) A framework for the in vivo pathomechanics of osteoarthritis at the knee. Ann Biomed Eng 32:447–457

Berchuck M, Andriacchi TP, Bach BR, Reider B (1990) Gait adaptations by patients who have a deficient anterior cruciate ligament. J Bone Jt Surg Am 72:871–877

Bereiter H (2000) Die Trochleaplastik bei Trochleadysplasie zur Therapie der rezidivierenden Patellaluxation. In: Wirth CJ, Rudert M (eds) Das patellofemorale Schmerzsyndrom. Steinkopff, Heidelberg, pp 162–177

Camathias C, Ammann E, Meier RL, Rutz E, Vavken P, Studer K (2020) Recurrent patellar dislocations in adolescents result in decreased knee flexion during the entire gait cycle. Knee Surg Sports Traumatol Arthrosc. https://doi.org/10.1007/s00167-020-05911-y

Camathias C, Speth BM, Rutz E, Schlemmer T, Papp K, Vavken P, Studer K (2018) Solitary trochleoplasty for treatment of recurrent patellar dislocation. JBJS Essent Surg Tech 44:2855–2863

Camathias C, Studer K, Kiapour A, Rutz E, Vavken P (2016) Trochleoplasty as a solitary treatment for recurrent patellar dislocation results in good clinical outcome in adolescents. Am J Sports Med 44:2855–2863

Caton J, Deschamps G, Chambat P et al (1982) Les rotules basses: a propos de 128 observations. Rev Chir Orthop 68:317–325

Christensen TC, Sanders TL, Pareek A, Mohan R, Dahm DL, Krych AJ (2017) Risk factors and time to recurrent ipsilateral and contralateral patellar dislocations. Am J Sports Med 45:2105–2110

Daniel DM, Lou SM, Dobson BE, Fithian DC, Rossman DJ, Kaufman KR (1994) Fate of the ACL-injured patient. Am J Sports Med 22:632–644

Davis RB (1988) Clinical gait analysis. IEEE Eng Med Biol Mag 7:35–40

Dejour H, Walch G, Nove-Josserand L, Guier C (1994) Factors of patellar instability: an anatomic radiographic study. Knee Surg Sport Traumatol Arthrosc 2:19–26

Demehri S, Thawait GK, Williams AA, Kompel A, Elias JJ, Carrino JA, Cosgarea AJ (2014) Imaging characteristics of contralateral asymptomatic patellofemoral joints in patients with unilateral instability. Radiology 273:821–830

Dunn DM, Notley B (1952) Anteversion of the neck of the femur; a method of measurement. J Bone Jt Surg Br 34(181):186

Hurd WJ, Snyder-Mackler L (2007) Knee instability after acute ACL rupture affects movement patterns during the mid-stance phase of gait. J Orthop Res 25:1369–1377

Knoop J, Steultjens MPM, van der Leeden M, van der Esch M, Thorstensson CA, Roorda LD, Lems WF, Dekker J (2011) Proprioception in knee osteoarthritis: a narrative review. Osteoarthr Cartil 19:381–388

Kujala UM, Jaakkola LH, Koskinen SK, Taimela S, Hurme M, Nelimarkka O (1993) Scoring of patellofemoral disorders. Arthroscopy 9:159–163

Lohmander LS, Englund PM, Dahl LL, Roos EM (2007) The long-term consequence of anterior cruciate ligament and meniscus injuries: osteoarthritis. Am J Sports Med 35:1756–1769

Longo UG, Vincenzo C, Mannering N, Ciuffreda M, Salvatore G, Berton A, Denaro V (2017) Trochleoplasty techniques provide good clinical results in patients with trochlear dysplasia. Knee Surg Sports Traumatol Arthrosc 26:2640–2658

Lynn SK, Reid SM, Costigan PA (2007) The influence of gait pattern on signs of knee osteoarthritis in older adults over a 5–11 year follow-up period: a case study analysis. Knee 14:22–28

Lysholm J, Gillquist J (1982) Evaluation of knee ligament surgery results with special emphasis on use of a scoring scale. Am J Sports Med 10:150–154

Metcalfe AJ, Clark DA, Kemp MA, Eldridge JD (2017) Trochleoplasty with a flexible osteochondral flap: results from an 11-year series of 214 cases. Bone Joint J 99-B(3):344–350. https://doi.org/10.1302/0301-620X.99B3.37884

Perry J, Burnfield J (1992) Gait analysis: normal and pathological function. SLACK Incorporated, New Jersey

Roos EM (2005) Joint injury causes knee osteoarthritis in young adults. Curr Opin Rheumatol 17:195–200

Rouanet T, Gougeon F, Fayard JM, Rémy F, Migaud H, Pasquier G (2015) Sulcus deepening trochleoplasty for patellofemoral instability: a series of 34 cases after 15-years postoperative follow-up. Orthop Traumatol Surg Res 101:443–447

Sambeeck JDP, van de Groes SAW, Verdonschot N, Hannink G (2018) Trochleoplasty procedures show complication rates similar to other patellar-stabilizing procedures. Knee Surg Sports Traumatol Arthrosc 26:2841–2857

Schöttle PB, Schell H, Duda G, Weiler A (2007) Cartilage viability after trochleoplasty. Knee Surg Sports Traumatol Arthrosc 15:161–167

Senavongse W, Farahmand F, Jones J, Andersen H, Bull AMJ, Amis AA (2003) Quantitative measurement of patellofemoral joint stability: force-displacement behavior of the human patella in vitro. J Orthop Res 21:780–786

Stief F, Böhm H, Michel K, Schwirtz A, Döderlein L (2013) Reliability and accuracy in three-dimensional gait analysis: a comparison of two lower body protocols. J Appl Biomech Hum Kinet 29(105):111

Tunen JAC, Dell'Isola A, Juhl C, Dekker J, Steultjens M, Thorlund JB, Lund H (2018) Association of malalignment, muscular dysfunction, proprioception, laxity and abnormal joint loading with tibiofemoral knee osteoarthritis: a systematic review and meta-analysis. BMC Musculoskelet Disord 19:273

Utting MR, Mulford JS, Eldridge JDJ (2008) A prospective evaluation of trochleoplasty for the treatment of patellofemoral dislocation and instability. J Bone Jt Surg Br 90(180):185

Wexler G, Hurwitz DE, Bush-Joseph CA, Andriacchi TP, Bach BR Jr (1998) Functional gait adaptations in patients with anterior cruciate ligament deficiency over time. Clin Orthop Relat Res 348:166–175
Funding
No external source of funding was used.
Ethics declarations
Conflict of interest
All authors have nothing to disclose that could have direct or potential influence or impart bias on the work. All authors have read and approved the final submitted manuscript.
Ethical approval
This experimental research has been performed with the approval of the local ethics committee (Ethics Committee of Basel, Nr. 2013/112). Research is in compliance with the Helsinki Declaration.
Additional information
Publisher's Note
Springer Nature remains neutral with regard to jurisdictional claims in published maps and institutional affiliations.
Electronic supplementary material
Below is the link to the electronic supplementary material.
About this article
Cite this article
Ammann, E., Meier, R.L., Rutz, E. et al. Trochleoplasty improves knee flexion angles and quadriceps function during gait only if performed bilaterally. Knee Surg Sports Traumatol Arthrosc 28, 2067–2076 (2020). https://doi.org/10.1007/s00167-020-05906-9
Received:

Accepted:

Published:

Issue Date:

DOI: https://doi.org/10.1007/s00167-020-05906-9
Keywords
Patella dislocation

Patellar dislocation

Patellar instability

Recurrent dislocation

Knee

Trochlear dysplasia

Trochleoplasty

Kinematics

Kinetics

Gait analysis

Quadriceps avoidance

Adolescents