Abstract
Purpose
Total knee arthroplasty (TKA) is frequently performed for obese patients. TKA in this population shows a high rate of complication, particularly tibial component loosening. The aim of this study is to compare the survival rate of tibial components in obese population using TKA with stem versus without stem.
Methods
From a prospective database of 4216 TKA, obese patients [body mass index (BMI) > 30 kg m²] with primary TKA using a tibial short stem extension (30 mm) at a minimum follow-up of 2 years were retrospectively reviewed and compared to a matched control group (1:3 ratio) with a standard tibial stem. Inclusion criteria were BMI > 30 kg m², first knee surgery and 24 months minimum of follow-up. The primary outcome was revision for tibial aseptic loosening. Secondary outcomes were all-cause revisions and Knee Society Scores (KSS).
Results
The final study population consisted of 35 TKA with tibial extension stem versus 105 TKA with standard stem. The mean age was 69.2 and 69.5 years, respectively, with a mean follow-up of 52 months. Both groups were comparable before surgery. After 2 years of follow-up, we observed seven tibial loosening in the group without stem (6.6%) versus no tibial loosening in the stemmed group (p < 0.001). The difference in KSS knee score (83 versus 86; p = 0.06) and the KSS function score (73 versus 77; p = 0.84) were not statistically significant at the final follow-up.
Conclusion
Using stemmed TKA for obese patients significantly decreased tibial loosening rate at minimum 2 years of follow-up.
Level of evidence
Case–control study, Level III.
Access options
Buy single article
Instant access to the full article PDF.
US$ 39.95
Tax calculation will be finalised during checkout.
Subscribe to journal
Immediate online access to all issues from 2019. Subscription will auto renew annually.
US$ 119
Tax calculation will be finalised during checkout.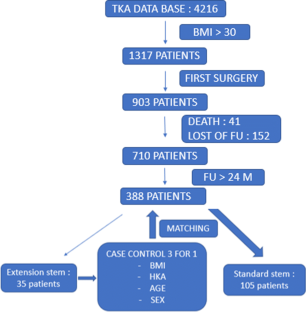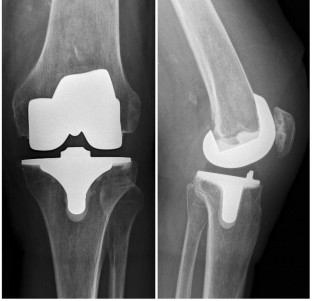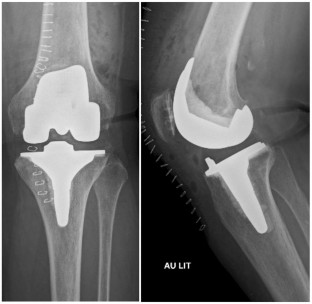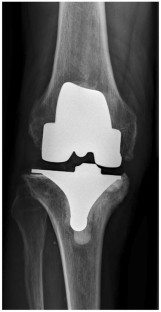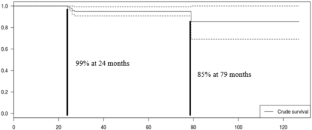 References
1.

Abdel MP, Bonadurer GF 3rd, Jennings MT, Hanssen AD (2015) Increased aseptic tibial failures in patients with a BMI >= 35 and well-aligned total knee arthroplasties. J Arthroplasty 30:2181–2184

2.

Angers-Goulet M, Bedard M (2017) Up to seven years' follow-up of short cemented stems in complex primary total knee arthroplasty: a prospective study. Knee 24:1166–1174

3.

Baker P, Muthumayandi K, Gerrand C, Kleim B, Bettinson K, Deehan D (2013) Influence of body mass index (BMI) on functional improvements at 3 years following total knee replacement: a retrospective cohort study. PLoS ONE 8:e59079

4.

Barlow BT, Oi KK, Lee YY, Joseph AD, Alexiades MM (2017) Incidence, indications, outcomes, and survivorship of stems in primary total knee arthroplasty. Knee Surg Sports Traumatol Arthrosc 25:3611–3619

5.

Berend ME, Ritter MA, Hyldahl HC, Meding JB, Redelman R (2008) Implant migration and failure in total knee arthroplasty is related to body mass index and tibial component size. J Arthroplasty 23:104–109

6.

Berend ME, Ritter MA, Meding JB, Faris PM, Keating EM, Redelman R et al (2004) Tibial component failure mechanisms in total knee arthroplasty. Clin Orthop Relat Res 428:26–34

7.

Bonner TJ, Eardley WG, Patterson P, Gregg PJ (2011) The effect of post-operative mechanical axis alignment on the survival of primary total knee replacements after a follow-up of 15 years. J Bone Joint Surg Br 93:1217–1222

8.

Bordini B, Stea S, Cremonini S, Viceconti M, De Palma R, Toni A (2009) Relationship between obesity and early failure of total knee prostheses. BMC Musculoskelet Disord 10:29

9.

Bozic KJ, Lau E, Ong K, Chan V, Kurtz S, Vail TP et al (2014) Risk factors for early revision after primary TKA in Medicare patients. Clin Orthop Relat Res 472:232–237

10.

Fang DM, Ritter MA, Davis KE (2009) Coronal alignment in total knee arthroplasty: just how important is it? J Arthroplasty 24:39–43

11.

Fehring TK, Fehring KA, Anderson LA, Otero JE, Springer BD (2017) Catastrophic varus collapse of the tibia in obese total knee arthroplasty. J Arthroplasty 32:1625–1629

12.

Foran JR, Mont MA, Rajadhyaksha AD, Jones LC, Etienne G, Hungerford DS (2004) Total knee arthroplasty in obese patients: a comparison with a matched control group. J Arthroplasty 19:817–824

13.

Gaillard R, Lustig S, Peltier A, Villa V, Servien E, Neyret P (2016) Total knee implant posterior stabilised by a third condyle: design evolution and post-operative complications. Orthop Traumatol Surg Res 102:1061–1068

14.

George J, Klika AK, Navale SM, Newman JM, Barsoum WK, Higuera CA (2017) Obesity epidemic: is its impact on total joint arthroplasty underestimated? An analysis of national trends. Clin Orthop Relat Res 475:1798–1806

15.

Gopalakrishnan A, Hedley AK, Kester MA (2011) Magnitude of cement-device interfacial stresses with and without tibial stemming: impact of BMI. J Knee Surg 24:3–8

16.

Issa K, Pivec R, Kapadia BH, Shah T, Harwin SF, Delanois RE et al (2013) Does obesity affect the outcomes of primary total knee arthroplasty? J Knee Surg 26:89–94

17.

Kerkhoffs GM, Servien E, Dunn W, Dahm D, Bramer JA, Haverkamp D (2012) The influence of obesity on the complication rate and outcome of total knee arthroplasty: a meta-analysis and systematic literature review. J Bone Joint Surg Am 94:1839–1844

18.

Kim YH, Kwon OS, Kim K (2008) Analysis of biomechanical effect of stem-end design in revision TKA using digital Korean model. Clin Biomech (Bristol, Avon) 23:853–858

19.

Lingard EA, Katz JN, Wright RJ, Wright EA, Sledge CB, Kinemax-Outcomes G (2001) Validity and responsiveness of the Knee Society Clinical Rating System in comparison with the SF-36 and WOMAC. J Bone Joint Surg Am 83:1856–1864

20.

Matta J, Carette C, Rives Lange C, Czernichow S (2018) French and worldwide epidemiology of obesity. Presse Med 47:434–438

21.

Nadorf J, Kinkel S, Gantz S, Jakubowitz E, Kretzer JP (2017) Tibial revision knee arthroplasty with metaphyseal sleeves: the effect of stems on implant fixation and bone flexibility. PLoS ONE 12:e0177285

22.

Namba RS, Paxton L, Fithian DC, Stone ML (2005) Obesity and perioperative morbidity in total hip and total knee arthroplasty patients. J Arthroplasty 20:46–50

23.

Park MH, Bin SI, Kim JM, Lee BS, Lee CR, Kwon YH (2018) Using a tibial short extension stem reduces tibial component loosening after primary total knee arthroplasty in severely varus knees: long-term survival analysis with propensity score matching. J Arthroplasty 33:2512–2517

24.

Parratte S, Ollivier M, Lunebourg A, Verdier N, Argenson JN (2017) Do stemmed tibial components in total knee arthroplasty improve outcomes in patients with obesity? Clin Orthop Relat Res 475:137–145

25.

Scott CE, Biant LC (2012) The role of the design of tibial components and stems in knee replacement. J Bone Joint Surg Br 94:1009–1015

26.

Si HB, Zeng Y, Shen B, Yang J, Zhou ZK, Kang PD et al (2015) The influence of body mass index on the outcomes of primary total knee arthroplasty. Knee Surg Sports Traumatol Arthrosc 23:1824–1832

27.

Steere JT, Sobieraj MC, DeFrancesco CJ, Israelite CL, Nelson CL, Kamath AF (2018) Prophylactic tibial stem fixation in the obese: comparative early results in primary total knee arthroplasty. Knee Surg Relat Res 30:227–233

28.

Wagner ER, Kamath AF, Fruth K, Harmsen WS, Berry DJ (2016) Effect of body mass index on reoperation and complications after total knee arthroplasty. J Bone Joint Surg Am 98:2052–2060
Funding
There was no funding source.
Ethics declarations
Conflict of interest
No benefits in any form have been received or will be received from a commercial party related directly or indirectly to the subject of this article.
Ethical approval
All the procedures performed in the study were in accordance with the ethical standards of the institutional review board/international ethics commitee for each center and with the 1964 Helsinki Declaration and its later amendements.
Additional information
Publisher's Note
Springer Nature remains neutral with regard to jurisdictional claims in published maps and institutional affiliations.
About this article
Cite this article
Fournier, G., Yener, C., Gaillard, R. et al. Increased survival rate in extension stemmed TKA in obese patients at minimum 2 years follow-up. Knee Surg Sports Traumatol Arthrosc 28, 3919–3925 (2020). https://doi.org/10.1007/s00167-020-05860-6
Received:

Accepted:

Published:

Issue Date:
Keywords
Total knee arthroplasty

Total knee replacement

Obese patients

Tibial stem extension

Tibial component loosening

TKA revision