Abstract
Purpose
Chronic ankle instability with a long symptom duration is often accompanied by medial compartment ankle osteoarthritis (OA). However, the outcomes of individuals after ligament stabilization have rarely been reported. The radiographic and clinical outcomes after ligament stabilization in individuals with chronic ankle instability and medial compartment OA were investigated.
Methods
The study investigated 27 ankles with chronic ankle instability and medial compartment OA that underwent lateral ankle ligament reconstruction from 2007 to 2015 with a follow-up period of at least 1 year. Ligament stabilization was performed via either the modified Broström procedure (MBP) or lateral ankle reconstruction (LAR) using semitendinosus tendon allografts.
Results
The median instability duration was 60 (range 12–480) months, and the median follow-up period was 39 (range 12–108) months. The preoperative Takakura ankle OA stage was predominantly stage I (20 patients (74.1%)), followed by stage II (five patients (18.5%)). Ankle MRI (20 ankles) revealed medial cartilage denudation in three cases (15%), cartilage thinning in nine cases (45%), osteophyte formation in ten cases (50%), and loose body formation in six cases (30%). According to the arthroscopic results, the modified Outerbridge grade was two in nine cases and four in ten cases, so these grades were the most common (37.5% and 41.7%, respectively). The MBP was performed in 14 patients, and LAR was performed in 13 patients (52% and 48%, respectively); the bone marrow stimulation procedure was performed in 15 patients (55%). The visual analogue scale score decreased from 6.0 (SD 1.6) preoperatively to 1.8 (SD 1.6) postoperatively (p = 0.000). The American Orthopaedic Foot and Ankle Society (AOFAS) ankle-hindfoot score improved from 61.9 (SD 14.2) to 89.7 (SD 6.2), and the Karlsson–Peterson score improved from 54.7 (SD 13.9) to 88.3 (SD 9.0) (p = 0.000). There were no serious complications, and all patients were satisfied.
Conclusions
Ligament stabilization with arthroscopic procedures for individuals with chronic ankle instability and medial ankle OA yielded significant functional outcomes with high patient satisfaction, even without radiographic improvement.
Level of evidence
IV.
Access options
Buy single article
Instant access to the full article PDF.
US$ 39.95
Tax calculation will be finalised during checkout.
Subscribe to journal
Immediate online access to all issues from 2019. Subscription will auto renew annually.
US$ 119
Tax calculation will be finalised during checkout.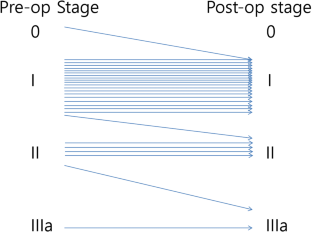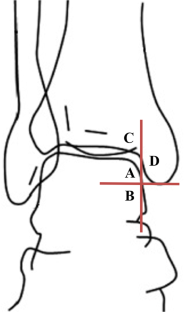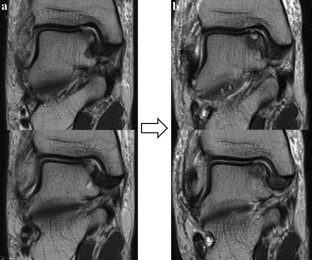 References
1.

Cho BK, Shin YD, Park HW (2018) Outcome following a modified Brostrom procedure and arthroscopic debridement of medial gutter osteoarthritis combined with chronic ankle instability. Foot Ankle Int 39:1473–1480

2.

Coughlin MJ, Schenck RC, Grebing BR, Treme G (2004) Comprehensive reconstruction of the lateral ankle for chronic instability using a free gracilis graft. Foot Ankle Int 25:231–241

3.

Ferkel RD, Zanotti RM, Komenda GA, Sgaglione NA, Cheng MS, Applegate GR, Dopirak RM (2008) Arthroscopic treatment of chronic osteochondral lesions of the talus: long-term results. Am J Sports Med 36:1750–1762

4.

Golditz T, Steib S, Pfeifer K, Uder M, Gelse K, Janka R et al (2014) Functional ankle instability as a risk factor for osteoarthritis: using T2-mapping to analyze early cartilage degeneration in the ankle joint of young athletes. Osteoarthr Cartil 22:1377–1385

5.

Harrington KD (1979) Degenerative arthritis of the ankle secondary to long-standing lateral ligament instability. J Bone Jt Surg 61:354–361

6.

Jung HG, Kim NR, Jeon JY, Lee DO, Eom JS, Lee JS, Kim SW (2017) CT arthrography visualizes tissue growth of osteochondral defects of the talus after microfracture. Knee Surg Sports Traumatol Arthrosc 26:2123–2130

7.

Jung HG, Kim TH, Park JY, Bae EJ (2012) Anatomic reconstruction of the anterior talofibular and calcaneofibular ligaments using a semitendinosus tendon allograft and interference screws. Knee Surg Sports Traumatol Arthrosc 20:1432–1437

8.

Jung HG, Park JT, Shin MH, Lee SH, Eom JS, Lee DO (2015) Outcome of subtalar instability reconstruction using the semitendinosus allograft tendon and biotenodesis screws. Knee Surg Sports Traumatol Arthrosc 23:2376–2383

9.

Jung HG, Shin MH, Park JT, Eom JS, Lee DO, Lee SH (2015) Anatomical reconstruction of lateral ankle ligaments using free tendon allografts and biotenodesis screws. Foot Ankle Int 36:1064–1071

10.

Karlsson J, Lansinger O (1993) Chronic lateral instability of the ankle in athletes. Sports Med 16:355–365

11.

Karlsson J, Lansinger O (1992) Lateral instability of the ankle joint. Clin Orthop Relat Res 276:253–261

12.

Kitaoka HB, Alexander IJ, Adelaar RS, Nunley JA, Myerson MS, Sanders M (1994) Clinical rating systems for the ankle-hindfoot, midfoot, hallux, and lesser toes. Foot Ankle Int 15:349–353

13.

Lee J, Hamilton G, Ford L (2011) Associated intra-articular ankle pathologies in patients with chronic lateral ankle instability: arthroscopic findings at the time of lateral ankle reconstruction. Foot Ankle Spec 4:284–289

14.

Magnussen RA, Dunn WR, Carey JL, Spindler KP (2008) Treatment of focal articular cartilage defects in the knee: a systematic review. Clin Orthop Relat Res 466:952–962

15.

Messer TM, Cummins CA, Ahn J, Kelikian AS (2000) Outcome of the modified Broström procedure for chronic lateral ankle instability using suture anchors. Foot Ankle Int 21:996–1003

16.

Minas T, Gomoll AH, Rosenberger R, Royce RO, Bryant T (2009) Increased failure rate of autologous chondrocyte implantation after previous treatment with marrow stimulation techniques. Am J Sports Med 37:902–908

17.

Monroe MT, Beals TC, Manoli A II (1999) Clinical outcome of arthrodesis of the ankle using rigid internal fixation with cancellous screws. Foot Ankle Int 20:227–231

18.

Nakasa T, Ikuta Y, Sawa M, Yoshikawa M, Tsuyuguchi Y, Ota Y et al (2018) Relationship between bone marrow lesions on MRI and cartilage degeneration in osteochondral lesions of the talar dome. Foot Ankle Int 39:908–91519

19.

Nimon GA, Dobson PJ, Angel KR, Lewis PL, Stevenson TM (2001) A long-term review of a modified Evans procedure: a 5- to 15-year follow-up of 111 ankles. J Bone Jt Surg Br 83:14–18

20.

Rivera JC, Beachler JA (2018) Distraction arthroplasty compared to other cartilage preservation procedures in patients with post-traumatic arthritis: a systematic review. Strateg Trauma Limb Reconstr 13:61–67

21.

DE Shepherd SB (1999) Thickness of human articular cartilage in joints of the lower limb. Ann Rheum Dis 58:27–34

22.

Tanaka Y, Takakura Y, Hayashi K, Taniguchi A, Kumai T, Sugimoto K (2006) Low tibial osteotomy for varus-type osteoarthritis of the ankle. J Bone Jt Surg 88:909–913

23.

Thomas RH, Daniels TR (2003) Ankle arthritis. J Bone Jt Surg Am 85:923–936

24.

Valderrabano V, Hintermann B, Horisberger M, Fung TS (2006) Ligamentous posttraumatic ankle osteoarthritis. Am J Sports Med 34:612–620

25.

Valderrabano V, Horisberger M, Russell I, Dougall H, Hintermann B (2009) Etiology of ankle osteoarthritis. Clin Orthop Relat Res 467:1800–1806

26.

van Bergen CJ, Kox LS, Maas M, Sierevelt IN, Kerkhoffs GM, van Dijk CN (2013) Arthroscopic treatment of osteochondral defects of the talus: outcomes at eight to twenty years of follow-up. J Bone Jt Surg Am 95:519–525

27.

van Dijk CN, Verhagen RAW, Tol JL (1997) Arthroscopy for problems after ankle fracture. J Bone Jt Surg Br 79:280–284
Funding
No external funding was used.
Ethics declarations
Conflict of interest
The authors declare that they have no conflicts of interest.
Ethical approval
The authors received the Institutional Review Board (IRB) approval from Konkuk University Medical Center (ID number: KUH1060132).
Additional information
Publisher's Note
Springer Nature remains neutral with regard to jurisdictional claims in published maps and institutional affiliations.
About this article
Cite this article
Kim, SW., Jung, HG. & Lee, JS. Ligament stabilization improved clinical and radiographic outcomes for individuals with chronic ankle instability and medial ankle osteoarthritis. Knee Surg Sports Traumatol Arthrosc 28, 3294–3300 (2020). https://doi.org/10.1007/s00167-020-05845-5
Received:

Accepted:

Published:

Issue Date:
Keywords
Chronic ankle instability

Medial compartment

Osteoarthritis

Ligament stabilization