Abstract
Purpose
As the population ages, it is important to determine whether total knee arthroplasties (TKA)s are safe and beneficial in the octogenarian population. The aims of the present study were: (1) to assess the effect of comorbidities and age on the incidence of postoperative complications following TKA and (2) to evaluate the mid-term outcome of octogenarian patients.
Methods
A retrospective matched-paired analysis by gender, BMI and duration of follow-up was conducted on 206 patients older than 80 years and younger than 75 years between 2009 and 2016, undergoing primary TKA. The mean follow-up was 5 years. Outcome measures including Oxford Knee Score (OKS), Knee Society Score (KSS), Knee Society Function Score (KSFS), postoperative complications, length of stay (LOS) and survivorship were analysed. The association between complications and comorbidities was assessed using multivariable logistic regression after adjusting for age, Deyo-Charlson Comorbidity Index (D-CCI) and the American Society of Anesthesiologist's (ASA) physical status classification.
Results
In the multivariable models, D-CCI class is an independent predictor for postoperative cardiac complications, delirium and transfusion rate (OR ranging from 1.2 to 69.5 in respect to D-CCI reference class 0). Being ≥ 80 years old was associated with an increased risk of transfusion (OR 3.4; 95% CI 1.7–6.8) and 1.7-day increase in LOS (p < 0.001). Both groups showed significant improvement in postoperative knee scores following TKA.
Conclusion
Octogenarians experienced good clinical results when compared to their younger counterparts. Comorbidities, rather than age itself, are responsible for the increase in postoperative morbidity. Preoperative risk assessment has to be optimized in order to reduce complications.
Access options
Buy single article
Instant access to the full article PDF.
US$ 39.95
Tax calculation will be finalised during checkout.
Subscribe to journal
Immediate online access to all issues from 2019. Subscription will auto renew annually.
US$ 119
Tax calculation will be finalised during checkout.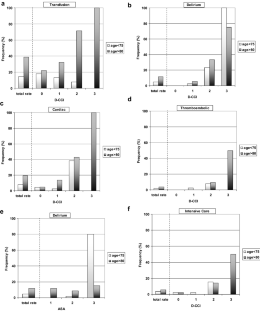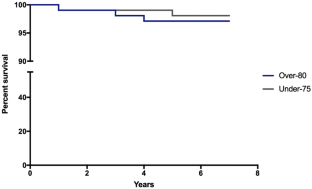 References
1.

Alfonso DT, Howell RD, Strauss EJ, Di Cesare PE (2007) Total hip and knee arthroplasty in nonagenarians. J Arthroplasty 22:807–811

2.

Belmar CJ, Barth P, Lonner JH, Lotke PA (1999) Total knee arthroplasty in patients 90 years of age and older. J Arthroplasty 14:911–914

3.

Bovonratwet P, Fu MC, Tyagi V, Gu A, Sculco PK, Grauer JN (2019) Is Discharge within a day of total knee arthroplasty safe in the octogenarian population? J Arthroplasty 32:235–241

4.

Charlson M, Szatrowski TP, Peterson J, Gold J (1994) Validation of a combined comorbidity index. J Clin Epidemiol 47:1245–1251

5.

Charlson ME, Pompei P, Ales KL, MacKenzie CR (1987) A new method of classifying prognostic comorbidity in longitudinal studies: development and validation. J Chron Dis 40:373–383

6.

Cher EWL, Tay KS, Zhang K, Tan SB, Howe TS, Koh JSB (2018) The effect of comorbidities and age on functional outcomes after total knee arthroplasty in the octogenarian: a matched cohort study. Geriatr Orthop Surg Rehabil 9:2151459318769508

7.

Clement ND, MacDonald D, Howie CR, Biant LC (2011) The outcome of primary total hip and knee arthroplasty in patients aged 80 years or more. J Bone Joint Surg Br 93:1265–1270

8.

Crawford DA, Adams JB, Berend KR, Lombardi AV Jr (2019) Low complication rates in outpatient total knee arthroplasty. Knee Surg Sports Traumatol Arthrosc. https://doi.org/10.1007/s00167-019-05538-8

9.

Deyo RA, Cherkin DC, Ciol MA (1992) Adapting a clinical comorbidity index for use with ICD-9-CM administrative databases. J Clin Epidemiol 45:613–619

10.

Easterlin MC, Chang DG, Talamini M, Chang DC (2013) Older age increases short-term surgical complications after primary knee arthroplasty knee. Clin Orthop 471:2611–2620

11.

Eurostat S (2018) Population structure and ageing. https://ec.europa.eu/eurostat. Accessed May 2018

12.

French HP, Galvin R, Horgan NF, Kenny RA (2016) Prevalence and burden of osteoarthritis amongst older people in Ireland: findings from The Irish LongituDinal Study on Ageing (TILDA). Eur J Public Health 26:192–198

13.

Hart A, Khalil JA, Carli A, Huk O, Zukor D, Antoniou J (2014) Blood transfusion in primary total hip and knee arthroplasty. Incidence, risk factors, and thirty-day complication rates. J Bone Joint Surg Am 96:1945–1951

14.

Jämsen E, Puolakka T, Eskelinen A, Jäntti P, Kalliovalkama J, Nieminen J, Valvanne J (2013) Predictors of mortality following primary hip and knee replacement in the aged. A single-center analysis of 1998 primary hip and knee replacements for primary osteoarthritis. Acta Orthop 84:44–53

15.

Jones CA, Voaklander DC, Johnston DWC, Suarez-Almazor ME (2001) The effect of age on pain, function, and quality of life after total hip and knee arthroplasty. Arch Intern Med 161:454–460

16.

Karuppiah SV, Banaszkiewicz PA, Ledingham WM (2008) The mortality, morbidity and cost benefits of elective total knee arthroplasty in the nonagenarian population. Int Orthop 32:339–343

17.

Kodaira S, Kikuchi T, Hakozaki M, Konno S (2019) Total knee arthroplasty in Japanese patients aged 80 years or older. Clin Interv Aging 14:681–688

18.

Kuo FC, Hsu CH, Chen WS, Wang JW (2014) Total knee arthroplasty in carefully selected patients aged 80 years or older. J Orthop Surg Res 9:61

19.

Kuperman EF, Schweizer M, Joy P, Gu X, Fang MM (2016) The effects of advanced age on primary total knee arthroplasty: a meta-analysis and systematic review. BMC Geriatr 16:41

20.

McVeigh TP, Al-Azawi D, O'Donoghue GT, Kerin MJ (2013) Assessing the impact of an ageing population on complication rates and in-patient length of stay. Int J Surg 11:872–875

21.

Nanjayan SK, Swamy GN, Yellu S, Yallappa S, Abuzakuk T, Straw R (2014) In-hospital complications following primary total hip and knee arthroplasty in octogenarian and nonagenarian patients. J Orthop Traumatol 15:29–33

22.

Owens WD, Felts JA, Spitznagel EL Jr (1978) ASA physical status classifications: a study of consistency of ratings. Anesthesiology 49:239–243

23.

Preston SD, Southall AR, Nel M, Das SK (2008) Geriatric surgery is about disease, not age. J R Soc Med 101:409–415

24.

Raut S, Mertes SC, Muniz-Terrera G et al (2012) Factors associated with prolonged length of stay following a total knee replacement in patients aged over 75. Int Orthop 36:1601–1608

25.

Skou ST, Roos EM, Laursen MB, Rathleff MS, Arendt-Nielsen L, Simonsen O, Rasmussen S (2015) A randomized, controlled trial of total knee replacement. N Engl J Med 373:1597–1606

26.

Stroh DA, Delanois R, Naziri O, Johnson A, Mont M (2011) Total knee arthroplasty in patients over 80 years of age. J Knee Surg 24:279–283

27.

Tadros BJ, Dabis J, Twyman R (2018) Short-term outcome of unicompartmental knee arthroplasty in the octogenarian population. Knee Surg Sports Traumatol Arthrosc 26:1571–1576
Funding
There is no funding source.
Ethics declarations
Conflict of interest
All authors declare that they have no conflicts of interest.
Ethical approval
All procedures performed in studies involving human participants were in accordance with the ethical standards of the institutional and national research committee and with the 1975 Helsinki declaration and its later amendments.
Informed consent
Informed consent was obtained from all individual participants included in the study.
Additional information
Publisher's Note
Springer Nature remains neutral with regard to jurisdictional claims in published maps and institutional affiliations.
About this article
Cite this article
Andreozzi, V., Conteduca, F., Iorio, R. et al. Comorbidities rather than age affect medium-term outcome in octogenarian patients after total knee arthroplasty. Knee Surg Sports Traumatol Arthrosc 28, 3142–3148 (2020). https://doi.org/10.1007/s00167-019-05788-6
Received:

Accepted:

Published:

Issue Date:
Keywords
Total knee arthroplasty

Total knee replacement

Elderly

Octogenarian

Comorbidity

Complication