Abstract
Purpose
Higher revision rates were shown in varus- or valgus-positioned tibias in unicompartmental knee arthroplasty (UKA), but more than 15% of UKA prostheses are implanted with more than 5° of varus or valgus. This study aimed to analyze the wear rate in UKA when implanting the tibial component in either varus or valgus position versus a neutral placement at 90° to the tibial anatomical axis. The study hypothesized that a 5° varus or valgus positioning of the tibial plateau will generate less wear compared to a neutral alignment.
Methods
Wear was experimentally analyzed on a medial anatomical fixed-bearing unicompartmental knee prosthesis (Univation, Aesculap, Germany) in vitro with a customized, four-station, servohydraulic knee wear simulator, reproducing the walking cycle. The forces, loading and range of motion were applied as specified in the ISO 14243–1:2002, 5 million cycles were analyzed. The tibial components of the medial prostheses were inserted in a neutral position, with 5° varus, and 5° valgus (n = 3, each group).
Results
The wear rate decreased significantly with a 5° varus positioning (6.30 ± 1.38 mg/million cycles) and a 5° valgus positioning (4.96 ± 2.47 mg/million cycles) compared to the neutral position (12.16 ± 1.26 mg/million cycles) (p < 0.01 for the varus and the valgus position). The wear area on the inlay was slightly reduced in the varus and valgus group.
Conclusion
A varus or valgus "malpositioning" up to 5° will not lead to an increased wear. Wear was even less because of the reduced articulating contact area between the inlay and the femur. A slight varus positioning of the tibial component (parallel to the anatomical joint line) positioning can be advocated from a point of wear.
Level of evidence
Experimental study.
This is a preview of subscription content, log in to check access.
Access options
Buy single article
Instant access to the full article PDF.
US$ 39.95
Tax calculation will be finalised during checkout.
Subscribe to journal
Immediate online access to all issues from 2019. Subscription will auto renew annually.
US$ 199
Tax calculation will be finalised during checkout.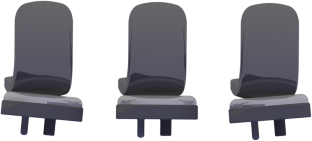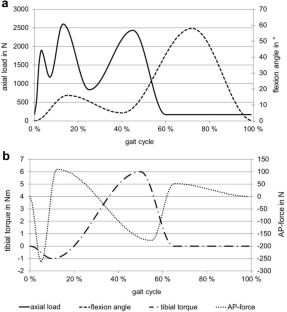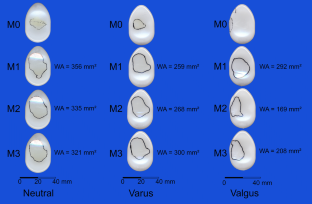 References
1.

Arnout N, Vanlommel L, Vanlommel J, Luyckx JP, Labey L, Innocenti B et al (2015) Post-cam mechanics and tibiofemoral kinematics: a dynamic in vitro analysis of eight posterior-stabilized total knee designs. Knee Surg Sports Traumatol Arthrosc 23:3343–3353

2.

Barbadoro P, Ensini A, Leardini A, d'Amato M, Feliciangeli A, Timoncini A et al (2014) Tibial component alignment and risk of loosening in unicompartmental knee arthroplasty: a radiographic and radiostereometric study. Knee Surg Sports Traumatol Arthrosc 22:3157–3162

3.

Batailler C, White N, Ranaldi FM, Neyret P, Servien E, Lustig S (2018) Improved implant position and lower revision rate with robotic-assisted unicompartmental knee arthroplasty. Knee Surg Sports Traumatol Arthrosc. https://doi.org/10.1007/s00167-018-5081-5

4.

Cartier P, Sanouiller JL, Grelsamer RP (1996) Unicompartmental knee arthroplasty surgery. 10-year minimum follow-up period. J Arthroplasty 11:782–788

5.

Chatellard R, Sauleau V, Colmar M, Robert H, Raynaud G, Brilhault J et al (2013) Medial unicompartmental knee arthroplasty: does tibial component position influence clinical outcomes and arthroplasty survival? J Orthopaedics 99:S219–S225

6.

Diezi C, Wirth S, Meyer DC, Koch PP (2010) Effect of femoral to tibial varus mismatch on the contact area of unicondylar knee prostheses. Knee 17:350–355

7.

Grimberg A, Jansson V, Liebs T, Melsheimer O, Steinbrück A (2018) Endoprothesen register Deutschland. Springer, Berlin

8.

Grochowsky JC, Alaways LW, Siskey R, Most E, Kurtz SM (2006) Digital photogrammetry for quantitative wear analysis of retrieved TKA components. J Biomed Mater Res B Appl Biomater 79:263–267

9.

Grupp TM, Utzschneider S, Schroder C, Schwiesau J, Fritz B, Maas A et al (2010) Biotribology of alternative bearing materials for unicompartmental knee arthroplasty. Acta Biomater 6:3601–3610

10.

Gulati A, Pandit H, Jenkins C, Chau R, Dodd CA, Murray DW (2009) The effect of leg alignment on the outcome of unicompartmental knee replacement. J Bone Jt Surg Br 91:469–474

11.

Innocenti B, Pianigiani S, Ramundo G, Thienpont E (2016) Biomechanical effects of different varus and valgus alignments in medial unicompartmental knee arthroplasty. J Arthroplasty 31:2685–2691

12.

Kang KT, Son J, Kwon SK, Kwon OR, Koh YG (2018) Preservation of femoral and tibial coronal alignment to improve biomechanical effects of medial unicompartment knee arthroplasty: computational study. Biomed Mater Eng 29:651–664

13.

Kwon OR, Kang KT, Son J, Suh DS, Baek C, Koh YG (2017) Importance of joint line preservation in unicompartmental knee arthroplasty: finite element analysis. J Orthop Res 35:347–352

14.

Laurent JT, Yao J, Blanchard C, Crowninshield R (2003) In vitro lateral versus medial wear of a knee prosthesis. Wear 255:1101–1106

15.

Mazzucco D, Spector M (2003) Effects of contact area and stress on the volumetric wear of ultrahigh molecular weight polyethylene. J Wear 254:514–522

16.

Puente Reyna AL, Fritz B, Schwiesau J, Schilling C, Summer B, Thomas P et al (2018) Metal ion release barrier function and biotribological evaluation of a zirconium nitride multilayer coated knee implant under highly demanding activities wear simulation. J Biomech 79:88–96

17.

Saikko V (2017) Effect of contact area on the wear of ultrahigh molecular weight polyethylene in noncyclic pin-on-disk tests. J Tribol Int 114:84–87

18.

Schwiesau J, Schilling C, Utzschneider S, Jansson V, Fritz B, Blomer W et al (2013) Knee wear simulation under conditions of highly demanding daily activities–influence on an unicompartmental fixed bearing knee design. Med Eng Phys 35:1204–1211

19.

The-Swedish-Knee-Arthroplasty-Register (2010) Annual Report 2010. Lund 10/7/2010

20.

Weber P, Crispin A, Schmidutz F, Utzschneider S, Pietschmann MF, Jansson V et al (2013) Improved accuracy in computer-assisted unicondylar knee arthroplasty: a meta-analysis. Knee Surg Sports Traumatol Arthrosc 21:2453–2461

21.

Weber P, Schroder C, Schmidutz F, Kraxenberger M, Utzschneider S, Jansson V et al (2013) Increase of tibial slope reduces backside wear in medial mobile bearing unicompartmental knee arthroplasty. Clin Biomech (Bristol Avon) 28:904–909

22.

Weber P, Schroder C, Schwiesau J, Utzschneider S, Steinbruck A, Pietschmann MF et al (2015) Increase in the tibial slope reduces wear after medial unicompartmental fixed-bearing arthroplasty of the knee. Biomed Res Int. https://doi.org/10.1155/2015/736826

23.

Weber P, Woiczinski M, Steinbruck A, Schmidutz F, Niethammer T, Schroder C et al (2018) Increase in the tibial slope in unicondylar knee replacement: analysis of the effect on the kinematics and ligaments in a weight-bearing finite element model. Biomed Res Int. https://doi.org/10.1155/2018/8743604

24.

Wimmer MA, Nechtow W, Schwenke T, Moisio KC (2015) Knee flexion and daily activities in patients following total knee replacement: a comparison with ISO standard 14243. Biomed Res Int 2015:157541

25.

Zietz C, Reinders J, Schwiesau J, Paulus A, Kretzer JP, Grupp T et al (2015) Experimental testing of total knee replacements with UHMW-PE inserts: impact of severe wear test conditions. J Mater Sci Mater Med 26:134
Funding
This study was funded in part by BBraun Aesculap, Tuttlingen, Germany by providing the prosthesis System. Beside this no further external funding was used.
Ethics declarations
Conflict of interest
VJ and PEM are advising surgeons of Aesculap, Tuttlingen, Germany. VJ, PEM and PW are advising surgeons for Medacta, Castel San Pietro, Switzerland. MW, CS and PW received research funds from Aesculap R&D projects. This did not, however, influence the study design or the collection, analysis, and interpretation of the data. It also did not influence the decision to submit the manuscript for publication.
Ethical approval
This article does not contain any studies with human participants or animals performed by any of the authors.
Additional information
Publisher's Note
Springer Nature remains neutral with regard to jurisdictional claims in published maps and institutional affiliations.
Electronic supplementary material
Below is the link to the electronic supplementary material.
About this article
Cite this article
Woiczinski, M., Schröder, C., Paulus, A. et al. Varus or valgus positioning of the tibial component of a unicompartmental fixed-bearing knee arthroplasty does not increase wear. Knee Surg Sports Traumatol Arthrosc 28, 3016–3021 (2020). https://doi.org/10.1007/s00167-019-05761-3
Received:

Accepted:

Published:

Issue Date:
Keywords
Wear

Varus valgus alignment

UKA