Abstract
Purpose
The purpose of this study was to identify effects of psychosocial and demographic factors on patellofemoral arthroplasty (PFA) outcomes.
Methods
Patients who underwent PFA by a single surgeon between 2002 and 2013 (min. 2 year follow-up) were included. Knee Society scores (KSS), UCLA, and Tegner Scores were prospectively collected in a designated arthroplasty registry. Patient records were retrospectively reviewed and univariate and multivariate statistical analyses were performed to assess the effect of psychosocial factors and demographic variables including patient sex, BMI, smoking and medication use, psychiatric history, and employment status on improvement between pre- and post-operative scores.
Results
Seventy-four knees in 55 patients (88% female) with a mean age of 51.8 (SD 8.8) and mean follow-up of 46.5 (SD 26.9) months were included. Patients showed significant improvement in all functional outcomes (p < 0.001). Mean improvement in KSS-F scores and median improvement in Tegner scores was greater in males compared to females (37.8 vs 16.1, p = 0.007; 3.0 vs 2.0, p = 0.07, respectively). Smokers showed less improvement in KSS-P compared to non-smokers (17.2 vs 30.0, p = 0.028). Retired or employed patients had a greater mean improvement in KSS-F and median improvement in Tegner Scores compared to those were unemployed or on work disability (p = 0.022, p = 0.01). Patients who reported using opioids and/or anti-depressants pre-operatively showed less improvement in UCLA scores (p = 0.006). Obese patients showed less improvement in both KSS-F and Tegner score compared to non-obese patients (p = 0.009, p = 0.004).
Conclusion
Psychosocial factors influence the degree of improvement following PFA. Although patients showed overall improvement compared to their baseline scores, obese patients, smokers, unemployed/work disabled, and pre-operative use of opioids and/or anti-depressants were risk factors for decreased improvement… The consideration of psychosocial variables are clinically important when assessing a patient's candidacy for PFA and improve pre-operative patient selection and counselling.
Level of evidence
Level IV.
Access options
Buy single article
Instant access to the full article PDF.
US$ 39.95
Tax calculation will be finalised during checkout.
Subscribe to journal
Immediate online access to all issues from 2019. Subscription will auto renew annually.
US$ 119
Tax calculation will be finalised during checkout.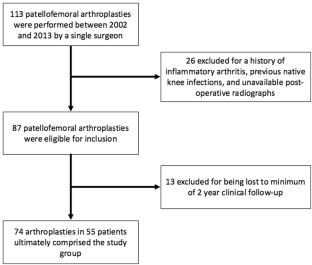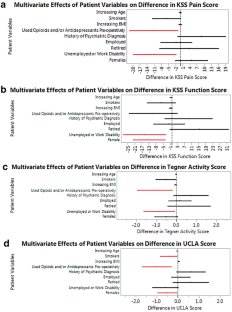 References
1.

Ackroyd CE, Newman JH, Evans R, Eldridge JD, Joslin CC (2007) The Avon patellofemoral arthroplasty: five-year survivorship and functional results. J Bone Jt Surg Br 89:310–315

2.

Barrack RL, Ruh EL, Chen J, Lombardi AV Jr, Berend KR, Parvizi J et al (2014) Impact of socioeconomic factors on outcome of total knee arthroplasty. Clin Orthop Relat Res 472:86–97

3.

Bedard NA, DeMik DE, Dowdle SB, Callaghan JJ (2018) Trends and risk factors for prolonged opioid use after unicompartmental knee arthroplasty. Bone Jt J 100-b:62–67

4.

Bletterman AN, de Geest-Vrolijk ME, Vriezekolk JE, Nijhuis-van der Sanden MW, van Meeteren NL, Hoogeboom TJ (2017) Preoperative psychosocial factors predicting patient's functional recovery after total knee or total hip arthroplasty: a systematic review. Clin Rehabil 32(4):512–525

5.

Campbell AL, Yu S, Karia R, Iorio R, Stuchin SA (2017) The effects of body mass index on pain control with liposomal bupivacaine in hip and knee arthroplasty. J Arthroplasty 33(4):1033–1039

6.

Chawla H, Nwachukwu BU, van der List JP, Eggman AA, Pearle AD, Ghomrawi HM (2017) Cost effectiveness of patellofemoral versus total knee arthroplasty in younger patients. Bone Jt J 99-b:1028–1036

7.

Courtney PM, Boniello AJ, Berger RA (2017) Complications following outpatient total joint arthroplasty: an analysis of a national database. J Arthroplasty 32:1426–1430

8.

Dahm DL, Al-Rayashi W, Dajani K, Shah JP, Levy BA, Stuart MJ (2010) Patellofemoral arthroplasty versus total knee arthroplasty in patients with isolated patellofemoral osteoarthritis. Am J Orthop 39:487–491

9.

Dahm DL, Kalisvaart MM, Stuart MJ, Slettedahl SW (2014) Patellofemoral arthroplasty: outcomes and factors associated with early progression of tibiofemoral arthritis. Knee Surg Sports Traumatol Arthrosc 22:2554–2559

10.

Farr J, Arendt E, Dahm D, Daynes J (2014) Patellofemoral arthroplasty in the athlete. Clin Sports Med 33:547–552

11.

Gornet MF, Schranck FW, Copay AG, Kopjar B (2016) The effect of workers' compensation status on outcomes of cervical disc arthroplasty: a prospective, comparative, observational study. J Bone Jt Surg Am 98:93–99

12.

Greene ME, Rolfson O, Gordon M, Annerbrink K, Malchau H, Garellick G (2016) Is the use of antidepressants associated with patient-reported outcomes following total hip replacement surgery? Acta Orthop 87:444–451

13.

Insall JN, Dorr LD, Scott RD, Scott WN (1989) Rationale of the knee-society clinical rating system. Clin Orthop Relat Res 248:13–14

14.

Irrgang JJ (2012) Summary of clinical outcome measures for sports-related knee injuries. AOSSM Outcomes Task Force 7:74

15.

Jensen JA, Goodson WH, Hopf HW, Hunt TK (1991) Cigarette smoking decreases tissue oxygen. Arch Surg 126:1131–1134

16.

Kazarian GS, Tarity TD, Hansen EN, Cai J, Lonner JH (2016) Significant functional improvement at 2 years after isolated patellofemoral arthroplasty with an onlay trochlear implant, but low mental health scores predispose to dissatisfaction. J Arthroplasty 31:389–394

17.

Kee JR, Mears SC, Edwards PK, Barnes CL (2017) Modifiable risk factors are common in early revision hip and knee arthroplasty. J Arthroplasty 32:3689–3692

18.

Keeney BJ, Koenig KM, Paddock NG, Moschetti WE, Sparks MB, Jevsevar DS (2017) Do aggregate socioeconomic status factors predict outcomes for total knee arthroplasty in a rural population? J Arthroplasty 32:3583–3590

19.

Kellgren JH, Lawrence JS (1957) Radiological assessment of osteo-arthrosis. Ann Rheum Dis 16:494–502

20.

Konan S, Haddad FS (2016) Midterm outcome of avon patellofemoral arthroplasty for posttraumatic unicompartmental osteoarthritis. J Arthroplasty 31:2657–2659

21.

Lee M, Silverman SM, Hansen H, Patel VB, Manchikanti L (2011) A comprehensive review of opioid-induced hyperalgesia. Pain Phys 14:145–161

22.

Lee WC, Kwan YH, Chong HC, Yeo SJ (2017) The minimal clinically important difference for Knee Society Clinical Rating System after total knee arthroplasty for primary osteoarthritis. Knee Surg Sports Traumatol Arthrosc 25:3354–3359

23.

Lim CT, Goodman SB, Huddleston JI 3rd, Harris AHS, Bhowmick S, Maloney WJ et al (2017) Smoking is associated with earlier time to revision of total knee arthroplasty. Knee 24:1182–1186

24.

Liow MH, Goh GS, Tay DK, Chia SL, Lo NN, Yeo SJ (2016) Obesity and the absence of trochlear dysplasia increase the risk of revision in patellofemoral arthroplasty. Knee 23:331–337

25.

Lungu E, Vendittoli PA, Desmeules F (2016) Preoperative determinants of patient-reported pain and physical function levels following total knee arthroplasty: a systematic review. Open Orthop J 10:213–231

26.

Lustig S, Magnussen RA, Dahm DL, Parker D (2012) Patellofemoral arthroplasty, where are we today? Knee Surg Sports Traumatol Arthrosc 20:1216–1226

27.

Mont MA, Mayerson JA, Krackow KA, Hungerford DS (1998) Total knee arthroplasty in patients receiving workers' compensation. J Bone Jt Surg Am 80:1285–1290

28.

Morris MJ, Lombardi AV Jr, Berend KR, Hurst JM, Adams JB (2013) Clinical results of patellofemoral arthroplasty. J Arthroplasty 28:199–201

29.

Newman ET, Herschmiller TA, Attarian DE, Vail TP, Bolognesi MP, Wellman SS (2018) Risk factors, outcomes, and timing of manipulation under anesthesia after total knee arthroplasty. J Arthroplasty 33:245–249

30.

Nolan J, Jenkins RA, Kurihara K, Schultz RC (1985) The acute effects of cigarette smoke exposure on experimental skin flaps. Plast Reconstr Surg 75:544–551

31.

Odumenya M, Costa ML, Parsons N, Achten J, Dhillon M, Krikler SJ (2010) The Avon patellofemoral joint replacement: five-year results from an independent centre. J Bone Jt Surg Br 92:56–60

32.

Osarumwense D, Syed F, Nzeako O, Akilapa S, Zubair O, Waite J (2017) Patellofemoral joint arthroplasty: early results and functional outcome of the Zimmer gender solutions patello-femoral joint system. Clin Orthop Surg 9:295–302

33.

Pisanu G, Rosso F, Bertolo C, Dettoni F, Blonna D, Bonasia DE et al (2017) Patellofemoral arthroplasty: current concepts and review of the literature. Joints 5:237–245

34.

Pivec R, Issa K, Naziri Q, Kapadia BH, Bonutti PM, Mont MA (2014) Opioid use prior to total hip arthroplasty leads to worse clinical outcomes. Int Orthop 38:1159–1165

35.

Roth ML, Tripp DA, Harrison MH, Sullivan M, Carson P (2007) Demographic and psychosocial predictors of acute perioperative pain for total knee arthroplasty. Pain Res Manag 12:185–194

36.

Sahota S, Lovecchio F, Harold RE, Beal MD, Manning DW (2017) The effect of smoking on thirty-day postoperative complications after total joint arthroplasty: a propensity score-matched analysis. J Arthroplasty 33:30–35

37.

Singh JA (2011) Smoking and outcomes after knee and hip arthroplasty: a systematic review. J Rheumatol 38:1824–1834

38.

Singh JA, Lewallen D (2009) Age, gender, obesity, and depression are associated with patient-related pain and function outcome after revision total hip arthroplasty. Clin Rheumatol 28:1419–1430

39.

Starks I, Roberts S, White SH (2009) The Avon patellofemoral joint replacement: independent assessment of early functional outcomes. J Bone Jt Surg Br 91:1579–1582

40.

Tegner Y, Lysholm J (1985) Rating systems in the evaluation of knee ligament injuries. Clin Orthop Relat Rese (198):43–49

41.

van der List JP, Chawla H, Zuiderbaan HA, Pearle AD (2015) Survivorship and functional outcomes of patellofemoral arthroplasty: a systematic review. Knee Surg Sports Traumatol Arthrosc 25:2622–2631

42.

Vandenneucker H, Labey L, Vander Sloten J, Desloovere K, Bellemans J (2016) Isolated patellofemoral arthroplasty reproduces natural patellofemoral joint kinematics when the patella is resurfaced. Knee Surg Sports Traumatol Arthrosc 24:3668–3677

43.

Wylde V, Trela-Larsen L, Whitehouse MR, Blom AW (2017) Preoperative psychosocial risk factors for poor outcomes at 1 and 5 years after total knee replacement. Acta Orthop 88:530–536

44.

Yakobov E, Scott W, Stanish W, Dunbar M, Richardson G, Sullivan M (2014) The role of perceived injustice in the prediction of pain and function after total knee arthroplasty. Pain 155:2040–2046

45.

Zywiel MG, Stroh DA, Lee SY, Bonutti PM, Mont MA (2011) Chronic opioid use prior to total knee arthroplasty. J Bone Jt Surg Am 93:1988–1993
Funding
No funding sources were utilized in completing this study.
Ethics declarations
Conflict of interest
The authors declare that they have no conflicts of interest pertinent to the contents of this manuscript.
Ethical approval
All procedures performed in this study were in accordance with the ethical standards of the institutional research committee and with the 1964 Helsinki declaration and its later amendments or comparable ethical standards. Informed consent was obtained from all individual participants included in the study.
Additional information
Publisher's Note
Springer Nature remains neutral with regard to jurisdictional claims in published maps and institutional affiliations.
About this article
Cite this article
Desai, V.S., Pareek, A., DeDeugd, C.M. et al. Smoking, unemployment, female sex, obesity, and medication use yield worse outcomes in patellofemoral arthroplasty. Knee Surg Sports Traumatol Arthrosc 28, 2962–2969 (2020). https://doi.org/10.1007/s00167-019-05704-y
Received:

Accepted:

Published:

Issue Date:
Keywords
Patellofemoral arthroplasty

Psychosocial

Employment

Smoking

Anti-depressant

Opioids