Abstract
Purpose
To evaluate the longitudinal trends in knee arthroscopy utilization in relation to published negative randomized controlled trials, focusing on annual rates, patient demographics and associated 30-day post-operative complications.
Methods
The American College of Surgeons National Surgical Quality Improvement Program database was queried using Current Procedural Terminology billing codes to identify arthroscopy cases between 2006 and 2016. 30-day post-operative complications were identified, and potential risk factors analysed using univariate and multivariate analyses.
Results
68,346 patients underwent knee arthroscopy, of which 47,446 (69.5%) represented partial meniscectomies. The annual procedural rate, as a proportion of all reported cases, increased significantly from 2006 (0.3%) to 2016 (1.6%; p < 0.001), along with a significant increase in average patient age (44.3 ± 15.5 to 48.4 ± 14.5; p < 0.001). Specifically focusing on the meniscectomy cohort, average patient age significantly increased from 47.9 ± 15.1 to 50.7 ± 13.5 (p = 0.001). The overall incidence of complications was 2.0% (n = 1333), with major complications in 0.9% (n = 639) and minor complications in 1.0% (n = 701). Common complications included a return to the operating room (0.5%), deep vein thrombosis/thrombophlebitis (0.4%), and superficial infection (0.2%). Operating time > 90 min, diabetes, steroid use, ASA class 2+, and dialysis-dependency were the predictors of overall complication rates.
Conclusion
Despite the publication of negative trials and new clinical practice guidelines, knee arthroscopy utilization and average patient age continue to increase. Given the high utilization, even low adverse event rates equate to substantial numbers of patients with minor and major complications. The NSQIP data show a gap in knowledge translation to clinical practice and highlight the need for improved clinical guidelines.
Level of evidence
Cohort study; Level III.
Access options
Buy single article
Instant access to the full article PDF.
US$ 39.95
Tax calculation will be finalised during checkout.
Subscribe to journal
Immediate online access to all issues from 2019. Subscription will auto renew annually.
US$ 119
Tax calculation will be finalised during checkout.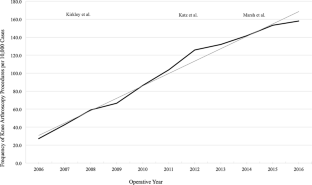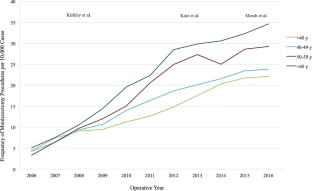 References
1.

Abram SGF, Judge A, Beard DJ, Price AJ (2018) Adverse outcomes after arthroscopic partial meniscectomy: a study of 700,000 procedures in the national hospital episode statistics database for England. Lancet 392(10160):2194–2202. https://doi.org/10.1016/S0140-6736(18)31771-9

2.

Amin NH, Hussain W, Ryan J, Morrison S, Miniaci A, Jones MH (2017) Changes within clinical practice after a randomized controlled trial of knee arthroscopy for osteoarthritis. Orthop J Sport Med 5:1–6

3.

Basques BA, Gardner EC, Varthi AG, Fu MC, Bohl DD, Golinvaux NS, Grauer JN (2015) Risk factors for short-term adverse events and readmission after arthroscopic meniscectomy: does age matter? Am J Sports Med 43:169–175

4.

Beaufils P, Becker R, Kopf S, Englund M, Verdonk R, Ollivier M, Seil R (2017) Surgical management of degenerative meniscus lesions: the 2016 ESSKA meniscus consensus. Knee Surg Sports Traumatol Arthrosc 25:335–346

5.

Clair AJ, Inneh IA, Iorio R, Berend KR, Della Valle CJ, Healy WL, Pelligrini VD (2015) Can administrative data be used to analyze complications following total joint arthroplasty? J Arthroplasty 30:17–20

6.

Cundall-Curry DJ, Lawrence JE, Fountain DM, Gooding CR (2016) Data errors in the national hip fracture database: a local validation study. Bone Joint J 98-B:1406–1409

7.

Dhawan A, Mather RC, Karas V, Ellman MB, Young BB, Bach BR, Cole BJ (2014) An epidemiologic analysis of clinical practice guidelines for non-arthroplasty treatment of osteoarthritis of the knee. Arthroscopy 30:65–71

8.

Elkousy H, Heaps B, Overturf S, Laughlin MS (2014) Financial impact of third-party reimbursement due to changes in the definition of ICD-9 arthroscopy codes 29880, 29881, and 29877. J Bone Joint Surg 96-A:1–7

9.

Ellis RJ, Liu JY, Ko CY (2018) Databases for surgical health services research: American college of surgeons national surgical quality improvement program. Surg (US) 164:173–175

10.

Englund M, Guermazi A, Gale D, Hunter DJ, Aliabadi P, Clancy M, Felson DT (2008) Incidental meniscal findings on knee MRI in middle-aged and elderly persons. N Engl J Med 359:1108–1115

11.

Faciszewski T, Jensen R, Berg RL (2003) Procedural coding of spinal surgeries (CPT-4 versus ICD-9-CM) and decisions regarding standards: a multicenter study. Spine 28:502–507 (Phila. Pa. 1976)

12.

Feeley BT, Lau BC (2018) Biomechanics and clinical outcomes of partial meniscectomy. J Am Acad Orthop Surg 26:853–863

13.

Felson DT (2006) Clinical practice. Osteoarthritis of the knee. N Engl J Med 354:841–848

14.

Ghomrawi HMK, Marx RG, Pan TJ, Conti M, Lyman S (2018) The effect of negative randomized trials and surgeon volume on the rates of arthroscopy for patients with knee OA. Contemp Clin Trials Commun Elsevier 9:40–44

15.

Holmes R, Moschetti W, Martin B, Tomek I, Finlayson S (2013) Effect of evidence and changes in reimbursement on the rate of arthroscopy for osteoarthritis. Am J Sports Med 41:1039–1043

16.

Jameson SS, Dowen D, James P, Serrano-Pedraza I, Reed MR, Deehan DJ (2011) The burden of arthroscopy of the knee: a contemporary analysis of data from the English NHS. Bone Joint J 93-B:1327–1333

17.

Jevsevar DS (2013) Treatment of osteoarthritis of the knee: evidence-based guideline, 2nd edition. J Am Acad Orthop Surg 21:571–576

18.

Katz JN, Brophy RH, Chaisson CE, de Chaves L, Cole BJ, Dahm DL, Donnell-Fink LA, Guermazi A, Haas AK, Jones MH, Levy BA, Mandl LA, Martin SD, Marx RG, Miniaci A, Matava MJ, Palmisano J, Reinke EK, Richardson BE, Rome BN, Safran-Norton CE, Skoniecki DJ, Solomon DH, Smith MV, Spindler KP, Stuart MJ, Wright J, Wright RW, Losina E (2013) Surgery versus physical therapy for a meniscal tear and osteoarthritis. N Engl J Med 368:1675–1684

19.

Katz JN, Jones MH (2016) Treatment of meniscal tear: the more we learn, the less we know. Ann Intern Med 164:503

20.

Kirkley A, Birmingham TB, Litchfield RB, Giffin JR, Willits KR, Wong CJ, Feagan BG, Donner A, Griffin SH, D'Ascanio LM, Pope JE, Fowler PJ (2008) A randomized trial of arthroscopic surgery for osteoarthritis of the knee. N Engl J Med 359:1097–1107

21.

Loeser RF, Goldring SR, Scanzello CR, Goldring MB (2012) Osteoarthritis: a disease of the joint as an organ. Arthr Rheum 64:1697–1707

22.

Marsh JD, Birmingham TB, Giffin JR, Isaranuwatchai W, Hoch JS, Feagan BG, Litchfield R, Willits K, Fowler P (2016) Cost-effectiveness analysis of arthroscopic surgery compared with non-operative management for osteoarthritis of the knee. BMJ Open 6:1–10

23.

Martin CT, Pugely AJ, Gao Y, Wolf BR (2013) Risk factors for thirty-day morbidity and mortality following knee arthroscopy. J Bone Jt Surg Am 95:1–10

24.

Matsubara H, Okazaki K, Takayama Y, Osaki K, Matsuo Y, Honda H, Iwamoto Y (2015) Detection of early cartilage deterioration associated with meniscal tear using T1ρ mapping magnetic resonance imaging. BMC Musculoskelet Disord 16:22

25.

Moseley J, O'Malley K, Petersen N, Menke T, Brody B (2002) A controlled trial of arthroscopic surgery for osteoarthritis of the knee. NEJM 347:1081–1090

26.

Sanders TL, Pareek A, Desai VS, Hewett TE, Levy BA, Stuart MJ, Dahm DL, Krych AJ (2018) Low accuracy of diagnostic codes to identify anterior cruciate ligament tear in orthopaedic database research. Am J Sports Med 46:2894–2898

27.

Siemieniuk RAC, Harris IA, Agoritsas T, Poolman RW, Brignardello-Petersen R, Van de Velde S, Buchbinder R, Englund M, Lytvyn L, Quinlan C, Helsingen L, Knutsen G, Olsen NR, Macdonald H, Hailey L, Wilson HM, Lydiatt A, Kristiansen A (2018) Arthroscopic surgery for degenerative knee arthritis and meniscal tears: a clinical practice guideline. Br J Sports Med 52:313. https://doi.org/10.1136/bjsports-2017-j1982rep

28.

Sihvonen R, Paavola M, Malmivaara A, Itälä A, Joukainen A, Nurmi H, Kalske J, Ikonen A, Järvelä T, Järvinen TAH, Kanto K, Karhunen J, Knifsund J, Kröger H, Kääriäinen T, Lehtinen J, Nyrhinen J, Paloneva J, Päiväniemi O, Raivio M, Sahlman J, Sarvilinna R, Tukiainen S, Välimäki VV, Äärimaa V, Toivonen P, Järvinen TLN (2018) Arthroscopic partial meniscectomy versus placebo surgery for a degenerative meniscus tear: a 2-year follow-up of the randomised controlled trial. Ann Rheum Dis 77:188–195

29.

Sihvonen R, Paavola M, Malmivaara A, Itälä A, Joukainen A, Nurmi H, Kalske J, Järvinen TLN (2013) Arthroscopic partial meniscectomy versus sham surgery for a degenerative meniscal tear. N Engl J Med 369:2515–2524

30.

Westermann RW, Pugely AJ, Ries Z, Amendola A, Martin CT, Gao Y, Wolf BR (2015) Causes and predictors of 30-day readmission after shoulder and knee arthroscopy: an analysis of 15,167 cases. Arthroscopy 31:1035–1040
Funding
No sources of funding for this study. No authors report relevant financial disclosures.
Ethics declarations
Conflict of interest
The authors declare that they have no conflict of interest.
Ethical approval
This article does not contain any studies with human participants or animals performed by any of the authors.
Informed consent
This study utilized de-identified publicly available data and therefore formal consent is not required.
Disclosures
The American College of Surgeons National Surgical Quality Improvement Program and the hospitals participating in the ACS NSQIP are the source of the data used herein; they have not verified and are not responsible for the statistical validity of the data analysis or the conclusions derived by the authors.
Additional information
Publisher's Note
Springer Nature remains neutral with regard to jurisdictional claims in published maps and institutional affiliations.
About this article
Cite this article
Degen, R.M., Lebedeva, Y., Birmingham, T.B. et al. Trends in knee arthroscopy utilization: a gap in knowledge translation. Knee Surg Sports Traumatol Arthrosc 28, 439–447 (2020). https://doi.org/10.1007/s00167-019-05638-5
Received:

Accepted:

Published:

Issue Date:
Keywords
Knee arthroscopy

Trends

Complications

Utilization

Knowledge translation