Abstract
Purpose
To determine the effectiveness of a synthetic bone insert on improving medial opening wedge high tibial osteotomy integrity in response to post-surgical cyclical loading.
Materials and methods
A medial opening wedge high tibial osteotomy, secured with a compression fixation plate, was performed on 12 cadaveric knee specimens that were randomised to either: (1) a synthetic insert condition (n = 6), in which a 9 mm bio-absorbable wedge was inserted into the gap space; or (2) a plate-only condition (n = 6). Uniaxial strain gauges, placed on the lateral cortex and fixation plate, measured the strain response as the specimens were subjected to a staircase cyclical loading protocol; a sinusoidal waveform between 100 and 800 N was applied and increased by increments of 200 N every 5000 cycles until failure. Peak strains at failure were compared between conditions using a one-tailed independent samples t test.
Results
The strains from the fixation plate were significantly different between the insert and plate only conditions (p = 0.02), transitioning from a compressive strain with the wedge (mean [SD] = − 8.6 [− 3.6] µε) to a tensile strain without the wedge (mean [SD] = 12.9 [23] µε). The strains measured at the lateral cortex were also significantly affected by the inclusion of a synthetic bone insert (p = 0.016), increasing from − 55.6 (− 54.3) µε when the insert was utilised to 23.7 (55.7) µε when only the plate was used.
Conclusions
The addition of a synthetic insert limited the tensile strains at the plate and lateral cortex, suggesting that this may protect these regions from fracture during prolonged loading.
Access options
Buy single article
Instant access to the full article PDF.
USD 39.95
Price excludes VAT (USA)
Tax calculation will be finalised during checkout.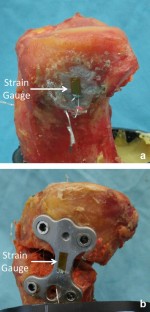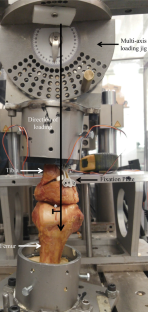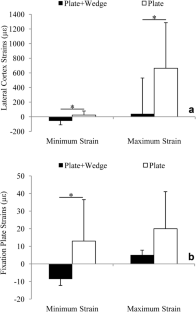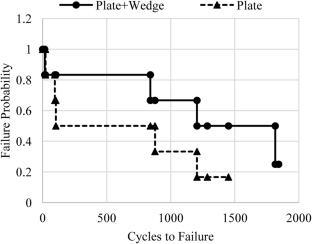 References
Amis AA (2013) Biomechanics of high tibial osteotomy. Knee Surg Sport Traumatol Arthrosc 21:197–205

Aryee S, Imhoff AB, Rose T, Tischer T (2008) Do we need synthetic osteotomy augmentation materials for opening-wedge high tibial osteotomy. Biomaterials 29:3497–3502

Bonasia DE, Dettoni F, Sito G, Blonna D, Marmotti A, Bruzzone M, Castoldi F, Rossi R (2014) Medial opening wedge high tibial osteotomy for medial compartment overload/arthritis in the varus knee: prognostic factors. Am J Sports Med 42:690–698

Bonasia DE, Governale G, Spolaore S, Rossi R, Amendola A (2014) High tibial osteotomy. Curr Rev Musculoskelet Med 7:292–301

Brouwer GM, van Tol AW, Bergink AP, Belo JN, Bernsen RMD, Reijman M, Pols HAP, Bierma-Zeinstra SMA (2007) Association between valgus and varus alignment and the development and progression of radiographic osteoarthritis of the knee. Arthritis Rheum 56:1204–1211

Bujnowski K, Getgood A, Leitch K, Farr J, Dunning C, Burkhart TA (2018) A pilot hole does not reduce the strains or risk of fracture to the lateral cortex during and following a medial opening wedge high tibial osteotomy in cadaveric specimens. Bone Jt Res 7:166–172

Getgood A, Collins B, Slynarski K, Kurowska E, Parker D, Engebretsen L, MacDonald PB, Litchfield R (2013) Short-term safety and efficacy of a novel high tibial osteotomy system: a case controlled study. Knee Surg Sports Traumatol Arthrosc 21:260–269

Gouin F, Yaouanc F, Waast D, Melchior B, Delecrin J, Passuti N (2010) Open wedge high tibial osteotomies: calcium-phosphate ceramic spacer versus autologous bonegraft. Orthop Traumatol Surg Res 96:637–645

Han J-H, Kim HJ, Song J-G, Yang J-H, Bhandare NN, Fernandez AR, Park HJ, Nha K-W (2015) Is bone grafting necessary in opening wedge high tibial osteotomy? A meta-analysis of radiological outcomes. Knee Surg Relat Res 27:207–220

Hui SL, Slemenda CW, Johnston CC (1988) Age and bone mass as predictors of fracture in a prospective study. J Clin Investig 81:1804–1809

Jasper LL, Jones CA, Mollins J, Pohar SL, Beaupre LA (2016) Risk factors for revision of total knee arthroplasty: a scoping review. BMC Musculoskelet Disord 17:1–9

Leitch KM (2014) Biomechanical investigations of medial opening wedge high tibial osteotomy: gait analysis, materials testing and dynamic radiography. The University of Western, Ontario

Martin R, Birmingham TB, Willits K, Litchfield R, Lebel M, Giffin JR (2014) Adverse event rates and classifications in medial opening wedge high tibial osteotomy. Am J Sports Med 42:1118–1126

Nakamura R, Komatsu N, Fujita K, Kuroda K, Takahashi M, Omi R, Katsuki Y, Tsuchiya H (2017) Appropriate hinge position for prevention of unstable lateral hinge fracture in open wedge high tibial osteotomy. Bone Jt J 99B:1313–1318

Nakamura R, Komatsu N, Murao T, Okamoto Y, Nakamura S, Fujita K, Nishimura H, Katsuki Y (2015) The validity of the classification for lateral hinge fractures in open wedge high tibial osteotomy. Bone Jt J 97–B:1226–1231

Ogawa H, Matsumoto K, Akiyama H (2017) The prevention of a lateral hinge fracture as a complication of a medial opening wedge high tibial osteotomy. Bone Jt J 99B:887–893

Rich JT, Neely JG, Paniello RC, Voelker CCJ, Nussenbaum B, Wang EW (2010) A practical guide to understanding Kaplan–Meier curves. Otolaryngol Head Neck Surg 143:331–336

Sabzevari S, Ebrahimpour A, Khalilipour Roudi M, Kachooei AR (2016) High tibial osteotomy: a systematic review and current concept. Arch Bone Jt Surg 204:204–212

Sharma L (2007) The role of varus and valgus alignment in knee osteoarthritis. Arthritis Rheum 56:1044–1047

Slevin O, Ayeni OR, Hinterwimmer S, Tischer T, Feucht MJ, Hirschmann MT (2016) The role of bone void fillers in medial opening wedge high tibial osteotomy: a systematic review. Knee Surg Sport Traumatol Arthrosc 24:3584–3598

Takeuchi R, Bito H, Akamatsu Y, Shiraishi T, Morishita S, Koshino T, Saito T (2010) In vitro stability of open wedge high tibial osteotomy with synthetic bone graft. Knee 17:217–220

Takeuchi R, Ishikawa H, Kumagai K, Yamaguchi Y, Chiba N, Akamatsu Y, Saito T (2012) Fractures around the lateral cortical hinge after a medial opening-wedge high tibial osteotomy: a new classification of lateral hinge fracture. Arthroscopy 28:85–94

Zorzi AR, da Silva HGPV, Muszkat C, Marques LC, Cliquet A, de Miranda JB (2011) Opening-wedge high tibial osteotomy with and without bone graft. Artif Organs 35:301–307
Acknowledgements
The authors would like to thank SBM Inc. (Winchester, MA) for providing both funding and materials (synthetic inserts, fixation plates, and related tools) for this study.
Funding
This work was partially funded by SBM, Smith and Nephew Orthopaedics Grant number A17-ASDUS-GR-598, Western University Bone and Joint Institute Grant number R5467A01.
Ethics declarations
Conflict of interest
SBM Orthopaedics provided in-kind support for this study and Dr. Getgood has received consulting fees from SBM Inc. However, SBM had no involvement in the design of the experiment or the interpretation of the results. None of the other authors have any other relevant disclosures. Dr. Burkhart receives salary support from Smith and Nephew.
Ethical approval
The study protocol was reviewed and approved in adherence with the tissue use and ethical guidelines of de-identified cadaveric tissue (approval 11757).
Additional information
Publisher's Note
Springer Nature remains neutral with regard to jurisdictional claims in published maps and institutional affiliations.
About this article
Cite this article
MacDonald, R., Huebner, K., Farr, J. et al. A synthetic bone insert may protect the lateral cortex and fixation plate following a high tibial osteotomy by reducing the tensile strains. Knee Surg Sports Traumatol Arthrosc 28, 1814–1820 (2020). https://doi.org/10.1007/s00167-019-05606-z
Received:

Accepted:

Published:

Issue Date:

DOI: https://doi.org/10.1007/s00167-019-05606-z
Keywords