Abstract
Purpose
There is still lack of knowledge regarding the variability of patellofemoral alignment in healthy, non-osteoarthritic knees, without patellofemoral instability. Therefore, a systematic review of the existing literature was performed to evaluate the variability of patellofemoral alignment.
Methods
Patellofemoral alignment of the knee was defined by the following parameters: sulcus angle (SA), femoral trochlear depth (FTD), patellar tilt angle (PTA), lateral patellofemoral angle (LPFA), lateral femoral trochlear inclination (LFTI) and tibial tubercle–trochlear groove distance (TT–TG). The electronic databases MEDLINE and EMBASE were searched from database inception to search date (January 11, 2019) and screened for relevant studies. The PRISMA guidelines were followed. Articles reporting PF alignment measurements of healthy knees in patients between 15 years and 47 years were included.
Results
A total of 15 studies met the inclusion criteria. The studies reported mean values and standard deviations for the SA between 118.7° ± 7 and 168°; for the FTD between 3.4 mm ± 1.1 and 7.1 mm ± 1.8; for the PTA between 0.7° ± 4.99 and 17.05° ± 4.3; for the LPFA between 6.26° ± 4.1 and 11.1° ± 4.0; for the LFTI between 16.3° ± 2.8 and 22.1° ± 1.9; and for the TT–TG between 9.8 mm ± 4.6 and 17.3 mm ± 5.3.
Conclusion
Patellofemoral alignment in the healthy knee is extremely variable. A more precise knowledge of the complex relationship between the patella and the trochlea may help to better diagnose PF disorders and eventually help in selecting the correct therapy. Furthermore, standardised imaging protocols and measurement techniques for patellofemoral parameters are needed.
Level of evidence
III.
Access options
Buy single article
Instant access to the full article PDF.
USD 39.95
Price includes VAT (USA)
Tax calculation will be finalised during checkout.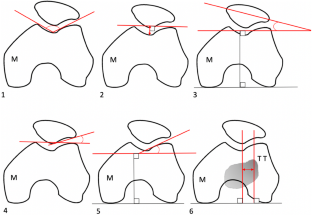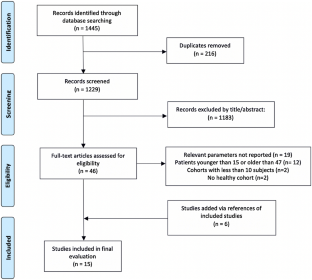 Abbreviations
FTD:

Femoral trochlear depth

ICC:

Intraclass correlation coefficient

LFTI:

Lateral femoral trochlear inclination

LPFA:

Lateral patellofemoral angle

NA:

Not available

NWB:

Non-weight-bearing

PF:

Patellofemoral

PTA:

Patellar tilt angle

SA:

Sulcus angle

SD:

Standard deviation

TKA:

Total knee arthroplasty

TT–TG:

Tibial tubercle–trochlear groove distance

WB:

Weight-bearing
References
1.

Alemparte J, Ekdahl M, Burnier L, Hernandez R, Cardemil A, Cielo R, Danilla S (2007) Patellofemoral evaluation with radiographs and computed tomography scans in 60 knees of asymptomatic subjects. Arthroscopy 23:170–177

2.

Brady JM, Sullivan JP, Nguyen J, Mintz D, Green DW, Strickland S, Shubin Stein BE (2017) The tibial tubercle-to-trochlear groove distance is reliable in the setting of trochlear dysplasia, and superior to the tibial tubercle-to-posterior cruciate ligament distance when evaluating coronal malalignment in patellofemoral instability. Arthroscopy 33:2026–2034

3.

Carrillon Y, Abidi H, Dejour D, Fantino O, Moyen B, Tran-Minh VA (2000) Patellar instability: assessment on MR images by measuring the lateral trochlear inclination-initial experience. Radiology 216:582–585

4.

Charles MD, Haloman S, Chen L, Ward SR, Fithian D, Afra R (2013) Magnetic resonance imaging-based topographical differences between control and recurrent patellofemoral instability patients. Am J Sport Med 41:374–384

5.

Esfandiarpour F, Lebrun CM, Dhillon S, Boulanger P (2018) In-vivo patellar tracking in individuals with patellofemoral pain and healthy individuals. J Orthop Res 36:2193–2201

6.

Gürsoy M, Mete BD, Oyar O, Erdoğan N, Uluç ME, Bulut T, Gürsoy S (2018) The association of patellar maltracking with infrapatellar fat pad edema and chondromalacia patella: a quantitative morphological magnetic resonance imaging analysis. Turk J Phys Med Rehab 64:246–252

7.

Van Haver A, De Roo K, De Beule M, Van Cauter S, Audenaert E, Claessens T, Verdonk P (2014) Semi-automated landmark-based 3D analysis reveals new morphometric characteristics in the trochlear dysplastic femur. Knee Surg Sport Traumatol Arthrosc 22:2698–2708

8.

Hirschmann A, Buck FM, Fucentese SF, Pfirrmann CW (2015) Upright CT of the knee: the effect of weight-bearing on joint alignment. Eur Radiol 25:3398–3404

9.

Hirschmann A, Buck FM, Herschel R, Pfirrmann CW, Fucentese SF (2017) Upright weight-bearing CT of the knee during flexion: changes of the patellofemoral and tibiofemoral articulations between 0° and 120°. Knee Surg Sport Traumatol Arthrosc 25:853–862

10.

Hirschmann MT, Konala P, Amsler F, Iranpour F, Friederich NF, Cobb JP (2011) The position and orientation of total knee replacement components: a comparison of conventional radiographs, transverse 2D-CT slices and 3D-CT reconstruction. J Bone Joint Surg 93:629–633

11.

Hochreiter B, Hirschmann MT, Amsler F, Behrend H (2018) Highly variable tibial tubercle-trochlear groove distance (TT-TG) in osteoarthritic knees should be considered when performing TKA. Knee Surg Sports Traumatol Arthrosc. https://doi.org/10.1007/s00167-018-5141-x

12.

Kim TH, Sobti A, Lee SH, Lee JS, Oh KJ (2014) The effects of weight-bearing conditions on patellofemoral indices in individuals without and with patellofemoral pain syndrome. Skelet Radiol 43:157–164

13.

Koskinen SK, Taimela S, Nelimarkka O, Komu M, Ph D, Kujala UM (1993) Magnetic resonance imaging of patellofemoral relationships. Skelet Radiol 22:403–410

14.

Macri EM, Stefanik JJ, Khan KK, Crossley KM (2016) Is tibiofemoral or patellofemoral alignment or trochlear morphology associated with patellofemoral osteoarthritis? A systematic review. Arthritis Care Res 68:1453–1470

15.

Marquez-Lara A, Andersen J, Lenchik L, Ferguson CM, Gupta P (2017) Variability in patellofemoral alignment measurements on MRI: influence of knee position. AJR 208:1097–1102

16.

Mehl J, Feucht MJ, Bode G, Dovi-Akue D, Südkamp NP, Niemeyer P (2016) Association between patellar cartilage defects and patellofemoral geometry: a matched-pair MRI comparison of patients with and without isolated patellar cartilage defects. Knee Surg Sport Traumatol Arthrosc 24:838–846

17.

Nicolaas L, Tigchelaar S, Koëter S (2011) Patellofemoral evaluation with magnetic resonance imaging in 51 knees of asymptomatic subjects. Knee Surg Sport Traumatol Arthrosc 19:1735–1739

18.

Prakash J, Seon JK, Woo SH, Jin C, Song EK (2016) Comparison of radiological parameters between normal and patellar dislocation groups in korean population: a rotational profile CT-based study. Knee Surg Rel Res 28:302–311

19.

Sebro R, Weintraub S (2017) Knee morphometric and alignment measurements with MR imaging in young adults with central cartilage lesions of the patella and trochlea. Diagn Interv Imaging 98:429–440

20.

Seitlinger G, Scheurecker G, Högler R, Labey L, Innocenti B, Hofmann S (2014) The position of the tibia tubercle in 0°–90° flexion: comparing patients with patella dislocation to healthy volunteers. Knee Surg Sport Traumatol Arthrosc 22:2396–2400

21.

Shibanuma N, Sheehan FT, Stanhope SJ (2005) Limb positioning is critical for defining patellofemoral alignment and femoral shape. Clin Orthop Relat Res 434:198–206

22.

Stephen JM, Lumpaopong P, Dodds AL, Williams A, Amis AA (2015) The effect of tibial tuberosity medialization and lateralization on patellofemoral joint kinematics, contact mechanics, and stability. Am J Sport Med 43:186–194

23.

Tsakoniti AE, Mandalidis DG, Athanasopoulos SI, Stoupis CA (2011) Effect of Q-angle on patellar positioning and thickness of knee articular cartilages. Surg Radiol Anat 33:97–104

24.

Yamada Y, Toritsuka Y, Nakamura N, Horibe S, Sugamoto K, Yoshikawa H, Shino K (2017) Correlation of 3D shift and 3D tilt of the patella in patients with recurrent dislocation of the patella and healthy volunteers: an in vivo analysis based on 3-dimensional computer models. Am J Sports Med 45:3111–3118
Funding
No external funding was used.
Ethics declarations
Conflict of interest
The authors declare that they have no conflict of interest
Ethical approval
Ethical approval was not required as this is a pure review of the literature not involving humans nor animals.
Additional information
Publisher's Note
Springer Nature remains neutral with regard to jurisdictional claims in published maps and institutional affiliations.
About this article
Cite this article
Hochreiter, B., Hess, S., Moser, L. et al. Healthy knees have a highly variable patellofemoral alignment: a systematic review. Knee Surg Sports Traumatol Arthrosc 28, 398–406 (2020). https://doi.org/10.1007/s00167-019-05587-z
Received:

Accepted:

Published:

Issue Date:
Keywords
Patellofemoral

Alignment

Sulcus angle

Trochlear depth

Patellar tilt angle

Lateral patellofemoral angle

Lateral femoral trochlear inclination

Tibial tubercle trochlear groove