Abstract
Purpose
To assess knee health in retired female football players, using magnetic resonance imaging (MRI) and self-report. The focus of analysis were degenerative changes of the tibiofemoral joint, and their relationship to osteoarthritis symptoms and previous knee injury.
Methods
Forty-nine retired elite, female football players (98 knees) aged 37 years on average participated. Tibiofemoral cartilage and meniscus status of both knees were evaluated using MRI and graded according to modified Outerbridge and Stoller classifications, respectively. Symptoms were assessed through a standardised questionnaire (Knee Osteoarthritis Outcome Score: KOOS). Knee injury history was recorded via a semi-structured interview. To investigate how injury variables relate to outcomes, binary logistic regression models were used and reported with odds ratios (OR).
Results
Fifty-one per cent of players (n = 25) fulfilled the MRI criterion for knee osteoarthritis, 69.4% (n = 34) had substantial meniscal loss and 59.6% (n = 28) reported substantial clinical symptoms. Chondral- and meniscal loss were associated with significantly lower scores on three of five KOOS subscales (p < .05). Both chondral and meniscal loss were significantly predicted by previous traumatic knee injury (OR = 4.6, OR = 2.6), the injury affecting the non-striking leg (OR = 8.6, OR = 10.6) and type of injury; participants with combined ACL/meniscus injuries had the highest risk for substantial chondral and meniscal loss (OR = 14.8, OR = 9.5). Chondral loss was significantly predicted by isolated meniscus injury treated with partial meniscectomy (OR = 5.4), but not by isolated reconstructed ACL injury. Clinical symptoms were only significantly predicted by previous traumatic knee injury (OR = 5.1).
Conclusions
Serious degenerative changes were found in a high number of retired female football players' knees 10 years after their career. Meniscal integrity is key for knee osteoarthritis outcomes in young adults, and thus, its preservation should be a priority.
Access options
Buy single article
Instant access to the full article PDF.
US$ 39.95
Tax calculation will be finalised during checkout.
Subscribe to journal
Immediate online access to all issues from 2019. Subscription will auto renew annually.
US$ 119
Tax calculation will be finalised during checkout.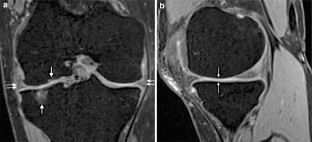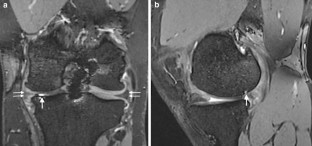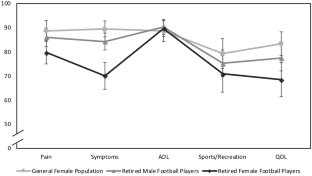 References
1.

Ackerman IN, Kemp JL, Crossley KM, Culvenor AG, Hinman RS (2017) Hip and knee osteoarthritis affects younger people, too. J Orthop Sports Phys Ther 47:67–79

2.

Ahn JH, Kim JG, Wang JH, Jung CH, Lim HC (2012) Long-term results of anterior cruciate ligament reconstruction using bone-patellar tendon-bone: an analysis of the factors affecting the development of osteoarthritis. Arthroscopy 28:1114–1123

3.

Arliani GG, Astur DC, Yamada RKF, Yamada AF, Miyashita GK, Mandelbaum B et al (2014) Early osteoarthritis and reduced quality of life after retirement in former professional soccer players. Clinics 69:589–594

4.

Beaufils P, Becker R, Kopf S, Matthieu O, Pujol N (2017) The knee meniscus: management of traumatic tears and degenerative lesions. EFORT Open Rev 2:195–203

5.

Brandt KD, Radin EL, Dieppe PA, van de Putte L (2006) Yet more evidence that osteoarthritis is not a cartilage disease. Ann Rheum Dis 65:1261–1264

6.

Chatain F, Adeleine P, Chambat P, Neyret P (2003) A comparative study of medial versus lateral arthroscopic partial meniscectomy on stable knees: 10-year minimum follow-up. Arthroscopy 19:842–849

7.

Claes S, Hermie L, Verdonk R, Bellemans J, Verdonk P (2013) Is osteoarthritis an inevitable consequence of anterior cruciate ligament reconstruction? A meta-analysis. Knee Surg Sports Traumatol Arthrosc 21:1967–1976

8.

Cohen M, Amaro JT, Ejnisman B, Carvalho RT, Nakano KK, Peccin MS et al (2007) Anterior cruciate ligament reconstruction after 10–15 years: association between meniscectomy and osteoarthrosis. Arthroscopy 23:629–634

9.

Collins NJ, Prinsen CAC, Christensen R, Bartels EM, Terwee CB, Roos EM (2016) Knee Injury and Osteoarthritis Outcome Score (KOOS): systematic review and meta-analysis of measurement properties. Osteoarthr Cartil 24:1317–1329

10.

Crema MD, Roemer FW, Marra MD, Burstein D, Gold GE, Eckstein F et al (2011) Articular cartilage in the knee: current MR imaging techniques and applications in clinical practice and research. Radiographics 31:37–61

11.

Cross M, Smith E, Hoy D, Nolte S, Ackerman I, Fransen M et al (2014) The global burden of hip and knee osteoarthritis: estimates from the Global Burden of Disease 2010 study. Ann Rheum Dis 73:1323–1330

12.

Dieppe PA (2011) Developments in osteoarthritis. Rheumatology 50:245–247

13.

Dieppe PA, Lohmander LS (2005) Pathogenesis and management of pain in osteoarthritis. Lancet 365:965–973

14.

Driban JB, Hootman JM, Sitler MR, Harris KP, Cattano NM (2017) Is participation in certain sports associated with knee osteoarthritis? a systematic review. J Athl Train 52:497–506

15.

Englund M (2004) Meniscal tear—a feature of osteoarthritis. Acta Orthop Scand 75:1–45

16.

Englund M, Roos EM, Lohmander LS (2003) Impact of type of meniscal tear on radiographic and symptomatic knee osteoarthritis: a 16-year followup of meniscectomy with matched controls. Arthritis Rheum 48:2178–2187

17.

Fernandes GS, Parekh SM, Moses J, Fuller C, Scammell B, Batt ME et al (2018) Prevalence of knee pain, radiographic osteoarthritis and arthroplasty in retired professional footballers compared with men in the general population: a cross-sectional study. Br J Sports Med 52:678–683

18.

Gouttebarge V, Inklaar H, Backx F, Kerkhoffs G (2015) Prevalence of osteoarthritis in former elite athletes: a systematic overview of the recent literature. Rheumatol Int 35:405–418

19.

Iosifidis MI, Tsarouhas A, Fylaktou A (2015) Lower limb clinical and radiographic osteoarthritis in former elite male athletes. Knee Surg Sports Traumatol Arthrosc 23:2528–2535

20.

Kessler S, Lang S, Puhl W, Stöve J (2003) Der knee injury and osteoarthritis outcome score—ein funktionsfragebogen zur outcome-messung in der knieendoprothetik. Z Orthop 141:277–282

21.

Krajnc Z, Vogrin M, Recnik G, Crnjac A, Drobnic M, Antolic V (2010) Increased risk of knee injuries and osteoarthritis in the non-dominant leg of former professional football players. Wien Klin Wochenschr 122(Suppl 2):40–43

22.

Kuijt MT, Inklaar H, Gouttebarge V, Frings-Dresen MH (2012) Knee and ankle osteoarthritis in former elite soccer players: a systematic review of the recent literature. J Sci Med Sport 15:480–487

23.

Larsen E, Jensen PK, Jensen PR (1999) Long-term outcome of knee and ankle injuries in elite football. Scand J Med Sci Sports 9:285–289

24.

Lohkamp M, Kromer TO, Schmitt H (2017) Osteoarthritis and joint replacements of the lower limb and spine in ex-professional soccer players: a systematic review. Scand J Med Sci Sports 27:1038–1049

25.

Lohmander LS, Ostenberg A, Englund M, Roos H (2004) High prevalence of knee osteoarthritis, pain, and functional limitations in female soccer players 12 years after anterior cruciate ligament injury. Arthritis Rheum 50:3145–3152

26.

Outerbridge RE (1961) The etiology of chondromalacia patellae. J Bone Joint Surg Br 43B:752–757

27.

Paradowski PT, Bergman S, Sundén-Lundius A, Lohmander LS, Roos EM (2006) Knee complaints vary with age and gender in the adult population. Population-based reference data for the Knee injury and Osteoarthritis Outcome Score (KOOS). BMC Musculoskelet Disord 7:38

28.

Paxinos O, Karavasili A, Delimpasis G, Stathi A (2016) Prevalence of knee osteoarthritis in 100 athletically active veteran soccer players compared with a matched group of 100 military personnel. Am J Sports Med 44:1447–1454

29.

Pereira D, Peleteiro B, Araújo J, Branco J, Santos RA, Ramos E (2011) The effect of osteoarthritis definition on prevalence and incidence estimates: a systematic review. Osteoarthr Cartil 19:1270–1285

30.

Petrillo S, Papalia R, Maffulli N, Volpi P, Denaro V (2018) Osteoarthritis of the hip and knee in former male professional soccer players. Br Med Bull 125:121–130

31.

Prien A, Prinz B, Dvořák J, Junge A (2017) Health problems in former elite female football players: prevalence and risk factors. Scand J Med Sci Sports 27:1404–1410

32.

Prodromos CC, Han Y, Rogowski J, Joyce B, Shi K (2007) A meta-analysis of the incidence of anterior cruciate ligament tears as a function of gender, sport, and a knee injury-reduction regimen. Arthroscopy 23:1320–1325

33.

Roos EM (2005) Joint injury causes knee osteoarthritis in young adults. Curr Opin Rheumatol 17:195–200

34.

Roos EM, Roos HP, Lohmander LS, Ekdahl C, Beynnon BD (1998) Knee Injury and Osteoarthritis Outcome Score (KOOS)—development of a self-administered outcome measure. J Orthop Sports Phys Ther 28:88–96

35.

Seil R, Becker R (2016) Time for a paradigm change in meniscal repair: save the meniscus! Knee Surg Sports Traumatol Arthrosc 24:1421–1423

36.

Stein T, Mehling AP, Welsch F, von Eisenhart-Rothe R, Jäger A (2010) Long-term outcome after arthroscopic meniscal repair versus arthroscopic partial meniscectomy for traumatic meniscal tears. Am J Sports Med 38:1542–1548

37.

Stoller DW, Martin C, Crues J 3rd, Kaplan L, Mink JH (1987) Meniscal tears: pathologic correlation with MR imaging. Radiology 163:731–735

38.

Sutton KM, Bullock JM (2013) Anterior cruciate ligament rupture: differences between males and females. J Am Acad Orthop Surg 21:41–50

39.

Tveit M, Rosengren BE, Nilsson J-Å, Karlsson MK (2012) Former male elite athletes have a higher prevalence of osteoarthritis and arthroplasty in the hip and knee than expected. Am J Sports Med 40:527–533

40.

van Meer BL, Meuffels DE, van Eijsden WA, Verhaar JA, Bierma-Zeinstra SM, Reijman M (2015) Which determinants predict tibiofemoral and patellofemoral osteoarthritis after anterior cruciate ligament injury? A systematic review. Br J Sports Med 49:975–983

41.

von Porat A (2004) High prevalence of osteoarthritis 14 years after an anterior cruciate ligament tear in male soccer players: a study of radiographic and patient relevant outcomes. Ann Rheum Dis 63:269–273

42.

Weber J, Koch M, Angele P, Zellner J (2018) The role of meniscal repair for prevention of early onset of osteoarthritis. J Exp Orthop 5:10

43.

Woolf AD, Pfleger B (2003) Burden of major musculoskeletal conditions. Bull World Health Organ 81:646–656
Acknowledgements
The authors highly appreciate the cooperation of all participating players who volunteered their time to provide the data for this project. They especially thank Birgit Prinz without whom this study would not have been possible. The authors gratefully acknowledge the Fédération Internationale de Football Association (FIFA) for funding this project.
Ethics declarations
Conflict of interest
Annika Prien, Sana Boudabou, Astrid Junge, Evert Verhagen, Bénédicte M. A. Delattre and Philippe M. Tscholl declare that they have no conflict of interest.
Funding
The study was funded by the Fédération Internationale de Football Association (FIFA).
Ethical approval
The study has ethic approval 2016-449-f-S of the ethics commission Münster, Germany.
Additional information
Publisher's Note
Springer Nature remains neutral with regard to jurisdictional claims in published maps and institutional affiliations.
About this article
Cite this article
Prien, A., Boudabous, S., Junge, A. et al. Every second retired elite female football player has MRI evidence of knee osteoarthritis before age 50 years: a cross-sectional study of clinical and MRI outcomes. Knee Surg Sports Traumatol Arthrosc 28, 353–362 (2020). https://doi.org/10.1007/s00167-019-05560-w
Received:

Accepted:

Published:

Issue Date:
Keywords
Football (soccer)

Osteoarthritis

Knee injury

Long-term outcomes

Meniscus

Female athlete