Abstract
Purpose
The primary purpose of this study is to report the incidence of complications associated with outpatient total knee arthroplasty (TKA). Secondarily, 2-year minimum outcomes are reported.
Methods
Between 2013 and 2016, 928 patients underwent 1143 outpatient TKAs with the Vanguard Complete Knee System (Zimmer Biomet, Warsaw, IN). Patients were selected for outpatient surgery if they were medically optimized without a failing organ system and had sufficient support at home. Overnight stays, medical complications and early perioperative complications were assessed in this entire cohort. Two-year minimum follow-up was available on 793 patients (978 knees). Patient records were analyzed for outcome measures and revisions.
Results
In 124 procedures, the patient stayed overnight for 23-h observation. Thirty-seven (3.2%) were for convenience reasons and 87 (7.6%) for medical observation. Heart disease and chronic obstructive pulmonary disease were associated with increased risk of overnight stay. Excluding manipulations, reoperation within 90 days occurred in eight (0.7%) knees. Patients with 2-year minimum follow-up had significant improvements in ROM, Knee Society Clinical, Functional and Pain scores (p < 0.005). Nine (0.8%) patients required revision. Manipulations were performed on 118 (10.3%) patients. The overall deep infection rate was 0.17% (2/1143).
Conclusions
Outpatient TKA is safe for a large proportion of patients. Certain medical co-morbidities increase the risk of overnight stay. Patients had significant improvement in ROM and outcome scores with low revision rate.
Level of evidence
III.
Access options
Buy single article
Instant access to the full article PDF.
US$ 39.95
Tax calculation will be finalised during checkout.
Subscribe to journal
Immediate online access to all issues from 2019. Subscription will auto renew annually.
US$ 119
Tax calculation will be finalised during checkout.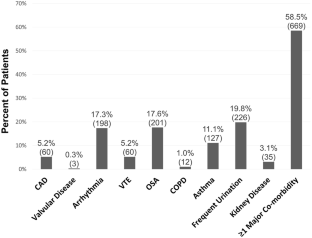 Abbreviations
ASC:

Ambulatory surgery center

CMS:

Centers for Medicare and Medicaid Services

LOS:

Length of stay

TKA:

Total knee arthroplasty

BMI:

Body mass index

CHF:

Congestive heart failure

COPD:

Chronic obstructive pulmonary disease

OSA:

Obstructive sleep apnoea

TXA:

Tranexamic acid

ER:

Emergency room

DVT:

Deep venous thrombosis

CAD:

Coronary artery disease

THA:

Total hip arthroplasty
References
1.

Berend KR, Lombardi AV Jr (2006) Multimodal venous thromboembolic disease prevention for patients undergoing primary or revision total joint arthroplasty: the role of aspirin. Am J Orthop 35(1):24–29

2.

Berend KR, Lombardi AV Jr, Berend ME, Adams JB, Morris MJ (2018) The outpatient total hip arthroplasty: a paradigm change. Bone Joint J 100-B(1 Supple A):31–35

3.

Berger RA, Kusuma SK, Sanders S, Thill ES, Sporer SM (2009) The feasibility and perioperative complications of outpatient knee arthroplasty. Clin Orthop Relat Res 467(6):1443–1449

4.

Berger RA, Sanders S, Gerlinger T, Della Valle C, Jacobs JJ, Rosenberg AG (2005) Outpatient total knee arthroplasty with a minimally invasive technique. J Arthroplasty 20(7 Suppl 3):33–38

5.

Cleary PD, Greenfield S, Mulley AG, Pauker SG, Schroeder SA, Wexler L, McNeil B (1991) Variations in length of stay and outcomes for six medical and surgical conditions in Massachusetts and California. JAMA 266:73–79

6.

Courtney PM, Boniello AJ, Berger RA (2017) Complications following outpatient total joint arthroplasty: an analysis of a national database. J Arthroplasty 32(5):1426–1430

7.

Courtney PM, Rozell JC, Melnic CM, Lee GC (2015) Who should not undergo short stay hip and knee arthroplasty? Risk factors associated with major medical complications following primary total joint arthroplasty. J Arthroplasty 30(9 suppl):1–4

8.

Darrith B, Frisch NB, Tetreault MW, Fice MP, Culvern CN, Della Valle CJ (2019) Inpatient versus outpatient arthroplasty: a single-surgeon, matched cohort analysis of 90-day complications. J Arthroplasty 34(2):221–227

9.

Eckhard L, Jones T, Collins JE, Shrestha S, Fitz W (2019) Increased postoperative dexamethasone and gabapentin reduces opioid consumption after total knee arthroplasty. Knee Surg Sports Traumatol Arthrosc. https://doi.org/10.1007/s00167-019-05449-8

10.

Fang R, Liu Z, Alijiang A, Jia H, Deng Y, Song Y, Meng Q (2015) Efficacy of Intra-articular local anesthetics in total knee arthroplasty. Orthopedics 38(7):e573–e581

11.

Gromov K, Kjærsgaard-Andersen P, Revald P, Kehlet H, Husted H (2017) Feasibility of outpatient total hip and knee arthroplasty in unselected patients. Acta Orthop 88(5):516–521

12.

Hoffmann JD, Kusnezov NA, Dunn JC, Zarkadis NJ, Goodman GP, Berger RA (2018) The shift to same-day outpatient joint arthroplasty: a systematic review. J Arthroplasty 33(4):1265–1274

13.

Insall JN, Dorr LD, Scott RD, Scott WN (1989) Rationale of the knee society clinical rating system. Clin Orthop Relat Res 248:13–14

14.

Isaac D, Falode T, Liu P, I'Anson H, Dillow K, Gill P (2005) Accelerated rehabilitation after total knee replacement. Knee 12(5):346–350

15.

Issa K, Rifai A, Boylan MR, Pourtaheri S, McInerney VK, Mont MA (2015) Do various factors affect the frequency of manipulation under anesthesia after primary total knee arthroplasty? Clin Orthop Relat Res 473(1):143–147

16.

Keating EM, Ritter MA, Harty LD, Haas G, Meding JB, Faris PM, Berend ME (2007) Manipulation after total knee arthroplasty. J Bone Joint Surg Am 89(2):282–286

17.

Kelly MP, Calkins TE, Culvern C, Kogan M, Della Valle CJ (2018) Inpatient versus outpatient hip and knee arthroplasty: which has higher patient satisfaction? J Arthroplasty 33(11):3402–3406

18.

Kim KY, Feng JE, Anoushiravani AA, Dranoff E, Davidovitch RI, Schwarzkopf R (2018) Rapid discharge in total hip arthroplasty: utility of the outpatient arthroplasty risk assessment tool in predicting same-day and next-day discharge. J Arthroplasty 33(8):2412–2416

19.

Kim S, Losina E, Solomon DH, Wright J, Katz JN (2003) Effectiveness of clinical pathways for total knee and total hip arthroplasty: literature review. J Arthroplasty 18:69–74

20.

Kolisek FR, McGrath MS, Jessup NM, Monesmith EA, Mont MA (2009) Comparison of outpatient versus inpatient total knee arthroplasty. Clin Orthop Relat Res 467(6):1438–1442

21.

Lee QJ, Chang WY, Wong YC (2016) Blood-sparing efficacy of oral tranexamic acid in primary total hip arthroplasty. J Arthroplasty 32(1):139–142

22.

Liu G, Gong M, Wang Y, Xiang Z (2018) Effect of methylprednisolone on pain management in total knee or hip arthroplasty: a systematic review and meta-analysis of randomized controlled trials. Clin J Pain 34(10):967–974

23.

Lubis AMT, Rawung RBV, Tantri AR (2018) Preemptive analgesia in total knee arthroplasty: comparing the effects of single dose combining celecoxib with pregabalin and repetition dose combining celecoxib with pregabalin: double-blind controlled clinical trial. Pain Res Treat 7(2018):3807217

24.

Mabrey JD, Toohey JS, Armstrong DA, Lavery L, Wammack LA (1997) Clinical pathway management of total knee arthroplasty. Clin Orthop Relat Res 345:125–133

25.

Matsumoto S, Matsumoto K, Iida H (2015) Transdermal fentanyl patch improves post-operative pain relief and promotes early functional recovery in patients undergoing primary total knee arthroplasty: a prospective, randomized, controlled trial. Arch Orthop Trauma Surg 135(9):1291–1297

26.

Meneghini R, Gibson W, Halsey D, Padgett D, Berend K, Della Valle CJ (2018) The American Association of Hip and Knee Surgeons, Hip Society, Knee Society, and American Academy of Orthopaedic Surgeons position statement on outpatient joint replacement. J Arthroplasty 33(12):3599–3601

27.

Meneghini RM, Ziemba-Davis M, Ishmael MK, Kuzma AL, Caccavallo P (2017) Safe selection of outpatient joint arthroplasty patients with medical risk stratification: the "outpatient arthroplasty risk assessment score". J Arthroplasty 32(8):2325–2331

28.

Moskal JT, Capps SG (2016) Meta-analysis of intravenous tranexamic acid in primary total hip arthroplasty. Orthopedics 39(5):e883–e892

29.

Murata-Ooiwa M, Tsukada S, Wakui M (2017) Intravenous acetaminophen in multimodal pain management for patients undergoing total knee arthroplasty: a randomized, double-blind, placebo-controlled trial. J Arthroplasty 32(10):3024–3028

30.

Pearson S, Moraw I, Maddern GJ (2000) Clinical pathway management of total knee arthroplasty: a retrospective comparative study. Aust N Z J Surg 70:351–354

31.

Ritter MA, Harty LD, Davis KE, Meding JB, Berend ME (2003) Predicting range of motion after total knee arthroplasty. Clustering, log-linear regression, and regression tree analysis. J Bone Joint Surg Am 85(7):1278–1285

32.

Sankineani SR, Reddy ARC, Eachempati KK, Jangale A, Gurava Reddy AV (2018) Comparison of adductor canal block and IPACK block (interspace between the popliteal artery and the capsule of the posterior knee) with adductor canal block alone after total knee arthroplasty: a prospective control trial on pain and knee function in immediate postoperative period. Eur J Orthop Surg Traumatol 28(7):1391–1395

33.

Schotanus MGM, Bemelmans YFL, Grimm B, Heyligers IC, Kort NP (2017) Physical activity after outpatient surgery and enhanced recovery for total knee arthroplasty. Knee Surg Sports Traumatol Arthrosc 25(11):3366–3371

34.

Shah RR, Cipparrone NE, Gordon AC, Raab DJ, Bresch JR, Shah NA (2018) Is it safe? Outpatient total joint arthroplasty with discharge to home at a freestanding ambulatory surgical center. Arthroplast Today 4(4):484–487

35.

Teeny SM, York SC, Benson C, Perdue ST (2005) Does shortened length of hospital stay affect total knee arthroplasty rehabilitation outcomes? J Arthroplasty 20(7 Suppl 3):39–45
Funding
Research funding was provided by Zimmer Biomet (SOW 33).
Ethics declarations
Conflict of interest
Institutional research funding in direct support of this and other studies was received from Zimmer Biomet. The authors KB and AL are consultants to and receive royalties from Zimmer Biomet, receive royalties from Innomed, and have minority investment interests in SPR Therapeutics, Joint Development Corporation, Elute Inc., and VuMedi. An institution of the authors, Joint Implant Surgeons, Inc., receives research funding from SPR Therapeutics and Kinetic Concepts Inc.
Ethical approval
All patients signed a general research consent, approved and monitored by an independent institutional review board (Western IRB, Puyallup, Washington, protocol #2004-03), which allows inclusion in retrospective reviews.
Additional information
Publisher's Note
Springer Nature remains neutral with regard to jurisdictional claims in published maps and institutional affiliations.
About this article
Cite this article
Crawford, D.A., Adams, J.B., Berend, K.R. et al. Low complication rates in outpatient total knee arthroplasty. Knee Surg Sports Traumatol Arthrosc 28, 1458–1464 (2020). https://doi.org/10.1007/s00167-019-05538-8
Received:

Accepted:

Published:

Issue Date:
Keywords
Arthroplasty

Knee

Outpatient

Complications

Vanguard