Abstract
Purpose
The treatment of osteochondral defects in joint cartilage remains challenging due to its limited repair capacity. This study presents a metallic osteochondral plug with hydroxyapatite (HA)-coated cap edges for improved implant-tissue contact. The hypothesis was that improved attachment prevents from synovial fluid-influx and thereby avoids osteolysis and resulting implant instability.
Methods
In total, 24 female, adult sheep were randomized into three groups. All animals received an Episealer®-implant in the medial condyle of the right knee. The implants were coated with two different HA versions or uncoated (control group). After 12 weeks, the implant-tissue connections were analysed radiologically and histologically.
Results
In general, the groups with the coated cap edges showed a better quality of tissue connection to the implant. The occurrence of gaps between tissue and implant was more seldom, the binding of calcified and hyaline cartilage to the cap was significantly better than in the uncoated group. A histomorphometrically measured lower amount of void space in these groups compared to the group with the uncoated edges confirmed that.
Conclusions
The hypothesis of a tighter cartilage bone contact was confirmed. The HA coating of the implant's cap edges resulted in better adherence of cartilage to the implant, which was not previously reported. In conclusion, this led to a better contact between implant and cartilage as well as neighbouring bone. In clinical routine, joint fluid is aggressive, penetrates through cartilage rifts, and promotes osteolysis and loosening of implants. The observed sealing effect will act to prevent joint fluid to get access to the implant–tissue interfaces. Joint fluid is aggressive, can cause osteolysis, and can, clinically cause pain. These effects are liable to decrease with these findings and will further the longevity of these osteochondral implants.
Access options
Buy single article
Instant access to the full article PDF.
US$ 39.95
Tax calculation will be finalised during checkout.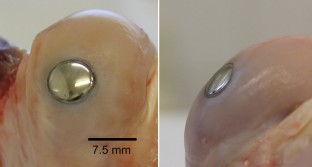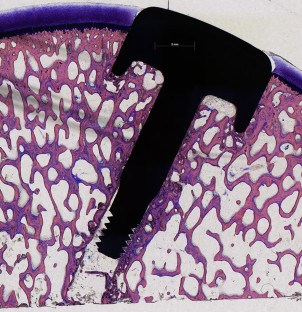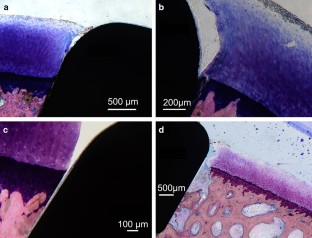 References
1.

Becher C, Kalbe C, Thermann H, Paessler HH, Laprell H, Kaiser T, Fechner A, Bartsch S, Windhagen H, Ostermeier S (2011) Minimum 5-year results of focal articular prosthetic resurfacing for the treatment of full-thickness articular cartilage defects in the knee. Arch Orthop Trauma Surg 131(8):1135–1143

2.

Bollars P, Bosquet M, Vandekerckhove B, Hardeman F, Bellemans J (2012) Prosthetic inlay resurfacing for the treatment of focal, full thickness cartilage defects of the femoral condyle: a bridge between biologics and conventional arthroplasty. Knee Surg Sports Traumatol Arthrosc 20(9):1753–1759

3.

Brennan SA, Devitt BM, O'Neill CJ, Nicholson P (2013) Focal femoral condyle resurfacing. Bone Jt J 95-B(3):301–304

4.

Brittberg M, Lindahl A, Nilsson A, Ohlsson C, Isaksson O, Peterson L (1994) Treatment of deep cartilage defects in the knee with autologous chondrocyte transplantation. N Engl J Med 331(14):889–895

5.

Chalmers PN, Walton D, Sporer SM, Levine BR (2015) Evaluation of the role for synovial aspiration in the diagnosis of aseptic loosening after total knee arthroplasty. J Bone Jt Surg Am 97(19):1597–1603

6.

Cox LG, Lagemaat MW, van Donkelaar CC, van Rietbergen B, Reilingh ML, Blankevoort L, van Dijk CN, Ito K (2011) The role of pressurized fluid in subchondral bone cyst growth. Bone 49(4):762–768

7.

Dalling JG, Math K, Scuderi GR (2015) Evaluating the progression of osteolysis after total knee arthroplasty. J Am Acad Orthop Surg 23(3):173–180

8.

Gelber PE, Perelli S, Ibanez M, Ramirez-Bermejo E, Farinas O, Monllau JC, Sanchis-Alfonso V (2018) Fresh osteochondral patellar allograft resurfacing. Arthrosc Tech 7(6):e617–e622

9.

Hangody L, Dobos J, Balo E, Panics G, Hangody LR, Berkes I (2010) Clinical experiences with autologous osteochondral mosaicplasty in an athletic population: a 17-year prospective multicenter study. Am J Sports Med 38(6):1125–1133

10.

Heuijerjans A, Wilson W, Ito K, van Donkelaar CC (2018) Osteochondral resurfacing implantation angle is more important than implant material stiffness. J Orthop Res. https://doi.org/10.1002/jor.24101

11.

Hui AY, McCarty WJ, Masuda K, Firestein GS, Sah RL (2012) A systems biology approach to synovial joint lubrication in health, injury, and disease. Wiley Interdiscip Rev Syst Biol Med 4(1):15–37

12.

Lektrakul N, Skaf A, Yeh L, Roger B, Schweitzer M, Blasbalg R, Resnick D (1999) Pericruciate meniscal cysts arising from tears of the posterior horn of the medial meniscus: MR imaging features that simulate posterior cruciate ganglion cysts. Am J Roentgenol 172(6):1575–1579

13.

Madry H, van Dijk CN, Mueller-Gerbl M (2010) The basic science of the subchondral bone. Knee Surg Sports Traumatol Arthrosc 18(4):419–433

14.

Mainil-Varlet P, Aigner T, Brittberg M, Bullough P, Hollander A, Hunziker E, Kandel R, Nehrer S, Pritzker K, Roberts S, Stauffer E, International Cartilage Repair S (2003) Histological assessment of cartilage repair: a report by the Histology Endpoint Committee of the International Cartilage Repair Society (ICRS). J Bone Jt Surg Am 85-A Suppl 2: 45–57

15.

Martinez-Carranza N, Berg HE, Hultenby K, Nurmi-Sandh H, Ryd L, Lagerstedt AS (2013) Focal knee resurfacing and effects of surgical precision on opposing cartilage. A pilot study on 12 sheep. Osteoarthr Cartil 21(5):739–745

16.

Martinez-Carranza N, Berg HE, Lagerstedt AS, Nurmi-Sandh H, Schupbach P, Ryd L (2014) Fixation of a double-coated titanium-hydroxyapatite focal knee resurfacing implant: a 12-month study in sheep. Osteoarthr Cartil 22(6):836–844

17.

Martinez-Carranza N, Ryd L, Hultenby K, Hedlund H, Nurmi-Sandh H, Lagerstedt AS, Schupbach P, Berg HE (2016) Treatment of full thickness focal cartilage lesions with a metallic resurfacing implant in a sheep animal model, 1 year evaluation. Osteoarthr Cartil 24(3):484–493

18.

Naudie DD, Ammeen DJ, Engh GA, Rorabeck CH (2007) Wear and osteolysis around total knee arthroplasty. J Am Acad Orthop Surg 15(1):53–64

19.

Niemeyer P, Lenz P, Kreuz PC, Salzmann GM, Sudkamp NP, Schmal H, Steinwachs M (2010) Chondrocyte-seeded type I/III collagen membrane for autologous chondrocyte transplantation: prospective 2-year results in patients with cartilage defects of the knee joint. Arthroscopy 26(8):1074–1082

20.

Nosewicz TL, Reilingh ML, van Dijk CN, Duda GN, Schell H (2012) Weightbearing ovine osteochondral defects heal with inadequate subchondral bone plate restoration: implications regarding osteochondral autograft harvesting. Knee Surg Sports Traumatol Arthrosc 20(10):1923–1930

21.

Nosewicz TL, Reilingh ML, Wolny M, van Dijk CN, Duda GN, Schell H (2014) Influence of basal support and early loading on bone cartilage healing in press-fitted osteochondral autografts. Knee Surg Sports Traumatol Arthrosc 22(6):1445–1451

22.

Odriscoll SW, Keeley FW, Salter RB (1988) Durability of regenerated articular-cartilage produced by free autogenous periosteal grafts in major full-thickness defects in joint surfaces under the influence of continuous passive motion—a follow-up report at one year. J Bone Jt Surg Am Vol 70a(4):595–606

23.

Pape D, Filardo G, Kon E, van Dijk CN, Madry H (2010) Disease-specific clinical problems associated with the subchondral bone. Knee Surg Sports Traumatol Arthrosc 18(4):448–462

24.

Rahbek O, Overgaard S, Lind M, Bendix K, Bunger C, Soballe K (2001) Sealing effect of hydroxyapatite coating on peri-implant migration of particles. An experimental study in dogs. J Bone Jt Surg Br 83(3):441–447

25.

Ryd L (2016) The mini-metal concept for treating focal chondral lesions and its possible application in athletes. ASPETAR Sports Med J 5:292–295

26.

Schell H, Lienau J, Kleemann RU, Schlichting K, Taylor WR, Weiler A, Duda GN (2007) Crushed bone grafts and a collagen membrane are not suitable for enhancing cartilage quality in the regeneration of osteochondral defects—an in vivo study in sheep. J Biomech 40(Suppl 1):S64–S72

27.

Soballe K, Hansen ES, Brockstedt-Rasmussen H, Bunger C (1993) Hydroxyapatite coating converts fibrous tissue to bone around loaded implants. J Bone Jt Surg Br 75(2):270–278

28.

Steadman JR, Rodkey WG, Rodrigo JJ (2001) Microfracture: surgical technique and rehabilitation to treat chondral defects. Clin Orthop Relat Res 391:S362–S369

29.

Stein D, Cantlon M, Mackay B, Hoelscher C (2013) Cysts about the knee: evaluation and management. J Am Acad Orthop Surg 21(8):469–479

30.

van Dijk CN, Reilingh ML, Zengerink M, van Bergen CJ (2010) Osteochondral defects in the ankle: why painful? Knee Surg Sports Traumatol Arthrosc 18(5):570–580

31.

Voigt JD, Mosier M (2011) Hydroxyapatite (HA) coating appears to be of benefit for implant durability of tibial components in primary total knee arthroplasty. Acta Orthop 82(4):448–459

32.

Vuurberg G, Reilingh ML, van Bergen CJA, van Eekeren ICM, Gerards RM, van Dijk CN (2018) Metal resurfacing inlay implant for osteochondral talar defects after failed previous surgery: a midterm prospective follow-up study. Am J Sports Med 46(7):1685–1692
Funding
This study was partially funded by the Bundesministeriums für Bildung und Forschung (BMBF: E! 7914 PIK, Eurostars Program), the BMBF Overload, and the European Commission, Horizon 2020 (MOZART). Implants and surgical tools for implantation were kindly provided by Episurf Medical.
Ethics declarations
Conflict of interest
Hanna Schell, Elisabeth Zimpfer, Katharina Schmidt-Bleek, Tobias Jung, and Georg N. Duda declare that they have no conflict of interest. Leif Ryd is board member and medical advisor of the Episurf Medical.
Ethical approval
All procedures performed in this study involving animals were in accordance with the ethical standards of the institution or practice at which the study was conducted.
Additional information
Publisher's Note
Springer Nature remains neutral with regard to jurisdictional claims in published maps and institutional affiliations.
About this article
Cite this article
Schell, H., Zimpfer, E., Schmidt-Bleek, K. et al. Treatment of osteochondral defects: chondrointegration of metal implants improves after hydroxyapatite coating. Knee Surg Sports Traumatol Arthrosc 27, 3575–3582 (2019). https://doi.org/10.1007/s00167-019-05484-5
Received:

Accepted:

Published:

Issue Date:
Keywords
Osteochondral defect

Animal model

Knee

Resurfacing implant

HA coating

Histology