Abstract
Purpose
Total knee arthroplasty (TKA) designs continuously evolve with the aim of improving patient outcomes. The purpose of the current study was to compare clinical and patient-reported outcome (PRO) results of a new TKA implant to its predecessor. The hypothesis of this study was that joint awareness and range of motion (ROM) of the newer design would be better than the classic design.
Methods
One hundred patients undergoing TKA using the newer design (Attune®) were matched by age and gender to 200 patients with the classic design (LCS®). All patients underwent computer-navigated (Vector Vision, Brain-Lab, Germany) primary TKA by the same surgeon using the same technique. Data (FJS-12, WOMAC and ROM) were collected preoperatively and at 12 months follow-up at our implant registry.
Results
Compared to preoperative scores, FJS-12, WOMAC and ROM improved significantly at 12 months follow-up. In the Attune group, mean FJS-12 and WOMAC at follow-up were 67.6 (SD 27.8) and 14.8 (SD 14.9) respectively, compared to 70.8 (SD 33.8) and 15 (SD 17.9) in the LCS group. Mean postoperative ROM was similar in both groups (Attune 120°, range 90°–140°, SD 10.4 and LCS 120°, range 85°–140°, SD 10.3).
Conclusion
The newer TKA and the predecessor design achieved comparable joint awareness, WOMAC scores and ROM at 1-year follow-up. The benefits expected of the newer design could not be observed in early clinical and PROs. The clinical relevance of this study is that it questions the importance of implant design as the single most important factor for patient outcomes.
Level of evidence
III.
Access options
Buy single article
Instant access to the full article PDF.
US$ 39.95
Tax calculation will be finalised during checkout.
Subscribe to journal
Immediate online access to all issues from 2019. Subscription will auto renew annually.
US$ 119
Tax calculation will be finalised during checkout.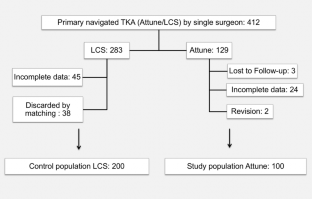 References
1.

Amis AA, Senavongse W, Bull AMJ (2006) Patellofemoral kinematics during knee flexion-extension: an in vitro study. J Orthop Res 24(12):2201–2211

2.

Anand R, Graves SE, de Steiger RN, Davidson DC, Ryan P et al (2011) What is the benefit of introducing new hip and knee prostheses? J Bone Jt Surg 3:51–54

3.

Baumann F, Ernstberger T, Loibl M, Zeman F, Nerlich M et al (2016) Validation of the German Forgotten Joint Score (G-FJS) according to the COSMIN checklist: does a reduction in joint awareness indicate clinical improvement after arthroplasty of the knee? Arch Orthop Trauma Surg 136(2):257–264

4.

Behrend H, Giesinger K, Giesinger JM, Kuster MS (2012) The "forgotten joint" as the ultimate goal in joint arthroplasty: validation of a new patient-reported outcome measure. J Arthroplasty 27(3):430–436

5.

Bellamy N, Buchanan WW (1986) A preliminary evaluation of the dimensionality and clinical importance of pain and disability in osteoarthritis of the hip and knee. Clin Rheumatol 5(2):231–241

6.

Fitzgerald JD, Orav EJ, Lee TH, Marcantonio ER, Poss R et al (2004) Patient quality of life during the 12 months following joint replacement surgery. Arthritis Care Res 51:100–109

7.

Hamilton DF, Giesinger JM, MacDonald DJ, Simpson AHRW, Howie CR et al (2016) Responsiveness and ceiling effects of the Forgotten Joint Score-12 following total hip arthroplasty. Bone Jt Res 5(3):87–91

8.

Hamilton DF, Loth FL, Giesinger JM, Giesinger K, MacDonald DJ et al (2017) Validation of the English language Forgotten Joint Score-12 as an outcome measure for total hip and knee arthroplasty in a British population. Bone Jt J 99(2):218–224

9.

Hossain FS, Konan S, Patel S, Rodriguez-Merchan EC, Haddad FS (2015) The assessment of outcome after total knee arthroplasty: are we there yet? Bone Jt J 97(1):3–9

10.

Indelli PF, Pipino G, Johnson P, Graceffa A, Marcucci M (2016) Posterior-stabilized total knee arthroplasty: a matched pair analysis of a classic and its evolutional design. Arthroplasty Today 2:193–198

11.

Kalson NS, Borthwick LA, Mann DA, Deehan DJ, Lewis P et al (2016) International consensus on the definition and classification of fibrosis of the knee joint. Bone Jt J 98(11):1479–1488

12.

Kim YH, Park JW, Kim JS (2012) High-flexion total knee arthroplasty: survivorship and prevalence of osteolysis: results after a minimum of ten years of follow-up. J Bone Jt Surg 94(15):1378–1384

13.

Ko YB, Jang EC, Park SM, Kim SH, Kwak YH et al (2015) No difference in clinical and radiologic outcomes after total knee arthroplasty with a new ultra-congruent mobile bearing system and rotating platform mobile bearing systems after minimum 5-year follow-up. J Arthroplasty 30:379–383

14.

Lampart M, Behrend H, Moser LB, Hirschmann MT (2018) Due to great variability fixed HKS angle for alignment of the distal cut leads to a significant error in coronal TKA orientation. Knee Surg Sports Traumatol Arthrosc. https://doi.org/10.1007/s00167-018-5041-0

15.

Martin JR, Jennings JM, Watters TS, Levy DL, McNabb DC et al (2017) Femoral implant design modification decreases the incidence of patellar crepitus in Total knee arthroplasty. J Arthroplasty 32:1310–1313

16.

Matsumoto M, Baba T, Homma Y, Kobayashi H, Ochi H et al (2015) Validation study of the Forgotten Joint Score-12 as a universal patient-reported outcome measure. Eur J Orthop Surg Traumatol 25(7):1141–1145

17.

Peltola M, Malmivaara A, Paavola M (2012) Introducing a knee endoprosthesis model increases risk of early revision surgery. Clin Orthop Relat Res 470(6):1711–1717

18.

Ranawat CS, White PB, West S, Ranawat AS (2017) Clinical and radiographic results of attune and PFC sigma knee designs at 2-year follow-up: a prospective matched-pair analysis. J Arthroplasty 32(2):431–436

19.

Shadid MB, Vinken NS, Marting LN, Wolterbeek N (2016) The Dutch version of the Forgotten Joint Score: test-retesting reliability and validation. Acta Orthop Belg 82(1):112–118

20.

Thienpont E, Opsomer G, Koninckx A, Houssiau F (2013) Joint awareness in different types of knee arthroplasty evaluated with the Forgotten Joint Score. J Arthroplasty 29(1):48–51

21.

Thompson SM, Salmon LJ, Webb JM, Pinczewski LA, Roe JP (2015) Construct validity and test re-test reliability of the Forgotten Joint Score. J Arthroplasty 30(11):1902–1905

22.

Thomsen MG, Husted H, Otte KS, Holm G, Troelsen A (2013) Do patients care about higher flexion in total knee arthroplasty? A randomized, controlled, double-blinded trial. BMC Musculoskelet Disord 14:127

23.

Vanden ETA, Schwab BPE, Cornu JPFO (2016) Joint awareness in osteoarthritis of the hip and knee evaluated with the 'Forgotten Joint' Score before and after joint replacement. Knee Surg Sports Traumatol Arthrosc 24(10):3346–3351
Funding
No external funding was used.
Ethics declarations
Conflict of interest
The authors declare that they have no conflict of interest.
Ethical approval
Approval was obtained from the local ethics committee (Ethikkommission Ostschweiz, Project ID 2018-00927).
Additional information
Publisher's Note
Springer Nature remains neutral with regard to jurisdictional claims in published maps and institutional affiliations.
About this article
Cite this article
Behrend, H., Zdravkovic, V., Bösch, M. et al. No difference in joint awareness after TKA: a matched-pair analysis of a classic implant and its evolutional design. Knee Surg Sports Traumatol Arthrosc 27, 2124–2129 (2019). https://doi.org/10.1007/s00167-019-05407-4
Received:

Accepted:

Published:

Issue Date:
Keywords
Total knee arthroplasty

TKA

Attune

LCS

Forgotten Joint Score-12 (FJS-12)

Matched-pair analysis

Patient-reported outcomes (PROs)