Abstract
Purpose
Plantar fasciitis is a very common (lifetime incidence ~ 10%) and long-lasting injury with major impact on daily function. Combining corticosteroid injection and physical training (strength training and stretching) was hypothesized to result in a superior effect compared to each treatment separately.
Methods
A single blinded randomized controlled superiority trial conducted in 2013–2014 with a 2-year follow-up (end Sept 2016). 123 consecutive patients (20–65 years) referred to two study centers in Denmark: Institute of Sports Medicine, Bispebjerg Hospital, University of Copenhagen and a private rheumatology clinic with symptoms of plantar fasciitis, and ultrasound measured thickness above 4.0 mm were invited. 25 did not fulfill the inclusion criteria (mainly ultrasound criteria) and 8 refused participation. 90 patients were randomized (pulling sealed envelopes) to 3 groups: (1) 3 months strength training and stretching (n = 30), (2) corticosteroid injections with monthly intervals until thickness < 4.0 mm (maximum 3 injections) (n = 31), (3) combination of the two treatments (n = 29). During the 3 months intervention period load reduction was recommended (cushioning shoes and insoles and abstaining from running and jumping). The main outcome was improvement in Pain at function on a 100-mm VAS score and in Foot Function Index (FFI, range 0–230) at 6 months (Clinicaltrials.gov Identifier: NCT01994759).
Results
All groups improved significantly over time, but the combination of corticosteroid injection and training (strength training and stretching) had a superior effect at all time points. The mean difference between the combined treatment and training was 40 points in FFI (95% confidence interval (CI) 63–17 points, p < 0.001) and 20 mm for VAS function pain (CI 35–5 mm, p < 0.01). The mean difference between the combined treatment and corticosteroid injections only was 29 points in FFI (CI 52–7 points, p < 0.01) and 17 mm for VAS function pain (CI 32–2 mm, p < 0.05). All differences were clinically relevant.
Conclusion
The best treatment for plantar fasciitis is the combination of corticosteroid injections and training (strength training and stretching). This combined treatment is superior both in the short- and in the longterm. Corticosteroid injections combined with controlled training are recommended as first line treatment in patients with plantar fasciitis.
Level of evidence
1.
Access options
Buy single article
Instant access to the full article PDF.
USD 39.95
Price excludes VAT (USA)
Tax calculation will be finalised during checkout.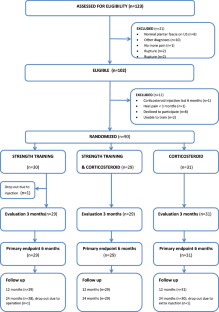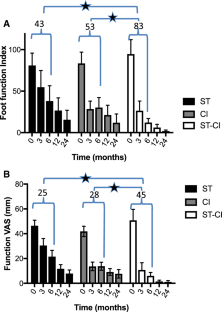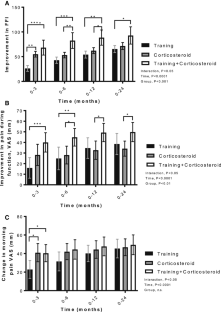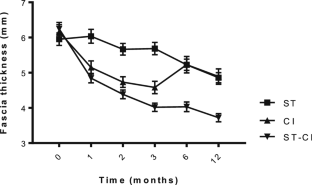 References
Ball EM, McKeeman HM, Patterson C, Burns J, Yau WH, Moore OA et al (2013) Steroid injection for inferior heel pain: a randomised controlled trial. Ann Rheum Dis 72:996–1002

Budiman-Mak E, Conrad KJ, Roach KE (1991) The Foot Function Index: a measure of foot pain and disability. J Clin Epidemiol 44:561–570

Coombes BK, Bisset L, Vicenzino B (2010) Efficacy and safety of corticosteroid injections and other injections for management of tendinopathy: a systematic review of randomised controlled trials. Lancet 376:1751–1767

Crawford F, Atkins D, Young P, Edwards J (1999) Steroid injection for heel pain: evidence of short-term effectiveness. A randomized controlled trial. Rheumatology 38:974–977

David JA, Sankarapandian V, Christopher PR, Chatterjee A, Macaden AS (2017) Injected corticosteroids for treating plantar heel pain in adults. Cochrane Database Syst Rev 6:CD009348

Digiovanni BF, Nawoczenski DA, Malay DP, Graci PA, Williams TT, Wilding GE et al (2006) Plantar fascia-specific stretching exercise improves outcomes in patients with chronic plantar fasciitis. A prospective clinical trial with two-year follow-up. J Bone Jt Surg Am 88:1775–1781

Elizondo-Rodriguez J, Araujo-Lopez Y, Moreno-Gonzalez JA, Cardenas-Estrada E, Mendoza-Lemus O, Acosta-Olivo C (2013) A comparison of botulinum toxin a and intralesional steroids for the treatment of plantar fasciitis: a randomized, double-blinded study. Foot Ankle Int 34:8–14

Guner S, Onder H, Guner SI, Ceylan MF, Gokalp MA, Keskin S (2013) Effectiveness of local tenoxicam versus corticosteroid injection for plantar fasciitis treatment. Orthopedics 36:e1322–e1326

Gurcay E, Kara M, Karaahmet OZ, Ata AM, Onat SS, Ozcakar L (2017) Shall we inject superficial or deep to the plantar fascia? An ultrasound study of the treatment of chronic plantar fasciitis. J Foot Ankle Surg 56:783–787

Johannsen F, Jensen S, Stallknecht SE, Olsen LO, Magnusson SP (2016) Sonographic measurements of the achilles tendon, plantar fascia, and heel fat pad are reliable: a test–retest intra- and intertester study. J Clin Ultrasound 44:480–486

Jorgensen JE, Andreasen J, Rathleff MS (2015) Translation and validation of the Danish foot function index (FFI-DK). Scand J Med Sci Sports 25:e408–e413

Kalaci A, Cakici H, Hapa O, Yanat AN, Dogramaci Y, Sevinc TT (2009) Treatment of plantar fasciitis using four different local injection modalities: a randomized prospective clinical trial. J Am Podiatr Med Assoc 99:108–113

Kiter E, Celikbas E, Akkaya S, Demirkan F, Kilic BA (2006) Comparison of injection modalities in the treatment of plantar heel pain: a randomized controlled trial. J Am Podiatr Med Assoc 96:293–296

Kongsgaard M, Kovanen V, Aagaard P, Doessing S, Hansen P, Laursen AH et al (2009) Corticosteroid injections, eccentric decline squat training and heavy slow resistance training in patellar tendinopathy. Scand J Med Sci Sports 19:790–802

Landorf KB, Radford JA (2008) Minimal important difference: values for the foot health status questionnaire, foot function index and visual analogue scale. Foot 18:15–19

Mahindra P, Yamin M, Selhi HS, Singla S, Soni A (2016) Chronic plantar fasciitis: effect of platelet-rich plasma, corticosteroid, and placebo. Orthopedics 39:e285–e289

Mahowald S, Legge BS, Grady JF (2011) The correlation between plantar fascia thickness and symptoms of plantar fasciitis. J Am Podiatr Med Assoc 101:385–389

McMillan AM, Landorf KB, Gilheany MF, Bird AR, Morrow AD, Menz HB (2012) Ultrasound guided corticosteroid injection for plantar fasciitis: randomised controlled trial. BMJ 344:e3260

Monto RR (2014) Platelet-rich plasma efficacy versus corticosteroid injection treatment for chronic severe plantar fasciitis. Foot Ankle Int 35:313–318

Mulherin D, Price M (2009) Efficacy of tibial nerve block, local steroid injection or both in the treatment of plantar heel pain syndrome. Foot (Edinb) 19:98–100

Neufeld SK, Cerrato R (2008) Plantar fasciitis: evaluation and treatment. J Am Acad Orthop Surg 16:338–346

Radford JA, Landorf KB, Buchbinder R, Cook C (2006) Effectiveness of low-Dye taping for the short-term treatment of plantar heel pain: a randomised trial. BMC Musculoskelet Disord 7:64

Rathleff MS, Molgaard CM, Fredberg U, Kaalund S, Andersen KB, Jensen TT et al (2015) High-load strength training improves outcome in patients with plantar fasciitis: a randomized controlled trial with 12-month follow-up. Scand J Med Sci Sports 25:e292–e300

Ryan M, Hartwell J, Fraser S, Newsham-West R, Taunton J (2014) Comparison of a physiotherapy program versus dexamethasone injections for plantar fasciopathy in prolonged standing workers: a randomized clinical trial. Clin J Sport Med 24:211–217

Tsai WC, Hsu CC, Chen CP, Chen MJ, Yu TY, Chen YJ (2006) Plantar fasciitis treated with local steroid injection: comparison between sonographic and palpation guidance. J Clin Ultrasound 34:12–16

Werner RA, Gell N, Hartigan A, Wiggerman N, Keyserling WM (2010) Risk factors for plantar fasciitis among assembly plant workers. PM R 2:110–116 (quiz 111 p following 167)
Funding
The study was funded by the research fund for Danish Practitioner Specialists and Danish Medical Research Council: "Fonden for Faglig udvikling af speciallægepraksis".
Ethics declarations
Conflict of interest
The authors declare that they have no competing interests.
Ethical approval
All procedures in this study was in accordance with the Helsinki declaration and approved by the local ethical committee.
About this article
Cite this article
Johannsen, F.E., Herzog, R.B., Malmgaard-Clausen, N.M. et al. Corticosteroid injection is the best treatment in plantar fasciitis if combined with controlled training. Knee Surg Sports Traumatol Arthrosc 27, 5–12 (2019). https://doi.org/10.1007/s00167-018-5234-6
Received:

Accepted:

Published:

Issue Date:

DOI: https://doi.org/10.1007/s00167-018-5234-6
Keywords