Abstract
Purpose
Ankle lateral collateral ligament complex has been the focus of multiple studies. However, there are no specific descriptions of how these ligaments are connected to each other as part of the same complex. The aim of this study was to describe in detail the components of the lateral collateral ligament complex—ATFL and CFL—and determine its anatomical relationships.
Methods
An anatomical study was performed in 32 fresh-frozen below-the-knee ankle specimens. A plane-per-plane anatomical dissection was performed. Overdissecting the area just distal to the inferior ATFL fascicle was avoided to not alter the original morphology of the ligaments and the connecting fibers between them. The characteristics of the ATFL and CFL, as well as any connecting fibers between them were recorded. Measures were obtained in plantar and dorsal flexion, and by two different observers.
Results
The ATFL was observed as a two-fascicle ligament in all the specimens. The superior ATFL fascicle was observed intra-articular in the ankle, in contrast to the inferior fascicle. The mean distance measured between superior ATFL fascicle insertions increases in plantar flexion (median 19.2 mm in plantar flexion, and 12.6 mm in dorsal flexion, p < 0.001), while the same measures observed in the inferior ATFL fascicle does not vary (median 10.6 mm in plantar flexion, and 10.6 mm in dorsal flexion, n.s.). The inferior ATFL fascicle was observed with a common fibular origin with the CFL. The CFL distance between insertions does not vary with ankle movement (median 20.1 mm in plantar flexion, and 19.9 mm in dorsal flexion, n.s.). The inferior ATFL fascicle and the CFL were connected by arciform fibers, that were observed as an intrinsic reinforcement of the subtalar joint capsule.
Conclusion
The superior fascicle of the ATFL is a distinct anatomical structure, whereas the inferior ATFL fascicle and the CFL share some features being both isometric ligaments, having a common fibular insertion, and being connected by arciform fibers, and forming a functional and anatomical entity, that has been named the lateral fibulotalocalcaneal ligament (LFTCL) complex. The clinical relevance of this study is that the superior fascicle of the ATFL is anatomical and functionally a distinct structure from the inferior ATFL fascicle. The superior ATFL fascicle is an intra-articular ligament, that will most probably not be able to heal after a rupture, and a microinstability of the ankle is developed. However, when the LFTCL complex is injured, classical ankle instability resulted. In addition, because of the presence of LFTCL complex, excellent results are observed when an isolated repair of the ATFL is performed even when an injury of both the ATFL and CFL exists.
This is a preview of subscription content, log in to check access.
Access options
Buy single article
Instant access to the full article PDF.
US$ 39.95
Price includes VAT for USA
Subscribe to journal
Immediate online access to all issues from 2019. Subscription will auto renew annually.
US$ 199
This is the net price. Taxes to be calculated in checkout.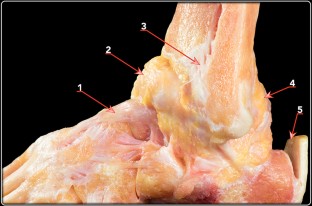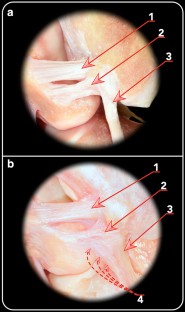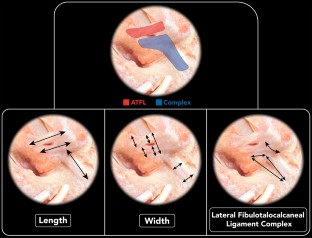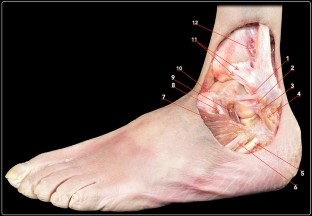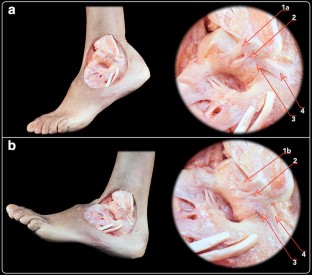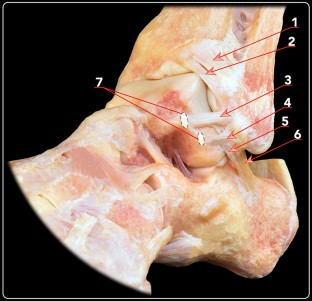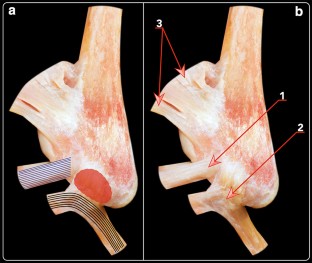 References
1.

Baumhauer JF, O'Brien T (2002) Surgical considerations in the treatment of ankle instability. J Athl Train 37(4):458–462

2.

Broström L (1966) Sprained ankles. V. Treatment and prognosis in recent ligament ruptures. Acta Chir Scand 132(5):537–550

3.

Brooks SC, Potter BT, Rainey JB (1981) Treatment for partial tears of the lateral ligament of the ankle: a prospective trial. Br Med J 282:606–607

4.

Burks RT, Morgan J (1994) Anatomy of the lateral ankle ligaments. Am J Sports Med 22(1):72–77

5.

Dalmau-Pastor M, Vega J (2017) Letter regarding: cadaveric analysis of the distal tibiofibular syndesmosis. Foot Ankle Int 38(3):343–345

6.

Edama M, Kageyama I, Kikumoto T, Nakamura M, Ito W, Nakamura E, Hirabayashi R, Takabayashi T, Inai T, Onishi H (2017) Morphological features of the anterior talofibular ligament by the number of fiber bundles. Ann Anat 28:69–74

7.

Ferran NA, Maffulli N (2006) Epidemiology of sprains of the lateral ankle ligament complex. Foot Ankle Clin 11(3):659–662

8.

Giebel GD, Meyer C, Koebke J, Giebel G (1997) The arterial supply of the ankle joint and its importance for the operative fracture treatment. Surg Radiol Anat 19:231–235

9.

Golanó P, Vega J, de Leeuw PAJ, Malagelada F, Manzanares MC, Götzens V, van Dijk CN (2010) Anatomy of the ankle ligaments: a pictorial essay. Knee Surg Sports Traumatol Arthrosc 18(5):557–569

10.

Golanó P, Dalmau-Pastor M, Vega J, Batista JP (2014) The ankle in football, sports and traumatology: anatomy of the ankle. In: D'Hooghe PPRN, Kerkhoffs GMMJ. 1st edn. Springer, Paris, pp 1–24

11.

Harper MC (1991) The lateral ligamentous support of the subtalar joint. Foot Ankle 11(6):354–358

12.

Lee KT, Lee JI, Sung KS, Kim JY, Kim ES, Lee SH, Wang JH (2008) Biomechanical evaluation against calcaneofibular ligament repair in the Broström procedure: a cadaveric study. Knee Surg Sports Traumatol Arthrosc 16:781–786

13.

Lee KT, Park YU, Kim JS, Kim JB, Kim KC, Kang SK (2011) Long-term results after modified Broström procedure without calcaneo-fibular ligament reconstruction. Foot Ankle Int 32(2):153–157

14.

Ludolph E, Hierholzer G, Gretenkord K, Ryan U (1984) Research into the anatomy and X-ray diagnostics of the fibular ligaments at the ankle joint. Arch Orthop Trauma Surg 103(5):348–352

15.

Ludolph E, Hierholzer G (1986) Anatomy of the ligaments of the upper ankle joint. Orthopade 15:410–414

16.

Maffulli N, Del Buono A, Maffulli GD, Oliva F, Testa V, Capasso G, Denaro V (2013) Isolated anterior talofibular ligament Broström repair for chronic lateral ankle instability: 9-year follow-up. Am J Sports Med 41:858–864

17.

McKeon KE, Wright RW, Johnson JE, McCormick JJ, Klein SE (2012) Vascular anatomy of the tibiofibular syndesmosis. J Bone Joint Surg Am 94:931–938

18.

Milner CE, Soames RW (1998) Anatomy of the collateral ligaments of the human ankle joint. Foot Ankle Int 19:757–760

19.

Murray MM (2009) Current status and potential for primary ACL repair. Clin Sports Med 28(1):51–61

20.

Neuschwander TB, Indresano AA, Hughes TH, Smith BW (2013) Footprint of the lateral ligament complex of the ankle. Foot Ankle Int 34(4):582–586

21.

Renstrom FH, Lynch SA (1999) Acute injuries of the ankle. Foot Ankle Clin 4:697–711

22.

Sarrafian SK (1993) Anatomy of the foot and ankle, 2nd edn. JB Lippincott, Philadelphia, pp 159–217

23.

Stephens MM, Sammarco GJ (1992) The stabilizing role of the lateral ligament complex around the ankle and subtalar joints. Foot Ankle 13(3):130–136

24.

Taser F, Shafiq Q, Ebraheim NA, Yeasting RA (2006) Enlarged perforating branch of peroneal artery and extra crural fascia in close relationship with the tibiofibular syndesmosis. Surg Radiol Anat 28:108–111

25.

Trouilloud P, Dia A, Grammont P, Gelle MC, Autissier JM (1988) Variations du ligament calcaneo-fibulaire. Aplications à la cinématique de la cheville (Variations in the calcaneofibular ligament. Applications to ankle kinetics). Bull Assoc Anat 72:31–35

26.

van den Bekerom MPJ, Oostra RJ, Golanó P, van Dijk CN (2008) The anatomy in relation to injury of the lateral collateral ligaments of the ankle: a current concepts review. Clin Anat 21:619–626

27.

Vega J, Golanó P, Pellegrino A, Rabat E, Peña F (2013) All-inside arthroscopic lateral collateral ligament repair for ankle instability with a knotless suture anchor technique. Foot Ankle Int 34(12):1701–1709

28.

Vega J, Rabat E (2013) Innovations in chronic ankle instability. Rev Cir Pie 27(2):71–79

29.

Vega J, Peña F, Golanó P (2016) Minor or occult ankle instability as a cause of anterolateral pain after ankle sprain. Knee Surg Sports Traumatol Arthrosc 24(4):1116–1123

30.

Vega J, Dalmau M, Malagelada F, Fargues-Polo B, Peña F (2017) Ankle arthroscopy: an update. J Bone Joint Surg Am 99:1395–1407

31.

Viladot A, Lorenzo JC, Salazar J, Rodríguez A (1984) The subtalar joint: embryology and morphology. Foot Ankle 5(2):54–66
Funding
No funding was received for this research project.
Ethics declarations
Conflict of interest
The authors declare that they have no competing interests.
Ethical approval
Ethical approval was obtained with IRB number 00003099.
About this article
Cite this article
Vega, J., Malagelada, F., Manzanares Céspedes, M. et al. The lateral fibulotalocalcaneal ligament complex: an ankle stabilizing isometric structure. Knee Surg Sports Traumatol Arthrosc 28, 8–17 (2020). https://doi.org/10.1007/s00167-018-5188-8
Received:

Accepted:

Published:

Issue Date:
Keywords
Ankle ligaments

Anatomy

Ankle instability

Microinstability

Ankle lateral collateral ligament complex