Abstract
Purpose
An uncommon technique for bicruciate ligament reconstruction involving simultaneous tensioning of the anterior cruciate ligament (ACL) and posterior cruciate ligament (PCL) grafts with ACL graft fixation first has been pointed out as superior to the "gold-standard" PCL graft fixation first. The purpose of this study was to compare tibiofemoral biomechanics between ACL fixation first and PCL fixation first in a simultaneous tensioning protocol for bicruciate ligament reconstruction.
Methods
12 fresh-frozen cadaveric knees (six matched pairs) were tested using a custom testing system. Neutral tibial position representing tibiofemoral orientation, anterior–posterior (AP) tibial translation, varus–valgus laxity, and internal-external rotation were measured using a Microscribe 3DLX at 0°, 30°, 60°, and 90° of knee flexion. The following knee conditions were evaluated: intact, bicruciate deficient and following bicruciate reconstruction. A simultaneous tensioning protocol was used for bicruciate reconstruction and PCL fixation first was compared to ACL fixation first. PCL graft fixation was always performed at 90° of flexion and ACL graft fixation was always performed at full extension.
Results
ACL fixation first achieved a tibiofemoral orientation closer to the intact knee than PCL fixation first at 90° flexion (1.8 ± 1.6 mm versus 6.1 ± 3.2 mm, p = 0.016). PCL fixation first had a larger decrease in AP translation than ACL fixation first at 30° flexion (64.6 ± 3.5% vs. 58.3 ± 2.4%, p = 0.01). No significant differences were found for varus/valgus, external–internal rotation decrements after bicruciate reconstruction nor for AP translation, varus/valgus and internal/external rotation increase after bicruciate lesion comparing ACL fixation first to PCL fixation first.
Conclusion
Bicruciate ligament reconstruction using a simultaneous tensioning protocol with ACL fixation first resulted in a closer to normal tibiofemoral orientation. This study will help guide surgeons in decision making for the graft tensioning protocol and fixation sequence in a bicruciate ligament reconstruction.
Level of evidence
V therapeutic study.
This is a preview of subscription content, log in to check access.
Access options
Buy single article
Instant access to the full article PDF.
US$ 39.95
Price includes VAT for USA
Subscribe to journal
Immediate online access to all issues from 2019. Subscription will auto renew annually.
US$ 199
This is the net price. Taxes to be calculated in checkout.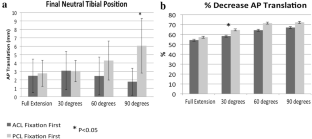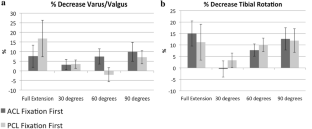 References
1.

Boisgard S, Versier G, Descamps S, Lustig S, Trojani C, Rosset P et al (2009) Bicruciate ligament lesions and dislocation of the knee: mechanisms and classification. Orthop Traumatol Surg Res 95:627–631

2.

Csintalan RP, Ehsan A, McGarry MH, Fithian DF, Lee TQ (2006) Biomechanical and anatomical effects of an external rotational torque applied to the knee: a cadaveric study. Am J Sports Med 34:1623–1629

3.

de Carvalho RT, Franciozi CE, Itami Y, McGarry MH, Ingham SJM, Abdalla RJ et al (2018) Bicruciate lesion biomechanics, part 1-diagnosis: translations over 15 mm at 90 degrees of knee flexion are indicative of a complete tear. Knee Surg Sports Traumatol Arthrosc. https://doi.org/10.1007/s00167-018-5011-6

4.

Denti M, Tornese D, Melegati G, Schonhuber H, Quaglia A, Volpi P (2015) Combined chronic anterior cruciate ligament and posterior cruciate ligament reconstruction: functional and clinical results. Knee Surg Sports Traumatol Arthrosc 23:2853–2858

5.

Franciozi CE, Albertoni LJ, Ribeiro FN, Moscon AC, Munhoz Mde A, Krause R et al (2014) A simple method to minimize vascular lesion of the popliteal artery by guidewire during transtibial posterior cruciate ligament reconstruction: a cadaveric study. Arthroscopy 30:1124–1130

6.

Gigliotakaes I, Inada MM, de Miranda JB, Cunha SA, Piedade SR (2014) Isokinetic evaluation after two-stage bicruciate reconstruction. Acta Ortop Bras 22:21–24

7.

Hayashi R, Kitamura N, Kondo E, Anaguchi Y, Tohyama H, Yasuda K (2008) Simultaneous anterior and posterior cruciate ligament reconstruction in chronic knee instabilities: surgical concepts and clinical outcome. Knee Surg Sports Traumatol Arthrosc 16:763–769

8.

Hefti F, Muller W, Jakob RP, Staubli HU (1993) Evaluation of knee ligament injuries with the IKDC form. Knee Surg Sports Traumatol Arthrosc 1:226–234

9.

Hirschmann MT, Iranpour F, Muller W, Friederich NF (2010) Surgical treatment of complex bicruciate knee ligament injuries in elite athletes: what long-term outcome can we expect? Am J Sports Med 38:1103–1109

10.

Ishigooka H, Campbell ST, Quigley RJ, McGarry MH, Chen YJ, Gupta A et al (2016) Anatomic posterolateral corner reconstruction using a fibula cross-tunnel technique: a cadaveric biomechanical study. Arthroscopy 32:2300–2307

11.

Jisa KA, Williams BT, Jaglowski JR, Turnbull TL, LaPrade RF, Wijdicks CA (2016) Lack of consensus regarding pretensioning and preconditioning protocols for soft tissue graft reconstruction of the anterior cruciate ligament. Knee Surg Sports Traumatol Arthrosc 24:2884–2891

12.

Kennedy NI, LaPrade RF, Goldsmith MT, Faucett SC, Rasmussen MT, Coatney GA et al (2014) Posterior cruciate ligament graft fixation angles, part 1: biomechanical evaluation for anatomic single-bundle reconstruction. Am J Sports Med 42:2338–2345

13.

Kim SJ, Kim SH, Jung M, Kim JM, Lee SW (2015) Does sequence of graft tensioning affect outcomes in combined anterior and posterior cruciate ligament reconstructions? Clin Orthop Relat Res 473:235–243

14.

Lee YS, Lee TQ (2010) Specimen-specific method for quantifying glenohumeral joint kinematics. Ann Biomed Eng 38:3226–3236

15.

Lustig S, Leray E, Boisrenoult P, Trojani C, Laffargue P, Saragaglia D et al (2009) Dislocation and bicruciate lesions of the knee: epidemiology and acute stage assessment in a prospective series. Orthop Traumatol Surg Res 95:614–620

16.

Mariani PP, Margheritini F, Camillieri G (2001) One-stage arthroscopically assisted anterior and posterior cruciate ligament reconstruction. Arthroscopy 17:700–707

17.

Markolf KL, O'Neill G, Jackson SR, McAllister DR (2003) Reconstruction of knees with combined cruciate deficiencies: a biomechanical study. J Bone Jt Surg Am 85-A:1768–1774

18.

Markolf KL, Slauterbeck JR, Armstrong KL, Shapiro MS, Finerman GA (1997) A biomechanical study of replacement of the posterior cruciate ligament with a graft. Part 1: isometry, pre-tension of the graft, and anterior-posterior laxity. J Bone Jt Surg Am 79:375–380

19.

Moatshe G, Chahla J, Brady AW, Dornan GJ, Muckenhirn KJ, Kruckeberg BM et al (2018) The influence of graft tensioning sequence on tibiofemoral orientation during bicruciate and posterolateral corner knee ligament reconstruction: a biomechanical study. Am J Sports Med 46:1863–1869

20.

Panigrahi R, Kumari Mahapatra A, Priyadarshi A, Singha Das D, Palo N, Ranjan Biswal M (2016) Outcome of simultaneous arthroscopic anterior cruciate ligament and posterior cruciate ligament reconstruction with hamstring tendon autograft: a multicenter prospective study. Asian J Sports Med 7:e29287

21.

Piontek T, Ciemniewska-Gorzela K, Szulc A, Naczk J, Wardak M, Trzaska T et al (2013) Arthroscopically assisted combined anterior and posterior cruciate ligament reconstruction with autologous hamstring grafts-isokinetic assessment with control group. PLoS One 8:e82462

22.

Strobel MJ, Schulz MS, Petersen WJ, Eichhorn HJ (2006) Combined anterior cruciate ligament, posterior cruciate ligament, and posterolateral corner reconstruction with autogenous hamstring grafts in chronic instabilities. Arthroscopy 22:182–192

23.

Wascher DC, Becker JR, Dexter JG, Blevins FT (1999) Reconstruction of the anterior and posterior cruciate ligaments after knee dislocation. Results using fresh-frozen nonirradiated allografts. Am J Sports Med 27:189–196

24.

Zhao J, He Y, Wang J (2006) Simultaneous arthroscopic reconstruction of the anterior and posterior cruciate ligaments with autogenous hamstring tendons. Arthroscopy 22:497–504
Acknowledgements
The authors would like to specially thank Arthrex for instruments and material supply, and FAPESP for financial support. The human cadaveric specimens were obtained through the University of California, Irvine Willed Body Program. Also, the authors would like to thank Andrea Moon, Felipe Huizar, Mike Shroder, Roseli Paschoa, Leonardo Adeo Ramos, Luiz Felipe Ambra, Thiago Bernardes Bastos, Leonardo José Bernardes Albertoni, Antonio Altenor Bessa de Queiroz, Mario Ferretti, Marcus Vinícius Malheiros Luzo, Flavio Faloppa, Rodrigo Antonio Brant Fernandes, Juan Carlos Martinez, Mark Humayun, and Paulo Rodrigues. Without the help, support, orientation and enthusiasm of all aforementioned people, this work would not be possible.
Funding
This study was funded by São Paulo Research Foundation (FAPESP) grant number 2015/10317-7. Franciozi CE received post-doctoral scholarship from FAPESP supporting his scientific activities at the University of Southern California during 2015–2016, grant number 2015/08952-6. Carvalho RT received financial support from FAPESP while performing his Ph.D. activities at University of Southern California during 2016.
Ethics declarations
Conflict of interest
Carlos Eduardo Franciozi and Rene Jorge Abdalla received fees for speaking or for organizing an educational program and fee for consulting from Smith & Nephew in the past five years, not related to this study. James Eugene Tibone acts as a consultant for Arthrex but do not receive any money from them, not any related to this study. The remaining authors declare no conflict of interest.
Ethical approval
All procedures performed in this study were in accordance with the ethical standards of the institutional research committee and with the 1964 Helsinki Declaration and its later amendments. This study was approved by The Federal University of São Paulo – UNIFESP – Institutional Review Board, number of Ethical Committee Approval: 45827413.5.0000.5505.
About this article
Cite this article
Franciozi, C.E., de Carvalho, R.T., Itami, Y. et al. Bicruciate lesion biomechanics, Part 2—treatment using a simultaneous tensioning protocol: ACL fixation first is better than PCL fixation first to restore tibiofemoral orientation. Knee Surg Sports Traumatol Arthrosc 27, 2936–2944 (2019). https://doi.org/10.1007/s00167-018-5177-y
Received:

Accepted:

Published:

Issue Date:
Keywords
Bicruciate ligament injury

ACL

Anterior cruciate ligament

PCL

Posterior cruciate ligament

Biomechanics

Translation

Varus–valgus

Tibial rotation

Ligament reconstruction

Multi-ligament knee injury

Knee dislocation

Knee laxity

Hyperextension