Abstract
Purpose
To identify and quantify passive anterior tibial subluxation on MRI using a standardized measurement protocol and determine the diagnostic threshold of subluxation for complete anterior cruciate ligament tears.
Methods
A retrospective case–control study was performed. Patients who underwent surgery for a complete isolated ACL tear between 2009 and 2015 were matched for age and gender to controls with an intact ligament on knee MRI. All subjects underwent 1.5 T closed field MR imaging with the same protocol. Measurements were performed on axial sequences to evaluate translation of the medial and lateral condyles compared to the tibial plateau. Each compartment was measured between the vertical tangent to the posterior femoral condyles and the most posterior part of the tibial plateau. The main criterion was global passive subluxation measurements on MRI, corresponding to mean medial and lateral compartment subluxation. The reproducibility and diagnostic value of passive subluxation were calculated.
Results
Sixty (30/30) subjects were included, mean age 27.1 ± 1.7 years, 20 women and 40 men. Patients had a significantly higher global passive subluxation than controls (3.3 ± 0.6 mm vs 0.6 ± 0.2 mm, respectively p < 0.00001). Reproducibility was excellent and the diagnostic value of passive subluxation for a complete ACL tear was fair. A passive subluxation threshold of 3.5 mm had a sensitivity of 55.2%, a specificity of 100% and 77.6% of well-classified subjects.
Conclusion
The calculated cutoff value for global passive subluxation to identify patients with a complete ACL tear was 3.5 mm, with excellent specificity and a high positive likelihood ratio. Suboptimal clinical results following ACL reconstruction could be partially due to failure to restore an anatomical femorotibial relationship.
Level of evidence
III.
This is a preview of subscription content, log in to check access.
Access options
Buy single article
Instant access to the full article PDF.
US$ 39.95
Price includes VAT for USA
Subscribe to journal
Immediate online access to all issues from 2019. Subscription will auto renew annually.
US$ 199
This is the net price. Taxes to be calculated in checkout.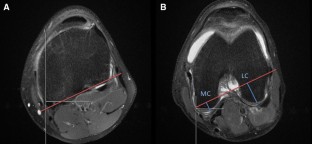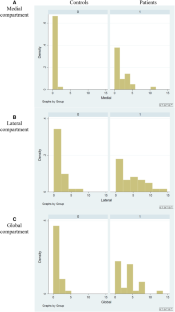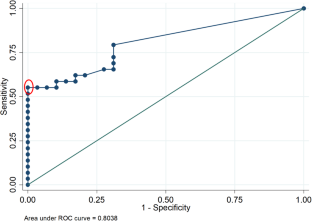 References
1.

Ahldén M, Hoshino Y, Samuelsson K, Araujo P, Musahl V, Karlsson J (2012) Dynamic knee laxity measurement devices. Knee Surg Sports Traumatol Arthrosc 20:621–632

2.

Almekinders LC, Chiavetta JB, Clarke JP (1998) Radiographic evaluation of anterior cruciate ligament graft failure with special reference to tibial tunnel placement. Arthroscopy 14:206–211

3.

Almekinders LC, de Castro D (2001) Fixed tibial subluxation after successful anterior cruciate ligament reconstruction. Am J Sports Med 29:280–283

4.

Almekinders LC, Pandarinath R, Rahusen FT (2004) Knee stability following anterior cruciate ligament rupture and surgery. The contribution of irreducible tibial subluxation. J Bone Jt Surg Am 86-A:983–987

5.

Bedi A, Musahl V, Lane C, Citak M, Warren RF, Pearle AD (2010) Lateral compartment translation predicts the grade of pivot shift: a cadaveric and clinical analysis. Knee Surg Sports Traumatol Arthrosc 18:1269–1276

6.

Chan WP, Peterfy C, Fritz RC, Genant HK (1994) MR diagnosis of complete tears of the anterior cruciate ligament of the knee: importance of anterior subluxation of the tibia. AJR Am J Roentgenol 162:355–360

7.

Donell ST, Marshall TJ, Darrah C, Shepstone L (2006) Cruciate ligament assessment in MRI scans: a pilot study of a static drawer technique. Knee 13:137–144

8.

Huang W, Zhang Y, Yao Z, Ma L (2016) Clinical examination of anterior cruciate ligament rupture: a systematic review and meta-analysis. Acta Orthop Traumatol Turc 50:22–31

9.

Hudek R, Schmutz S, Regenfelder F, Fuchs B, Koch PP (2009) Novel measurement technique of the tibial slope on conventional MRI. Clin Orthop Relat Res 467:2066–2072

10.

Iwaki H, Pinskerova V, Freeman MA (2000) Tibiofemoral movement 1: the shapes and relative movements of the femur and tibia in the unloaded cadaver knee. J Bone Jt Surg Br 82:1189–1195

11.

Klass D, Toms AP, Greenwood R, Hopgood P (2007) MR imaging of acute anterior cruciate ligament injuries. Knee 14:339–347

12.

Lerat JL, Moyen BL, Cladière F, Besse JL, Abidi H (2000) Knee instability after injury to the anterior cruciate ligament. Quantification of the Lachman test. J Bone Jt Surg Br 82:42–47

13.

Lin HC, Lai WH, Shih YF, Chang CM, Lo CY, Hsu HC (2009) Physiological anterior laxity in healthy young females: the effect of knee hyperextension and dominance. Knee Surg Sports Traumatol Arthrosc 17:1083–1088

14.

McDonald LS, van der List JP, Jones KJ, Zuiderbaan HA, Nguyen JT, Potter HG et al (2017) Passive anterior tibial subluxation in the setting of anterior cruciate ligament injuries: a comparative analysis of ligament-deficient states. Am J Sports Med 45:1537–1546

15.

McCauley TR, Moses M, Kier R, Lynch JK, Barton JW, Jokl P (1994) MR diagnosis of tears of anterior cruciate ligament of the knee: importance of ancillary findings. AJR Am J Roentgenol 162:115–119

16.

Mishima S, Takahashi S, Kondo S, Ishiguro N (2005) Anterior tibial subluxation in anterior cruciate ligament-deficient knees: quantification using magnetic resonance imaging. Arthroscopy 21:1193–1196

17.

Tanaka MJ, Jones KJ, Gargiulo AM, Delos D, Wickiewicz TL, Potter HG et al (2013) Passive anterior tibial subluxation in anterior cruciate ligament-deficient knees. Am J Sports Med 41:2347–2352

18.

Tardieu M, Luciani J-F, Bordet B, Le Pogam M-A, Dejour D, Pialat J-B (2011) Evaluation of anterior knee laxity on MRI. J Radiol 92:208–225

19.

Vahey TN, Hunt JE, Shelbourne KD (1993) Anterior translocation of the tibia at MR imaging: a secondary sign of anterior cruciate ligament tear. Radiology 187:817–819
Funding
There was no external funding source for the current study.
Ethics declarations
Conflict of interest
The author(s) declare that they have no competing interests.
Ethical approval
Ethical approval was obtained for this study from the Comité de Protection des Personnes Ile-de-France IV (CPP IDF IV), Hôpital Saint-Louis. The database was declared at the National Commission for Data Protection (Commission Nationale de l'Informatique et des Libertés, CNIL, no. 470235).
About this article
Cite this article
Hardy, A., Klouche, S., Szarzynski, P. et al. A threshold value of 3.5 mm of passive anterior tibial subluxation on MRI is highly specific for complete ACL tears. Knee Surg Sports Traumatol Arthrosc 27, 885–892 (2019). https://doi.org/10.1007/s00167-018-5159-0
Received:

Accepted:

Published:

Issue Date:
Keywords
Anterior cruciate ligament (ACL) tear

Passive anterior tibial subluxation (PATS)

MRI