Abstract
Purpose
To compare the surgical outcomes of the two different ankle stabilization techniques.
Methods
This randomized controlled trial aimed to compare the outcomes of the modified Broström procedure with [calcaneofibular ligament (CFL) group] or without CFL repair [anterior talofibular ligament (ATFL) only group]. Of the 50 patients randomly assigned to two groups, 43 were followed up prospectively for ≥ 2 years (CFL group: 22 patients, 36.6 ± 13.1 months; ATFL Only group: 21 patients, 35.3 ± 11.9 months). Functional outcomes were assessed using the Karlsson–Peterson and Tegner activity level scoring systems. Anterior talar translation (ATT), talar tilt angle (TTA), and degrees of displacement of the calcaneus against the talus on stress radiographs were measured. All parameters were compared between the two groups. Multiple regression analysis setting the postoperative Karlsson–Peterson score as the dependent variable was performed to determine the significant variable.
Results
There were no significant differences between the two groups in functional (Karlsson–Peterson and Tegner activity level) scores at the last follow-up and their changes. There were no significant differences between the two groups in the ATT, TTA, their differences compared with the contralateral ankles, and degrees of displacement of the calcaneus against the talus at the last follow-up. Osteochondral lesion of the talus rather than CFL repair was the significant variable related to functional outcome.
Conclusion
The modified Broström procedure with additional CFL repair did not result in a significant advantage in any measured outcome at 3 years.
Level of evidence
Randomized controlled trial, Level I.
Access options
Buy single article
Instant access to the full article PDF.
USD 39.95
Price excludes VAT (USA)
Tax calculation will be finalised during checkout.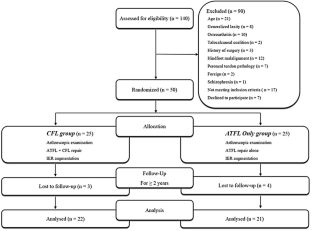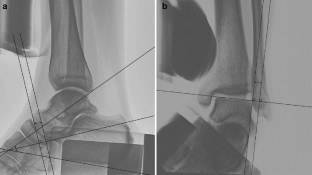 References
Ahn JH, Lee Y-G, Jung S-H, Choy W-S (2007) Treatment of chronic ankle lateral instability using modified Brostrom procedure. J Korean Orthop Assoc 42:91–97

Beighton P, Solomon L, Soskolne CL (1973) Articular mobility in an African population. Ann Rheum Dis 32:413–418

Bell SJ, Mologne TS, Sitler DF, Cox JS (2006) Twenty-six-year results after Brostrom procedure for chronic lateral ankle instability. Am J Sports Med 34:975–978

Breitenseher MJ, Trattnig S, Kukla C, Gaebler C, Kaider A, Baldt MM, Haller J, Imhof H (1997) MRI versus lateral stress radiography in acute lateral ankle ligament injuries. J Comput Assist Tomogr 21:280–285

Broström L (1966) Sprained ankles. V. Treatment and prognosis in recent ligament ruptures. Acta Chir Scand 132:537–550

Choi WJ, Lee JW, Han SH, Kim BS, Lee SK (2008) Chronic lateral ankle instability: the effect of intra-articular lesions on clinical outcome. Am J Sports Med 36:2167–2172

Dalmau-Pastor M, Yasui Y, Calder JD, Karlsson J, Kerkhoffs GM, Kennedy JG (2016) Anatomy of the inferior extensor retinaculum and its role in lateral ankle ligament reconstruction: a pictorial essay. Knee Surg Sports Traumatol Arthrosc 24:957–962

De Vries J, Struijs PA, Raaymakers EL, Marti RK (2005) Long-term results of the Weber operation for chronic ankle instability: 37 patients followed for 20–30 years. Acta Orthop 76:891–898

Doherty C, Delahunt E, Caulfield B, Hertel J, Ryan J, Bleakley C (2014) The incidence and prevalence of ankle sprain injury: a systematic review and meta-analysis of prospective epidemiological studies. Sports Med 44:123–140

Gerber JP, Williams GN, Scoville CR, Arciero RA, Taylor DC (1998) Persistent disability associated with ankle sprains: a prospective examination of an athletic population. Foot Ankle Int 19:653–660

Gould N, Seligson D, Gassman J (1980) Early and late repair of lateral ligament of the ankle. Foot Ankle 1:84–89

Grace DL (1984) Lateral ankle ligament injuries. Inversion and anterior stress radiography. Clin Orthop Relat Res 183:153–159

Jung HG, Park JT, Shin MH, Lee SH, Eom JS, Lee DO (2015) Outcome of subtalar instability reconstruction using the semitendinosus allograft tendon and biotenodesis screws. Knee Surg Sports Traumatol Arthrosc 23:2376–2383

Karlsson J, Bergsten T, Lansinger O, Peterson L (1988) Reconstruction of the lateral ligaments of the ankle for chronic lateral instability. J Bone Jt Surg Am 70:581–588

Karlsson J, Eriksson BI, Swärd L (1996) Early functional treatment for acute ligament injuries of the ankle joint. Scand J Med Sci Sports 6:341–345

Karlsson J, Petersen L (1991) Evaluation of ankle function: the use of a scoring scale. Foot 1:15–19

Kato T (1995) The diagnosis and treatment of instability of the subtalar joint. J Bone Jt Surg Br 77:400–406

Kobayashi T, Yamakawa S, Watanabe K, Kimura K, Suzuki D, Otsubo H, Teramoto A, Fujimiya M, Fujie H, Yamashita T (2016) The in situ force in the calcaneofibular ligament and the contribution of this ligament to ankle joint stability. Clin Biomech (Bristol Avon) 40:8–13

Lee KT, Lee JI, Sung KS, Kim JY, Kim ES, Lee SH, Wang JH (2008) Biomechanical evaluation against calcaneofibular ligament repair in the Brostrom procedure: a cadaveric study. Knee Surg Sports Traumatol Arthrosc 16:781–786

Lee KT, Park YU, Kim JS, Kim JB, Kim KC, Kang SK (2011) Long-term results after modified Brostrom procedure without calcaneofibular ligament reconstruction. Foot Ankle Int 32:153–157

Maffulli N, Del Buono A, Maffulli GD, Oliva F, Testa V, Capasso G, Denaro V (2013) Isolated anterior talofibular ligament Brostrom repair for chronic lateral ankle instability: 9-year follow-up. Am J Sports Med 41:858–864

Michels F, Pereira H, Calder J, Matricali G, Glazebrook M, Guillo S, Karlsson J, Acevedo J, Batista J, Bauer T, Calder J, Carreira D, Choi W, Corte-Real N, Glazebrook M, Ghorbani A, Giza E, Guillo S, Hunt K, Karlsson J, Kong SW, Lee JW, Michels F, Molloy A, Mangone P, Matsui K, Nery C, Ozeki S, Pearce C, Pereira H, Perera A, Pijnenburg B, Raduan F, Stone J, Takao M, Tourne Y, Vega J (2018) Searching for consensus in the approach to patients with chronic lateral ankle instability: ask the expert. Knee Surg Sports Traumatol Arthrosc 26:2095–2102

Nery C, Raduan F, Del Buono A, Asaumi ID, Cohen M, Maffulli N (2011) Arthroscopic-assisted Brostrom–Gould for chronic ankle instability: a long-term follow-up. Am J Sports Med 39:2381–2388

Okuda R, Kinoshita M, Morikawa J, Jotoku T, Abe M (1999) Reconstruction for chronic lateral ankle instability using the palmaris longus tendon: is reconstruction of the calcaneofibular ligament necessary? Foot Ankle Int 20:714–720

Park HJ, Cha SD, Kim SS, Rho MH, Kwag HJ, Park NH, Lee SY (2012) Accuracy of MRI findings in chronic lateral ankle ligament injury: comparison with surgical findings. Clin Radiol 67:313–318

Park KH, Lee JW, Suh JW, Shin MH, Choi WJ (2016) Generalized ligamentous laxity is an independent predictor of poor outcomes after the modified brostrom procedure for chronic lateral ankle instability. Am J Sports Med 44:2975–2983

Pellegrini MJ, Glisson RR, Wurm M, Ousema PH, Romash MM, Nunley JA 2nd, Easley ME (2016) Systematic quantification of stabilizing effects of subtalar joint soft-tissue constraints in a novel cadaveric model. J Bone Jt Surg Am 98:842–848

Petersen W, Rembitzki IV, Koppenburg AG, Ellermann A, Liebau C, Bruggemann GP, Best R (2013) Treatment of acute ankle ligament injuries: a systematic review. Arch Orthop Trauma Surg 133:1129–1141

Sarrafian SK (1993) Biomechanics of the subtalar joint complex. Clin Orthop Relat Res 290:17–26

Schneck CD, Mesgarzadeh M, Bonakdarpour A (1992) MR imaging of the most commonly injured ankle ligaments. Part II. Ligament injuries. Radiology 184:507–512

Shon HC, Cho BK, Kim YM, Kim DS, Choi ES, Park KJ, Park JK (2011) A comparison between the modified Brostrom procedure using single and double suture anchor for chronic lateral ankle instability. J Korean Orthop Soc Sports Med 10:69–77

Tegner Y, Lysholm J (1985) Rating systems in the evaluation of knee ligament injuries. Clin Orthop Relat Res 198:43–49

van Dijk CN, Tol JL, Verheyen CC (1997) A prospective study of prognostic factors concerning the outcome of arthroscopic surgery for anterior ankle impingement. Am J Sports Med 25:737–745

Vuurberg G, Pereira H, Blankevoort L, van Dijk CN (2018) Anatomic stabilization techniques provide superior results in terms of functional outcome in patients suffering from chronic ankle instability compared to non-anatomic techniques. Knee Surg Sports Traumatol Arthrosc 26:2183–2195

Weindel S, Schmidt R, Rammelt S, Claes L, v Campe A, Rein S (2010) Subtalar instability: a biomechanical cadaver study. Arch Orthop Trauma Surg 130:313–319
Funding
No external funding was used.
Ethics declarations
Conflict of interest
The authors have no conflict of interest.
Ethical approval
All procedures performed in this study involving human participants were in accordance with the ethical standards of our institutional research committee and with the 1964 Helsinki Declaration and its later amendments or comparable ethical standards.
Informed consent
Informed consent was obtained from all participants.
Electronic supplementary material
Below is the link to the electronic supplementary material.
About this article
Cite this article
Ko, K.R., Lee, WY., Lee, H. et al. Repair of only anterior talofibular ligament resulted in similar outcomes to those of repair of both anterior talofibular and calcaneofibular ligaments. Knee Surg Sports Traumatol Arthrosc 28, 155–162 (2020). https://doi.org/10.1007/s00167-018-5091-3
Received:

Accepted:

Published:

Issue Date:

DOI: https://doi.org/10.1007/s00167-018-5091-3
Keywords
Chronic lateral ankle instability

Modified Broström procedure

Anterior talofibular ligament

Calcaneofibular ligament

Karlsson–Peterson score