Abstract
Purpose
The purpose of the study was to quantify the patellar J sign using traditional computed tomography (CT) scans.
Methods
Fifty-three patients (fifty-three knees) who suffered from recurrent patellar instability were included and analyzed. The patellar J sign was evaluated pre-operatively during active knee flexion and extension. It was defined as positive when there was obvious lateral patellar translation, and negative when there was not. The CT scans were performed in all patients with full knee extension; and the parameters including bisect offset index (BOI), patellar–trochlear-groove (PTG) distance, and patellar lateral tilt angle (PLTA) were measured on the axial slices. All the three parameters were compared between the J sign-positive group (study group) and the J sign-negative group (control group). In addition, the optimal thresholds of the three CT scan parameters for predicting the positive patellar J sign were determined with receiver operating characteristic (ROC) curves, and the diagnostic values were assessed by the area under the curve (AUC).
Result
Among the fifty-three patients (fifty-three knees), thirty-seven (70%) showed obvious lateral patellar translation, which were defined as positive J sign (study group), and the remaining sixteen (30%) who showed no lateral translation were defined as negative J sign (control group). The mean values of the three CT parameters in the study group were all significantly larger compared to the control group, including BOI (121 ± 28% vs 88 ± 12%, P = 0.038), PTG distance (5.2 ± 6.6 mm vs − 4.4 ± 5.2 mm, P < 0.05), and PLTA (34.9 ± 10.5° vs 25.7 ± 3.4°, P = 0.001). Furthermore, the evaluation of ROC analysis showed that the AUC of BOI was the largest (AUC = 0.906) among the three parameters, and the optimal threshold of BOI to predict the positive patellar J sign was 97.5% (Sensitivity = 83.3%, Specificity = 87.5%).
Conclusions
In this study, the prevalence of positive patellar J sign was 70%. The BOI measured from the axial CT scans of the knee joint can be used as an appropriate predictor to differentiate the positive J sign from the negative J sign, highlighting that the excessive lateral patellar translation on axial CT scan indicates positive patellar J sign.
Level of evidence
IV.
This is a preview of subscription content, log in to check access.
Access options
Buy single article
Instant access to the full article PDF.
US$ 39.95
Price includes VAT for USA
Subscribe to journal
Immediate online access to all issues from 2019. Subscription will auto renew annually.
US$ 199
This is the net price. Taxes to be calculated in checkout.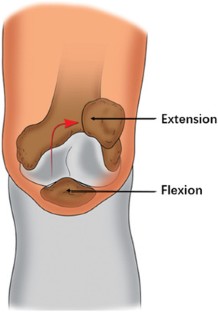 References
1.

Beckert MW, Albright JC, Zavala J, Chang J, Albright JP (2016) Clinical accuracy of J sign measurement compared to magnetic resonance imaging. Iowa Orthop J 36:94–97

2.

Bedi H, Marzo J (2010) The biomechanics of medial patellofemoral ligament repair followed by lateral retinacular release. Am J Sports Med 38(7):1462–1467

3.

Biyani R, Elias JJ, Saranathan A, Feng H, Guseila LM, Morscher MA et al (2014) Anatomical factors influencing patellar tracking in the unstable patellofemoral joint. Knee Surg Sports Traumatol Arthrosc 22(10):2334–2341

4.

Csintalan RP, Latt LD, Fornalski S, Raiszadeh K, Inacio MC, Fithian DC (2014) Medial patellofemoral ligament (MPFL) reconstruction for the treatment of patellofemoral instability. J Knee Surg 27(2):139–146

5.

Dickschas J, Harrer J, Strecker W et al (2012) Operative treatment of patellofemoral maltracking with torsional osteotomy. Arch Orthop Trauma Surg 132(3):289–298

6.

Dietrich TJ, Fucentese SF, Pfirrmann CW (2016) Imaging of individual anatomical risk factors for patellar instability. Semin Musculoskelet Radiol 20(1):65–73

7.

Enderlein D, Nielsen T, Christiansen SE, Fauno P, Lind M (2014) Clinical outcome after reconstruction of the medial patellofemoral ligament in patients with recurrent patella instability. Knee Surg Sports Traumatol Arthrosc 22(10):2458–2464

8.

Frosch KH, Schmeling A (2016) A new classification system of patellar instability and patellar maltracking. Arch Orthop Trauma Surg 136(4):485–497

9.

Gorodkin J (2004) Comparing two K-category assignments by a K-category correlation coefficient. Comput Biol Chem 28:367–374

10.

Koh TJ, Grabiner MD, De Swart RJ (1992) In vivo tracking of the human patella. J Biomech 25(6):637–643

11.

Kolowich PA, Paulos LE, Farnsworth S,et al (1990) Lateral release of the patella: indications and contraindications. Am J Sports Med 18(4):359–365

12.

Lin F, Makhsous M, Chang AH, Hendrix RW, Zhang LQ (2003) In vivo and noninvasive six degrees of freedom patellar tracking during voluntary knee movement. Clin Biomech (Bristol Avon) 18(5):401–409

13.

Liu X, Zhang H, Feng H (2016) The risk factors of j sign in patients with recurrent patella dislocation. Chin J Sports Med 35(2):121–125

14.

Mountney J, Senavongse W, Amis AA, Thomas NP (2005) Tensile strength of the medial patellofemoral ligament before and after repair or reconstruction. J Bone Joint Surg Br 87(1):36–40

15.

Post WR (1999) Clinical evaluation of patients with patellofemoral disorders. Arthroscopy 15(8):841–851

16.

Reider B, Marshall JL, Ring B (1981) Patellar tracking. Clin Orthop Relat Res 157:143–148

17.

Senavongse W, Amis AA (2005) The effects of articular, retinacular, or muscular deficiencies on patellofemoral joint stability: a biomechanical study in vitro. J Bone Joint Surg Br 87(4):577–582

18.

Sheehan FT, Derasari A, Fine KM, Brindle TJ, Alter KE (2010) Q-angle and J sign: indicative of maltracking subgroups in patellofemoral pain. Clin Orthop Relat Res 468(1):266–275

19.

Smith TO, Clark A, Neda S, Arendt EA, Post WR, Grelsamer RP et al (2012) The intra- and inter-observer reliability of the physical examination methods used to assess patients with patellofemoral joint instability. Knee 19(4):404–410

20.

Strecker W, Dickschas J (2015) Torsional osteotomy: operative treatment of patellofemoral maltracking. Oper Orthop Traumatol 27(6):505–524

21.

Tanaka MJ, Elias JJ, Williams AA, Demehri S, Cosgarea AJ (2016) Characterization of patellar maltracking using dynamic kinematic CT imaging in patients with patellar instability. Knee Surg Sports Traumatol Arthrosc 24(11):3634–3641

22.

Vavken P, Wimmer MD, Camathias C, Quidde J, Valderrabano V, Pagenstert G (2013) Treating patella instability in skeletally immature patients. Arthroscopy 29(8):1410–1422

23.

Verdonk R, Jansegers E, Stuyts B (2005) Trochleoplasty in dysplastic knee trochlea. Knee Surg Sports Traumatol Arthrosc 13(7):529–533
Funding
One or more of the authors (HF) have received funding from the Beijing Municipal Administration of Hospitals (XMLX201613).
Ethics declarations
Conflict of interest
The author (HF) declares that he has received funding from the Beijing Municipal Administration of Hospitals (XMLX201613).
Ethical approval
This study was approved by the ethics committee of Beijing Jishuitan Hospital (ID: JST- 2017-0606).
Informed consent
Informed consent was obtained from all individual participants included in this study.
Electronic supplementary material
Below is the link to the electronic supplementary material.
Supplementary material 1 (WMV 27337 KB)
About this article
Cite this article
Xue, Z., Song, G., Liu, X. et al. Excessive lateral patellar translation on axial computed tomography indicates positive patellar J sign. Knee Surg Sports Traumatol Arthrosc 26, 3620–3625 (2018). https://doi.org/10.1007/s00167-018-4897-3
Received:

Accepted:

Published:

Issue Date:
Keywords
Patellar J sign

Bisect offset index

Patellar–trochlear-groove distance

Patellar lateral tilt angle