Abstract
Purpose
Develop a framework to quantify the size, location and severity of femoral and acetabular-sided cartilage and labral damage observed in patients undergoing hip arthroscopy, and generate a database of individual defect parameters to facilitate future research and treatment efforts.
Methods
The size, location, and severity of cartilage and labral damage were prospectively collected using a custom, standardized post-operative template for 100 consecutive patients with femoroacetabular impingement syndrome. Chondrolabral junction damage, isolated intrasubstance labral damage, isolated acetabular cartilage damage and femoral cartilage damage were quantified and recorded using a combination of Beck and ICRS criteria. Radiographic measurements including alpha angle, head–neck offset, lateral centre edge angle and acetabular index were calculated and compared to the aforementioned chondral data using a multivariable logistic regression model and adjusted odd's ratio. Reliability among measurements were assessed using the kappa statistic and intraclass coefficients were used to evaluate continuous variables.
Results
Damage to the acetabular cartilage originating at the chondrolabral junction was the most common finding in 97 hips (97%) and was usually accompanied by labral damage in 65 hips (65%). The width (p = 0.003) and clock-face length (p = 0.016) of the damaged region both increased alpha angle on anteroposterior films. 10% of hips had femoral cartilage damage while only 2 (2%) of hips had isolated defects to either the acetabular cartilage or labrum. The adjusted odds of severe cartilage (p = 0.022) and labral damage (p = 0.046) increased with radiographic cam deformity but was not related to radiographic measures of acetabular coverage.
Conclusions
Damage at the chondrolabral junction was very common in this hip arthroscopy cohort, while isolated defects to the acetabular cartilage or labrum were rare. These data demonstrate that the severity of cam morphology, quantified through radiographic measurements, is a primary predictor of location and severity of chondral and labral damage and focal chondral defects may represent a unique subset of patients that deserve further study.
Level of evidence
IV.
This is a preview of subscription content, log in to check access.
Access options
Buy single article
Instant access to the full article PDF.
US$ 39.95
Price includes VAT for USA
Subscribe to journal
Immediate online access to all issues from 2019. Subscription will auto renew annually.
US$ 199
This is the net price. Taxes to be calculated in checkout.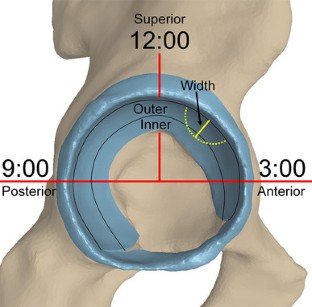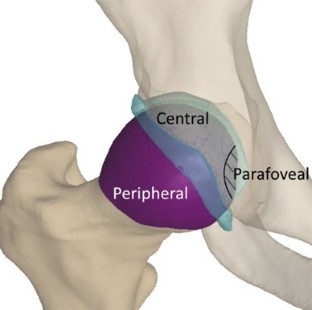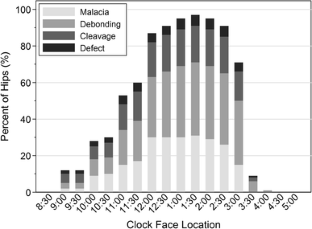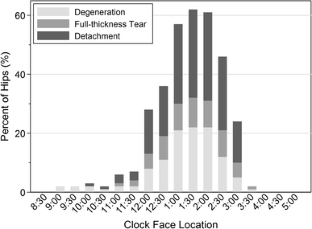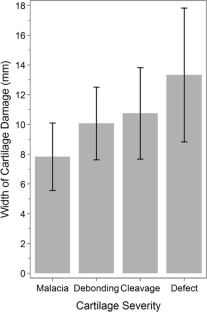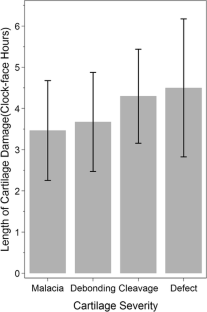 References
1.

Amenabar T, Piriz J, Mella C, Hetaimish BM, O'Donnell J (2015) Reliability of 3 different arthroscopic classifications for chondral damage of the acetabulum. Arthroscopy 31(8):1492–1496

2.

Anderson LA, Peters CL, Park BB, Stoddard GJ, Erickson JA, Crim JR (2009) Acetabular cartilage delamination in femoroacetabular impingement. Risk factors and magnetic resonance imaging diagnosis. J Bone Jt Surg Am 91(2):305–313

3.

Barton C, Salineros MJ, Rakhra KS, Beaule PE (2011) Validity of the alpha angle measurement on plain radiographs in the evaluation of cam-type femoroacetabular impingement. Clin Orthop Relat Res 469(2):464–469

4.

Beaule PE, Hynes K, Parker G, Kemp KA (2012) Can the alpha angle assessment of cam impingement predict acetabular cartilage delamination? Clin Orthop Relat Res 470(12):3361–3367

5.

Beck M, Kalhor M, Leunig M, Ganz R (2005) Hip morphology influences the pattern of damage to the acetabular cartilage: femoroacetabular impingement as a cause of early osteoarthritis of the hip. J Bone Jt Surg Br 87(7):1012–1018

6.

Beck M, Leunig M, Parvizi J, Boutier V, Wyss D, Ganz R (2004) Anterior femoroacetabular impingement: part II. Midterm results of surgical treatment. Clin Orthop Relat Res 418:67–73

7.

Bedi A, Feeley BT, Williams RJ 3rd (2010) Management of articular cartilage defects of the knee. J Bone Jt Surg Am 92(4):994–1009

8.

Blankenbaker DG, De Smet AA, Keene JS, Fine JP (2007) Classification and localization of acetabular labral tears. Skelet Radiol 36(5):391–397

9.

Brittberg M, Winalski CS (2003) Evaluation of cartilage injuries and repair. J Bone Jt Surg Am 85-A(Suppl 2):58–69

10.

Clohisy JC, Nunley RM, Otto RJ, Schoenecker PL (2007) The frog-leg lateral radiograph accurately visualized hip cam impingement abnormalities. Clin Orthop Relat Res 462:115–121

11.

Cole BJ, Pascual-Garrido C, Grumet RC (2009) Surgical management of articular cartilage defects in the knee. J Bone Jt Surg Am 91(7):1778–1790

12.

Dudda M, Albers C, Mamisch TC, Werlen S, Beck M (2009) Do normal radiographs exclude asphericity of the femoral head-neck junction? Clin Orthop Relat Res 467(3):651–659

13.

El Bitar YF, Lindner D, Jackson TJ, Domb BG (2014) Joint-preserving surgical options for management of chondral injuries of the hip. J Am Acad Orthop Surg 22(1):46–56

14.

Emre TY, Cift H, Seyhan B, Ceyhan E, Uzun M (2012) Mosaicplasty for the treatment of the osteochondral lesion in the femoral head. Bull NYU Hosp Jt Dis 70(4):288–290

15.

Falah M, Nierenberg G, Soudry M, Hayden M, Volpin G (2010) Treatment of articular cartilage lesions of the knee. Int Orthop 34(5):621–630

16.

Fontana A (2012) A novel technique for treating cartilage defects in the hip: a fully arthroscopic approach to using autologous matrix-induced chondrogenesis. Arthrosc Tech 1(1):e63–e68

17.

Fontana A, de Girolamo L (2015) Sustained five-year benefit of autologous matrix-induced chondrogenesis for femoral acetabular impingement-induced chondral lesions compared with microfracture treatment. Bone Jt J 97-B(5):628–635

18.

Girard J, Roumazeille T, Sakr M, Migaud H (2011) Osteochondral mosaicplasty of the femoral head. Hip Int 21(5):542–548

19.

Hjelle K, Solheim E, Strand T, Muri R, Brittberg M (2002) Articular cartilage defects in 1000 knee arthroscopies. Arthroscopy 18(7):730–734

20.

Ilizaliturri VM Jr, Byrd JW, Sampson TG, Guanche CA, Philippon MJ, Kelly BT, Dienst M, Mardones R, Shonnard P, Larson CM (2008) A geographic zone method to describe intra-articular pathology in hip arthroscopy: cadaveric study and preliminary report. Arthroscopy 24(5):534–539

21.

Kaya M, Suzuki T, Emori M, Yamashita T (2014) Hip morphology influences the pattern of articular cartilage damage. Knee Surg Sports Traumatol Arthrosc 24(6):2016–2023

22.

Khan M, Habib A, de Sa D, Larson CM, Kelly BT, Bhandari M, Ayeni OR, Bedi A (2016) Arthroscopy up to date: hip femoroacetabular impingement. Arthroscopy 32(1):177–189

23.

Konan S, Rayan F, Meermans G, Witt J, Haddad FS (2011) Validation of the classification system for acetabular chondral lesions identified at arthroscopy in patients with femoroacetabular impingement. J Bone Jt Surg Br 93(3):332–336

24.

Laude F, Sariali E, Nogier A (2009) Femoroacetabular impingement treatment using arthroscopy and anterior approach. Clin Orthop Relat Res 467(3):747–752

25.

Lee AJ, Armour P, Thind D, Coates MH, Kang AC (2015) The prevalence of acetabular labral tears and associated pathology in a young asymptomatic population. Bone Jt J 97-B(5):623–627

26.

Marquez-Lara A, Mannava S, Howse EA, Stone AV, Stubbs AJ (2016) Arthroscopic management of hip chondral defects: a systematic review of the literature. Arthroscopy 32(7):1435–1443

27.

Meyers MH (1985) Resurfacing of the femoral head with fresh osteochondral allografts. Long-term results. Clin Orthop Relat Res 197:111–114

28.

Nepple JJ, Carlisle JC, Nunley RM, Clohisy JC (2011) Clinical and radiographic predictors of intra-articular hip disease in arthroscopy. Am J Sports Med 39(2):296–303

29.

Nepple JJ, Larson CM, Smith MV, Kim YJ, Zaltz I, Sierra RJ, Clohisy JC (2012) The reliability of arthroscopic classification of acetabular rim labrochondral disease. Am J Sports Med 40(10):2224–2229

30.

Outerbridge RE (2001) The etiology of chondromalacia patellae. 1961. Clin Orthop Relat Res 389:5–8

31.

Peterson L, Minas T, Brittberg M, Nilsson A, Sjogren-Jansson E, Lindahl A (2000) Two- to 9-year outcome after autologous chondrocyte transplantation of the knee. Clin Orthop Relat Res 374:212–234

32.

Redmond JM, Gupta A, Hammarstedt JE, Stake CE, Dunne KF, Domb BG (2015) Labral injury: radiographic predictors at the time of hip arthroscopy. Arthroscopy 31(1):51–56

33.

Sampson TG (2011) Arthroscopic treatment for chondral lesions of the hip. Clin Sports Med 30(2):331–348

34.

Stubbs AJ, Potter HG (2009) Section VII: chondral lesions. J Bone Jt Surg Am 91(Suppl 1):119

35.

Tannast M, Goricki D, Beck M, Murphy SB, Siebenrock KA (2008) Hip damage occurs at the zone of femoroacetabular impingement. Clin Orthop Relat Res 466(2):273–280

36.

Tannast M, Siebenrock KA, Anderson SE (2007) Femoroacetabular impingement: radiographic diagnosis—what the radiologist should know. AJR Am J Roentgenol 188(6):1540–1552

37.

Versier G, Dubrana F, French Arthroscopy Society (2011) Treatment of knee cartilage defect in 2010. Orthop Traumatol Surg Res 97(8 Suppl):S140–S153
Acknowledgements
This research was supported by a grant from the LS Peery Foundation, Discovery Program in Musculoskeletal Restoration and a Seed Grant from the University of Utah Research Foundation.
Funding
The study sponsor played no role in: study design, collection, analysis, or interpretation of data; writing of the manuscript; or the decision to submit the manuscript for publication.
Ethics declarations
Conflict of interest
Dr. Stephen Aoki reports personal fees from Stryker Medical outside of the submitted work. Dr. Aaron Krych reports personal fees from Arthrex Inc. outside the submitted work. Dr. Travis Maak reports personal fees from Arthrex Inc. outside the submitted work.
Ethical approval
All procedures performed in this study were in accordance with the ethical standards of the University of Utah institutional research board and with the 1964 Helsinki declaration and its later amendments or comparable ethical standards.
Informed consent
Informed consent was not required for this type of study.
Electronic supplementary material
Below is the link to the electronic supplementary material.
. Standardized operative note template. The custom, standardized, post-operative template used by the operating surgeons. The note was designed to record the size, severity and location of cartilage and labral damage observed in the hip intraoperatively. (PDF 11 KB)
. Patient defect library. Individual patient defect results. (XLSX 21 KB)
About this article
Cite this article
Kapron, A.L., Aoki, S.K., Weiss, J.A. et al. Isolated focal cartilage and labral defects in patients with femoroacetabular impingement syndrome may represent new, unique injury patterns. Knee Surg Sports Traumatol Arthrosc 27, 3057–3065 (2019). https://doi.org/10.1007/s00167-018-4861-2
Received:

Accepted:

Published:

Issue Date:
Keywords
Arthroscopy

Femoroacetabular impingement

Chondrolabral damage