Abstract
Purpose
The purpose of the present study is to compare newer designs of various symmetric and asymmetric tibial components and measure tibial bone coverage using the rotational safe zone defined by two commonly utilized anatomic rotational landmarks.
Methods
Computed tomography scans (CT scans) of one hundred consecutive patients scheduled for total knee arthroplasty were obtained pre-operatively. A virtual proximal tibial cut was performed and two commonly used rotational axes were added for each image: the medio-lateral axis (ML-axis) and the medial 1/3 tibial tubercle axis (med-1/3-axis). Different symmetric and asymmetric implant designs were then superimposed in various rotational positions for best cancellous and cortical coverage. The images were imported to a public domain imaging software, and cancellous and cortical bone coverage was computed for each image, with each implant design in various rotational positions.
Results
One single implant type could not be identified that provided the best cortical and cancellous coverage of the tibia, irrespective of using the med-1/3-axis or the ML-axis for rotational alignment. However, it could be confirmed that the best bone coverage was dependent on the selected rotational landmark. Furthermore, improved bone coverage was observed when tibial implant positions were optimized between the two rotational axes.
Conclusions
Tibial coverage is similar for symmetric and asymmetric designs, but depends on the rotational landmark for which the implant is designed. The surgeon has the option to improve tibial coverage by optimizing placement between the two anatomic rotational alignment landmarks, the medial 1/3 and the ML-axis. Surgeons should be careful assessing intraoperative rotational tibial placement using the described anatomic rotational landmarks to optimize tibial bony coverage without compromising patella tracking.
Level of Evidence
III.
Access options
Buy single article
Instant access to the full article PDF.
US$ 39.95
Tax calculation will be finalised during checkout.
Subscribe to journal
Immediate online access to all issues from 2019. Subscription will auto renew annually.
US$ 119
Tax calculation will be finalised during checkout.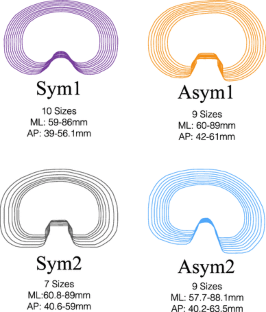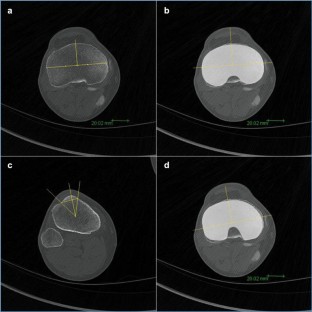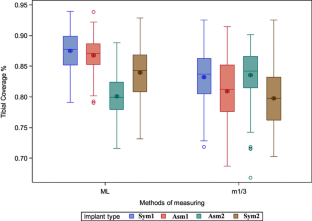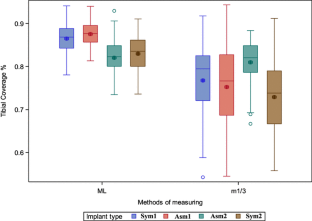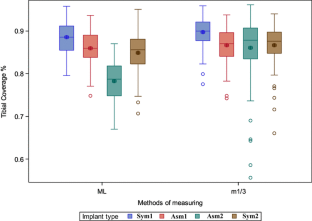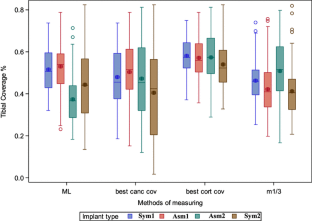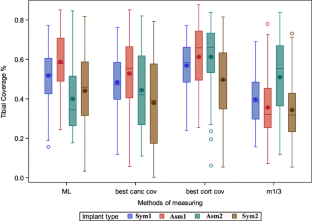 Abbreviations
TKR:

Total knee replacement

med-1/3-axis:

Medial-third-axis

ML-axis:

Medial-lateral-axis

TPC:

Tibial plateau center

MPC:

Medial plateau center

LPC:

Lateral plateau center

RGB:

Red Green Blue

PCL:

Posterior cruciate ligament

PTA:

Posterior tibial axis

AP:

Anteroposterior

ML:

Mediolateral

MCL:

Medio-collateral ligament

Sym1:

Attune

Sym2:

Sigma

Asym1:

Journey

Asym2:

Persona
References
1.

Akagi M, Matsusue Y, Mata T, Asada Y, Horiguchi M, Iida H, Nakamura T (1999) Effect of rotational alignment on patellar tracking in total knee arthroplasty. Clin Orthop Relat Res 366:155–163

2.

Akagi M, Oh M, Nonaka T, Tsujimoto H, Asano T, Hamanishi C (2004) An anteroposterior axis of the tibia for total knee arthroplasty. Clin Orthop Relat Res 420:213–219

3.

Berger RA, Crossett LS, Jacobs JJ, Rubash HE (1998) Malrotation causing patellofemoral complications after total knee arthroplasty. Clin Orthop Relat Res 356:144–153

4.

Bonnin MP, Schmidt A, Basiglini L, Bossard N, Dantony E (2013) Mediolateral oversizing influences pain, function, and flexion after TKA. Knee Surg Sports Traumatol Arthrosc 21(10):2314–2324

5.

Cicchetti DV (1994) Guidelines, criteria, and rules of thumb for evaluating normed and standardized assessment instruments in psychology. Psychol Assess 6(4):284–290

6.

Clary C, Aram L, Deffenbaugh D, Heldreth M (2014) Tibial base design and patient morphology affecting tibial coverage and rotational alignment after total knee arthroplasty. Knee Surg Sports Traumatol Arthrosc 22(12):3012–3018

7.

Cobb JP, Dixon H, Dandachli W, Iranpour F (2008) The anatomical tibial axis: reliable rotational orientation in knee replacement. J Bone Joint Surg Br 90(8):1032–1038

8.

Dai Y, Scuderi GR, Bischoff JE, Bertin K, Tarabichi S, Rajgopal A (2014) Anatomic tibial component design can increase tibial coverage and rotational alignment accuracy: a comparison of six contemporary designs. Knee Surg Sports Traumatol Arthrosc 22(12):2911–2923

9.

Dao Trong ML, Diezi C, Goerres G, Helmy N (2015) Improved positioning of the tibial component in unicompartmental knee arthroplasty with patient-specific cutting blocks. Knee Surg Sports Traumatol Arthrosc 23(7):1993–1998

10.

De Valk EJ, Noorduyn JCA, Mutsaerts ELAR. (2016) How to assess femoral and tibial component rotation after total knee arthroplasty with computed tomography: a systematic review. Knee Surg Sports Traumatol Arthrosc 24(11):3517–3528

11.

Fitz W, Bliss R, Losina E (2013) Current fit of medial and lateral unicompartmental knee arthroplasty. Acta Orthop Belg 79(2):191–196

12.

Gudena R, Pilambaraei MA, Werle J, Shrive NG, Frank CB (2013) A safe overhang limit for unicompartmental knee arthroplasties based on medial collateral ligament strains: an in vitro study. J Arthroplasty 28(2):227–233

13.

Hirakawa M, Miyazaki M, Ikeda S, Matsumoto Y, Kondo M, Tsumura H (2017) Evaluation of the rotational alignment of the tibial component in total knee arthroplasty: position prioritizing maximum coverage. Eur J Orthop Surg Traumatol 27(1):119–124

14.

Hirschmann MT, Konala P, Amsler F, Iranpour F, Friederich NF, Cobb JP (2011) The position and orientation of total knee replacement components: a comparison of conventional radiographs, transverse 2D-CT slices and 3D-CT reconstruction. J Bone Joint Surg Br 93(5):629–633

15.

Incavo SJ, Coughlin K, Pappas C, Beynnon B (2003) Anatomic rotational relationships of the proximal tibia, distal femur, and patella: implications for rotational alignment in total knee arthroplasty. J Arthroplasty 18(5):643–648

16.

Keshmiri A, Maderbacher G, Baier C, Zeman F, Grifka J, Springorum HR (2016) Significant influence of rotational limb alignment parameters on patellar kinematics: an in vitro study. Knee Surg Sports Traumatol Arthrosc 24(8):2407–2414

17.

Kutzner I (2012) Influence of limb alignment on mediolateral loading in total knee replacement: in vivo measurements in five patients. J Bone Joint Surg Am 94(11):1023

18.

Lawrie CM, Noble PC, Ismaily SK, Stal D, Incavo SJ (2011) The flexion-extension axis of the knee and its relationship to the rotational orientation of the tibial plateau. J Arthroplasty 26(6):53–58.e1

19.

Lützner J, Krummenauer F, Günther K, Kirschner S (2010) Rotational alignment of the tibial component in total knee arthroplasty is better at the medial third of tibial tuberosity than at the medial border. BMC Musculoskelet Disord 11:57

20.

Martin S, Saurez A, Ismaily S, Ashfaq K, Noble P, Incavo SJ (2014) Maximizing tibial coverage is detrimental to proper rotational alignment. Clin Orthop Relat Res 472(1):121–125

21.

Nicoll D, Rowley DI (2010) Internal rotational error of the tibial component is a major cause of pain after total knee replacement. J Bone Joint Surg Br 92(9):1238–1244

22.

Servien E, Saffarini M, Lustig S, Chomel S, Neyret P (2008) Lateral versus medial tibial plateau: morphometric analysis and adaptability with current tibial component design. Knee Surg Sports Traumatol Arthrosc 16(12):1141–1145

23.

Shrout P, Fleiss JL (1979) Intraclass correlations: uses in assessing rater reliability. Psychol Bull 86(2):420–428

24.

Silva A, Pinto E, Sampaio R (2016) Rotational alignment in patient-specific instrumentation in TKA: MRI or CT? Knee Surg Sports Traumatol Arthrosc 24(11):3648–3652

25.

Steinbrück A, Schröder C, Woiczinski M, Müller T, Müller PE, Jansson V, Fottner A (2016) Influence of tibial rotation in total knee arthroplasty on knee kinematics and retropatellar pressure: an in vitro study. Knee Surg Sports Traumatol Arthrosc 24(8):2395–2401

26.

Stulberg SD, Goyal N (2015) Which tibial tray design achieves maximum coverage and ideal rotation: anatomic, symmetric, or asymmetric? An MRI-based study. J Arthroplasty 30(10):1839–1841

27.

Uehara K, Kadoya Y, Kobayashi A, Ohashi H, Yamano Y (2002) Bone anatomy and rotational alignment in total knee arthroplasty. Clin Orthop Relat Res 402:196–201

28.

Wernecke G, Harris I, Houang M, Seeto B, Chen D, MacDessi S (2012) Comparison of tibial bone coverage of 6 knee prostheses: a magnetic resonance imaging study with controlled rotation. J Orthop Surg (Hong Kong) 20(2):143–147

29.

Westrich G, Haas S, Insall J, Frachie A (1995) Resection spe 373 cimen analysis of proximal tibial anatomy based on 100 total knee arthroplasty specimens. J Arthroplasty 10(1):47–51
Ethics declarations
Conflict of interest
The authors declare that they have no competing interests.
Funding
There was no outside funding or grants received that assisted in this study.
Ethical approval
This study has been performed in accordance with ethical standards concerning investigations in the United States of America.
Informed consent
For this type of article informed consent is not required.
About this article
Cite this article
Meier, M., Webb, J., Collins, J.E. et al. Do modern total knee replacements improve tibial coverage?. Knee Surg Sports Traumatol Arthrosc 26, 3219–3229 (2018). https://doi.org/10.1007/s00167-018-4836-3
Received:

Accepted:

Published:

Issue Date:
Keywords
Total knee arthroplasty

Tibial coverage

Rotational alignment

Total knee replacement

Tibial rotation