Abstract
Purpose
In order to evaluate whether overuse has a significant role in rotator cuff tear (RCT) aetiology, we evaluated both shoulders of patients with old unilateral arm amputation expecting a higher rate of RC degeneration in the healthy side.
Methods
Nineteen males and six females (mean age: 57.3 ± 10.1) with an old (>20 years) unilateral arm amputation were submitted to an MRI of both shoulders. Tendon status and muscle tropism were evaluated according to Sugaya and Fuchs classifications, respectively; the acromion humeral distance was measured. Statistical analysis was performed to verify the prevalence of Sugaya and Fuchs categories in each sides.
Results
A significant prevalence of Sugaya type II in the amputated side (p = 0.02) and of type I in the healthy side (p < 0.001) was found. Rotator cuff was healthy in 28 and 52% of amputated and non-amputated side, respectively. The mean acromio-humeral distances of the amputated and healthy side were 0.8 cm (SD: 0.1) and 0.9 cm (SD: 0.1), respectively, (p = 0.02). A significant prevalence of Fuchs type II category in the healthy side (p < 0.001) was found. Fuchs III/IV were observed in 40 and 12% of amputated and healthy side, respectively.
Conclusions
The present study resizes the role of overuse on the aetiology of RCT. Cuff tear prevalence in not amputated shoulders, inevitably submitted to functional overload, was not higher than that of coetaneous subjects with two functional upper limbs. Shoulder non-use is a risk factor for rotator cuff tear. As the prevalence of rotator cuff degeneration/tear is higher in the amputee side, non-use is a more relevant risk factor than overuse. In the daily clinical practice, patients with rotator cuff tear should be encouraged to shoulder movement because rotator cuff tendon status could be worsened by disuse.
Level of evidence
III.
Access options
Buy single article
Instant access to the full article PDF.
USD 39.95
Price includes VAT (USA)
Tax calculation will be finalised during checkout.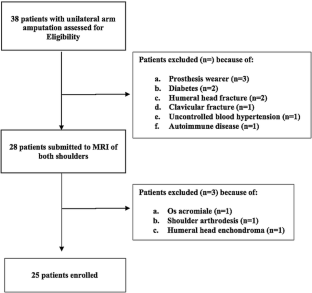 References
1.

Almekinders LC, Weinhold PS, Maffulli N (2003) Compression etiology in tendinopathy. Clin Sports Med 22:703–710

2.

Baumgarten KM, Gerlach D, Galatz LM, Teefey SA, Middleton WD, Ditsios K, Yamaguchi K (2010) Cigarette smoking increases the risk for rotator cuff tears. Clin Orthop Relat Res 468:1534–1541

3.

Biberthaler P, Wiedemann E, Nerlich A, Kettler M, Mussack T, Deckelmann S, Mutschler W (2003) Microcirculation associated with degenerative rotator cuff lesions. In vivo assessment with orthogonal polarization spectral imaging during arthroscopy of the shoulder. J Bone Jt Surg Am 85(3):475–480

4.

Bigliani LU, Morrison DS, April EW (1986) The morphology of the acromion and its relationship to rotator cuff tears. Orthop Trans 10:228

5.

Borisov AB, Huang S, Carlson BM (2000) Remodeling of the vascular bed and progressive loss of capillaries in denervated skeletal muscle. Anat Rec 258:292–304

6.

Carbone S, Gumina S, Arceri V, Campagna V, Fagnani C, Postacchini F (2012) The impact of preoperative smoking habit on rotator cuff tear: cigarette smoking influences rotator cuff tear sizes. J Shoulder Elbow Surg 21:56–60

7.

Carry MR, Ringel SP, Starcevich JM (1986) Distribution of capillaries in normal and diseased human skeletal muscle. Muscle Nerve 9:445–454

8.

Edelson JG, Taitz C (1992) Anatomy of the coraco-acromial arch. Relation to degeneration of the acromion. J Bone Jt Surg Br 74:589–594

9.

Fuchs B, Weishaupt D, Zanetti M, Hodler J, Gerber C (1999) Fatty degeneration of the muscles of the rotator cuff: assessment by computed tomography versus magnetic resonance imaging. J Shoulder Elbow Surg 8(6):599–605

10.

Garofalo R, Cesari E, Vinci E, Castagna A (2011) Role of metalloproteinases in rotator cuff tear. Sports Med Arthrosc 19:207–212

11.

Glass DJ (2003) Signalling pathways that mediate skeletal muscle hypertrophy and atrophy. Nat Cell Biol 5:87

12.

Gumina S, Arceri V, Carbone S, Albino P, Passaretti D, Campagna V, Fagnani C, Postacchini F (2013) The association between arterial hypertension and rotator cuff tear: the influence on rotator cuff tear sizes. J Shoulder Elbow Surg 22:229–232

13.

Gumina S, Arceri V, Fagnani C, Venditto T, Catalano C, Candela V, Nisticò L (2015) Subacromial space width: does overuse or genetics play a greater role in determining it? An MRI study on elderly twins. J Bone Jt Surg Am 97:1647–1652

14.

Gumina S, Candela V, Passaretti D, Latino G, Venditto T, Mariani L, Santilli V (2014) The association between body fat and rotator cuff tear: the influence on rotator cuff tear sizes. J Shoulder Elbow Surg 23:1669–1674

15.

Gumina S, Carbone S, Campagna V, Candela V, Sacchetti FM, Giannicola G (2013) The impact of aging on rotator cuff tear size. Musculoskelet Surg 97(Suppl 1):69–72

16.

Gumina S, Natalizi S, Melaragni F, Leopizzi M, Carbone S, Postacchini F, Milani A, Della Rocca C (2013) The possible role of the transcription factor nuclear factor-κB on evolution of rotator cuff tear and on mechanisms of cuff tendon healing. J Shoulder Elbow Surg 22:673–680

17.

Jones GC, Corps AN, Pennington CJ, Clark IM, Edwards DR, Bradley MM, Hazleman BL, Riley GP (2006) Expression profiling of metalloproteinases and tissue inhibitors of metalloproteinases in normal and degenerate human Achilles tendon. Arthritis Rheum 54:832–842

18.

Jozsa L, Kannus P, Thoring J, Reffy A, Jarvinen M, Kvist M (1990) The effect of tenotomy and immobilization on intramuscular connective tissue. J Bone Jt Surg 72B:293–297

19.

Kanatli U, Gemalmaz HC, Ozturk BY, Voyvoda NK, Tokgoz N, Bolukbasi S (2013) The role of radiological subacromial distance measurements in the subacromial impingement syndrome. Eur J Orthop Surg Traumatol 23(3):317–322

20.

Kandarian SC, Jackman RW (2006) Intracellular signaling during skeletal muscle atrophy. Muscle Nerve 33:155

21.

Kumagai J, Sarkar K, Uhthoff HK (1994) The collagen types in the attachment zone of rotator cuff tendons in the elderly: an immunohistochemical study. J Rheumatol 21:2096–2100

22.

Levy O, Relwani J, Zaman T, Even T, Venkateswaran B, Copeland S (2008) Measurement of blood flow in the rotator cuff using laser Doppler flowmetry. J Bone Jt Surg Br 90(7):893–898

23.

Lian Ø, Scott A, Engebretsen L, Bahr R, Duronio V, Khan K (2007) Excessive apoptosis in patellar tendinopathy in athletes. Am J Sports Med 35:605–611

24.

Longo UG, Franceschi F, Ruzzini L, Rabitti C, Morini S, Maffulli N, Forriol F, Denaro V (2007) Light microscopic histology of supraspinatus tendon ruptures. Knee Surg Sports Traumatol Arthrosc 15:1390–1394

25.

Michener LA, McClure PW, Karduna AR (2003) Anatomical and biomechanical mechanisms of subacromial impingement syndrome. Clin Biomech (Bristol, Avon) 18:369–379

26.

Milgrom C, Schaffler M, Gilbert S, van Holsbeeck M (1995) Rotator-cuff changes in asymptomatic adults. The effect of age, hand dominance and gender. J Bone Jt Surg Br 77(2):296–298

27.

Neer C, Poppen N (1987) Supraspinatus outlet. Orthop Trans 11:234

28.

Neer CS 2nd (1972) Anterior acromioplasty for the chronic impingement syndrome in the shoulder: a preliminary report. J Bone Jt Surg Am 54(1):41–50

29.

Oh JH, Kim JY, Lee HK, Choi JA (2010) Classification and clinical significance of acromial spur in rotator cuff tear: heel-type spur and rotator cuff tear. Clin Orthop Relat Res 468:1542–1550

30.

Papakonstantinou MK, Pan WR, le Roux CM, Richardson MD (2012) Arterial supply of the tendinous rotator cuff insertions: an anatomical study. ANZ J Surg 82:928–934

31.

Petersson C, Gentz C (1983) Ruptures of the supraspinatus tendon the tendon. The significance of distally pointing acromioclavicular osteophytes. Clin Orthop Relat Res 174:143–148

32.

Rathbun JB, Macnab I (1970) The microvascular pattern of the rotator cuff. J Bone Jt Surg Br 52:540–553

33.

Riley GP, Harrall RL, Constant CR, Chard MD, Cawston TE, Hazleman BL (1994) Glycosaminoglycans of human rotator cuff tendons: changes with age and in chronic rotator cuff tendinitis. Ann Rheum Dis 53:367–376

34.

Rudzki JR, Adler RS, Warren RF, Kadrmas WR, Verma N, Pearle AD, Lyman S, Fealy S (2008) Contrast-enhanced ultrasound characterization of the vascularity of the rotator cuff tendon: age- and activity-related changes in the intact asymptomatic rotator cuff. J Shoulder Elbow Surg 17(1):96S–100S

35.

Sugaya H, Maeda K, Matsuki K, Moriishi J (2007) Repair integrity and functional outcome after arthroscopic double-row rotator cuff repair. A prospective outcome study. J Bone Jt Surg Am 89:953–960

36.

Szomor ZL, Appleyard RC, Murrell GA (2006) Overexpression of nitric oxide synthases in tendon overuse. J Orthop Res 24:80–86

37.

Tempelhof S, Rupp S, Seil R (1999) Age-related prevalence of rotator cuff tears in asymptomatic shoulders. J Shoulder Elbow Surg 8:296–299

38.

Tyml K, Mathieu-Costello O (2001) Structural and functional changes in the microvasculature od disused skeletal muscle. Front Biosci 6:d45–d52

39.

Yamamoto A, Takagishi K, Osawa T, Yanagawa T, Nakajima D, Shitara H, Kobayashi T (2010) Prevalence and risk factors of a rotator cuff tear in the general population. J Shoulder Elbow Surg 19(1):116–120

40.

Yuan J, Murrell GA, Wei AQ, Wang MX (2002) Apoptosis in rotator cuff tendonopathy. J Orthop Res 20:1372–1379
Ethics declarations
Conflict of interest
The authors declare that they have no conflict of interest.
Funding
No external source of funding was used.
Ethical approval
The study was approved by the Ethical Committee of Sapienza University (Protocol: CE-ISS 05-113).
Informed consent
All participants signed an informed consent.
About this article
Cite this article
Gumina, S., Candela, V., Mariani, L. et al. Rotator cuff degeneration of the healthy shoulder in patients with unilateral arm amputation is not worsened by overuse. Knee Surg Sports Traumatol Arthrosc 26, 182–187 (2018). https://doi.org/10.1007/s00167-017-4619-2
Received:

Accepted:

Published:

Issue Date:
Keywords
Rotator cuff tear etiology

Shoulder overuse

Upper limb amputation

Rotator cuff hypovascularity

Sugaya classification

Fuchs classification