Abstract
Purpose
Long-term outcomes and the prevalence of osteoarthritis after surgical treatment of knee dislocations are lacking in the literature. The purpose of this study was to investigate the prevalence of knee osteoarthritis and knee function at a minimum of 10 years after knee dislocation surgery.
Methods
Sixty-five patients surgically treated for knee dislocations at a single level I trauma center between May 1996 and December 2004 were evaluated at a minimum of 10 years. Patients were evaluated with radiographs for knee osteoarthritis using the Kellgren–Lawrence (KL) grading system, Tegner activity score, Lysholm score, IKDC-2000, KOOS, subjective stability on physical examination, KT-1000 arthrometer, and single-leg hop tests. Osteoarthritis was defined as KL grades 2 or greater.
Results
The median follow-up time was 12.7 years (range 10.0–18.8 years), and the median age was 46.9 years (range 26.8–76.1 years). Radiographic osteoarthritis was present in 42% (23, 14, and 5% in KL grades II, III, and IV, respectively) of the patients in the operated knee compared to 6% in the uninjured knee. Knee function was generally improved with a median Tegner activity score of 4 (range 1–8), an average Lysholm score of 84 ± 17, and an average IKDC-2000 score of 73 ± 19.
Conclusion
Twenty-seven patients (42%) developed OA 10 years after surgical treatment of knee dislocations. Patients reported improved knee function and minimal-to-moderate pain. Age at surgery was a predictor of development of OA, with more patients >30 years at the time of surgery developing OA. Meniscal and cartilage injuries at time of surgery were not associated with development of OA. Patients being treated for knee dislocation should be counselled about the increased long-term risk of post-traumatic OA.
Level of evidence
III.
This is a preview of subscription content, log in to check access.
Access options
Buy single article
Instant access to the full article PDF.
US$ 39.95
Price includes VAT for USA
Subscribe to journal
Immediate online access to all issues from 2019. Subscription will auto renew annually.
US$ 199
This is the net price. Taxes to be calculated in checkout.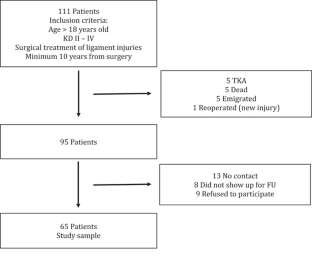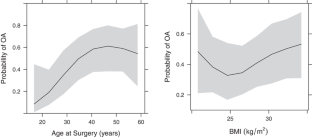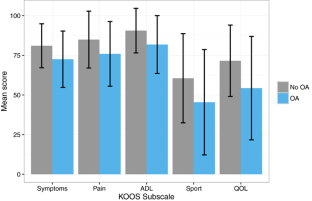 Abbreviations
ACL:

Anterior cruciate ligament

PCL:

Posterior cruciate ligament

MCL:

Medial collateral ligament

FCL:

Fibular collateral ligament

PLC:

Posterolateral corner

OA:

Osteoarthritis

IKDC:

International knee documentation committee

KOOS:

Knee injury and osteoarthritis outcome score

CPM:

Continuous passive motion

AL:

Anterolateral

ROM:

Range of motion
References
1.

Brautigan B, Johnson DL (2000) The epidemiology of knee dislocations. Clin Sports Med 19:387–397

2.

Fanelli GC, Edson CJ (2002) Arthroscopically assisted combined anterior and posterior cruciate ligament reconstruction in the multiple ligament injured knee: 2- to 10-year follow-up. Arthroscopy 18:703–714

3.

Irrgang JJ, Anderson AF, Boland AL, Harner CD, Kurosaka M, Neyret P, Richmond JC, Shelborne KD (2001) Development and validation of the international knee documentation committee subjective knee form. Am J Sports Med 29:600–613

4.

Lohmander LS, Englund PM, Dahl LL, Roos EM (2007) The long-term consequence of anterior cruciate ligament and meniscus injuries: osteoarthritis. Am J Sports Med 35:1756–1769

5.

Maffulli N, Binfield PM, King JB (2003) Articular cartilage lesions in the symptomatic anterior cruciate ligament-deficient knee. Arthroscopy 19:685–690

6.

Potter HG, Jain SK, Ma Y, Black BR, Fung S, Lyman S (2012) Cartilage injury after acute, isolated anterior cruciate ligament tear: immediate and longitudinal effect with clinical/MRI follow-up. Am J Sports Med 40:276–285

7.

Robertson A, Nutton RW, Keating JF (2006) Dislocation of the knee. J Bone Joint Surg Br 88:706–711

8.

Taylor AR, Arden GP, Rainey HA (1972) Traumatic dislocation of the knee. A report of forty-three cases with special reference to conservative treatment. J Bone Joint Surg Br 54:96–102

9.

Solomon DH, Simel DL, Bates DW, Katz JN, Schaffer JL (2001) The rational clinical examination. Does this patient have a torn meniscus or ligament of the knee? Value of the physical examination. Jama 286:1610–1620

10.

Tegner Y, Lysholm J (1985) Rating systems in the evaluation of knee ligament injuries. Clin Orthop Relat Res:43–49.

11.

Kothari M, Guermazi A, von Ingersleben G, Miaux Y, Sieffert M, Block JE, Stevens R, Peterfy CG (2004) Fixed-flexion radiography of the knee provides reproducible joint space width measurements in osteoarthritis. Eur Radiol 14:1568–1573

12.

Tandogan RN, Taser O, Kayaalp A, Taskiran E, Pinar H, Alparslan B, Alturfan A (2004) Analysis of meniscal and chondral lesions accompanying anterior cruciate ligament tears: relationship with age, time from injury, and level of sport. Knee Surg Sports Traumatol Arthrosc 12:262–270

13.

Twaddle BC, Bidwell TA, Chapman JR (2003) Knee dislocations: where are the lesions? A prospective evaluation of surgical findings in 63 cases. J Orthop Trauma 17:198–202

14.

Wascher DC, Dvirnak PC, DeCoster TA (1997) Knee dislocation: initial assessment and implications for treatment. J Orthop Trauma 11:525–529

15.

Dedmond BT, Almekinders LC (2001) Operative versus nonoperative treatment of knee dislocations: a meta-analysis. Am J Knee Surg 14:33–38

16.

Richter M, Bosch U, Wippermann B, Hofmann A, Krettek C (2002) Comparison of surgical repair or reconstruction of the cruciate ligaments versus nonsurgical treatment in patients with traumatic knee dislocations. Am J Sports Med 30:718–727

17.

Klineberg EO, Crites BM, Flinn WR, Archibald JD, Moorman CT 3rd (2004) The role of arteriography in assessing popliteal artery injury in knee dislocations. J Trauma 56:786–790

18.

Geeslin AG, LaPrade RF (2011) Outcomes of treatment of acute grade-III isolated and combined posterolateral knee injuries: a prospective case series and surgical technique. J Bone Joint Surg Am 93:1672–1683

19.

Caborn DN, Johnson BM (1993) The natural history of the anterior cruciate ligament-deficient knee. A review. Clin Sports Med 12:625–636

20.

Fanelli GC, Sousa PL, Edson CJ (2014) Long-term followup of surgically treated knee dislocations: stability restored, but arthritis is common. Clin Orthop Relat Res 472:2712–2717

21.

Hughston JC, Andrews JR, Cross MJ, Moschi A (1976) Classification of knee ligament instabilities. Part I. The medial compartment and cruciate ligaments. J Bone Joint Surg Am 58:159–172

22.

Kellgren JH, Lawrence JS (1957) Radiological assessment of osteo-arthrosis. Ann Rheum Dis 16:494–502

23.

Levy BA, Marx RG (2009) Outcome after knee dislocation. Knee Surg Sports Traumatol Arthrosc 17:1011–1012

24.

Briggs KK, Lysholm J, Tegner Y, Rodkey WG, Kocher MS, Steadman JR (2009) The reliability, validity, and responsiveness of the Lysholm score and Tegner activity scale for anterior cruciate ligament injuries of the knee: 25 years later. Am J Sports Med 37:890–897

25.

Hirschmann MT, Zimmermann N, Rychen T, Candrian C, Hudetz D, Lorez LG, Amsler F, Muller W, Friederich NF (2010) Clinical and radiological outcomes after management of traumatic knee dislocation by open single stage complete reconstruction/repair. BMC Musculoskelet Disord 11:102

26.

Rios A, Villa A, Fahandezh H, de Jose C, Vaquero J (2003) Results after treatment of traumatic knee dislocations: a report of 26 cases. J Trauma 55:489–494

27.

Noyes FR, Barber SD, Mangine RE (1991) Abnormal lower limb symmetry determined by function hop tests after anterior cruciate ligament rupture. Am J Sports Med 19:513–518

28.

Peskun CJ, Whelan DB (2011) Outcomes of operative and nonoperative treatment of multiligament knee injuries: an evidence-based review. Sports Med Arthrosc 19:167–173

29.

Plancher KD, Siliski J (2008) Long-term functional results and complications in patients with knee dislocations. J Knee Surg 21:261–268

30.

King AH, Krych AJ, Prince MR, Sousa PL, Stuart MJ, Levy BA (2015) Are meniscal tears and articular cartilage injury predictive of inferior patient outcome after surgical reconstruction for the dislocated knee? Knee Surg Sports Traumatol Arthrosc 23:3008–3011

31.

Wong CH, Tan JL, Chang HC, Khin LW, Low CO (2004) Knee dislocations-a retrospective study comparing operative versus closed immobilization treatment outcomes. Knee Surg Sports Traumatol Arthrosc 12:540–544

32.

O'Donoghue DH (1955) An analysis of end results of surgical treatment of major injuries to the ligaments of the knee. J Bone Joint Surg Am 37-a:1–13 passim.

33.

Dwyer T, Marx RG, Whelan D (2012) Outcomes of treatment of multiple ligament knee injuries. J Knee Surg 25:317–326

34.

Oiestad BE, Engebretsen L, Storheim K, Risberg MA (2009) Knee osteoarthritis after anterior cruciate ligament injury: a systematic review. Am J Sports Med 37:1434–1443

35.

Klimkiewicz JJ, Petrie RS, Harner CD (2000) Surgical treatment of combined injury to anterior cruciate ligament, posterior cruciate ligament, and medial structures. Clin Sports Med 19(479–492):vii

36.

Schenck RC Jr (1994) The dislocated knee. Instr Course Lect 43:127–136

37.

Levy NM, Krych AJ, Hevesi M, Reardon PJ, Pareek A, Stuart MJ, Levy BA (2015) Does age predict outcome after multiligament knee reconstruction for the dislocated knee? 2- to 22-year follow-up. Knee Surg Sports Traumatol Arthrosc 23:3003–3007

38.

Neuman P, Englund M, Kostogiannis I, Friden T, Roos H, Dahlberg LE (2008) Prevalence of tibiofemoral osteoarthritis 15 years after nonoperative treatment of anterior cruciate ligament injury: a prospective cohort study. Am J Sports Med 36:1717–1725

39.

Engebretsen L, Risberg MA, Robertson B, Ludvigsen TC, Johansen S (2009) Outcome after knee dislocations: a 2–9 years follow-up of 85 consecutive patients. Knee Surg Sports Traumatol Arthrosc 17:1013–1026

40.

Rihn JA, Groff YJ, Harner CD, Cha PS (2004) The acutely dislocated knee: evaluation and management. J Am Acad Orthop Surg 12:334–346

41.

Risberg MA, Oiestad BE, Gunderson R, Aune AK, Engebretsen L, Culvenor A, Holm I (2016) Changes in knee osteoarthritis, symptoms, and function after anterior cruciate ligament reconstruction: a 20-year prospective follow-up study. Am J Sports Med 44:1215–1224

42.

LaPrade RF, Johansen S, Wentorf FA, Engebretsen L, Esterberg JL, Tso A (2004) An analysis of an anatomical posterolateral knee reconstruction: an in vitro biomechanical study and development of a surgical technique. Am J Sports Med 32:1405–1414

43.

Team R (2015) A language and environment for statistical computing. R Foundation for Statistical Computing. 2015
Author contributions
L.E, S.L, and T.L were involved in patient treatment, study design, data analysis, and manuscript writing. R.F.L, G.M, and G.D were involved in study design, data analysis, and manuscript writing.
Ethics declarations
Conflict of interest
One or more of the authors have declared the following potential conflict of interest or source of funding: L.E.: Acta Orthopaedica: Editorial or governing board, AOSSM: Board or committee member, BJSM: Publishing royalties, financial or material support, ESSKA: Board or committee member, JBJS–American: Editorial or governing board, Knee: Editorial or governing board, KSSTA: Editorial or governing board. Research grants from Health South East Norway, Smith and Nephew and Biomet. Arthrex Inc. (consultant, IP royalties), R.F.L.: Arthrex Inc. (consultant, IP royalties, research support), Ossur (consultant, research support), Smith & Nephew (consultant, IP royalties, research support). G.M: South Eastern Norway Health Authorities (research grant), Arthrex Inc. (research grant). The other authors report no potential conflict of interest.
Ethical standards
Institutional Review Board approval was obtained (Regional Committee for Medical and Health Research Ethics South East Norway, Section C—IRB00001870 REK Sør-Øst C).
Informed consent
Informed consent was obtained from all individual participants included in the study.
About this article
Cite this article
Moatshe, G., Dornan, G.J., Ludvigsen, T. et al. High prevalence of knee osteoarthritis at a minimum 10-year follow-up after knee dislocation surgery. Knee Surg Sports Traumatol Arthrosc 25, 3914–3922 (2017). https://doi.org/10.1007/s00167-017-4443-8
Received:

Accepted:

Published:

Issue Date:
Keywords
Knee dislocation

Knee

Multiple ligament knee injury

Osteoarthritis