Abstract
Purpose
Rupture of the anterior cruciate ligament (ACL) is a common and debilitating injury that impacts significantly on knee function and risks the development of degenerative arthritis. The outcome of ACL surgery is not monitored in Australia. The optimal treatment is unknown. Consequently, the identification of best practice in treating ACL is crucial to the development of improved outcomes. The Australian Knee Society (AKS) asked the Australian Orthopaedic Association (AOA) to consider establishing a national ACL registry. As a first step, a pilot study was undertaken by the Australian Orthopaedic Association National Joint Replacement Registry (AOANJRR) to test the hypothesis that collecting the required information in the Australian setting was possible.
Methods
Surgeons completed an operative form which provided comprehensive information on the surgery undertaken. Patients provided pre- and post-operative questionnaires including the Knee Injury and Osteoarthritis Outcome Score (KOOS) and the Marx Activity Scale (MA Scale). The number of ACL procedures undertaken at each hospital during the recruitment period was compared against State Government Health Department separation data.
Results
A total of 802 patients were recruited from October 2011 to January 2013. The overall capture rate for surgeon-derived data was 99%, and the capture rate for the pre-operative patient questionnaire was 97.9%. At 6 months, patient-reported outcomes were obtained from 55% of patients, and 58.5% of patients at 12 months. When checked against State Government Health Department separation data, 31.3% of procedures undertaken at each study hospital were captured in the study.
Conclusion
It is possible to collect surgeon-derived and pre-operative patient-reported data, following ACL reconstruction in Australia. The need to gain patient consent was a limiting factor to participation. When patients did consent to participate in the study, we were able to capture nearly 100% of surgical procedures. Patient consent would not be an issue in for a national registry where inclusion is automatic unless the patient wishes to opt out. The collection of post-operative patient-reported outcome measures (PROMs) is more problematic, due to an insufficient proportion of individuals providing patient-reported outcomes. Alternative outcome measures are required for an ACL registry in Australia to be successfully implemented.
Level of evidence
Diagnostic, Level III.
This is a preview of subscription content, log in to check access.
Access options
Buy single article
Instant access to the full article PDF.
US$ 39.95
Price includes VAT for USA
Subscribe to journal
Immediate online access to all issues from 2019. Subscription will auto renew annually.
US$ 199
This is the net price. Taxes to be calculated in checkout.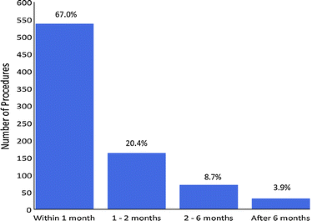 References
1.

Ahlden M, Samuelsson K, Sernert N, Forssblad M, Karlsson J, Kartus J (2012) The Swedish National Anterior Cruciate Ligament Register: a report on baseline variables and outcomes of surgery for almost 18,000 patients. Am J Sports Med 40:2230–2235

2.

Australian Orthopaedic Association National Joint Replacement Registry (2014) Annual Report AOA, Adelaide

3.

Buller LT, Best MJ, Baraga MG, Kaplan LD (2015) Trends in anterior cruciate ligament reconstruction in the United States. Orthop J Sports Med 3:2325967114563664

4.

Engebretsen L, Forssblad M (2009) Why knee ligament registries are important. Knee Surg Sports Traumatol Arthrosc 17:115–116

5.

Granan LP, Bahr R, Steindal K, Furnes O, Engebretsen L (2008) Development of a national cruciate ligament surgery registry: the Norwegian National Knee Ligament Registry. Am J Sports Med 36:308–315

6.

Granan LP, Baste V, Engebretsen L, Inacio MC (2015) Associations between inadequate knee function detected by KOOS and prospective graft failure in an anterior cruciate ligament-reconstructed knee. Knee Surg Sports Traumatol Arthrosc 23:1135–1140

7.

Granan LP, Forssblad M, Lind M, Engebretsen L (2009) The Scandinavian ACL registries 2004–2007: baseline epidemiology. Acta Orthop 80:563–567

8.

Graves SE (2010) The value of arthroplasty registry data. Acta Orthop 81:8–9

9.

Janssen KW, Orchard JW, Driscoll TR, van Mechelen W (2012) High incidence and costs for anterior cruciate ligament reconstructions performed in Australia from 2003–2004 to 2007–2008: Time for an anterior cruciate ligament register by Scandinavian model? Scand J Med Sci Sports 22:495–501

10.

Kolling C, Simmen BR, Labek G, Goldhahn J (2007) Key factors for a successful National Arthroplasty Register. J bone jt surg Br 89:1567–1573

11.

Kvist J, Kartus J, Karlsson J, Forssblad M (2014) Results from the Swedish national anterior cruciate ligament register. Arthroscopy 30:803–810

12.

Lind M, Menhert F, Pedersen AB (2009) The first results from the Danish ACL reconstruction registry: epidemiologic and 2 year follow-up results from 5818 knee ligament reconstructions. Knee Surg Sports Traumatol Arthrosc 17:117–124

13.

Lind M, Menhert F, Pedersen AB (2012) Incidence and outcome after revision anterior cruciate ligament reconstruction: results from the Danish registry for knee ligament reconstructions. Am J Sports Med 40:1551–1557

14.

Maletis GB, Inacio MC, Desmond JL, Funahashi TT (2013) Reconstruction of the anterior cruciate ligament: association of graft choice with increased risk of early revision. Bone Jt J (Br) 95:623–628

15.

Paxton EW, Namba RS, Maletis GB, Khatod M, Yue EJ, Davies M, Low RB Jr, Wyatt RW, Inacio MC, Funahashi TT (2010) A prospective study of 80,000 total joint and 5000 anterior cruciate ligament reconstruction procedures in a community-based registry in the United States. Bone Jt J (Am) 92:117–132

16.

Persson A, Fjeldsgaard K, Gjertsen JE, Kjellsen AB, Engebretsen L, Hole RM, Fevang JM (2014) Increased risk of revision with hamstring tendon grafts compared with patellar tendon grafts after anterior cruciate ligament reconstruction: a study of 12,643 patients from the Norwegian Cruciate Ligament Registry, 2004–2012. Am J Sports Med 42:285–291

17.

Rahr-Wagner L, Thillemann TM, Pedersen AB, Lind M (2014) Comparison of hamstring tendon and patellar tendon grafts in anterior cruciate ligament reconstruction in a nationwide population-based cohort study: results from the Danish registry of knee ligament reconstruction. Am J Sports Med 42:278–284

18.

Rahr-Wagner L, Thillemann TM, Pedersen AB, Lind MC (2013) Increased risk of revision after anteromedial compared with transtibial drilling of the femoral tunnel during primary anterior cruciate ligament reconstruction: results from the Danish Knee Ligament Reconstruction Register. Arthroscopy 29:98–105

19.

Roos EM, Lohmander LS (2003) The Knee injury and Osteoarthritis Outcome Score (KOOS): from joint injury to osteoarthritis. Health Qual Life Outcomes 1:64

20.

Spindler KP, Parker RD, Andrish JT, Kaeding CC, Wright RW, Marx RG, McCarty EC, Amendola A, Dunn WR, Huston LJ, Harrell FE Jr (2013) Prognosis and predictors of ACL reconstructions using the MOON cohort: a model for comparative effectiveness studies. J Orthop Res 31:2–9

21.

Swedish National ACL Register (2013) Annual Report 2013. The Swedish National Knee Ligament Register, Stockholm

22.

Ytterstad K, Granan LP, Ytterstad B, Steindal K, Fjeldsgaard KA, Furnes O, Engebretsen L (2012) Registration rate in the Norwegian Cruciate Ligament Register: large-volume hospitals perform better. Acta Orthop 83:174–178
Acknowledgements
The authors thank the AOA, AOANJRR and the hospitals, orthopaedic surgeons, and patients whose data made this work possible. The authors gratefully acknowledge all surgeons and hospital coordinators of the participating sites for their cooperation in completing the operation forms sent to the AOANJRR and the assistance from all office staff involved from surgeon private rooms during the recruitment period.
Authors' contribution
All authors actively worked on the development of the manuscript. SG, RC and DP designed the study. RP, HM, JF, PA, DH, BF, JR and RC recruited the participants and collected data. CL coordinated the study: liaised with the hospitals and clinicians, gained ethics approval and conducted the patient notifications. ML analysed the data and prepared the tables and figures. CL, SG, RC and CL prepared an initial draft of the manuscript. SR and SG prepared the final draft, and all authors edited the manuscript, and read and approved the final version of the manuscript.
Ethics declarations
Conflict of interest
The authors have no conflict of interest to declare.
Funding
Funding for the pilot study was provided by the AOANJRR through its contract between the AOA and the Commonwealth of Australia's Department of Health and Ageing.
Ethical approval
The study was approved by the Commonwealth of Australia as a Declaration of Quality Assurance Activity under section 124X of the Health Insurance Act, 1973. All investigations were conducted in accordance with ethical principles of research (the Helsinki Declaration II).
Informed consent
Informed consent was obtained from all individual participants included in the study.
About this article
Cite this article
Lekkas, C., Clarnette, R., Graves, S.E. et al. Feasibility of establishing an Australian ACL registry: a pilot study by the Australian Orthopaedic Association National Joint Replacement Registry (AOANJRR). Knee Surg Sports Traumatol Arthrosc 25, 1510–1516 (2017). https://doi.org/10.1007/s00167-016-4398-1
Received:

Accepted:

Published:

Issue Date:
Keywords
Knee reconstruction

Knee ligaments

ACL

General sports trauma

Clinical assessment/grading scales

Anterior cruciate ligament