Abstract
Purpose
The shoulder manual resistance test is one of the common clinical assessments for patients with muscle weakness. However, there have been no studies investigating the threshold for muscle weakness. The purpose of this study was to clarify the threshold for muscle weakness in the shoulder manual muscle resistance test.
Methods
Fifty-three patients (37.9 ± 20.6 years old) with either rotator cuff tear (21 patients), superior labrum anterior-to-posterior (SLAP) lesion (7 patients), or Bankart lesion (25 patients) of one shoulder were administered three manual muscle resistance tests (abduction strength, external rotation, and belly press tests). Positive results in these tests were defined as a subjective weakness in the involved shoulder compared to the opposite shoulder. Based on this result, the patients were divided into positive and negative groups. Another observer measured isometric strength using a hand-held dynamometer and calculated the side-to-side ratio. Comparing instrument measurement with manual measurement, the cut-off point, at which we can recognise that there is a side-to-side difference, was calculated by receiver operating characteristic analysis.
Results
The cases with less than 60% of the muscle strength in the contralateral shoulder were judged as positive in all examinations, whereas among the cases with 60–90% of muscle strength, there was a mixture of negative and positive determinations. The cut-off point was 78.9% in the abduction strength test, 73.8% in the external rotation test, and 84.0% in the belly press test.
Conclusion
The side-to-side difference could be manually detected, when muscle strength was less than 75–85% of that on the contralateral side. This finding suggests that it is necessary to understand the limitation of these manual tests in the case of clinical examinations. Therefore, care must be taken for the shoulder manual muscle resistance test as muscle weakness cannot be fully detected by manual measurement.
Level of evidence
Case–control study, Level IV.
Access options
Buy single article
Instant access to the full article PDF.
USD 39.95
Price excludes VAT (USA)
Tax calculation will be finalised during checkout.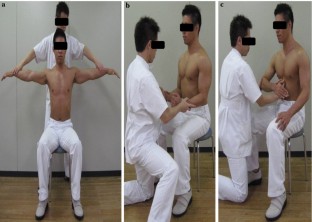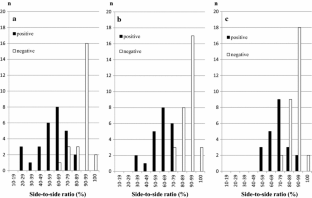 References
Barth JR, Burkhart SS, De Beer JF (2006) The bear-hug test: a new and sensitive test for diagnosing a subscapularis tear. Arthroscopy 22(10):1076–1084

Batalha NM, Raimundo AM, Tomas-Carus P, Barbosa TM, Silva AJ (2013) Shoulder rotator cuff balance, strength, and endurance in young swimmers during a competitive season. J Strength Cond Res 27(9):2562–2568

Beasley WC (1956) Influence of method on estimates of normal knee extensor force among normal and post polio children. Phys Ther Rev 36(1):21–41

Bohannon RW (1997) Discriminant construct validity of hand-held dynamometry and manual muscle testing in a home care setting. J Phys Ther Sci 9:57–61

Calis M, Akgün K, Birtane M, Karacan I, Caliş H, Tüzün F (2000) Diagnostic values of clinical diagnostic tests in subacromial impingement syndrome. Ann Rheum Dis 59(1):44–47

Gerber C, Hersche O, Farron A (1996) Isolated rupture of the subscapularis tendon. J Bone Jt Surg Am 78(7):1015–1023

Golebiewska JA, Mastalerz A, Zieliński JR (2008) Isokinetic muscle torque during glenohumeral rotation in dominant and nondominant limbs. Acta Bioeng Biomech 10(2):69–73

Hawkins RJ, Kennedy JC (1980) Impingement syndrome in athletes. Am J Sports Med 8(3):151–158

Hegedus EJ, Goode AP, Cook CE, Michener L, Myer CA, Myer DM, Wright AA (2012) Which physical examination tests provide clinicians with the most value when examining the shoulder? Update of a systematic review with meta-analysis of individual tests. Br J Sports Med 46:964–978

Itoi E, Minagawa H, Yamamoto N, Seki N, Abe H (2006) Are pain location and physical examinations useful in locating a tear site of the rotator cuff? Am J Sports Med 34(2):256–264

Kessel L, Watoson M (1977) The painful arc syndrome. Clinical classification as a guide to management. J Bone Jt Surg Br 59(2):166–172

Kim E, Jeong HJ, Lee KW, Song JS (2006) Interpreting positive signs of the supraspinatus test in screening for torn rotator cuff. Acta Med Okayama 60(4):223–228

Konrad GG, Jolly JT, Labriola JE, McMahon PJ, Debski RE (2006) Thoracohumeral muscle activity alters glenohumeral joint biomechanics during active abduction. J Orthop Res 24(4):748–756

Kronberg M, Németh G, Broström LA (1990) Muscle activity and coordination in the normal shoulder. An electromyographic study. Clin Orthop Relat Res 257:76–85

Kuechle DK, Newman SR, Itoi E, Niebur GL, Morrey BF, An KN (2000) The relevance of the moment arm of shoulder muscles with respect to axial rotation of the glenohumeral joint in four positions. Clin Biomech 15(5):322–329

Labriola JE, Lee TQ, Debski RE, McMahon PJ (2005) Stability and instability of the glenohumeral joint: the role of shoulder muscles. J Shoulder Elb Surg 14:32S–38S

Leggin BG, Neuman RM, Iannotti JP, Williams GR, Thompson EC (1996) Intrarater and interrater reliability of three isometric dynamometers in assessing shoulder strength. J Shoulder Elb Surg 5(1):18–24

Leroux JL, Thomas E, Bonnel F, Blotman F (1995) Diagnostic value of clinical tests for shoulder impingement syndrome. Rev Rhum Engl Ed 62(6):423–428

Malanga GA, Jenp YN, Growney ES, An KN (1996) EMG analysis of shoulder positioning in testing and strengthening the supraspinatus. Med Sci Sports Exerc 28(6):661–664

Mall NA, Kim HM, Keener JD, Steger-May K, Teefey SA, Middleton WD, Stobbs G, Yamaguchi K (2010) Symptomatic progression of asymptomatic rotator cuff tears: a prospective study of clinical and sonographic variables. J Bone Jt Surg Am 92(16):2623–2633

Murrell GA, Walton JR (2001) Diagnosis of rotator cuff tears. Lancet 357:769–770

Park HB, Yokota A, Gill HS, El Rassi G, McFarland EG (2005) Diagnostic accuracy of clinical tests for the different degrees of subacromial impingement syndrome. J Bone Jt Surg Am 87(7):1446–1455

Perry J, Weiss WB, Burnfield JM, Gronley JK (2004) The supine hip extensor manual muscle test: a reliability and validity study. Arch Phys Med Rehabil 85(8):1345–1350

Pollard H, Lakay B, Tucker F, Watson B, Bablis P (2005) Interexaminer reliability of the deltoid and psoas muscle test. J Manip Physiol Ther 28(1):52–56

Roy JS, MacDermid JC, Orton B, Tran T, Faber KJ, Drosdowech D, Athwal GS (2009) The concurrent validity of a hand-held versus a stationary dynamometer in testing isometric shoulder strength. J Hand Ther 22(4):320–326

Sharkey NA, Marder RA (1995) The rotator cuff opposes superior translation of the humeral head. Am J Sports Med 23(3):270–275

Tokish JM, Decker MJ, Ellis HB, Torry MR, Hawkins RJ (2003) The belly-press test for the physical examination of the subscapularis muscle: electromyographic validation and comparison to the lift-off test. J Shoulder Elb Surg 12(5):427–430

Turner N, Ferguson K, Mobley BW, Riemann B, Davies G (2009) Establishing normative data on scapulothoracic musculature using handheld dynamometry. J Sport Rehabil 18:502–520
Ethics declarations
Conflict of interest
All of the authors have no conflict of interest to disclose.
Funding
All authors, their immediate family, and any research foundation with which they are affiliated did not receive any financial payments or other benefits from any commercial entity related to the subject of this article.
Ethical approval
All procedures performed in studies involving human participants were in accordance with the ethical standards of Osaka Kosei-nenkin Hospital and with the 1964 Helsinki declaration and its later amendments or comparable ethical standards.
Informed consent
Informed consent was obtained from all individual participants included in the study.
About this article
Cite this article
Nagatomi, T., Mae, T., Nagafuchi, T. et al. Shoulder manual muscle resistance test cannot fully detect muscle weakness. Knee Surg Sports Traumatol Arthrosc 25, 2081–2088 (2017). https://doi.org/10.1007/s00167-016-4380-y
Received:

Accepted:

Published:

Issue Date:

DOI: https://doi.org/10.1007/s00167-016-4380-y
Keywords
Abduction strength test

External rotation test

Belly press test

Rotator cuff tear

Muscle weakness

Cut-off point