Abstract
Purpose
The objective of this study was to evaluate whether women with knee osteoarthritis performing a rehabilitation programme consisting of low-load exercises combined with PVO exhibited the same results in changes in quadriceps strength, pain relief, and functional improvement when compared to women receiving a programme consisting of high-load exercises without PVO.
Methods
Thirty-four women (mean age, 61 years) with a diagnosis of knee osteoarthritis were randomly assigned to a conventional or occlusion group. The women in the conventional group (n = 17) performed a 6-week quadriceps strengthening and stretching programme using a load around 70 % of the 1-repetition maximum (RM). The women in the occlusion group (n = 17) performed the same programme, however, only using a load around 30 % of the 1-RM, while PVO was induced. The PVO was achieved using a pressure cuff applied to the upper third of the thigh and inflated to 200 mmHg during the quadriceps exercise. An 11-point Numerical Pain Rating Scale (NPRS), the Lequesne questionnaire, the Timed-Up and Go (TUG) test, and muscle strength measurement using a hand-held dynamometer were used as outcome measures at baseline (pretreatment) and at the end of the 6-week of treatment. Pain, using the NPRS, was also assessed when performing the quadriceps exercises during the exercise sessions.
Results
At baseline, demographic, strength, pain, and functional assessment data were similar between groups. Patients from both the conventional and occlusion groups had a higher level of function (Lequesne and TUG test), less pain (NPRS), and higher quadriceps strength at the 6-week evaluation when compared to baseline (all P < 0.05). However, the between-group analysis showed no differences for all outcomes variables at posttreatment (n.s.). Patients in the occlusion group experienced less anterior knee discomfort during the treatment sessions than those in the high-load exercise group (P < 0.05).
Conclusion
A rehabilitation programme that combined PVO to low-load exercise resulted in similar benefits in pain, function, and quadriceps strength than a programme using high-load conventional exercise in patients with knee osteoarthritis. However, the use of PVO combined with low-load exercise resulted in less anterior knee pain during the training sessions.
Level of evidence
I.
Access options
Buy single article
Instant access to the full article PDF.
US$ 39.95
Tax calculation will be finalised during checkout.
Subscribe to journal
Immediate online access to all issues from 2019. Subscription will auto renew annually.
US$ 119
Tax calculation will be finalised during checkout.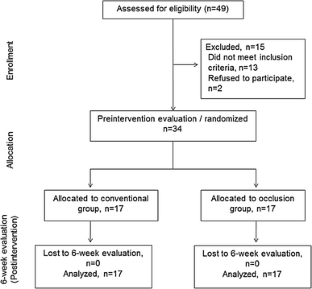 References
1.

American College of Sports Medicine Position Stand (ACSM) (2009) Progression models in resistance training for healthy adults. Med Sci Sports Exerc 41:687–708

2.

Anwer S, Alghadir A (2014) Effect of isometric quadriceps exercise on muscle strength, pain, and function in patients with knee osteoarthritis: a randomized controlled study. J Phys Ther Sci 26:745–748

3.

Alfredo PP, Bjordal JM, Dreyer SH et al (2011) Efficacy of low level laser therapy associated with exercises in knee osteoarthritis: a randomized double-blind study. Clin Rehabil 26(6):523–533

4.

Bellamy N, Carette S, Ford PM et al (1992) Osteoarthritis antirheumatic drug trials, III: setting the delta for clinical trials: results of a consensus development exercise. J Rheumatol 19:451–457

5.

Clark BC, Manini TM, Hoffman RL et al (2010) Relative safety of 4 weeks of blood flow-restricted resistance exercise in young, healthy adults. Scand J Med Sci Sports 21(5):653–662

6.

Deones VL, Wiley SC, Worrell T (1994) Assessment of quadriceps muscle performance by a hand-held dynamometer and an isokinetic dynamometer. J Orthop Sports Phys Ther 20(6):296–301

7.

Escamilla RF, Fleisig GS, Zheng N, Barrentina SW, Wilk KE, Andrews JR (1998) Biomechanics of the knee during closed kinetic chain and open kinetic chain exercises. Med Sci Sports Exerc 30(4):556–569

8.

Fernandes L, Hagen KB, Bijlsma JQJ et al (2013) EULAR recommendations for the non-pharmacological core management of hip and knee osteoarthritis. Ann Rheum Dis 0:1–11

9.

Fitzgerald GK, Piva SR, Irrgang JJ, Bouzubar F, Starz TW (2004) Quadriceps activation failure as a moderator of the relationship between quadriceps strength and physical function in individuals with knee osteoarthritis. Arthritis Rheum 51:40–48

10.

Fujita S, Abe T, Drummond MJ, Cadenas JG, Dreyer HC (2007) Blood flow restriction during low-intensity resistance exercise increases S6K1 phosphorylation and muscle protein synthesis. J Appl Physiol 103:903–910

11.

Hochberg MC, Altman RD, Brandt KD et al (1995) Guidelines for the medical management of osteoarthritis. Part II. Osteoarthritis of the knee. American College of Rheumatology. Arthritis Rheum 38:1541–1546

12.

Jan MH, Lin CH, Lin YF, Lin JJ, Lin DH (2009) Effects of weight-bearing versus nonweight-bearing exercise on function, walking speed, and position sense in participants with knee osteoarthritis: a randomized controlled trial. Arch Phys Med Rehabil 90:897–904

13.

Kellgren JH, Lawrence JS (1957) Radiological assessment of rheumatoid arthritis. Ann Rheum Dis 16:485–493

14.

Kraemer WJ, Adams K, Cafarelli E et al (2002) American College of sports medicine position stand. Progression models in resistance training for healthy adults. Med Sci Sports Exerc 34:364–380

15.

Laurentino G, Ugrinowitsch C, Aihara AY et al (2008) Effects of strength training and vascular occlusion. Int J Sports Med 29:664–667

16.

Lequesne MG (1997) The algofunctional indices for hip and knee osteoarthritis. J Rheumatol 24:779–781

17.

Loenneke JP, Wilson GJ, Wilson JM (2010) Mechanistic approach to blood flow occlusion. Int J Sports Med 31:1–4

18.

Loenneke JP, Wilson JM, Wilson GJ, Pujol TJ, Bemben MG (2011) Potential safety issues with blood flow restriction training. Scand J Med Sci Sports 21(4):510–518

19.

Manini TM, Clark BC (2009) Blood flow restricted exercise and skeletal muscle health. Exerc Sport Sci Rev 37(2):78–85

20.

Marx FC, Oliveira LM, Bellini CG, Ribeiro MC (2006) Tradução e validação cultural do questionário algofuncional de Lequesne para osteoartrite de joelho e quadris para a língua portuguesa. Rev Bras Reumatol 46:253–260

21.

Ohta H, Kurosawa H, Ikeda H, Iwase Y, Satou N, Nakamura S (2003) Low-load resistance muscular training with moderate restriction of blood flow after anterior cruciate ligament reconstruction. Acta Orthop Scand 74(1):62–68

22.

O'Reilly SC, Jones A, Muir KR, Doherty M (1998) Quadriceps weakness in knee osteoarthritis: the effect on pain and disability. Ann Rheum Dis 57:588–594

23.

Park SH, Hwangbo G (2015) Effects of combined application of progressive resistance training and Russian electrical stimulation on quadríceps femoris muscle strength in elderly women with knee osteoarthritis. J Phys Ther Sci 27:729–731

24.

Piva SR, Goodnite EA, Childs JD (2005) Strength around the hip and flexibility of soft tissues in individuals with and without patellofemoral pain syndrome. J Orthop Sports Phys Ther 35(12):793–801

25.

Podsiadlo D, Richardson S (1991) The timed "Up & Go": a test of basic functional mobility for frail elderly persons. J Am Geriatr Soc 39(2):142–148

26.

Salaffi F, Stancati A, Silvestri CA, Ciapetti A, Grassi W (2004) Minimal clinically important changes in chronic musculoskeletal pain intensity measured on a numerical rating scale. Eur J Pain 8:283–291

27.

Shinohara M, Yoshihisa MKT, Fukunaga T (1998) Efficacy of tourniquet ischemia for strength training with low resistance. Eur J Appl Physiol 77:189–191

28.

Steinkamp LA, Dillingham MF, Markel MD, Hill JA, Kaufman KR (1993) Biomechanical considerations in patellofemoral joint rehabilitation. Am J Sports Med 21:438–444

29.

Sumide T, Sakuraba K, Sawaki K, Ohmura H, Tamura Y (2009) Effect of resistance exercise training combined with relatively low vascular occlusion. J Sci Med Sport 12:107–112

30.

Takarada Y, Takazawa H, Sato Y, Takebayashi S, Tanaka Y, Ishii N (2000) Effects of resistance exercise combined with moderate vascular occlusion on muscular function in humans. J Appl Physiol 88(6):2097–2106

31.

Trudelle-Jackson E, Jackson AW, Frankowski CM, Long KM, Meske NB (1994) Interdevice reliability and validity assessment of the Nicholas hand-held dynamometer. J Orthop Sports Phys Ther 20(6):302–306

32.

Wernbom M, Augustsson J, Raastad T (2008) Ischemic strength training: a low-load alternative to heavy resistance exercise? Scand J Med Sci Sports 18:401–416

33.

Woollard JD, Gil AB, Sparto P, Kwoh K, Piva SR, Farrokhi S, Powers CM, Fitzgerald CK (2011) Change in knee cartilage volume in individuals completing a therapeutic exercise program for knee osteoarthritis. J Orthop Sports Phys Ther 41(10):708–722

34.

Yasuda T, Ogasawara R, Sakamak M, Ozaki H, Sato Y, Abe T (2011) Combined effects of low-intensity blood flow restriction training and high-intensity resistance training on muscle strength and size. Eur J Appl Physiol 10:2525–2533
Ethics declarations
Conflict of interest
The authors declared that they have no conflict of interest for this study.
About this article
Cite this article
Bryk, F.F., dos Reis, A.C., Fingerhut, D. et al. Exercises with partial vascular occlusion in patients with knee osteoarthritis: a randomized clinical trial. Knee Surg Sports Traumatol Arthrosc 24, 1580–1586 (2016). https://doi.org/10.1007/s00167-016-4064-7
Received:

Accepted:

Published:

Issue Date:
Keywords
Resistance training

Muscle strength

Rehabilitation

Ischaemia

Occlusion