Abstract
Purpose
To assess potentially predictive factors that were evaluated 1 year after the onset of symptoms in patients with spontaneous osteonecrosis of the knee (SONK) and to determine receiver operating characteristic (ROC) curve cut-off values.
Methods
Within 1 year of symptom onset, patients with SONK-selected treatment options, mainly based on severity of pain, chose either conservative treatment (n = 27 knees) or operative treatment (n = 27 knees). Knee and whole-leg radiographs, knee MRIs and bone mineral density scans of the lumbar spine, femoral neck and femoral condyles were obtained. The parameters measured were: (1) anatomical angle on whole-leg radiograph and (2) lesion size and medial meniscus extrusion on MRI.
Results
The anatomical angle and lesion size in the sagittal section (depth) on MRI were markedly larger in the operative treatment group than those in the conservative treatment group. The anatomical angle and depth on MRI of SONK at Stages 1–3 were significantly different between groups, with odds ratios (95 % confidence intervals) of 1.16 (1.18–2.34) and 1.11 (1.01–1.23). One year after symptom onset, ROC curve cut-off value for anatomical angle was 180° and depth on MRI was 20 mm.
Conclusion
An anatomical angle >180° and depth >20 mm on MRI were predictive factors for a poorer prognosis 1 year after symptom onset in patients with SONK. Our results on radiographs and MRI provided a predictive prognosis for patients with SONK at the initial visit to their orthopaedic surgeons.
Level of evidence
III.
Access options
Buy single article
Instant access to the full article PDF.
US$ 39.95
Tax calculation will be finalised during checkout.
Subscribe to journal
Immediate online access to all issues from 2019. Subscription will auto renew annually.
US$ 119
Tax calculation will be finalised during checkout.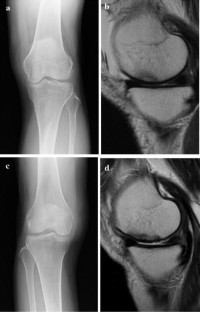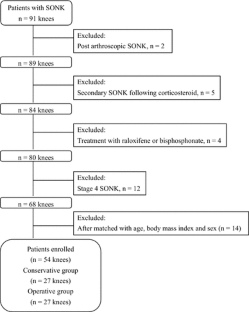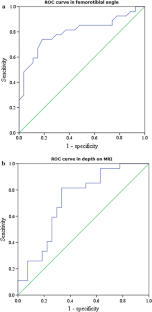 References
1.

Aglietti P, Insall JN, Buzzi R, Deschamps G (1983) Idiopathic osteonecrosis of the knee: aetiology, prognosis and treatment. J Bone Jt Surg Br 65:588–597

2.

Ahlbäck S, Bauer GC, Bohne WH (1968) Spontaneous osteonecrosis of the knee. Arthritis Rheum 11:705–733

3.

Akamatsu Y, Koshino T, Saito T, Wada J (1997) Changes in osteosclerosis of the osteoarthritic knee after high tibial osteotomy. Clin Orthop Relat Res 334:207–214

4.

Akamatsu Y, Mitsugi N, Hayashi T, Kobayashi H, Saito T (2012) Low bone mineral density is associated with the onset of spontaneous osteonecrosis of the knee. Acta Orthop 83:249–255

5.

al-Rowaih A, Lindstrand A, Björkengren A, Wingstrand H, Thorngren KG (1991) Osteonecrosis of the knee: diagnosis and outcome in 40 patients. Acta Orthop Scand 62:19–23

6.

Aratake M, Yoshifumi T, Takahashi A, Takeuchi R, Inoue T, Saito T (2009) Evaluation of lesion in a spontaneous osteonecrosis of the knee using 18F-fluoride positron emission tomography. Knee Surg Sports Traumatol Arthrosc 17:53–59

7.

Björkengren AG, AlRowaih A, Lindstrand A, Wingstrand H, Thorngren KG, Pettersson H (1990) Spontaneous osteonecrosis of the knee: value of MR imaging in determining prognosis. Am J Roentgenol 154:331–336

8.

Breer S, Oheim R, Krause M, Marshall RP, Amling M, Barvencik F (2013) Spontaneous osteonecrosis of the knee (SONK). Knee Surg Sports Traumatol Arthrosc 21:340–345

9.

Costa CR, Morrison WB, Carrino JA (2004) Medial meniscus extrusion on knee MRI: is extent associated with severity of degeneration or type of tear? AJR Am J Roentgenol 183:17–23

10.

Holland JC, Brennan O, Kennedy OD, Rackard S, O'Brien FJ, Lee TC (2013) Subchondral osteopenia and accelerated bone remodelling post-ovariectomy—a possible mechanism for subchondral microfractures in the aetiology of spontaneous osteonecrosis of the knee? J Anat 222:231–238

11.

Houpt JB, Pritzker KP, Alpert B, Greyson ND, Gross AE (1983) Natural history of spontaneous osteonecrosis of the knee (SONK): a review. Semin Arthritis Rheum 13:212–227

12.

Insall JN, Dorr LD, Scott RD, Scott WN (1989) Rationale of the Knee Society clinical rating system. Clin Orthop Relat Res 248:13–14

13.

Jureus J, Lindstrand A, Geijer M, Roberts D, Tägil M (2012) Treatment of spontaneous osteonecrosis of the knee (SPONK) by a bisphosphonate. Acta Orthop 83:511–514

14.

Juréus J, Lindstrand A, Geijer M, Robertsson O, Tägil M (2013) The natural course of spontaneous osteonecrosis of the knee (SPONK): a 1- to 27-year follow-up of 40 patients. Acta Orthop 84:410–414

15.

Kellgren JH, Lawrence JS (1957) Radiological assessment of osteo-arthrosis. Ann Rheum Dis 16:494–502

16.

Koshino T (1982) The treatment of spontaneous osteonecrosis of the knee by high tibial osteotomy with and without bone-grafting or drilling of the lesion. J Bone Jt Surg Am 64:47–58

17.

Kraenzlin ME, Graf C, Meier C, Kraenzlin C, Friedrich NF (2010) Possible beneficial effect of bisphosphonates in osteonecrosis of the knee. Knee Surg Sports Traumatol Arthrosc 18:1638–1644

18.

Lecouvet FE, van de Berg BC, Maldague BE, Lebon CJ, Jamart J, Saleh M, Noël H, Malghem J (1998) Early irreversible osteonecrosis versus transient lesions of the femoral condyles: prognostic value of subchondral bone and marrow changes on MR imaging. Am J Roentgenol 170:71–77

19.

Lobenhoffer P, Heerwaarden RV, Staubli AE, Jakob RP, Galla M, Agneskirshner JD (2008) Osteotomies around the knee: indications–planning–surgical techniques using plate fixators. Thieme, Stuttgart and New York, pp 5–14

20.

Lotke PA, Abend JA, Ecker ML (1982) The treatment of osteonecrosis of the medial femoral condyle. Clin Orthop Relat Res 171:109–116

21.

Lotke PA, Ecker ML (1988) Osteonecrosis of the knee. J Bone Jt Surg Am 70:470–473

22.

Marcheggiani Muccioli GM, Grassi A, Setti S, Filardo G, Zambelli L, Bonanzinga T, Rimondi E, Busacca M, Zaffagnini S (2013) Conservative treatment of spontaneous osteonecrosis of the knee in the early stage: pulsed electromagnetic fields therapy. Eur J Radiol 82:530–537

23.

Marti CB, Rodriguez M, Zanetti M, Romero J (2000) Spontaneous osteonecrosis of the medial compartment of the knee: a MRI follow-up after conservative and operative treatment, preliminary results. Knee Surg Sports Traumatol Arthrosc 8:83–88

24.

Mont MA, Baumgarten KM, Rifai A, Bluemke DA, Jones LC, Hungerford DS (2000) Atraumatic osteonecrosis of the knee. J Bone Jt Surg Am 82:1279–1290

25.

Motohashi M, Morii T, Koshino T (1991) Clinical course and roentgenographic changes of osteonecrosis in the femoral condyle under conservative treatment. Clin Orthop Relat Res 266:156–161

26.

Muheim G, Bohne WH (1970) Prognosis in spontaneous osteonecrosis of the knee: investigation by radionuclide scintimetry and radiography. J Bone Jt Surg Br 52:605–612

27.

Odenbring S, Berggren AM, Peil L (1993) Roentgenographic assessment of the hip-knee-ankle axis in medial gonarthrosis. A study of reproducibility. Clin Orthop Relat Res 289:195–196

28.

Robertson DD, Armfield DR, Towers JD, Irrgang JJ, Maloney WJ, Harner CD (2009) Meniscal root injury and spontaneous osteonecrosis of the knee: an observation. J Bone Jt Surg Br 91:190–195

29.

Saito T, Takeuchi R, Mitsuhashi S, Uesugi M, Yoshida T, Koshino T (2002) Use of joint fluid analysis for determining cartilage damage in osteonecrosis of the knee. Arthritis Rheum 46:1813–1819

30.

Sung JH, Ha JK, Lee DW, Seo WY, Kim JG (2013) Meniscal extrusion and spontaneous osteonecrosis with root tear of medial meniscus: comparison with horizontal tear. Arthroscopy 29:726–732

31.

Takahashi T, Yamanaka N, Komatsu M, Ogawa Y, Yoshida S, Yamamoto H (2004) A new computer-assisted method for measuring the tibio-femoral angle in patients with osteoarthritis of the knee. Osteoarthr Cartil 12:256–259

32.

Takeuchi R, Aratake M, Bito H, Saito I, Kumagai K, Hayashi R, Sasaki Y, Akamatsu Y, Ishikawa H, Amakado E, Aota Y, Saito T (2009) Clinical results and radiographical evaluation of opening wedge high tibial osteotomy for spontaneous osteonecrosis of the knee. Knee Surg Sports Traumatol Arthrosc 17:361–368

33.

Tegner Y, Lysholm J (1985) Rating systems in the evaluation of knee ligament injuries. Clin Orthop Relat Res 198:43–49

34.

Yates PJ, Calder JD, Stranks GJ, Conn KS, Peppercorn D, Thomas NP (2007) Early MRI diagnosis and non-surgical management of spontaneous osteonecrosis of the knee. Knee 14:112–116

35.

Zanetti M, Romero J, Dambacher MA, Hodler J (2003) Osteonecrosis diagnosed on MR images of the knee: relationship to reduced bone mineral density determined by high resolution peripheral quantitative CT. Acta Radiol 44:525–531

36.

Zywiel MG, McGrath MS, Seyler TM, Marker DR, Bonutti PM, Mont MA (2009) Osteonecrosis of the knee: a review of three disorders. Orthop Clin North Am 40:193–211
About this article
Cite this article
Akamatsu, Y., Kobayashi, H., Kusayama, Y. et al. Predictive factors for the progression of spontaneous osteonecrosis of the knee. Knee Surg Sports Traumatol Arthrosc 25, 477–484 (2017). https://doi.org/10.1007/s00167-015-3839-6
Received:

Accepted:

Published:

Issue Date:
Keywords
Knee

Spontaneous osteonecrosis

MRI

Lesion size

Anatomical angle