Abstract
Purpose
Knowledge of epidemiologic trends of meniscal injuries in young active populations is limited. Better awareness of injury patterns is a first step to lowering injury rates. Our hypothesis was that meniscal injuries in high school athletes would vary by gender, sport, and type of exposure.
Methods
During the 2007/2008 and 2012/2013 academic years, a large nationally disperse sample of US high schools reported athlete exposure and injury data for 22 sports by having certified athletic trainers complete an internet-based data collection tool.
Results
One thousand and eighty-two meniscal injuries were reported during 21,088,365 athlete exposures for an overall injury rate of 5.1 per 100,000 athlete exposures. The overall rate of injury was higher in competition (11.9) than practice (2.7) (RR = 4.4; 95 % CI 3.9–5.0), and 12/19 sports showed significantly higher injury rates in competition compared to practice. Of all injuries, 68.0 % occurred in boys, yet among the gender-comparable sports of soccer, basketball, track and field, lacrosse, and baseball/softball injury rates were higher for girls than boys (5.5 and 2.5, respectively, RR = 2.2; 95 % CI 1.8–2.7). Contact injury represented the most common mechanism (55.9 %). Surgery was performed for the majority of injuries (63.8 %), and 54.0 % of athletes had associated intra-articular knee pathology.
Conclusions
Meniscal injury patterns among high school athletes vary by gender, sport, and type of exposure. Our study is clinically relevant because recognition of distinct differences in these injury patterns will help drive evidence-based, targeted injury prevention strategies and efforts.
Level of evidence
III.
Access options
Buy single article
Instant access to the full article PDF.
US$ 39.95
Tax calculation will be finalised during checkout.
Subscribe to journal
Immediate online access to all issues from 2019. Subscription will auto renew annually.
US$ 119
Tax calculation will be finalised during checkout.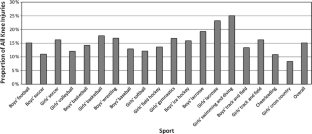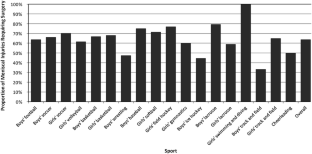 References
1.

Abdon P, Bauer M (1989) Incidence of meniscal lesions in children. Increase associated with diagnostic arthroscopy. Acta Orthop Scand 60:710–711

2.

Abrams GD, Frank RM, Gupta AK et al (2013) Trends in meniscus repair and meniscectomy in the United States, 2005–2011. Am J Sports Med 41:2333–2339

3.

Agel J, Evans TA, Dick R et al (2007) Descriptive epidemiology of collegiate men's soccer injuries: National Collegiate Athletic Association Injury Surveillance System, 1988–1989 through 2002–2003. J Athl Train 42:270–277

4.

Baker BE, Peckham AC, Pupparo F et al (1985) Review of meniscal injury and associated sports. Am J Sports Med 13:1–4

5.

Baker P, Coggon D, Reading I et al (2002) Sports injury, occupational physical activity, joint laxity, and meniscal damage. J Rheumatol 29:557–563

6.

Clayton RA, Court-Brown CM (2008) The epidemiology of musculoskeletal tendinous and ligamentous injuries. Injury 39:1338–1344

7.

Ferry T, Bergstrom U, Hedstrom EM et al (2014) Epidemiology of acute knee injuries seen at the Emergency Department at Umea University Hospital, Sweden, during 15 years. Knee Surg Sports Traumatol Arthrosc 22:1149–1155

8.

Franklin BA, Billecke S (2012) Putting the benefits and risks of aerobic exercise in perspective. Curr Sports Med Rep 11:201–208

9.

Gelber AC, Hochberg MC, Mead LA et al (2000) Joint injury in young adults and risk for subsequent knee and hip osteoarthritis. Ann Intern Med 133:321–328

10.

Granan LP, Inacio MC, Maletis GB et al (2013) Sport-specific injury pattern recorded during anterior cruciate ligament reconstruction. Am J Sports Med 41:2814–2818

11.

Greis PE, Bardana DD, Holmstrom MC et al (2002) Meniscal injury: I. Basic science and evaluation. J Am Acad Orthop Surg 10:168–176

12.

Hede A, Jensen DB, Blyme P et al (1990) Epidemiology of meniscal lesions in the knee. 1215 open operations in Copenhagen 1982–1984. Acta Orthop Scand 61:435–437

13.

Ingram JG, Fields SK, Yard EE et al (2008) Epidemiology of knee injuries among boys and girls in US high school athletics. Am J Sports Med 36:1116–1122

14.

Iwamoto J, Takeda T, Sato Y et al (2008) Retrospective case evaluation of gender differences in sports injuries in a Japanese sports medicine clinic. Gend Med 5:405–414

15.

Jones JC, Burks R, Owens BD et al (2012) Incidence and risk factors associated with meniscal injuries among active-duty US military service members. J Athl Train 47:67–73

16.

Katz JN, Martin SD (2009) Meniscus–friend or foe: epidemiologic observations and surgical implications. Arthritis Rheum 60:633–635

17.

Kujala UM, Kettunen J, Paananen H et al (1995) Knee osteoarthritis in former runners, soccer players, weight lifters, and shooters. Arthritis Rheum 38:539–546

18.

Lohmander LS, Englund PM, Dahl LL et al (2007) The long-term consequence of anterior cruciate ligament and meniscus injuries: osteoarthritis. Am J Sports Med 35:1756–1769

19.

Majewski M, Susanne H, Klaus S (2006) Epidemiology of athletic knee injuries: a 10-year study. Knee 13:184–188

20.

National Federation of State High School Associations. 2011–2012 high school athletics participation survey, 2012. http://www.nfhs.org/content.aspx?id=3282

21.

Nielsen AB, Yde J (1991) Epidemiology of acute knee injuries: a prospective hospital investigation. J Trauma 31:1644–1648

22.

Piasecki DP, Spindler KP, Warren TA et al (2003) Intraarticular injuries associated with anterior cruciate ligament tear: findings at ligament reconstruction in high school and recreational athletes. An analysis of sex-based differences. Am J Sports Med 31:601–605

23.

Poehling GG, Ruch DS, Chabon SJ (1990) The landscape of meniscal injuries. Clin Sports Med 9:539–549

24.

Poulsen MR, Johnson DL (2011) Meniscal injuries in the young, athletically active patient. Phys Sportsmed 39:123–130

25.

Rechel JA, Yard EE, Comstock RD (2008) An epidemiologic comparison of high school sports injuries sustained in practice and competition. J Athl Train 43:197–204

26.

Rennie WJ, Finlay DB (2006) Meniscal extrusion in young athletes: associated knee joint abnormalities. AJR Am J Roentgenol 186:791–794

27.

Renstrom P, Johnson RJ (1990) Anatomy and biomechanics of the menisci. Clin Sports Med 9:523–538

28.

Roos H, Lauren M, Adalberth T et al (1998) Knee osteoarthritis after meniscectomy: prevalence of radiographic changes after twenty-one years, compared with matched controls. Arthritis Rheum 41:687–693

29.

Rosa BB, Asperti AM, Helito CP et al (2014) Epidemiology of sports injuries on collegiate athletes at a single center. Acta Ortop Bras 22:321–324

30.

Stracciolini A, Casciano R, Levey Friedman H et al (2014) Pediatric sports injuries: a comparison of males versus females. Am J Sports Med 42:965–972

31.

Stubbe JH, Van Beijsterveldt AM, Van Der Knaap S et al (2015) Injuries in professional male soccer players in the Netherlands: a prospective cohort study. J Athl Train 50:211–216

32.

Sutton AJ, Muir KR, Mockett S et al (2001) A case–control study to investigate the relation between low and moderate levels of physical activity and osteoarthritis of the knee using data collected as part of the Allied Dunbar National Fitness Survey. Ann Rheum Dis 60:756–764

33.

Takeda H, Nakagawa T, Nakamura K et al (2011) Prevention and management of knee osteoarthritis and knee cartilage injury in sports. Br J Sports Med 45:304–309

34.

Terzidis IP, Christodoulou A, Ploumis A et al (2006) Meniscal tear characteristics in young athletes with a stable knee: arthroscopic evaluation. Am J Sports Med 34:1170–1175

35.

Yeh PC, Starkey C, Lombardo S et al (2012) Epidemiology of isolated meniscal injury and its effect on performance in athletes from the National Basketball Association. Am J Sports Med 40:589–594
Acknowledgments
The content of this report was funded in part by the Centers for Disease Control and Prevention (Grant Nos. R49/CE000674-01 and R49/CE001172-01) and the National Center for Research Resources (Award No. KL2 RR025754). The content of this report is solely the responsibility of the authors and does not necessarily represent the official views of the Centers for Disease Control and Prevention, the National Center for Research Resources, the National Institutes of Health, or the American College of Sports Medicine. The authors also acknowledge the research funding contributions of the NFHS, NOCSAE, DonJoy Orthotics, and EyeBlack.
Ethics declarations
Conflict of interest
The authors report no conflicts of interest.
About this article
Cite this article
Mitchell, J., Graham, W., Best, T.M. et al. Epidemiology of meniscal injuries in US high school athletes between 2007 and 2013. Knee Surg Sports Traumatol Arthrosc 24, 715–722 (2016). https://doi.org/10.1007/s00167-015-3814-2
Received:

Accepted:

Published:

Issue Date:
Keywords
Meniscus

Mechanism of injury

High school athletes

Gender