Abstract
Background
Within the past 20 years, knee ligament injuries have been increasingly reported in the literature to be treated with anatomic reconstructions over soft tissue advancements or sling-type procedures to recreate the native anatomy and restore knee function. Historically, early clinician scientists published on the qualitative anatomy of the knee, which provided a foundation for the initial knee biomechanical studies in the nineteenth and twentieth centuries. Similarly, the work of early sports medicine orthopaedic clinician scientists in the late twentieth century formed the basis for the quantitative anatomic and functional robotic biomechanical studies found currently in the sports medicine orthopaedic literature. The development of an anatomic reconstruction first requires an appreciation of the quantitative anatomy and function of each major stabilizing component of the knee.
Purpose
This paper provides an overview of the initial qualitative anatomic studies from which the initial knee ligament surgeries were based and expands to recent detailed quantitative studies of the major knee ligaments and the renewed recent focus on anatomic surgical reconstructions.
Conclusions
Anatomic repairs and reconstructions of the anterior cruciate ligament, posterior cruciate ligament, medial collateral ligament and posterolateral corner attempt to restore knee function by rebuilding or restoring the native anatomy. The basis of anatomic reconstruction techniques is a detailed understanding of quantitative knee anatomy. Additionally, an appreciation of the function of each component is necessary to ensure surgical success.
Level of evidence
V.
This is a preview of subscription content, log in to check access.
Access options
Buy single article
Instant access to the full article PDF.
US$ 39.95
Price includes VAT for USA
Subscribe to journal
Immediate online access to all issues from 2019. Subscription will auto renew annually.
US$ 199
This is the net price. Taxes to be calculated in checkout.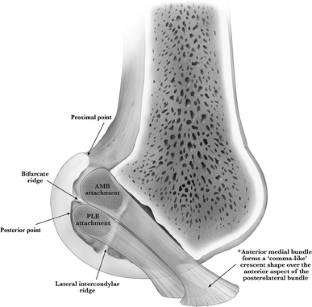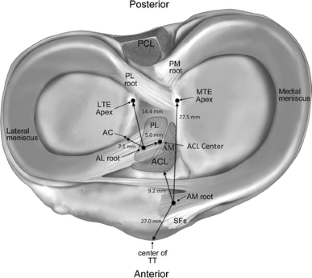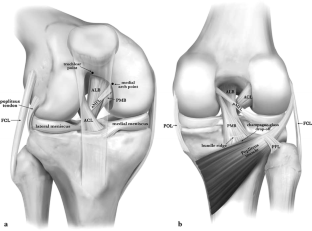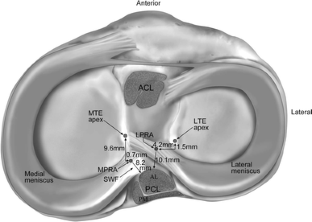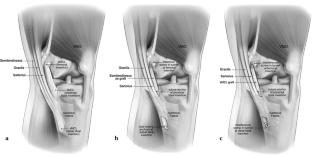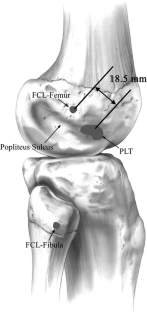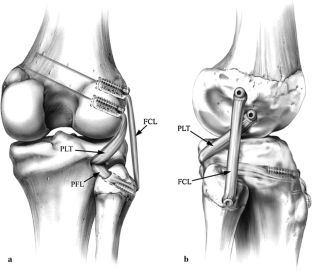 References
1.

Amis AA, Gupte CM, Bull AM, Edwards A (2006) Anatomy of the posterior cruciate ligament and the meniscofemoral ligaments. Knee Surg Sports Traumatol Arthrosc 14(3):257–263

2.

Amis AA, Dawkins GP (1991) Functional anatomy of the anterior cruciate ligament. Fibre bundle actions related to ligament replacements and injuries. J Bone Joint Surg Br 73(2):260–267

3.

Anderson CJ, Westerhaus BD, Pietrini SD, Ziegler CG, Wijdicks CA, Johansen S, Engebretsen L, LaPrade RF (2010) Kinematic impact of anteromedial and posterolateral bundle graft fixation angles on double bundle anterior cruciate ligament reconstructions. Am J Sports Med 38(8):1575–1583

4.

Anderson CJ, Ziegler CG, Wijdicks CA, Engebretsen L, LaPrade RF (2012) Arthroscopically pertinent anatomy of the anterolateral and posteromedial bundles of the posterior cruciate ligament. J Bone Joint Surg Am 94(21):1936–1945

5.

Basmajian JV, Lovejoy J (1971) Functions of the popliteus muscle in man. A multifactorial electromyographic study. J Bone Joint Surg Am 53:557–562

6.

Battle WH (1900) A case after open section of the knee-joint for irreducible traumatic dislocation. Trans Clin Soc Lond 33:232–233

7.

Boas M (1962) The scientific renaissance 1450–1630. Fontana, New York

8.

Bousquet G, Charmion L, Passot JP, Girardin P, Relave M, Gazielly D (1986) Stabilization of the external condyle of the knee in chronic anterior laxity. Importance of the popliteal muscle. Rev Chir Orthop Reparatrice Appar Mot 72(6):427–434

9.

Brantigan OC, Voshell AF (1943) The tibial collateral ligament: its function, its bursae, and its relation to the medial meniscus. J Bone Joint Surg 25:121–131

10.

Butler DL, Noyes FR, Grood ES (1980) Ligamentous restraints to anterior–posterior drawer in the human knee. A biomechanical study. J Bone Joint Surg Am 62(2):259–270

11.

Chambat P (1978) Les ruptures isolees du LCP chirurgie du genou. 3ème Journees Simep 47–50

12.

Claes S, Vereecke E, Maes M, Victor J, Verdonk P, Bellemans J (2013) Anatomy of the anterolateral ligament of the knee. J Anat 223(4):321–328

13.

Coobs BR, LaPrade RF, Griffith CJ, Nelson BJ (2007) Biomechanical analysis of an isolated fibular (lateral) collateral ligament reconstruction using an autogenous semitendinosus graft. Am J Sports Med 35:1521–1527

14.

Coobs BR, Wijdicks CA, Armitage BM, Spiridonov SI, Westerhaus BD, Johansen S, Engebretsen L, LaPrade RF (2010) An in vitro analysis of an anatomical medial knee reconstruction. Am J Sports Med 38(2):339–347

15.

Dejour H, Walch G, Peyrot J, Eberhard P (1988) The natural history of rupture of the posterior cruciate ligament. Rev Chir Orthop Reparatrice Appar Mot 74(1):35–43

16.

Dodds AL, Halewood C, Gupte CM, Williams A, Amis AA (2014) The anterolateral ligament: anatomy, length changes and association with the segond fracture. Bone Joint J 96-B(3):325–331

17.

Dodds JA, Arnoczky SP (1994) Anatomy of the anterior cruciate ligament: a blueprint for repair and reconstruction. Arthroscopy 10(2):132–139

18.

Edwards AH (1926) Operative repair of cruciate ligaments in severe trauma of knee. Br J Surg 13:432–438

19.

Ellison AE (1975) A modified procedure for the extra-articular replacement of the anterior cruciate ligament. In: Presented at annual meeting of the American Orthopaedic Society for Sport Medicine. New Orleans, 28–30 July

20.

England RL (1976) Repair of the ligaments about the knee. Orthop Clin North Am 7:195–204

21.

Fabbriciani C, Oransky M, Zoppi U (1982) The popliteal muscle: an anatomical study. Arch Ital Anat Embriol 87(3):203–217

22.

Fick R (1911) Handbuch der Anatomie und Mechanik der Gelenke. 3 Teil: Spezielle Gelenk- und Muskelmechanik. Gustav Fischer, Jena

23.

Frenkel VH (1971) Biomechanics of the knee. Orthop Clin North Am 2:175–190

24.

Fu FH, Shen W, Starman JS, Okeke N, Irrgang JJ (2008) Primary anatomic double-bundle anterior cruciate ligament reconstruction: a preliminary 2-year prospective study. Am J Sports Med 36(7):1263–1274

25.

Fukubayashi T, Torzilli PA, Sherman MF, Warren RF (1982) An in vitro biomechanical evaluation of anterior-posterior motion of the knee. Tibial displacement, rotation, and torque. J Bone Joint Surg Am 64(2):258–264

26.

Gabriel MT, Wong EK, Woo SL, Yagi M, Debski RE (2004) Distribution of in situ forces in the anterior cruciate ligament in response to rotatory loads. J Orthop Res 22(1):85–89

27.

Galen C (1968) On the usefulness of parts of the body. May T. Cornell University Press, New York

28.

Galway RB, Beaupre A, MacIntosh DL (1972) Pivot shift: a clinical sign of symptomatic anterior cruciate insufficiency. J Bone Joint Surg 54-B:763–764

29.

Geeslin AG, LaPrade RF (2011) Outcomes of treatment of acute grade-III isolated and combined posterolateral knee injuries: a prospective case series and surgical technique. J Bone Joint Surg Am 93:1672–1683

30.

Geiger D, Chang E, Pathria M, Chung CB (2013) Posterolateral and posteromedial corner injuries of the knee. Radiol Clin North Am 51:413–432

31.

Girgis FG, Marshall JL, Monajem A (1975) The cruciate ligaments of the knee joint. Anatomical, functional and experimental analysis. Clin Orthop Relat Res 106:216–231

32.

Goetjes H (1913) Über verletzungen der ligamenta cruciata des kniegelenks. Dtsch Z Chir 123:221–289

33.

Goldsmith MT, Jansson KS, Smith SD, Engebretsen L, LaPrade RF, Wijdicks CA (2013) Biomechanical comparison of anatomic single and double-bundle anterior cruciate ligament reconstructions: an in vitro study. Am J Sports Med 41(7):1595–1604

34.

Gollehon DL, Torzilli PA, Warren RF (1987) The role of the posterolateral and cruciate ligaments in the stability of the human knee. A biomechanical study. J Bone Joint Surg Am 69(2):233–242

35.

Goodfellow J, O'Connor J (1978) The mechanics of the knee and prosthesis design. J Bone Joint Surg Br 60:358–369

36.

Griffith CJ, Wijdicks CA, LaPrade RF, Armitage BM, Johansen S, Engebretsen L (2009) Force measurements on the posterior oblique ligament and superficial medial collateral ligament proximal and distal divisions to applied loads. Am J Sports Med 37(1):140–148

37.

Groh W (1955) Kinematische untersuchungen des menschilichen kniegelenkes und einige prothesenkniekonstruktionen, die als "physiologische" kniegelenke bezeichnet warden. Arch Orthop Unfallchir 47:637–645

38.

Harner CD, Janaushek MA, Kanamori A, Yagi M, Vogrin TM, Woo SL (2000) Biomechanical analysis of a double-bundle posterior cruciate ligament reconstruction. Am J Sports Med 28(2):144–151

39.

Harner CD, Vogrin TM, Höher J, Ma CB, Woo SL (2000) Biomechanical analysis of a posterior cruciate ligament reconstruction. Deficiency of the posterolateral structures as a cause of graft failure. Am J Sports Med 28(1):32–39

40.

Harner CD, Baek GH, Vogrin TM, Carlin GJ, Kashiwaguchi S, Woo SL (1999) Quantitative analysis of human cruciate ligament insertions. Arthroscopy 15(7):741–749

41.

Hughston JC, Andrews JR, Cross MJ, Moschi A (1976) Classification of the knee ligaments instabilities. Part II. The lateral compartment. J Bone Joint Surg Am 58(2):173–179

42.

Huson A (1974) Biomechanische probleme des kniegelenks. Ortopaede 3:119–126

43.

Järvelä T (2007) Double-bundle versus single-bundle anterior cruciate ligament reconstruction: a prospective, randomize clinical study. Knee Surg Sports Traumatol Arthrosc 15(5):500–507

44.

Johannsen AM, Anderson CJ, Wijdicks CA, Engebretsen L, LaPrade RF (2013) Radiographic landmarks for tunnel positioning in posterior cruciate ligament reconstructions. Am J Sports Med 41(1):35–42

45.

Johannsen AM, Civitarese DM, Padalecki JR, Goldsmith MT, Wijdicks CA, LaPrade RF (2012) Qualitative and quantitative anatomic analysis of the posterior root attachments of the medial and lateral menisci. Am J Sports Med 40(10):2342–2347

46.

Jones KG (1963) Reconstruction of the anterior cruciate ligament. J Bone Joint Surg 45-A:925–932

47.

Jones R, Smith A (1913) On rupture of the crucial ligaments of the knee and on fractures of the spine of the tibia. Br J Surg 1:70–89

48.

Jordan SS, DeFrate LE, Nha KW, Papannagari R, Gill TJ, Li G (2007) The in vivo kinematics of the anteromedial and posterolateral bundles of the anterior cruciate ligament during weightbearing knee flexion. Am J Sports Med 35(4):547–554

49.

Kapandji IA (1970) The physiology of the Joint, vol II. Churchill Livingstone, Edinburgh

50.

Kaplan EB (1962) Some aspects of functional anatomy of the human knee joint. Clin Orthop 23:18–29

51.

Kopf S, Musahl V, Tashman S, Szczodry M, Shen W, Fu FH (2009) A systematic review of the femoral origin and tibial insertion morphology of the ACL. Knee Surg Sports Traumatol Arthrosc 17(3):213–219

52.

Kennedy JC, Fowler PJ (1971) Medial and anterior instability of the knee: an anatomical and clinical study using stress machines. J Bone Joint Surg 53-A:1257–1270

53.

Kennedy NI, LaPrade RF, Goldsmith MT, Faucett SC, Rasmussen MT, Coatney GA, Engebretsen L, Wijdicks CA (2014) Posterior cruciate ligament graft fixation angles, part 2: biomechanical evaluation for anatomic double-bundle reconstruction. Am J Sports Med 42(10):2346–2355

54.

Kennedy NI, Michalski MP, Engebretsen L, LaPrade RF (2014) Iatrogenic meniscus posterior root injury following reconstruction of the posterior cruciate ligament. JBJS Case Connect 4(1):e20

55.

Kennedy NI, Wijdicks CA, Goldsmith MT, Michalski MP, Devitt BM, Årøen A, Engebretsen L, LaPrade RF (2013) Kinematic analysis of the posterior cruciate ligament, part 1: the individual and collective function of the anterolateral and posteromedial bundles. Am J Sports Med 41(12):2828–2838

56.

Lahlaidi A (1971) Valeur morphologique des insertions postérieures du ménisque externe dans le genou humain. Rev Chir Orthop 57:593–600

57.

LaPrade CM, Ellman MB, Rasmussen MT, James EW, Wijdicks CA, Engebretsen L, LaPrade RF (2014) Anatomy of the anterior root attachments of the medial and lateral menisci: a quantitative analysis. Am J Sports Med 42(10):2386–2392

58.

LaPrade CM, James EW, Engebretsen L, LaPrade RF (2014) Anterior medial meniscal root avulsions due to malposition of the tibial tunnel during anterior cruciate ligament reconstruction: two case reports. Knee Surg Sports Traumatol Arthrosc 22(5):1119–1123

59.

LaPrade CM, Smith SD, Rasmussen MT, Hamming MG, Wijdicks CA, Engebretsen L, Feagin JA, LaPrade RF (2015) Consequences of tibial tunnel reaming on the meniscal roots during cruciate ligament reconstruction in a cadaveric model, part 1: the anterior cruciate ligament. Am J Sports Med 43(1):200–206

60.

LaPrade CM, Smith SD, Rasmussen MT, Hamming MG, Wijdicks CA, Engebretsen L, Feagin JA, LaPrade RF (2015) Consequences of tibial tunnel reaming on the meniscal roots during cruciate ligament reconstruction in a cadaveric model, part 2: the posterior cruciate ligament. Am J Sports Med 43(1):207–212

61.

LaPrade RF, Engebretsen AH, Ly TV, Johansen S, Wentorf FA, Engebretsen L (2007) The anatomy of the medial part of the knee. J Bone Joint Surg Am 89(9):2000–2010

62.

LaPrade RF, Griffith CJ, Coobs BR, Geeslin AG, Johansen S, Engebretsen L (2014) Improving outcomes for posterolateral knee injuries. J Orthop Res 32:485–491

63.

LaPrade RF, Johansen S, Agel J, Risberg MA, Moksnes H, Engebretsen L (2010) Outcomes of an anatomic posterolateral knee reconstruction. J Bone Joint Surg Am 92:16–22

64.

LaPrade RF, Johansen S, Wentorf FA, Engebretsen L, Esterberg JL, Tso A (2004) An analysis of an anatomical posterolateral knee reconstruction: an in vitro biomechanical study and development of a surgical technique. Am J Sports Med 32:1405–1414

65.

LaPrade RF, Ly TV, Wentorf FA, Engebretsen L (2003) The posterolateral attachments of the knee: a qualitative and quantitative morphologic analysis of the fibular collateral ligament, popliteus tendon, popliteofibular ligament, and lateral gastrocnemius tendon. Am J Sports Med 31:854–860

66.

LaPrade RF, Spiridonov SI, Coobs BR, Ruckert PR, Griffith CJ (2010) Fibular collateral ligament anatomical reconstructions: a prospective outcomes study. Am J Sports Med 38(10):2005–2011

67.

LaPrade RF, Terry GC (1997) Injuries to the posterolateral aspect of the knee: association of anatomic injury patterns with clinical instability. Am J Sport Med 25:433–438

68.

LaPrade RF, Tso A, Wentorf FA (2004) Force measurements on the fibular collateral ligament, popliteofibular ligament, and popliteus tendon to applied loads. Am J Sports Med 32:1695–1701

69.

LaPrade RF, Wijdicks CA (2012) Surgical technique: development of an anatomic medial knee reconstruction. Clin Orthop Relat Res 470(3):806–814

70.

LaPrade RF, Wozniczka JK, Stellmaker MP, Wijdicks CA (2010) Analysis of the static function of the popliteus tendon and evaluation of an anatomic reconstruction: the "fifth ligament" of the knee. Am J Sports Med 38:543–549

71.

Last RJ (1948) Some anatomical details of the knee joint. J Bone Joint Surg Br 30B(4):683–688

72.

Lemaire M (1967) Ruptures anciennes du ligament croisé antérieur. Fréquence-Clinique-Traitement. J Chir 93:311–320

73.

Losee RE, Johnson TR, Southwick WO (1978) Anterior subluxation of the lateral tibial plateau: a diagnostic test and operative repair. J Bone Joint Surg 60-A:1015–1030

74.

MacIntosh DL, Darby TA (1976) Lateral substitution reconstruction. J Bone Joint Surg 58-b:142

75.

Markolf KL, Gorek JF, Kabo JM, Shapiro MS (1990) Direct measurement of resultant forces in the anterior cruciate ligament. An in vitro study performed with a new experimental technique. J Bone Joint Surg Am 72(4):557–567

76.

Mason SF (1962) A history of the sciences. Collier, New York

77.

Menschik A (1974) Mechanics of the knee joint, part I. Z Orthop Ihre Grenzgeb 112(3):481–495

78.

Menschik A (1975) Mechanics of the knee joint, part II, the final rotation. Z Orthop Ihre Grenzgeb 113(3):388–400

79.

von Meyer H (1853) Die mechanik des kniegelenks. Arch Anat Physiol Wiss Med 1:497–547

80.

Moore W (2005) The knife man: blood, body-snatching and the birth of modern surgery. Bantam Press, London

81.

Mueller W (1983) The knee: form, function and ligament reconstruction. Springer, Berlin

82.

Musahl V, Citak M, O'Loughlin PF, Choi D, Bedi A, Pearle AD (2010) The effect of medial versus lateral meniscectomy on the stability of the anterior cruciate ligament-deficient knee. Am J Sports Med 38(8):1591–1597

83.

Musahl V, Plakseychuk A, VanScyoc A, Sasaki T, Debski RE, McMahon PJ, Fu FH (2005) Varying femoral tunnels between the anatomical footprint and isometric positions: effect on kinematics of the anterior cruciate ligament-reconstructed knee. Am J Sports Med 33(5):712–718

84.

Nietert M (1975) Untersuchungen zur Kinematik des Menschlichen Kniegelenkes im Hinblick auf ihre Approximation in der Protetik. Dissertation, Technische Universitat, Berlin

85.

Noyes FR, DeLucas J, Torvik PJ (1974) Biomechanics of anterior cruciate ligament failure: an analysis of strain rate sensitivity and mechanism of failure in primates. J Bone Joint Surg Am 56:236–253

86.

Noyes FR, Torvik PJ, Hide WB, De Lucas JL (1974) Biomechanics of ligament failure. An analysis of immobilization, exercises and reconditioning effects in primates. J Bone Joint Surg Am 56:1406–1518

87.

Paessler HH, Michel D (1992) How new is the lachman test? Am J Sports Med 20(1):95–98

88.

Palmer I (2007) On the injuries to the ligaments of the knee joint: a clinical study. 1938. Clin Orthop Relat Res 454:17–22

89.

Petersen W, Zantop T (2007) Anatomy of the anterior cruciate ligament with regard to its two bundles. Clin Orthop Relat Res 454:35–47

90.

Rosner L (2011) The anatomy murders. being the true and spectacular history of edinburgh's notorious burke and hare and of the man of science who abetted them in the commission of their most heinous crimes. University of Pennsylvania Press, Philadelphia

91.

Sakane M, Fox RJ, Woo SL, Livesay GA, Li G, Fu FH (1997) In situ forces in the anterior cruciate ligament and its bundles in response to anterior tibial loads. J Orthop Res 15(2):285–293

92.

Sakane M, Livesay GA, Fox RJ, Rudy TW, Runco TJ, Woo SL (1999) Relative contribution of the ACL, MCL, and bony contact to the anterior stability of the knee. Knee Surg Sports Traumatol Arthrosc 7(2):93–97

93.

Schindler OS (2012) Surgery for anterior cruciate ligament deficiency: a historical perspective. Knee Surg Sports Traumatol Arthrosc 20:5–47

94.

Singer C (1957) A short history of anatomy & physiology from greeks to harvey. Dover, New York

95.

Slocum DB, Larson RL (1968) Rotatory instability of the knee: its pathogenesis and a clinical test to demonstrate its presence. J Bone Joint Surg Am 50(2):211–225

96.

Stäubli HU, Birrer S (1990) The popliteus tendon and its fascicles at the popliteal hiatus: gross anatomy and functional arthroscopic evaluation with and without anterior cruciate ligament deficiency. Arthroscopy 6(3):209–220

97.

Strasser H (1917) Lehrbuch der Muskel- und Gelenkmechanik, Bd III: Die untere Extremitat. Springer, Berlin

98.

Terry GC, LaPrade RF (1996) The posterolateral aspect of the knee. Anatomy and surgical approach. Am J Sports Med 24:732–739

99.

Trillat A, Ficat P (1972) Laxités post-traumatiques du genou. Rev Chir Orthop 58:32–114

100.

Vallois HV (1914) Etudes Anatomiques de l'Articulation du Genou Ches les Primates. Thesis, Universite de Montpellier, No. 63

101.

van Eck CF, Schreiber VM, Liu TT, Fu FH (2010) The anatomic approach to primary, revision and augmentation anterior cruciate ligament reconstruction. Knee Surg Sports Traumatol Arthrosc 18(9):1154–1163

102.

Vogrin TM, Höher J, Arøen A, Woo SL, Harner CD (2000) Effects of sectioning the posterolateral structures on knee kinematics and in situ forces in the posterior cruciate ligament. Knee Surg Sports Traumatol Arthrosc 8(2):93–98

103.

Warren LF, Marshall JL (1979) The supporting structures and layers on the medial side of the knee: an anatomical analysis. J Bone Joint Surg Am 61(1):56–62

104.

Watson JN, Wilson KJ, LaPrade CM, Kennedy NI, Campbell KJ, Hutchinson MR, Wijdicks CA, LaPrade RF (2014) Iatrogenic injury of the anterior meniscal root attachments following anterior cruciate ligament reconstruction tunnel reaming. Knee Surg Sports Traumatol Arthrosc. doi:10.1007/s00167-014-3079-1

105.

Weber W, Weber E (1836) Mechanik der menschlichen Gehwerkzeuge. Dieterichsche Buchhandlung, Göttingen

106.

Wijdicks CA, Griffith CJ, Johansen S, Engebretsen L, LaPrade RF (2010) Injuries to the medial collateral ligament and associated medial structures of the knee. J Bone Joint Surg Am 92(5):1266–1280

107.

Wijdicks CA, Kennedy NI, Goldsmith MT, Devitt BM, Michalski MP, Årøen A, Engebretsen L, LaPrade RF (2013) Kinematic analysis of the posterior cruciate ligament, part 2: a comparison of anatomic single- versus double-bundle reconstruction. Am J Sports Med 41(12):2839–2848

108.

Wijdicks CA, Michalski MP, Rasmussen MT, Goldsmith MT, Kennedy NI, Lind M, Engebretsen L, LaPrade RF (2013) Superficial medial collateral ligament anatomic augmented repair versus anatomic reconstruction: an in vitro biomechanical analysis. Am J Sports Med 41(12):2858–2866

109.

Yagi M, Wong EK, Kanamori A, Debski RE, Fu FH, Woo SL (2002) Biomechanical analysis of an anatomic anterior cruciate ligament reconstruction. Am J Sports Med 30(5):660–666

110.

Zantop T, Petersen W, Sekiya JK, Musahl V, Fu FH (2006) Anterior cruciate ligament anatomy and function relating to anatomical reconstruction. Knee Surg Sports Traumatol Arthrosc 14(10):982–992

111.

Ziegler CG, Pietrini SD, Westerhaus BD, Anderson CJ, Wijdicks CA, Johansen S, Engebretsen L, LaPrade RF (2011) Arthroscopically pertinent landmarks for tunnel positioning in single-bundle and double-bundle anterior cruciate ligament reconstructions. Am J Sports Med 39(4):743–752
About this article
Cite this article
LaPrade, R.F., Moulton, S.G., Nitri, M. et al. Clinically relevant anatomy and what anatomic reconstruction means. Knee Surg Sports Traumatol Arthrosc 23, 2950–2959 (2015). https://doi.org/10.1007/s00167-015-3629-1
Received:

Accepted:

Published:

Issue Date:
Keywords
Complex knee instability

Anatomic reconstruction

Anterior cruciate ligament

Posterior cruciate ligament

Posterolateral corner

Medial collateral ligament