Abstract
Purpose
To investigate the effect on hip-flexion strength of a 6-week hip-flexor training programme using elastic bands as resistance. We hypothesized that the training group, compared to a control group, would increase their hip-flexion strength more.
Methods
Thirty-three healthy subjects (45 % females), 24(5) years of age, were included in a randomized controlled trial and allocated to heavy strength training of the hip-flexor muscles or to control (no strength training). Strength training of the hip-flexors (dominant leg) was performed three times 10 min per week for 6 weeks. The strength training group progressed from 15 repetition maximum (RM) (week 1) to 8 RM (week 6). Isometric hip-flexion strength (primary outcome) was measured by a blinded assessor using a reliable test procedure.
Results
In the strength training group, the isometric hip-flexion strength of the trained leg increased by 17 %, (p < 0.001). The between-group difference in hip-flexion strength change in the trained leg (dominant leg, training group) versus the non-trained leg (dominant leg, control group) was significantly different from baseline to follow-up, corresponding to a mean change of 0.34 (95 % CI 0.17–0.52) Nm/kg, in favour of the strength training group (p < 0.001).
Conclusion
Simple hip-flexor strength training using elastic bands as external loading, for only 6 weeks, substantially improves hip-flexor muscle strength. This simple exercise programme seems promising for future prevention and treatment of acute and longstanding hip-flexor injuries, such as acute rectus femoris injuries and longstanding iliopsoas-related pain and impingement.
Level of evidence
I.
Access options
Buy single article
Instant access to the full article PDF.
USD 39.95
Price includes VAT (USA)
Tax calculation will be finalised during checkout.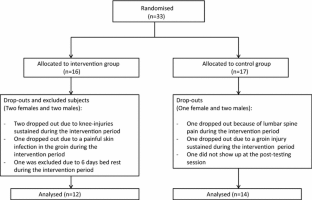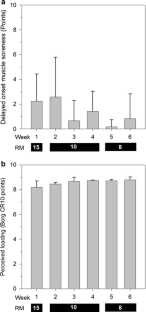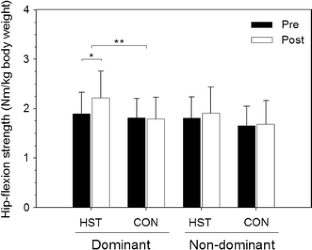 References
1.

Andersen LL, Andersen HC, Mortensen OS (2010) Muscle activation and perceived loading during rehabilitation exercises: comparison of dumbbells and elastic resistance. Phys Ther 90(4):538–549

2.

Andersson E, Oddsson L, Grundström H, Thorstensson A (1995) The role of the psoas and iliacus muscles for stability and movement of the lumbar spine, pelvis and hip. Scand J Med Sci Sports 5(1):10–16

3.

Andersson EA, Nilsson J, Thorstensson A (1997) Intramuscular EMG from the hip-flexor muscles during human locomotion. Acta Physiol Scand 161(3):361–370

4.

Baroni BM, Rodrigues R, Franke RA (2013) Time course of neuromuscular adaptations to knee extensor eccentric training. Int J Sports Med. doi:10.1055/s-0032-1333263

5.

Basmajian JV (1958) Electromyography of iliopsoas. Anat Rec 132(2):127–132

6.

Bogduk N, Pearcy M, Hadfield G (1992) Anatomy and biomechanics of psoas major. Clini Biomech 7(2):109–119

7.

Blankenbaker DG, Tuite MJ, Keene JS, del Rio AM (2012) Labral injuries due to iliopsoas impingement: can they be diagnosed on MR arthrography? AJR Am J Roentgenol 199(4):894–900

8.

Claiborne TL, Timmons MK, Pincivero DM (2009) Test-retest reliability of cardinal plane isokinetic hip torque and EMG. J Electromyogr Kinesiol 19(5):345–352

9.

Diamond LE, Dobson FL, Bennell KL, Wrigley TV, Hodges PW, Hinman RS (2014) Physical impairments and activity limitations in people with femoroacetabular impingement: a systematic review. Br J Sports Med. doi:10.1136/bjsports-2013-093340

10.

Ekstrand J, Hägglund M, Waldén M (2011) Epidemiology of muscle injuries in professional football (soccer). Am J Sports Med 39(6):1226–1232

11.

Friel K, McLean N, Myers C, Caceres M (2006) Ipsilateral hip abductor weakness after inversion ankle sprain. J Athl Train 41(1):74–78

12.

Hides JA, Fan T, Stanton WR (2010) Psoas and quadratuslumborum muscle asymmetry among elite Australian football league players. Br J Sports Med 44(8):563–567

13.

Hollis S, Campbell F (1999) What is meant by intention to treat analysis? Survey of published randomized controlled trials. BMJ 319(7211):670–674

14.

Hölmich P (2007) Long-standing groin pain in sportspeople falls into three primary patterns, a "clinical entity" approach: a prospective study of 207 patients. Br J Sports Med 41(4):247–252

15.

Hu H, Meijer OG, van Dieën JH, Hodges PW, Bruijn SM, Strijers RL, Nanayakkara PW, van Royen BJ, Wu W, Xia C (2010) Muscle activity during the active straight leg raise (ASLR), and the effects of a pelvic belt on the ASLR and on treadmill walking. J Biomech 43(3):532–539

16.

Hu H, Meijer OG, van Dieën JH, Hodges PW, Bruijn SM, Strijers RL, Nanayakkara PW, van Royen BJ, Wu WH, Xia C (2011) Is the psoas a hip flexor in the active straight leg raise? Eur Spine J 20(5):759–765

17.

Hubal MJ, Gordish-Dressman H, Thompson PD, Price TB, Hoffman EP, Angelopoulos TJ, Gordon PM, Moyna NM, Pescatello LS, Visich PS, Zoeller RF, Seip RL, Clarkson PM (2005) Variability in muscle size and strength gain after unilateral resistance training. Med Sci Sports Exerc 37(6):964–972

18.

Jakobsen MD, Sundstrup E, Andersen CH, Bandholm T, Thorborg K, Zebis MK, Andersen LL (2012) Muscle activity during knee-extension strengthening exercise performed with elastic tubing and isotonic resistance. Int J Sports Phys Ther 7:606–616

19.

Jakobsen MD, Sundstrup E, Andersen CH, Aagaard P, Andersen LL (2013) Muscle activity during leg strengthening exercise using free weights and elastic resistance effects of ballistic vs. controlled contractions. Hum Mov Sci 32(1):65–78

20.

Jensen J, Hölmich P, Bandholm T, Zebis MK, Andersen LL, Thorborg K (2014) Eccentric strengthening effect of hip-adductor training with elastic bands in soccer players: a randomized controlled trial. Br J Sports Med 48(4):332–338

21.

Juker D, McGill S, Kropf P, Steffen T (1998) Quantitative intramuscular myoelectric activity of lumbar portions of psoas and the abdominal wall during a wide variety of tasks. Med Sci Sports Exerc 30(2):301–310

22.

Khan K, Brown J, Way S, Vass N, Crichton K, Alexander R, Baxter A, Butler M, Wark J (1995) Overuse injuries in classical ballet. Sports Med 19(5):341–357

23.

Lee M, Gandevia SC, Carroll TJ (2009) Unilateral strength training increases voluntary activation of the opposite untrained limb. Clinic Neurophysiol 120(4):802–808

24.

Malliaras P, Barton CJ, Reeves ND, Langberg H (2013) Achilles and patellar tendinopathy loading programmes: a systematic review comparing clinical outcomes and identifying potential mechanisms for effectiveness. Sports Med 43(4):267–286

25.

Nachemson A (1966) Electromyographic studies on the vertebral portion of the psoas muscle; with special reference to its stabilizing function of the lumbar spine. Acta Orthop Scand 37(2):177–190

26.

Nelson IR, Keene JS (2014) Results of labral-level arthroscopic iliopsoas tenotomies for the treatment of labral impingement. Arthroscopy 30(6):688–694

27.

Quirk R (1983) Ballet injuries: the Australian experience. Clin Sports Med 2(3):507–514

28.

Reid DC (1988) Prevention of hip and knee injuries in ballet dancers. Sports Med 6(5):295–307

29.

Snyder KR, Earl JE, O'Connor KM, Ebersole KT (2009) Resistance training is accompanied by increases in hip strength and changes in lower extremity biomechanics during running. Clin Biomech 24(1):26–34

30.

Stalzer S, Wahoff M, Scanlan M (2006) Rehabilitation following hip arthroscopy. Clin Sports Med 25(2):337–357

31.

Sundstrup E, Jakobsen MD, Andersen CH, Jay K, Andersen LL (2012) Swiss ball abdominal crunch with added elastic resistance is an effective alternative to training machines. Int J Sports Phys Ther 7(4):372–380

32.

Thorborg K (2012) Why hamstring eccentrics are hamstring essentials. Br J Sports Med 46(7):463–465

33.

Thorborg K, Bandholm T, Petersen J, Weeke KM, Weinold C, Andersen B, Serner A, Magnusson SP, Hölmich P (2010) Hip abduction strength training in the clinical setting: with or without external loading? Scand J Med Sci Sports 20(Suppl 2):70–77

34.

Thorborg K, Hölmich P (2013) Advancing hip and groin injury management: from eminence to evidence. Br J Sports Med 47(10):602–652

35.

Thorborg K, Petersen J, Magnusson SP, Hölmich P (2010) Clinical assessment of hip strength using a hand-held dynamometer is reliable. Scand J Med Sci Sports 20(3):493–501

36.

Thorborg K, Serner A, Petersen J, Madsen TM, Magnusson P, Hölmich P (2011) Hip adduction and abduction strength profiles in elite soccer players: implications for clinical evaluation of hip adductor muscle recovery after injury. Am J Sports Med 39(1):121–126

37.

Toigo M, Boutellier U (2006) New fundamental resistance exercise determinants of molecular and cellular muscle adaptations. Eur J Appl Physiol 97(6):643–663

38.

Werner J, Hägglund M, Walden M, Ekstrand J (2009) UEFA injury study: a prospective study of hip and groin injuries in professional football over seven consecutive seasons. Br J Sports Med 43(13):1036–1040

39.

Yoshio M, Murakami G, Sato T, Sato S, Noriyasa S (2002) The function of the psoas major muscle: passive kinetics and morphological studies using donated cadavers. J Orthop Sci 7(2):199–207
Acknowledgments
External funding was received from Danish Regions for the current study. Thanks to Birk Mygind Grønfeldt, Stig Midtiby and Silje Marie Midtun for assisting with subject recruitment, training intervention and data collection. Also, thanks to the School of Physiotherapy, Metropolitan University College, Copenhagen, for providing training and testing facilities.
Conflict of interest
There is no conflict of interest.
About this article
Cite this article
Thorborg, K., Bandholm, T., Zebis, M. et al. Large strengthening effect of a hip-flexor training programme: a randomized controlled trial. Knee Surg Sports Traumatol Arthrosc 24, 2346–2352 (2016). https://doi.org/10.1007/s00167-015-3583-y
Received:

Accepted:

Published:

Issue Date:
Keywords
Iliopsoas

Rectus femoris

Randomized controlled trial

Strengthening

Elastic bands