Abstract
Purpose
The aim of this study was to compare the clinical outcomes of arthroscopic single-bundle anterior cruciate ligament (ACL) reconstruction with six-strand hamstring tendon (HT) allograft versus bone-patellar tendon-bone (BPTB) allograft.
Methods
The prospective randomized controlled trial was included 129 patients. Sixty-nine patients received reconstruction with six-strand HT allografts (HT group), whereas 60 patients with BPTB allografts (BPTB group). Outcome assessment included re-rupture findings, International Knee Documentation Committee (IKDC) scores, Lysholm scores, KT-1000 arthrometer, Lachman test, pivot-shift test, range of motion (ROM) and single-leg hop test.
Results
At a mean follow-up of 52 months, 113 patients (HT group, 61 patients; BPTB group, 52 patients) completed a minimum 4-year follow-up. Four patients in HT group and six in BPTB group experienced ACL re-rupture (6.2 vs. 10.3 %) and received revision surgery. Significant between-group differences were observed in KT-1000 outcomes and pivot-shift test 1 (1.2 ± 1.5 vs. 1.8 ± 1.3, p = 0.025; positive rate 6.5 vs. 18.9 %, p = 0.036), 2 (1.1 ± 1.4 vs. 1.6 ± 1.2, p = 0.044; 8.1 vs. 20.7 %, p = 0.039), 4 (1.1 ± 1.5 vs. 1.7 ± 1.4, p = 0.031; 9.7 vs. 25 %, p = 0.012) years postoperatively. The outcomes between the two groups were comparable in terms of IKDC scores, Lysholm scores, Lachman test, ROM and single-leg hop test.
Conclusions
Six-strand HT allograft achieved superior anteroposterior and rotational stability after single-bundle ACL reconstruction. It is a reasonable graft substitute for ACL reconstruction.
Level of evidence
II.
Access options
Buy single article
Instant access to the full article PDF.
USD 39.95
Price excludes VAT (USA)
Tax calculation will be finalised during checkout.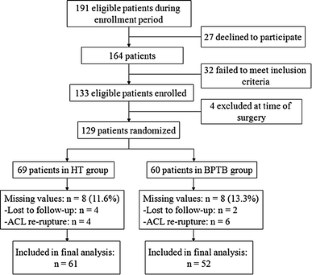 References
Amis AA, Dawkins GPC (1991) Functional anatomy of the anterior cruciate ligament: fiber bundle actions related to ligament replacements and injuries. J Bone Joint Surg [Br] 73:260–267

Barber FA, Cowden CH, Sanders EJ (2014) Revision rates after anterior cruciate ligament reconstruction using bone-patellar tendon-bone allograft or autograft in a population 25 years old and younger. Arthroscopy 30:483–491

Benjamin W, Stefanie D, Christian MZ, Jan S, Rainer S, Hans HP (2011) Anterior cruciate ligament reconstruction using patellar tendon versus hamstring tendon: a prospective comparative study with 9-year follow-up. Arthroscopy 27:653–665

Beynnon BD, Johnson RJ, Fleming BC et al (2002) Anterior cruciate ligament replacement: comparison of bone-patellar tendon-bone grafts with two-strand hamstring grafts: a prospective, randomized study. J Bone Joint Surg Am 84:1503–1513

Brown CH Jr, Steiner ME, Carson EW (1993) The use of hamstring tendons for anterior cruciate ligament reconstruction: technique and results. Clin Sports Med 12:723–756

Cohen SB, Sekiya JK (2007) Allograft safety in anterior cruciate ligament reconstruction. Clin Sports Med 26:597–605

Cooper DE, Deng XH, Burstein AL, Warren RF (1993) The strength of the central third patellar tendon graft: a biomechanical study. Am J Sports Med 21:818–824

Feller JA, Webster KE (2003) A randomized comparison of patellar tendon and hamstring tendon anterior cruciate ligament reconstruction. Am J Sports Med 31:564–573

Gerhard P, Bolt R, Dück K, Mayer R, Friederich NF, Hirschmann MT (2013) Long-term results of arthroscopically assisted anatomical singlebundle anterior cruciate ligament reconstruction using patellar tendon autograft: Are there any predictors for the development of osteoarthritis? Knee Surg Sports Traumatol Arthrosc 21:957–964

Goddard M, Bowman N, Salmon LJ, Waller A, Roe JP, Pinczewski LA (2013) Endoscopic anterior cruciate ligament reconstruction in children using living donor hamstring tendon allografts. Am J Sports Med 41:567–574

Grood ES, Walz-Hasselfeld KA, Holden JP et al (1992) The correlation between anterior-posterior translation and cross-sectional area of anterior cruciate ligament reconstructions. J Orthop Res 6:878–885

Hamner DL, Brown CH Jr, Steiner ME et al (1999) Hamstring tendon grafts for reconstruction of the anterior cruciate ligament: biomechanical evaluation of the use of multiple strands and tensioning techniques. J Bone Joint Surg Am 81:549–557

Heijne A, Werner S (2010) A 2-year follow-up of rehabilitation after ACL reconstruction using patellar tendon or hamstring tendon grafts: a prospective randomized outcome study. Knee Surg Sports Traumatol Arthrosc 18:805–813

Höher J, Möller HD, Fu FH (1998) Bone tunnel enlargement after anterior cruciate ligament reconstruction: fact or fiction? Knee Surg Sports Traumatol Arthrosc 6:231–240

Jackson DW, Grood ES, Goldstein JD et al (1993) A comparison of patellar tendon autograft and allograft used for anterior cruciate ligament reconstruction in the goat model. Am J Sports Med 21:176–185

Jarvela T (2007) Double-bundle versus single-bundle anterior cruciate ligament reconstruction: a prospective, randomize clinical study. Knee Surg Sports Traumatol Arthrosc 15:500–507

John ET, William RK, Kevin LK, Kevin PM, Bryan C (2002) Braided hamstring tendons for reconstruction of the anterior cruciate ligament: a biomechanical analysis. Am J Sports Med 30:5

Kang HJ, Su YL, Cao HJ et al (2013) Arthroscopic single-bundle ACL reconstruction with modified double-layer bone-patellar tendon-bone allograft. Knee Surg Sports Traumatol Arthrosc 21:2066–2071

Krych AJ, Jackson JD, Hoskin TL, Dahm DL (2008) A meta-analysis of patellar tendon autograft versus patellar tendon allograft in anterior cruciate ligament reconstruction. Arthroscopy 24:292–298

Leys T, Salmon L, Waller A, Linklater J, Pinczewski L (2012) Clinical results and risk factors for reinjury 15 years after anterior cruciate ligament reconstruction: a prospective study of hamstring and patellar tendon grafts. Am J Sports Med 40:595–605

Livesay GA, Fujie H, Kashiwaguchi S, Morrow DA, Fu FH, Woo SL (1995) Determination of the in situ forces and force distribution within the human anterior cruciate ligament. Ann Biomed Eng 23:467–474

Ma CB, Keifa E, Dunn W et al (2010) Can pre-operative measures predict quadruple hamstring graft diameter. Knee 17:81–83

Magnussen RA, Carey JL, Spindler KP (2011) Does autograft choice determine intermediate-term outcome of ACL reconstruction? Knee Surg Sports Traumatol Arthrosc 19:462–472

Magnussen RA, Lawrence TR, West RL, Toth AP, Taylor DC, Garrett WE (2012) Graft size and patient age are predictors of early revision after anterior cruciate ligament reconstruction with hamstring autograft. Arthroscopy 28:526–531

Kraeutler Matthew J, Bravman Jonathan T, McCarty Eric C (2013) Bone-patellar tendon-bone autograft versus allograft in outcomes of anterior cruciate ligament reconstruction: a meta-analysis of 5182 patients. Am J Sports Med 41:2439–2448

Mascarenhas R, Tranovich MJ, Kropf KL, Fu FH, Harner CD (2012) Bone-patellar tendon-bone autograft versus hamstring autograft anterior cruciate ligament reconstruction in the young athlete: a retrospective matched analysis with 2–10 year follow-up. Knee Surg Sports Traumatol Arthrosc 20:1520–1527

Ménétrey J, Duthon VB, Laumonier T, Fritschy D (2008) Biological failure of the anterior cruciate ligament graft. Knee Surg Sports Traumatol Arthrosc 16:224–231

Middleton KK, Hamilton T, Irrgang JJ, Karlsson J, Harner CD, Fu FH (2014) Anatomic anterior cruciate ligament (ACL) reconstruction: a global perspective. Part 1. Knee Surg Sports Traumatol Arthrosc 22:1467–1482

Muneta T, Hara K, Ju YJ, Mochizuki T, Morito T, Yagishita K, Sekiya I (2010) Revision anterior cruciate ligament reconstruction by double-bundle technique using multi-strand semitendinosus tendon. Arthroscopy 26:461–476

Muneta T, Takakuda K, Yamamoto H (1997) Intercondylar notch width and its relation to the configuration and cross-sectional area of the anterior cruciate ligament: a cadaveric knee study. Am J Sports Med 25:69–72

Nakamura N, Horibe S, Sasaki S, Kitaguchi T, Tagami M et al (2002) Evaluation of active knee flexion and hamstring strength after anterior cruciate ligament reconstruction using hamstring tendons. Arthroscopy 18:598–602

Nin JR, Leyes M, Schweitzer D (1996) Anterior cruciate ligament reconstruction with fresh-frozen patellar tendon allografts: sixty cases with 2 years minimum follow-up. Knee Surg Sports Traumatol Arthrosc 4:137–142

Noh JH, Yi SR, Song SJ, Kim SW, Kim W (2011) Comparison between hamstring autograft and free tendon Achilles allograft: minimum 2-year follow-up after anterior cruciate ligament reconstruction using EndoButton and Intrafix. Knee Surg Sports Traumatol Arthrosc 19:816–822

Norwood LA, Cross MJ (1997) Anterior cruciate ligament: functional anatomy of its bundles in rotatory instabilities. Am J Sports Med 1:23–26

Noyes FR, Grood ES (1996) The strength of the anterior cruciate ligament in humans and Rhesus monkeys. J Bone Joint Surg Am 58:1074–1082

Pioletti DP, Heegaard JH, Rakotomanana RL, Leyvraz PF, Blankevoort L (1995) Experimental and mathematical methods for representing relative surface elongation of the ACL. J Biomech 28:1123–1126

Radford WJR, Amis AA (1990) Biomechanical properties of a double prosthetic ligament in the anterior cruciate deficient knee. J Bone Joint Surg [Br] 72:1038–1043

Romanini E, D'Angelo F, De Masi S et al (2010) Graft selection in arthroscopic anterior cruciate ligament reconstruction. J Orthop Traumatol 11:211–219

Sajovic M, Vengust V, Komadina R, Tavcar R, Skaza K (2006) A prospective, randomized comparison of semitendinosus and gracilis tendon versus patellar tendon autografts for anterior cruciate ligament reconstruction: five-year follow-up. Am J Sports Med 34:1933–1940

Shunji H, Kouji Y, Takashi K (2001) Circumferential measurement and analysis of strain distribution in the human ACL using a photoelastic coating method. J Biomech 34:1135–1143

Stuker BD, Lester GE, Banes AJ et al (1990) Cyclic strain stimulates DNA and collagen synthesis in fibroblasts cultured from rat medial collateral ligaments. Trans Orthop Res Soc 15:130

Sun K, Zhang J, Wang Y et al (2011) Arthroscopic reconstruction of the anterior cruciate ligament with hamstring tendon autograft and fresh-frozen allograft: a prospective, randomized controlled study. Am J Sports Med 39:1430–1438

Tomita F, Yasuda K, Mikami S et al (2001) Comparisons of intraosseous graft healing between the doubled flexor tendon graft and the bone-patellar tendon-bone graft in anterior cruciate ligament reconstruction. Arthroscopy 17:461–476

Wagner M, Kaab MJ, Schallock J, Haas NP, Weiler A (2005) Hamstring tendon versus patellar tendon anterior cruciate ligament reconstruction using biodegradable interference fit fixation: a prospective matched-group analysis. Am J Sports Med 33:1327–1336

Wallace MP, Howell SM, Hull ML (1997) In vivo tensile behavior of a four-bundle hamstring graft as a replacement for the anterior cruciate ligament. J Orthop Res 15:539–545

Weiler A, Hoffmann RF, Bail HJ, Rehm O, Sudkamp NP (2002) Tendon healing in a bone tunnel. Part II: histologic analysis after biodegradable interference fit fixation in a model of anterior cruciate ligament reconstruction in sheep. Arthroscopy 18:124–135

Wilson TW, Zafuta MP, Zobitz MA (1999) Biomechanical analysis of matched bone-patellar tendon-bone and double-looped semitendinosus and gracilis tendon grafts. Am J Sports Med 27:202–207

Woo SL, Gomez MA, Sites TJ et al (1987) The biomechanical and morphological changes in the medial collateral ligament of the rabbit after immobilization and remobilization. J Bone Joint Surg Am 69:1200–1211

Woo SL, Hollis JM, Adams DJ, Lyon RM, Takai S (1991) Tensile properties of the human femur-anterior cruciate ligament-tibia complex: the effects of specimen age and orientation. Am J Sports Med 19:217–225

Zaffagnini S, Marcacci M, Lo Presti M, Giordano G, Iacono F, Neri MP (2006) Prospective and randomized evaluation of ACL reconstruction with three techniques: a clinical and radiographic evaluation at 5 years follow-up. Knee Surg Sports Traumatol Arthrosc 14:1060–1069
About this article
Cite this article
Dai, C., Wang, F., Wang, X. et al. Arthroscopic single-bundle anterior cruciate ligament reconstruction with six-strand hamstring tendon allograft versus bone-patellar tendon-bone allograft. Knee Surg Sports Traumatol Arthrosc 24, 2915–2922 (2016). https://doi.org/10.1007/s00167-015-3569-9
Received:

Accepted:

Published:

Issue Date:

DOI: https://doi.org/10.1007/s00167-015-3569-9
Keywords