Abstract
Purpose
Electrothermal arthroscopic capsulorrhaphy (ETAC) was introduced as an adjunct to shoulder stabilization surgery to address capsular laxity in the treatment of traumatic anterior dislocation. No previous RCT has compared arthroscopic Bankart repair with ETAC of the medial glenohumeral ligament and anterior band of the inferior glenohumeral ligament versus undergoing arthroscopic Bankart repair alone. Our hypothesis was that there would be no difference in quality of life between these two groups. Complication/failure rates were also compared.
Methods
Eighty-eight patients were randomly assigned to receive arthroscopic Bankart repair with (n = 44) or without ETAC (n = 44). Post-operative visits occurred at 3, 6, 12, and 24 months with WOSI, ASES, and Constant scores completed, and rates of dislocation/subluxation were determined.
Results
Data on 74 patients were analysed, with the rest lost to follow-up. There were no differences between groups at any post-surgery time points for WOSI, ASES, or Constant scores (n.s.). Eight patients in the no-ETAC group and 7 in the ETAC group were considered failures (n.s.).
Conclusions
No benefits in patient-reported outcome or recurrence rates using ETAC were found. Mean WOSI scores 2 years post-surgery were virtually identical for the two groups. ETAC could not be shown to provide benefit or detriment when combined with arthroscopic labral repair for traumatic anterior instability of the shoulder.
Level of evidence
II.
Access options
Buy single article
Instant access to the full article PDF.
USD 39.95
Price excludes VAT (USA)
Tax calculation will be finalised during checkout.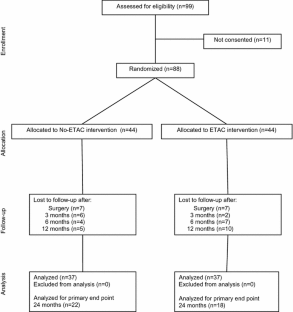 References
Bisson L (2005) Thermal capsulorrhaphy for isolated posterior instability of the glenhumeral joint without labral detachment. Am J Sports Med 33:1898–1904

Brophy R, Marx R (2009) The treatment of traumatic anterior instability of the shoulder: nonoperative and surgical treatment. Arthroscopy 25(3):298–304

Chang J, Hsu A, Lee S, Chang G (2004) Immediate effect of thermal capsulorrhaphy on glenohumeral joint mobility. Clin Biomech 19:572–578

Chen S, Haen P, Walton J, Murrell G (2005) The effects of thermal capsular shrinkage on the outcomes of arthroscopic stabilization for primary anterior shoulder instability. Am J Sports Med 33:705–711

Cohen C, Cole B, Romeo A (2001) A thermal capsulorrhaphy of the shoulder. Oper Tech Orthop 11:38–45

Constant C, Murley A (1987) A clinical method of functional assessment of the shoulder. Clin Orthop Relat Res 214:160–164

Coobs B, LaPrade R (2009) Severe chondrolysis of the glenohumeral joint after shoulder thermal capsulorrhaphy. Am J Orthop 38:E34–E37

D'Alessandro D, Bradley J, Fleishli J, Connor P (2004) Prospective evaluation of thermal capsulorrhaphy for shoulder instability: indications and results, two- to five-year follow-up. Am J Sports Med 32:21–33

Enad J, Kharrazi F, ElAttrache N, Yocum L (2003) Electrothermal capsulorrhaphy in glenohumeral instability without Bankart tear. Arthroscopy 19:740–745

Engelsma Y, Willems W (2010) Arthroscopic stabilization of posterior shoulder instability. Knee Surg Sports Traum Arthroscop 18:1762–1766. doi:10.1007/s00167-010-1110-8

Good C, Shindle M, Kelly B, Wanich T, Warren R (2007) Glenohumeral chondrolysis after shoulder arthroscopy with thermal capsulorrhaphy. Arthroscopy 23:797e791–797e795

Green M, Christensen K (1995) Arthroscopic Bankart procedure: two- to five-year followup with clinical correlation to severity of glenoid labral sesion. Am J Sports Med 23:276–281

Greis P, Burks R, Schickendantz M (2001) Axillary nerve injury after thermal capsular shrinkage of the shoulder. J Shoulder Elbow Surg 10:231–235

Hawkins R, Krishnan S, Noonan T, Horan M (2007) Electrothermal arthroscopic shoulder capsulorrhaphy: a minimum 2-year follow-up. Am J Sports Med 35:1484–1488

Hayashi K, Thabit G, Vailas A, Bogdanske J, Cooley A, Markel M (1996) The effect of nonablative laser energy on joint capsular properties. An in vitro histologic and biochemical study using a rabbit model. Am J Sports Med 24:640–646

King G, Richards R, Zuckerman J, Blasier R, Dillman C, Friedman R (1999) A standardized method for assessment of elbow function. Research Committee, American Shoulder and Elbow Surgeons. J Shoulder Elbow Surg 8:351–354

Kirkley A, Griffin S, McLintock H, Ng L (1998) The development and evaluation of a disease-specific quality of life measurement tool for shoulder instability. The Western Ontario Shoulder Instability Index (WOSI). Am J Sports Med 26:764–772

Levine W, Clark A, D'Alessandro D, Yamaguchi K (2005) Chondrolysis following arthroscopic thermal capsulorrhaphy to treat shoulder instability. A report of two cases. J Bone Joint Surg Am 87:616–621

Lubowitz J, Poehling G (2007) Glenohumeral thermal capsulorrhaphy is not recommended-shoulder condrolysis requires additional research. Arthroscopy 23:687

Miniaci A, Codsi M (2006) Thermal capsulorrhaphy for the treatment of shoulder instability. Am J Sports Med 34:1356–1363

Mohtadi N, Chan D, Hollinshead R, Boorman R, Hiemtra L, Lo I, Hannaford H, Fredine J, Sasyniuk T, Paolucci E (2014) A randomized clinical trial comparing open and arthroscopic stabilization for recurrent traumatic anterior shoulder instability: two-year follow-up with disease-specific quality-of-life outcomes. J Bone Joint Surg Am 96(5):353–360

Mohtadi N, Kirkley A, Hollinshead R, McCormack R, Macdonald P, Chan D, Sasyniuk T, Fick G (2014) Electrothermal arthroscopic capsulorrhaphy: old technology, new evidence. A multicenter randomized clinical trial. J Shoulder Elbow Surg 23:1171–1180

Monk A, Roberts P, Logishetty K, Price A, Kulkarni R, Rangan A, Rees J (2013) Evidence in managing traumatic anterior shoulder instability: a scoping review. Br J Sports Med. doi:10.1136/bjsports-2013-092296

Nath S, DiMarco J, Haines D (1994) Basic aspects of radiofrequency catheter ablation. J Cardiovasc Electrophysiol 5:863–876

Roy J-S, MacDermid J, Woodhouse L (2009) Measuring shoulder function: a systematic review of four questionnaires. Arthritis Rheum 61:623–632

Scheffel P, Clinton J, Lynch J, Warme W, Bertelsen A, Matsen F (2010) Glenohumeral chondrolysis: a systematic review of 100 cases from the English language literature. J Shoulder Elbow Surg 19:944–949

Vangsness C, Mitchell W, Nimni M, Erlich M, Saadat V, Schmotzer H (1997) Collagen shortening. An experimental approach with heat. Clin Orthop Relat Res 337:267–271

Wolf R, Zheng N, Iero J, Weichel D (2004) The effects of thermal capsulorrhaphy and rotator interval closure on multidirectional laxity in the glenohumeral joint: a cadaveric biomechanical study. Arthroscopy 20:1044–1049

Wong K, Getz C, Yeh G, Ramsey M, Iannotti J, Williams G (2005) Treatment of glenohumeral subluxation using electrothermal capsulorrhaphy. Arthroscopy 21:985–991

Wong K, Williams G (2001) Complications of thermal capsulorrhaphy of the shoulder. J Bone Joint Surg Am 83-A(Suppl 2, part 2):151–155
Acknowledgments
The authors would like to thank the University of Manitoba Alexander Gibson Fund and the Pan Am Clinic Foundation for financial support of this study.
Conflict of interest
The authors declare that they have no conflict of interest.
About this article
Cite this article
McRae, S., Leiter, J., Subramanian, K. et al. Randomized controlled trial of arthroscopic electrothermal capsulorrhaphy with Bankart repair and isolated arthroscopic Bankart repair. Knee Surg Sports Traumatol Arthrosc 24, 414–421 (2016). https://doi.org/10.1007/s00167-015-3543-6
Received:

Accepted:

Published:

Issue Date:

DOI: https://doi.org/10.1007/s00167-015-3543-6
Keywords