Abstract
Purpose
The discrepancy between patient-desired outcomes and achievable functional outcomes is a source of patient dissatisfaction. This paper reports development and validation of a questionnaire to assess this discrepancy in patients undergoing knee replacement surgery.
Methods
The initial questionnaire (Knee Surgery Perception Questionnaire, KSPQ) comprised two parts. Part A, assessed patients' perception of their current level of function and pain, and Part B, assessed patients' desired outcomes of the surgery. Validation was carried out for Part A and then applied to Part B using a one-factor congeneric model and was tested in 185 patients preceding surgery. A discrepancy score between patients' expectations and desired outcome (Part B) and their perception of current function (Part A) was also calculated. Pearson correlations were used between the KSPQ total score and subscales and other knee-specific questionnaires to determine construct validity.
Results
The final best set of models included four items for each subscale with a Chi-square value of 7.3 (n.s). The subscales and the total KSPQ showed significant strong to moderate correlations with knee-specific questionnaires. The discrepancy score in each subscale and the overall score showed relatively large discrepancy between patients' expectations and their perception of current function; with higher discrepancy score reported for pain and walking.
Conclusion
The KSPQ is a valid questionnaire to assess patients' expected and desired outcomes of knee replacement surgery and their perception of their current abilities and function, and discrepancy between these. The KSPQ now requires further investigation at different stages of recovery following surgery.
Level of evidence
III.
Access options
Buy single article
Instant access to the full article PDF.
USD 39.95
Price excludes VAT (USA)
Tax calculation will be finalised during checkout.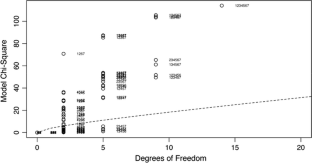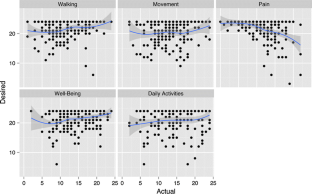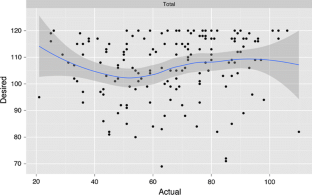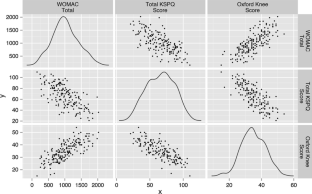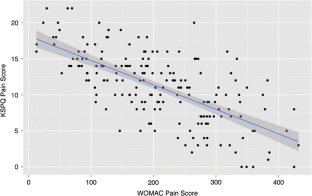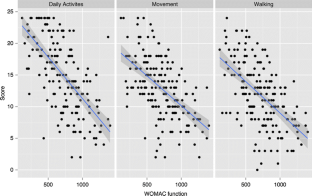 References
Australian Orthopaedic Association National Joint Replacement Registry (2013) Annual Report

Baker PN, van der Meulen JH, Lewsey J, Gregg PJ (2007) The role of pain and function in determining patient satisfaction after total knee replacement. Data from the National Joint Registry for England and Wales. J Bone Joint Surg Br 89(7):893–900

Bellamy N (1989) Pain assessment in osteoarthritis: experience with the WOMAC osteoarthritis index. Semin Arthritis Rheum 18(4 Suppl 2):14–17

Bellamy N, Buchanan WW, Goldsmith CH, Campbell J, Stitt LW (1988) Validation study of WOMAC: a health status instrument for measuring clinically important patient relevant outcomes to antirheumatic drug therapy in patients with osteoarthritis of the hip or knee. J Rheumatol 15(12):1833–1840

Bourne RB, Chesworth BM, Davis AM, Mahomed NN, Charron KD (2010) Patient satisfaction after total knee arthroplasty: Who is satisfied and who is not? Clin Orthop Relat Res 468(1):57–63

Brander VA, Stulberg SD, Adams AD, Harden RN, Bruehl S, Stanos SP, Houle T (2003) Predicting total knee replacement pain: a prospective, observational study. Clin Orthop Relat Res 416:27–36

Bullens PH, van Loon CJ, de Waal Malefijt MC, Laan RF, Veth RP (2001) Patient satisfaction after total knee arthroplasty: a comparison between subjective and objective outcome assessments. J Arthroplasty 16(6):740–747

Dawson J, Fitzpatrick R, Carr A, Murray D (1996) Questionnaire on the perceptions of patients about total hip replacement. J Bone Joint Surg Br 78(2):185–190

Dawson J, Fitzpatrick R, Murray D, Carr A (1998) Questionnaire on the perceptions of patients about total knee replacement. J Bone Joint Surg Br 80(1):63–69

Dunbar MJ, Richardson G, Robertsson O (2013) I can't get no satisfaction after my total knee replacement: rhymes and reasons. Bone Joint J 95-B(11 Suppl A):148–152

Ethgen O, Bruyere O, Richy F, Dardennes C, Reginster JY (2004) Health-related quality of life in total hip and total knee arthroplasty. A qualitative and systematic review of the literature. J Bone Joint Surg Am 86-A(5):963–974

Gandhi R, Dhotar H, Razak F, Tso P, Davey JR, Mahomed NN (2010) Predicting the longer term outcomes of total knee arthroplasty. Knee 17(1):15–18

Ghomrawi HM, Mancuso CA, Westrich GH, Marx RG, Mushlin AI (2013) Discordance in TKA expectations between patients and surgeons. Clin Orthop Relat Res 471(1):175–180

Ghomrawi HM, Franco Ferrando N, Mandl LA, Do H, Noor N, Gonzalez Della Valle A (2011) How often are patient and surgeon recovery expectations for total joint arthroplasty aligned? Results of a pilot study. HSS J 7(3):229–234

Haddad FS, Garbuz DS, Chambers GK, Jagpal TJ, Masri BA, Duncan CP (2001) The expectations of patients undergoing revision hip arthroplasty. J Arthroplasty 16(1):87–91

Hall M, Migay AM, Persad T, Smith J, Yoshida K, Kennedy D, Pagura S (2008) Individuals' experience of living with osteoarthritis of the knee and perceptions of total knee arthroplasty. Physiother Theory Pract 24(3):167–181

Hawker G, Wright J, Coyte P, Paul J, Dittus R, Croxford R, Katz B, Bombardier C, Heck D, Freund D (1998) Health-related quality of life after knee replacement. J Bone Joint Surg Am 80(2):163–173

Heuts PH, Vlaeyen JW, Roelofs J, de Bie RA, Aretz K, van Weel C, van Schayck OC (2004) Pain-related fear and daily functioning in patients with osteoarthritis. Pain 110(1–2):228–235

Holmes-Smith P, Rowe KG (1994) The development and use of cogeneric models in school effectiveness research: improving the reliability and validity of composite and latent variables for fitting multilevel and structural equation models. In: International congress for school effectiveness and improvement. World Congress Centre, Melbourne

Jibodh SR, Kandil AO, Malchau H, Estok DM II (2010) Do commonly reported outcome measures reflect patient satisfaction after revision hip arthroplasty? J Arthroplasty 25(1):41–45

Keefe FJ, Lefebvre JC, Egert JR, Affleck G, Sullivan MJ, Caldwell DS (2000) The relationship of gender to pain, pain behavior, and disability in osteoarthritis patients: the role of catastrophizing. Pain 87(3):325–334

Kim TK, Chang CB, Kang YG, Kim SJ, Seong SC (2009) Causes and predictors of patient's dissatisfaction after uncomplicated total knee arthroplasty. J Arthroplasty 24(2):263–271

Kim TK, Kwon SK, Kang YG, Chang CB, Seong SC (2010) Functional disabilities and satisfaction after total knee arthroplasty in female Asian patients. J Arthroplasty 25(3):458–464

Kline P (1993) The handbook of psychological testing. Routledge, London

Mancuso CA, Jout J, Salvati EA, Sculco TP (2009) Fulfillment of patients' expectations for total hip arthroplasty. J Bone Joint Surg Am 91(9):2073–2078

Mancuso CA, Sculco TP, Wickiewicz TL, Jones EC, Robbins L, Warren RF, Williams-Russo P (2001) Patients' expectations of knee surgery. J Bone Joint Surg Am 83-A(7):1005–1012

McHorney CA, Ware JE, Raczek AE (1993) MOS 36-item short-form health survey (SF-36): II. Psychometric and clinical tests of validity in measuring physical and mental health constructs. Med Care 31:247–263

McHugh GA, Luker KA, Campbell M, Kay PR, Silman AJ (2008) Pain, physical functioning and quality of life of individuals awaiting total joint replacement: a longitudinal study. J Eval Clin Pract 14(1):19–26

Muniesa JM, Marco E, Tejero M, Boza R, Duarte E, Escalada F, Caceres E (2010) Analysis of the expectations of elderly patients before undergoing total knee replacement. Arch Gerontol Geriatr 51(3):e83–e87

Nikolajsen L, Brandsborg B, Lucht U, Jensen TS, Kehlet H (2006) Chronic pain following total hip arthroplasty: a nationwide questionnaire study. Acta Anaesthesiol Scand 50(4):495–500

Noble PC, Conditt MA, Cook KF, Mathis KB (2006) The John Insall Award: patient expectations affect satisfaction with total knee arthroplasty. Clin Orthop Relat Res 452:35–43

Pynsent PB, Adams DJ, Disney SP (2005) The Oxford hip and knee outcome questionnaires for arthroplasty. J Bone Joint Surg Br 87(2):241–248

Rossel Y (2012) lavaan: an R package for structural equation modeling. J Stat Softw 48(2):1–36

Scott CE, Bugler KE, Clement ND, MacDonald D, Howie CR, Biant LC (2012) Patient expectations of arthroplasty of the hip and knee. J Bone Joint Surg Br 94(7):974–981

Sullivan M, Tanzer M, Stanish W, Fallaha M, Keefe FJ, Simmonds M, Dunbar M (2009) Psychological determinants of problematic outcomes following total knee arthroplasty. Pain 143(1–2):123–129

Team RC (2013) R: a language and environment for statistical computing. R Foundation for Statistical Computing, Vienna

Tekin B, Unver B, Karatosun V (2012) Expectations in patients with total knee arthroplasty. Acta Orthop Traumatol Turc 46(3):174–180

Trousdale RT, McGrory BJ, Berry DJ, Becker MW, Harmsen WS (1999) Patients' concerns prior to undergoing total hip and total knee arthroplasty. Mayo Clin Proc 74(10):978–982

Ware J Jr, Kosinski M, Keller SD (1996) A 12-Item Short-Form Health Survey: construction of scales and preliminary tests of reliability and validity. Med Care 34(3):220–233

Ware JE (1997) SF-36 physical and mental health summary scales: a manual for users of version 1, 2nd edn. The Health Institute, New England Medical Center, Boston

Woolf AD, Pfleger B (2003) Burden of major musculoskeletal conditions. Bull World Health Organ 81(9):646–656

Yoo JH, Chang CB, Kang YG, Kim SJ, Seong SC, Kim TK (2011) Patient expectations of total knee replacement and their association with sociodemographic factors and functional status. J Bone Joint Surg Br 93(3):337–344
Conflict of interest
The authors declare no conflict of interest.
Electronic supplementary material
Below is the link to the electronic supplementary material.
About this article
Cite this article
Levinger, P., Diamond, N.T., Menz, H.B. et al. Development and validation of a questionnaire assessing discrepancy between patients' pre-surgery expectations and abilities and post-surgical outcomes following knee replacement surgery. Knee Surg Sports Traumatol Arthrosc 24, 3359–3368 (2016). https://doi.org/10.1007/s00167-014-3432-4
Received:

Accepted:

Published:

Issue Date:

DOI: https://doi.org/10.1007/s00167-014-3432-4
Keywords
Knee replacement

Satisfaction

Discrepancy

Expectation