Abstract
Purpose
Advanced chondral damage (bare bone) at presentation is considered a contraindication to meniscal allograft transplantation (MAT), yet there are few other options for young patients where arthroplasty is not appropriate. This study hypothesis is that MAT in patients with advanced chondral damage can obtain good clinical outcomes, equivalent to patients with minimal chondral damage.
Method
A prospective longitudinal study of 99 consecutive patients who underwent MAT between May 2005 and Feb 2013, with a minimum of 1-year follow-up. Patients were categorised into two groups: 60 in Group A (Good) up to ICRS Chondral grade 3b involving <1 cm2 and 39 in Group B (Bare) ICRS grade 3b involving >1 cm2 or worse. Outcomes were assessed by PROMS (KOOS, IKDC, Lysholm, Tegner Activity Scale), with an endpoint of meniscal allograft failure.
Results
Mean follow-up was 2.9 years (range 1.1–9.1, SD 1.23), with a similar male to female and lateral to medial ratios between the groups (n.s). The age of Group B was significantly older than Group A (35 vs 29 years, p = 0.002). The status of the articular cartilage at the time of transplant was directly related to the number of years since index meniscectomy [(A) Mean 6.9 years, SD 6.3; (B) 11.9 years, SD 7.4; p = 0.001]. Pre-operatively, patients in Group B had significantly worse pain and functional outcome scores (KOOS p = 0.022, Lysholm p = 0.025, IKDC pain subset p = 0.035). The mean increase PROMs was significant in both groups at 1 year (KOOS p < 0.05, IKDC p < 0.001, Lysholm p < 0.001), and the pain and functional scores were no longer significantly different between groups (n.s.). The outcome measures continued to improve in both groups at 2 and 3 years, with slightly greater improvement in Group A. Failure of the meniscal allograft occurred in 9 patients (A:1, B:8) at a mean time of 1.1 years (SD 0.55). Kaplan–Meier survival at 2 years was 97.9 % (A) and 78 % (B) (p = 0.002). Logistic regression analysis demonstrated a relationship between survival and chondral grade (p = 0.001) and number of concomitant procedures (p < 0.001).
Conclusion
Patients with advanced chondral damage should not be excluded from MAT. Though there is a higher initial failure rate, these patients obtain a similar therapeutic benefit to the traditional, ideal patient group.
Level of evidence
III.
Access options
Buy single article
Instant access to the full article PDF.
US$ 39.95
Tax calculation will be finalised during checkout.
Subscribe to journal
Immediate online access to all issues from 2019. Subscription will auto renew annually.
US$ 119
Tax calculation will be finalised during checkout.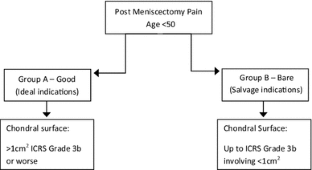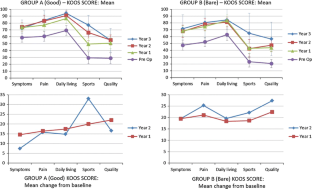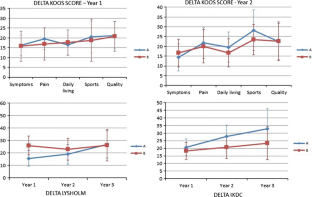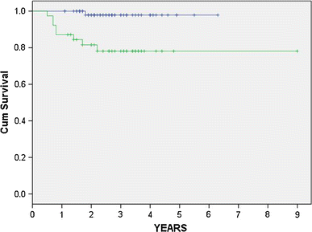 References
1.

Anderson AF, Irrgang JJ, Kocher MS, Mann BJ, Harrast JJ (2006) The international knee documentation committee subjective knee evaluation form: normative data. Am J Sports Med 34:128–135

2.

Bhosale AM, Myint P, Roberts S, Menage J, Harrison P, Ashton B, Smith T, McCall I, Richardson JB (2007) Combined autologous chondrocyte implantation and allogenic meniscus transplantation: a biological knee replacement. Knee 14:361–368

3.

Cameron JC, Saha S (1997) Meniscal allograft transplantation for unicompartmental arthritis of the knee. Clin Orthop Relat Res 337:164–171

4.

Cole BJ, Dennis MG, Lee SJ, Nho SJ, Kalsi RS, Hayden JK, Verma NN (2006) Prospective evaluation of allograft meniscus transplantation: a minimum 2-year follow-up. Am J Sports Med 34:919–927

5.

Collins NJ, Misra D, Felson DT, Crossley KM, Roos EM (2011) Measures of Knee function, IKDC, KOOS, KOOS-Physical function short form, KOS-ADL, Lysholm, OKS, WOMAC, ARS and Tegner activity score. Arthritis Care Res (Hoboken) 63:s208–28

6.

Elattar M, Dhollander A, Verdonk R, Almqvist KF, Verdonk P (2011) Twenty-six years of meniscal allograft transplantation: is it still experimental? A meta-analysis of 44 trials. Knee Surg Sports Traumatol Arthrosc 19:147–157

7.

Farr J, Farr J, Rawal A, Rawal A, Marberry KM, Marberry KM (2007) Concomitant meniscal allograft transplantation and autologous chondrocyte implantation: minimum 2-year follow-up. Am J Sports Med 35:1459–1466

8.

Farr J, Gersoff W (2004) Current meniscal allograft transplantation. Sports Med Arthrosc 12:69–82

9.

Garrett JC (1993) Meniscal transplantation: a review of 43 cases with 2- to 7-year follow-up. Sports Med Arthrosc 1:164–171

10.

Gersoff WK (2002) Combined meniscal allografttransplantation and autologous chiondrocyte implantation. Oper Tech Sport Med 10:165–167

11.

Gomoll AH, Kang RW, Chen AL, Cole BJ (2009) Triad of cartilage restoration for unicompartmental arthritis treatment in young patients: meniscus allograft transplantation, cartilage repair and osteotomy. J Knee Surg 22:137–141

12.

Harris JD, Siston RA, Brophy RH, Lattermann C, Carey JL, Flanigan DC (2011) Failures, re-operations, and complications after autologous chondrocyte implantation—a systematic review. Osteoarthr Cartil 19:779–791

13.

Irrgang JJ, Anderson AF, Boland AL, Harner CD, Neyret P, Richmond JC, Shelbourne KD (2006) Responsiveness of the international knee documentation committee subjective knee form. Am J Sports Med 34:1567–1573

14.

Ishiguro N, Ito T, Ito H, Iwata H, Jugessur H, Ionescu M, Poole AR (1999) Relationship of matrix metalloproteinases and their inhibitors to cartilage proteoglycan and collagen turnover: analyses of synovial fluid from patients with osteoarthritis. Arthritis Rheum 42:129–136

15.

Kartus J, Magnusson L, Stener S, Brandsson S, Eriksson BI, Karlsson J (1999) Complications following arthroscopic anterior cruciate ligament reconstruction. A 2-5-year follow-up of 604 patients with special emphasis on anterior knee pain. Knee Surg Sports Traumatol Arthr 7:2–8

16.

LaPrade RF, LaPrade RF, Wills NJ, Wills NJ, Spiridonov SI, Spiridonov SI, Perkinson S, Perkinson S (2010) A prospective outcomes study of meniscal allograft transplantation. Am J Sports Med 38:1804–1812

17.

Lee D-H, Kim S-B, Kim T-H, Cha E-J, Bin S-I (2010) Midterm outcomes after meniscal allograft transplantation: comparison of cases with extrusion versus without extrusion. Am J Sports Med 38:247–254

18.

Lohmander LS, Hoerrner LA, Lark MW (1993) Metalloproteinases, tissue inhibitor, and proteoglycan fragments in knee synovial fluid in human osteoarthritis. Arthritis Rheum 36:181–189

19.

Marcacci M, Zaffagnini S, Marcheggiani Muccioli GM, Grassi A, Bonanzinga T, Nitri M, Bondi A, Molinari M, Rimondi E (2012) Meniscal allograft transplantation without bone plugs: a 3-year minimum follow-up study. Am J Sports Med 40:395–403

20.

McCormick F, Harris JD, Abrams GD, Hussey KE, Wilson H, Frank R, Gupta AK, Bach BR, Cole BJ (2014) Survival and reoperation rates after meniscal allograft transplantation: analysis of failures for 172 consecutive transplants at a minimum 2-year follow-up. Am J Sports Med 42:892–897

21.

Noyes FR, Barber-Westin SD, Butler DL, Wilkins RM (1998) The role of allografts in repair and reconstruction of knee joint ligaments and menisci. Instr Course Lect 47:379–396

22.

Noyes FR, Barber-Westin SD, Rankin M (2004) Meniscal transplantation in symptomatic patients less than fifty years old. J Bone Joint Surg Am 86-A:1392–1404

23.

Paxton ES, Stock MV, Brophy RH (2011) Meniscal repair versus partial meniscectomy: a systematic review comparing reoperation rates and clinical outcomes. Arthroscopy 27:1275–1288

24.

Potter HG, Rodeo SA, Wickiewicz TL, Warren RF (1996) MR imaging of meniscal allografts: correlation with clinical and arthroscopic outcomes. Radiology 198:509–514

25.

Roos EM, Lohmander LS (2003) The knee injury and osteoarthritis outcome score (KOOS) from joint injury to osteoarthritis. Health and Quality of life outcomes 1(1):64

26.

Rue J-PH, Yanke AB, Busam ML, McNickle AG, Cole BJ (2008) Prospective evaluation of concurrent meniscus transplantation and articular cartilage repair: minimum 2-year follow-up. Am J Sports Med 36:1770–1778

27.

Ryu RKN, Dunbar WHV, Morse GG (2002) Meniscal allograft replacement: a 1-year to 6-year experience. Arthroscopy 18:989–994

28.

Stone KR, Adelson WS, Pelsis JR, Walgenbach AW, Turek TJ (2010) Long-term survival of concurrent meniscus allograft transplantation and repair of the articular cartilage: a prospective two- to 12-year follow-up report. J Bone Joint Surg Br 92:941–948

29.

Stone KR, Walgenbach AW, Turek TJ, Freyer A, Hill MD (2006) Meniscus allograft survival in patients with moderate to severe unicompartmental arthritis: a 2- to 7-year follow-up. Arthroscopy 22:469–478

30.

Tegner Y, Lysholm J (1985) Rating systems in the evaluation of knee ligament injuries. Clin Orthop Relat Res 198:43–49

31.

Van Arkel ER, De Boer HH (1995) Human meniscal transplantation. Preliminary results at 2 to 5-year follow-up. J Bone Joint Surg Br 77:589–595

32.

Vundelinckx B, Bellemans J, Vanlauwe J (2010) Arthroscopically assisted meniscal allograft transplantation in the knee: a medium-term subjective, clinical, and radiographical outcome evaluation. Am J Sports Med 38:2240–2247

33.

Wirth CJ, Peters G, Milachowski KA, Weismeier KG, Kohn D (2002) Long-term results of meniscal allograft transplantation. Am J Sports Med 30:174–181
Conflict of interest
No author has a conflict of interest with reference to the submitted paper. None of the above mentioned parties are receiving funding or have received financial benefit from this article.
Ethical standard
Local ethical approval was not required for this study.
About this article
Cite this article
Kempshall, P.J., Parkinson, B., Thomas, M. et al. Outcome of meniscal allograft transplantation related to articular cartilage status: advanced chondral damage should not be a contraindication. Knee Surg Sports Traumatol Arthrosc 23, 280–289 (2015). https://doi.org/10.1007/s00167-014-3431-5
Received:

Accepted:

Published:

Issue Date:
Keywords
Meniscus

Transplant

Allograft

Chondral damage

Meniscectomy

Post-meniscectomy pain