Abstract
Purpose
Studies comparing mid- or long-term outcomes of open- and closed-wedge high tibial osteotomy are limited. Here, the midterm survival rate and clinical and radiographic outcomes were compared for these two techniques. The study hypothesis, based on short-term follow-up, was that after midterm follow-up, the two techniques would not differ.
Methods
A prospective follow-up study was conducted for a previously reported randomized controlled trial of an original 50 patients (25 open-wedge osteotomy and 25 closed-wedge osteotomy) with medial knee osteoarthritis and a varus leg alignment. We analyzed patients without knee arthroplasty (mean age 48.7 years, SD 8.0) for clinical and radiographic follow-up.
Results
Five patients in each group had undergone conversion to a total knee arthroplasty or unicompartmental knee arthroplasty, leaving 19 patients for analysis in each group. At 7.9 years of follow-up (range 7–9 years), survival did not differ significantly between groups (open-wedge group 81.3 % [95 % confidence interval (CI) 75.2–100], closed-wedge group 82.0 % [95 % CI 66.7–100]). At final follow-up, total Dutch Western Ontario and McMaster Universities Arthritis (WOMAC), Knee Society Score, and visual analog scale (VAS) pain did not differ between groups. However, the results were significantly better in the closed-wedge group for VAS satisfaction and WOMAC pain and stiffness compared to the open-wedge group. Radiographic evaluation did not differ between groups for any outcome at final follow-up.
Conclusion
After a mean follow-up of 7.9 years, patients undergoing a closed-wedge osteotomy had favorable clinical results compared to those who underwent an open-wedge osteotomy.
Level of evidence
II.
This is a preview of subscription content, log in to check access.
Access options
Buy single article
Instant access to the full article PDF.
US$ 39.95
Price includes VAT for USA
Subscribe to journal
Immediate online access to all issues from 2019. Subscription will auto renew annually.
US$ 199
This is the net price. Taxes to be calculated in checkout.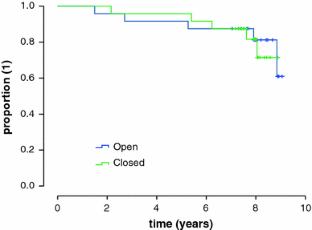 References
1.

Akizuki S, Shibakawa A, Takizawa T, Yamazaki I, Horiuchi H (2008) The long-term outcome of high tibial osteotomy: a ten- to 20-year follow-up. J Bone Joint Surg Br 90:592–596

2.

Aryee S, Imhoff AB, Rose T, Tischer T (2008) Do we need synthetic osteotomy augmentation materials for opening-wedge high tibial osteotomy. Biomaterials 29:3497–3502

3.

Bode G, von Heyden J, Pestka J, Schmal H, Salzmann G, Stüdkamp N, Niemeyer P (2013) Prospective 5-year survival data following open-wedge valgus high tibial osteotomy. Knee Surg Sports Traumatol Arthrosc. doi:10.1007/s00167-013-2762-y

4.

Caton J (1989) Method of measuring the height of the patella. Acta Orthop Belg 55:385–386

5.

Devgan A, Marya KM, Kundu ZS, Sangwan SS, Siwach RC (2003) Medial opening wedge high tibial osteotomy for osteoarthritis of knee: long-term results in 50 knees. Med J Malays 58:62–68

6.

Dugdale TW, Noyes FR, Styer D (1992) Preoperative planning for high tibial osteotomy. The effect of lateral tibiofemoral separation and tibiofemoral length. Clin Orthop Relat Res 274:248–264

7.

El-Azab H, Glabgly P, Paul J, Imhoff AB (2010) Patellar height and posterior tibial slope after open- and closed-wedge high tibial osteotomy: a radiological study on 100 patients. Am J Sports Med 38:323–329

8.

Esenkaya I, Unay K, Akan K (2012) Proximal tibial osteotomies for the medial compartment arthrosis of the knee: a historical journey. Strateg Trauma Limb Reconstr 7:13–21

9.

Flecher X, Parratte S, Aubaniac JM, Argenson JN (2006) A 12–28-year followup study of closing wedge high tibial osteotomy. Clin Orthop Relat Res 452:91–96

10.

Gaasbeek R, Welsing R, Barink M, Verdonschot N, van Kampen A (2007) The influence of open and closed high tibial osteotomy on dynamic patellar tracking: a biomechanical study. Knee Surg Sports Traumatol Arthrosc 15:978–984

11.

Gaasbeek RD, Nicolaas L, Rijnberg WJ, Van Loon CJM, Van Kampen A (2010) Correction accuracy and collateral laxity in open versus closed wedge high tibial osteotomy. A one-year randomised controlled study. Int Orthop 34:201–207

12.

Haviv B, Bronak S, Thein R, Thein R (2013) The results of corrective osteotomy for valgus arthritic knees. Knee Surg Sports Trauma Arthrosc 21:49–56

13.

Hernigou P, Roussignol X, Flouzat-Lachaniette CH et al (2010) Opening wedge tibial osteotomy for large varus deformity with Ceraver resorbable beta tricalcium phosphate wedges. Int Orthop 34:191–199

14.

Insall JN, Dorr LD, Scott RD, Scott WN (1989) Rationale of the knee society clinical rating system. Clin Orthop Relat Res 248:13–14

15.

Kellgren JH, Lawrence JS (1956) Radiological assessment of osteo-arthrosis. Ann Rheum Dis 16:494–503

16.

Koshino T (2010) Osteotomy around young deformed knees: 38-year super-long-term follow-up to detect osteoarthritis. Int Orthop 34:263–269

17.

Kujala UM, Jaakkola LH, Koskinsen SK, Taimela S, Humr M, Nelimarkka O (1993) Scoring of patellofemoral disorders. Arthroscopy 9:159–163

18.

Lachman D, Bonnin MP (1994) Tibial translation after anterior cruciate ligament rupture. J Bone Joint Surg Br 76-B:745–749

19.

Lee DC, Byun SJ (2012) High tibial osteotomy. Knee Surg Relat Res 24:61–69

20.

Lustig S, Scholes CJ, Costa AJ, Coolican MJ, Parker DA (2013) Different changes in slope between the medial and lateral tibial plateau after open-wedge high tibial osteotomy. Knee Surg Sports Traumatol Arthrosc 21:32–38

21.

McNamara I, Birmingham TB, Fowler PJ, Giffin JR (2013) High tibial osteotomy: evolution of research and clinical applications—a Canadian experience. Knee Surg Sports Traumatol Arthrosc 21:23–31

22.

Odenbring S, Egund N, Lindstrand A, Lohmander SL, Willen H (1990) Cartilage regeneration after proximal tibial osteotomy for medial gonarthrosis. Clin Biomech 277:210–216

23.

Poignard A, Lachaniette CHF, Amzallag J, Hernigou P (2010) Revisiting high tibial osteotomy: fifty years of experience with the opening-wedge technique. J Bone Joint Surg Am 92(Suppl 2):187–195

24.

Roorda LD (2004) Satisfactory cross cultural equivalence of the Dutch WOMAC in patients with hip osteoarthritis waiting for arthroplasty. Ann Rheum Dis 63:36–42

25.

Rudan JF, Simurda MA (1990) High tibial osteotomy. Clin Orthop Relat Res 255:251–256

26.

Saragaglia D, Mercier N, Colle PE (2010) Computer-assisted osteotomies for genu varum deformity: which osteotomy for which varus? Int Orthop 34:185–190

27.

Schallberger A, Jacobi M, Wahl P, Maestretti G, Jakob RP (2011) High tibial valgus osteotomy in unicompartmental medial osteoarthritis of the knee: a retrospective follow-up study over 13–21 years. Knee Surg Sports Trauma Arthrosc 19:122–127

28.

Schröter S, Lobenhoffer P, Mueller J, Ihle C, Stöckle U, Albrecht D (2012) Changes of patella position after closed and open wedge high tibial osteotomy: review of the literature. Orthopäde 41:186, 188–194

29.

Song IH, Song EK, Seo HY, Lee KB, Yim JH, Seon JK (2012) Patellofemoral alignment and anterior knee pain after closing- and opening-wedge valgus high tibial osteotomy. Arthroscopy 28:1087–1093

30.

Sprenger TR, Doerzbacher JF (2003) Tibial osteotomy for the treatment of varus gonarthrosis: survival and failure analysis of twenty-two years. J Bone Joint Surg Am 85-A:469–474

31.

Sterett WI, Steadman JR, Huang MJ, Matheny LM, Briggs KK (2010) Chondral resurfacing and high tibial osteotomy in the varus knee: survivorship analysis. Am J Sports Med 38(7):1420–1424

32.

Tang WC, Henderson IJP (2005) High tibial osteotomy: long term survival analysis and patients' perspective. Knee 12:410–413

33.

Van Raaij TM, Brouwer RW, De Vlieger R, Reijman M, Verhaar JAN (2008) Opposite cortical fracture in high tibial osteotomy: lateral closing compared to the medial opening-wedge technique. Acta Orthop 79:508–514
Conflict of interest
The authors declare that they have no conflict of interest.
About this article
Cite this article
van Egmond, N., van Grinsven, S., van Loon, C.J.M. et al. Better clinical results after closed- compared to open-wedge high tibial osteotomy in patients with medial knee osteoarthritis and varus leg alignment. Knee Surg Sports Traumatol Arthrosc 24, 34–41 (2016). https://doi.org/10.1007/s00167-014-3303-z
Received:

Accepted:

Published:

Issue Date:
Keywords
Open-wedge high tibial osteotomy

Closed-wedge high tibial osteotomy

Osteoarthritis

Knee

RCT