Abstract
Purpose
The purpose of this study was to evaluate the efficacy of meniscus allograft transplantation in an active patient population with moderate to severe cartilage damage and the procedure's ability to allow sports participation postoperatively.
Methods
Forty-nine patients with moderate to severe cartilage damage who underwent meniscus allograft transplantation were included in this study; those with symptoms related to articular cartilage damage also underwent articular cartilage repair. Kaplan–Meier (KM) survival estimate, potential hazards to survival, and subjective clinical outcomes were analyzed. For KM survival, failure was defined as progression to knee arthroplasty, surgical removal of the meniscus transplant without revision, a self-reported follow-up pain level that was more than preoperative level, or constant moderate pain with no relief from non-operative treatment.
Results
The mean follow-up time was 8.6 ± 4.2 years. The mean age at surgery was 45.3 ± 12.9 years. Meniscus transplantation was performed in 37 medial cases and 12 lateral cases. There were 41 patients with Outerbridge Grade IV and 8 with Grade III. Thirty-six (73.5 %) patients were able to participate in sporting activities postoperatively. Eleven (22.4 %) meniscus transplants failed at an average of 5.2 ± 4.4 years. The KM mean estimated survival time was 12.6 ± 0.7 years. No tested risks were found to affect sports participation or procedure success.
Conclusions
Meniscus transplantation is a viable surgical option for patients with severe cartilage damage and missing or irreparable menisci to provide significant improvements in pain and function levels in the medium to long term with the majority of patients achieving their goal of participation in sporting activities. These results indicate that symptomatic patients may be able to participate in sports activities for an average of 12.6 years following meniscus transplantation.
Level of evidence
Case series, Level IV.
This is a preview of subscription content, log in to check access.
Access options
Buy single article
Instant access to the full article PDF.
US$ 39.95
Price includes VAT for USA
Subscribe to journal
Immediate online access to all issues from 2019. Subscription will auto renew annually.
US$ 199
This is the net price. Taxes to be calculated in checkout.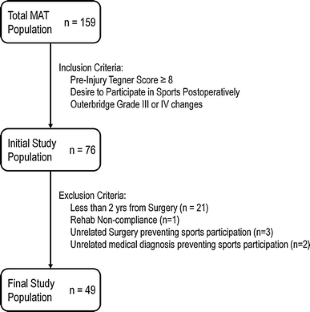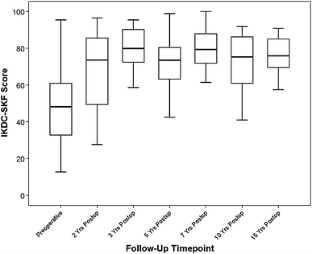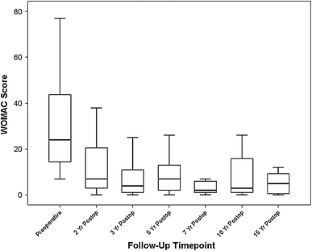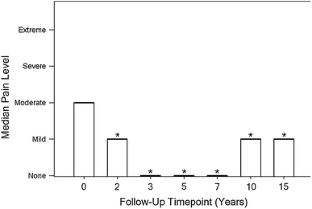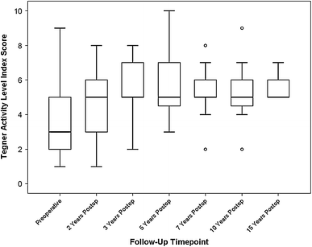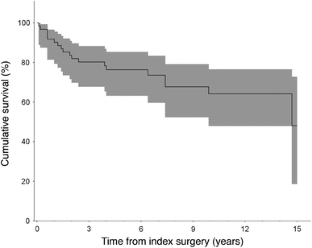 References
1.

Bellamy N, Buchanan WW, Goldsmith CH, Campbell J, Stitt LW (1988) Validation study of WOMAC: a health status instrument for measuring clinically important patient relevant outcomes to antirheumatic drug therapy in patients with osteoarthritis of the hip or knee. J Rheumatol 15(12):1833–1840

2.

Cole BJ, Dennis MG, Lee SJ, Nho SJ, Kalsi RS, Hayden JK, Verma NN (2006) Prospective evaluation of allograft meniscus transplantation: a minimum 2-year follow-up. Am J Sports Med 34(6):919–927

3.

Emery CF, Kiecolt-Glaser JK, Glaser R, Malarkey WB, Frid DJ (2005) Exercise accelerates wound healing among healthy older adults: a preliminary investigation. J Gerontol A Biol Sci Med Sci 60(11):1432–1436

4.

Fairbank TJ (1948) Knee joint changes after meniscectomy. J Bone Joint Surg Br 30B(4):664–670

5.

Farr J, Rawal A, Marberry KM (2007) Concomitant meniscal allograft transplantation and autologous chondrocyte implantation: minimum 2-year follow-up. Am J Sports Med 35(9):1459–1466

6.

Hede A, Jensen DB, Blyme P, Sonne-Holm S (1990) Epidemiology of meniscal lesions in the knee. 1,215 open operations in Copenhagen 1982–84. Acta Orthop Scand 61(5):435–437

7.

Henning CE, Lynch MA (1985) Current concepts of meniscal function and pathology. Clin Sports Med 4(2):259–265

8.

Irrgang JJ, Anderson AF, Boland AL, Harner CD, Kurosaka M, Neyret P, Richmond JC, Shelborne KD (2001) Development and validation of the international knee documentation committee subjective knee form. Am J Sports Med 29(5):600–613

9.

Krause WR, Pope MH, Johnson RJ, Wilder DG (1976) Mechanical changes in the knee after meniscectomy. J Bone Joint Surg Am 58(5):599–604

10.

Levy IM, Torzilli PA, Gould JD, Warren RF (1989) The effect of lateral meniscectomy on motion of the knee. J Bone Joint Surg Am 71(3):401–406

11.

Levy IM, Torzilli PA, Warren RF (1982) The effect of medial meniscectomy on anterior-posterior motion of the knee. J Bone Joint Surg Am 64(6):883–888

12.

Marcacci M, Marcheggiani Muccioli GM, Grassi A, Ricci M, Tsapralis K, Nanni G, Bonanzinga T, Zaffagnini S (2014) Arthroscopic meniscus allograft transplantation in male professional soccer players: a 36-month follow-up study. Am J Sports Med 42(2):382–388

13.

Nielsen AB, Yde J (1991) Epidemiology of acute knee injuries: a prospective hospital investigation. J Trauma 31(12):1644–1648

14.

Noble J, Turner PG (1986) The function, pathology, and surgery of the meniscus. Clin Orthop Relat Res 210:62–68

15.

Rue LJPH, Yanke AB, Busam ML, McNickle AG, Cole BJ (2008) Prospective evaluation of concurrent meniscus transplantation and articular cartilage repair: minimum 2-year follow-up. Am J Sports Med 36(9):1770–1778

16.

Saltzman BM, Bajaj S, Salata M, Daley EL, Strauss E, Verma N, Cole BJ (2012) Prospective long-term evaluation of meniscal allograft transplantation procedure: a minimum of 7-year follow-up. J Knee Surg 25(2):165–175

17.

Seedhom BB (1976) Loadbearing function of the menisci. Physiotherapy 62(7):223

18.

Seedhom BB (1979) Transmission of the load in the knee joint with special reference to the role of the meniscus. Part I + II. Eng Med 8(4):220–228

19.

Stone KR, Adelson WS, Pelsis JR, Walgenbach AW, Turek TJ (2010) Long-term survival of concurrent meniscus allograft transplantation and repair of the articular cartilage: a prospective two- to 12-year follow-up report. J Bone Joint Surg Br 92-B(7):941–948

20.

Stone KR, Walgenbach AW (1997) Surgical technique for articular cartilage transplantation to full thickness cartilage defects in the knee joint. Oper Tech Orthop 7(4):7

21.

Stone KR, Walgenbach AW (2003) Meniscal allografting: the three-tunnel technique. Arthroscopy 19(4):426–430

22.

Stone KR, Walgenbach AW, Turek TJ, Freyer A, Hill MD (2006) Meniscus allograft survival in patients with moderate to severe unicompartmental arthritis: a 2- to 7-year follow-up. Arthroscopy 22(5):469–478

23.

Tegner Y, Lysholm J (1985) Rating systems in the evaluation of knee ligament injuries. Clin Orthop Relat Res 198:43–49

24.

Verdonk PC, Demurie A, Almqvist KF, Veys EM, Verbruggen G, Verdonk R (2005) Transplantation of viable meniscal allograft. Survivorship analysis and clinical outcome of one hundred cases. J Bone Joint Surg Am 87(4):715–724

25.

Vundelinckx B, Vanlauwe J, Bellemans J (2014) Long-term subjective, clinical, and radiographic outcome evaluation of meniscal allograft transplantation in the knee. Am J Sports Med 42(7):1592–1599

26.

Walker PS, Erkman MJ (1975) The role of the menisci in force transmission across the knee. Clin Orthop Relat Res 109:184–192

27.

Zhang H, Liu X, Wei Y, Hong L, Geng XS, Wang XS, Zhang J, Cheng KB, Feng H (2012) Meniscal allograft transplantation in isolated and combined surgery. Knee Surg Sports Traumatol Arthrosc 20(2):281–289
About this article
Cite this article
Stone, K.R., Pelsis, J.R., Surrette, S.T. et al. Meniscus transplantation in an active population with moderate to severe cartilage damage. Knee Surg Sports Traumatol Arthrosc 23, 251–257 (2015). https://doi.org/10.1007/s00167-014-3246-4
Received:

Accepted:

Published:

Issue Date:
Keywords
Meniscus allograft transplantation

Osteoarthritis

Cartilage repair

Sports