Abstract
Purpose
The purpose of this retrospective multicentric study was to evaluate the long-term effects of lateral meniscectomy and to identify those patients who are at the most risk of developing osteoarthritis (OA).
Methods
Eighty-nine arthroscopic partial lateral meniscectomies in stable knees with a mean follow-up of 22 ± 3 years were included. The following influencing factors were analyzed: age, sex, body mass index (BMI), physical activity, alignment, the types of meniscal lesions, the extent of meniscal resections and the initially associated cartilage lesions. An independent examiner reviewed all patients, using subjective (KOOS and IKDC scores) and objective clinical and radiological evaluations (IKDC score). The contralateral knee was used as a reference to calculate the prevalence and the incidence of OA.
Results
The mean age at the time of surgery was 35 ± 13 years. The main location of the lesions was the mid-section of the lateral meniscus (79 % of the cases). At the latest follow-up, 48 % of the patients had an active lifestyle with as many as 48 % of the patients enjoying moderate to intense physical activity 22 years after the procedure (vs. 71 % before surgery). The KOOS score evolved from 82 to 69 % during the same period. The prevalence of OA was 56 % in the affected knee and the difference of prevalence between the operated and healthy knees was 44 %. In those patients presenting with an OA of the operated knee and a normal contralateral knee, the incidence of OA was 53 %. Predictors of OA were an age superior to 38 years at the time of surgery, obesity (BMI >30), and valgus malalignment as well as the presence of cartilage and degenerative meniscal lesions at the time of surgery.
Conclusion
In the long term, arthroscopic partial lateral meniscectomy in stable knees without initial cartilage lesions might yield good to excellent results in young patients. Patients are at higher risk to develop symptomatic OA if they are over 40, having a high BMI, valgus malalignment and cartilage lesions at the time of surgery. This study provides precise guidelines for the surgical treatment of lateral meniscus tears.
Level of evidence
IV.
This is a preview of subscription content,
to check access.
Access this article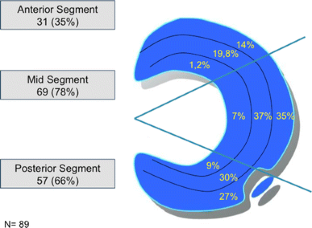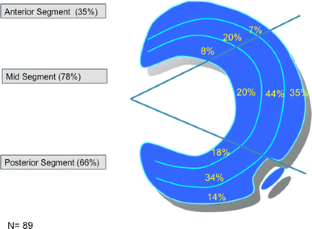 Similar content being viewed by others
References
Allen PR, Denham RA, Swan AV (1984) Late degenerative changes after meniscectomy: factors affecting the knee after operation. J Bone Jt Surg Br 66:666–671

Appel H (1970) Late results after meniscectomy in the knee joint. Acta Orthop Scand 133:1–111

Alford JW, Lewis P, Kang RW, Cole BJ (2005) Rapid progression of chondral disease in the lateral compartment of the knee following meniscectomy. Arthroscopy 21:1505–1509

Anderson AF, Irrgang JJ, Kocher MS, Mann BJ, Harrast JJ, International Knee Documentation Committee (2006) The International Knee Documentation Committee subjective knee evaluation form: normative data. Am J Sports Med 34:128–135

Bolano L, Grana W (1993) Isolated arthroscopic partial meniscectomy: functional radiographic evaluation at five years. Am J Sports Med 21:432–437

Bonneux I, Vanderkerckhove B (2002) Arthroscopic partial lateral meniscectomy: long-term results in athletes. Acta Orthop Belg 68:356–361

Chatain F, Adeleine P, Chambat P, Neyret P (2003) A comparative study of medical versus lateral arthroscopic partial meniscectomy on stable knees: 10-year minimum follow-up. Arthroscopy 19:842–849

Chatain F, Robinson AHN, Adeleine P, Chambat P, Neyret P (2001) The natural history of the knee following arthroscopic medial meniscectomy. Knee Surg Sports Traumatol Arthrosc 9:15–18

Charrois O, Ayral X, Beaufils P (1998) Chondrolyse rapide après méniscectomie externe arthroscopique. A propos de 4 cas. Rev Chir Orthop 84:88–92

Dougados M, Ayral X, Listrat V et al (1994) The SFA system for assessing articular cartilage lesions at arthroscopy of the knee. Arthroscopy 10:69–77

Englund M, Lohmander S (2004) Risk factors for symptomatic knee osteoarthritis15 to 22 years after meniscectomy. Arthritis Rheum 50:2811–2819

Englund M, Roos EM, Roos HP, Lohmander LS (2001) Patient-relevant outcomes fourteen years after meniscectomy: influence of type of meniscal tear and size of resection. Rheumatology 40:631–639

Frobell RB, Svensson E, Göthrick M, Roos E (2008) Self-reported activity level and knee function in amateur football players: the influence of age, gender, history of knee injury and level of competition. Knee Surg Sports Traumatol Arthrosc 16:713–719

Hede A, Larsen E, Sandberg H (1992) The long term outcome of open total and partial meniscectomy related to the quantity and site of the meniscus removed. Int Orthop 16:122–125

Hoser C, Fink C, Brown C, Reichkendler M, Hackl W, Bartlett J (2001) Long-term results of arthroscopic partial meniscectomy in knees without associated damage. J Bone Jt Surg Br 83:513–516

Hulet CH, Locker BG, Schiltz D, Texier A, Tallier E, Vielpeau CH (2001) Arthroscopic medial meniscectomy on stable knees. J Bone Jt Surg Br 83:29–32

Ishida K, Kuroda R, Sakai H et al (2006) Rapid chondrolysis after arthroscopic partial lateral meniscectomy in athletes : a case report. Knee Surg Sports Traumatol Arthrosc 14:1266–1269

Jaureguito J, Elliot J, Lietner T et al (1995) The effects of arthroscopic partial lateral meniscectomy in an otherwise normal knee: a retrospective review of functional, clinical, and radiographic results. Arthroscopy 11:29–36

Johnson RJ, Kettelkamp DB, Clark W, Leaverton P (1974) Factors effecting late results after meniscectomy. J Bone Jt Surg Am 56:719–729

Jorgensen U, Sonne-Holm S, Lauridsen F, Rosenklint A (1987) Long term follow-up of meniscectomy in athletes: a prospective longitudinal study. J Bone Jt Surg Br 69:80–83

Meredith DS, Losina E, Mahomed NN, Wright J, Katz JN (2005) Factors predicting functional and radiographic outcomes after arthroscopic partial meniscectomy: a review of the literature. Arthroscopy 21:211–223

Osti L, Liu SH, Raskin BS, Merlo F, Bocchi L (1994) Partial lateral meniscectomy in athletes. Arthroscopy 10:424–430

Paradowski PT, Englund M, Roos EM, Lohmander LS (2004) Similar group mean scores, but large individual variations, in patient-relevant outcomes over 2 years in meniscectomized subjects with and without radiographic knee osteoarthritis. Health Qual Life Outcomes 2:38

Petty CA, Lubowitz JH (2008) Does arthroscopic partial meniscectomy result in knee osteoarthritis? A systematic review with a minimum of 8 years' follow-up. Arthroscopy 27:419–424

Roos EM, Lohmander LS (2003) The Knee injury and Osteoarthritis Outcome Score (KOOS): from joint injury to osteoarthritis. Health Qual Life Outcomes 1:64

Scheller G, Sobau C, Bülow JU (2001) Arthroscopic partial lateral meniscectomy in an otherwise normal knee: clinical, functional, and radiographic results of a long-term follow-up study. Arthroscopy 17:946–952

Tapper E, Hoover N (1969) Late results after meniscectomy. J Bone Jt Surg Am 51:517–526
Acknowledgments
This study was performed under the patronage of the French Arthroscopic Society (SFA). The authors thank Pr. P. Neyret and Dr. E. Vargas (Lyon), Dr. J. Beldame and Dr. O. Charrois (Versailles), Dr. C. Javois and Dr. M. Boussaton (Toulouse), Dr. A. Wajsfisz and Dr. F. Lespagnol (Paris), Dr. Y. Acquitter (Rennes), Dr. B. Galaud (Caen) for their valuable contribution in patient reviewing and allowance to include them in this study.
Conflict of interest
The authors declare that they have no conflict of interest.
About this article
Cite this article
Hulet, C., Menetrey, J., Beaufils, P. et al. Clinical and radiographic results of arthroscopic partial lateral meniscectomies in stable knees with a minimum follow up of 20 years. Knee Surg Sports Traumatol Arthrosc 23, 225–231 (2015). https://doi.org/10.1007/s00167-014-3245-5
Received:

Accepted:

Published:

Issue Date:

DOI: https://doi.org/10.1007/s00167-014-3245-5
Keywords