Abstract
Purpose
While previous studies have examined the association between ankle dorsiflexion flexibility and deleterious landing postures, it is not currently known how landing kinetics are influenced by ankle dorsiflexion flexibility. The purpose of this study was to examine whether ankle dorsiflexion flexibility was associated with landing kinematics and kinetics that have been shown to increase the risk of anterior cruciate ligament (ACL) injury in female athletes.
Methods
Twenty-three female collegiate soccer players participated in a preseason screening that included the assessment of ankle dorsiflexion flexibility and lower-body kinematics and kinetics during a drop vertical jump task.
Results
The results demonstrated that females with less ankle dorsiflexion flexibility exhibited greater peak knee abduction moments (r = −.442), greater peak knee abduction angles (r = .355), and less peak knee flexion angles (r = .385) during landing. The range of dorsiflexion flexibility for the current study was between 9° and 23° (mean = 15.0°; SD 3.9°).
Conclusion
Dorsiflexion flexibility may serve as a useful clinical measure to predict poor landing postures and external forces that have been associated with increased knee injury risk. Rehabilitation specialists can provide interventions aimed at improving dorsiflexion flexibility in order to ameliorate the impact of this modifiable factor on deleterious landing kinematics and kinetics in female athletes.
Level of evidence
II.
Access options
Buy single article
Instant access to the full article PDF.
USD 39.95
Price includes VAT (USA)
Tax calculation will be finalised during checkout.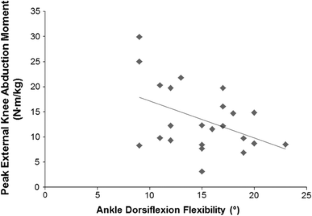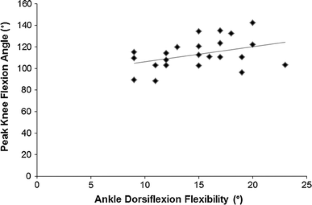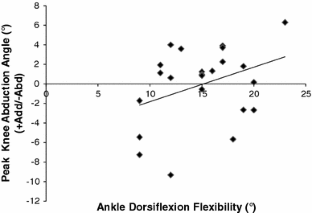 References
1.

Agel J, Klossner D (2014) Epidemiologic review of collegiate ACL injury rates across 14 sports: National Collegiate Athletic Association injury surveillance system data 2004–2005 through 2011–2012. Br J Sports Med 48:560

2.

Alentorn-Geli E, Myer GD, Silvers HJ, Samitier G, Romero D et al (2009) Prevention of non-contact anterior cruciate ligament injuries in soccer players: part 1: mechanisms of injury and underlying risk factors. Knee Surg Sports Traumatol Arthrosc 17: 705–729

3.

Arendt E, Dick R (1995) Knee injury patterns among men and women in collegiate basketball and soccer: NCAA data and review literature. Am J Sports Med 23:694–701

4.

Bell DR, Padua DA, Clark MA (2008) Muscle strength and flexibility characteristics of people displaying medial knee displacement. Arch Phys Med Rehab 89:1323–1328

5.

Caulfield B, Garrett M (2004) Changes in ground reaction force during jumping in subjects with functional instability of the ankle joint. Clin Biomech 19:617–621

6.

Delahunt E, Monaghan K, Caulfild B (2006) Changes in lower limb kinematics, kinetics, and muscle activity in subjects with functional instability of the ankle joints during a single leg drop jump. J Orthop Res 24:1991–2000

7.

Faul F, Erdefelder E, Buchner A, Lang AG (2009) Statistical power analysis using G*Power 3.1: tests for correlation and regression analyses. Behav Res Methods 41:1149–1160

8.

Fong C, Blackburn JT, Norcross MF, McGrath M, Padua DA (2011) Ankle-dorsiflexion range of motion and landing biomechanics. J Athl Train 46:5–10

9.

Geiser CF, O'Connor KM, Earl JE (2010) Effects of isolated hip abductor fatigue on frontal plane knee mechanics. Med Sci Sports Exerc 42:535–545

10.

Griffin LY, Albohm MJ, Arendt EA et al (2006) Understanding and preventing noncontact anterior cruciate ligament injuries: a review of the Hunt Valley meeting, January 2005. Am J Sports Med 34:1512–1532

11.

Grood ES, Suntay WJ (1983) A joint coordinate system for the clinical description of three-dimensional motions: application to the knee. J Biomech Eng 105:136–144

12.

Gwinn DE, Wilckens JH, McDevitt ER, Ross G, Kao T (2000) The relative incidence of anterior cruciate ligament injury in men and women at the United States Naval Academy. Am J Sports Med 28:98–102

13.

Hewett TE, Lindenfeld TN, Riccobene JV, Noyes FR (1999) The effect of neuromuscular training and the incidence of knee injury in female athletes: a prospective study. Am J Sports Med 27:699–706

14.

Hewett TE, Myer GD, Ford KR et al (2005) Biomechanical measures of neuromuscular control and valgus loading of the knee predict anterior cruciate injury risk in female athletes: a prospective study. Am J Sports Med 33:492–501

15.

Hewett TE, Torg JS, Boden BP (2009) Video analysis of trunk and knee motion during non-contact anterior cruciate ligament injury in female athletes: lateral trunk and knee abduction motion are combined components of the injury mechanism. Br J Sports Med 43:417–422

16.

Hootman JM, Dick R, Agel J (2007) Epidemiology of collegiate injuries for 15 sports: summary and recommendations for injury prevention initiatives. J Athl Train 42:311–319

17.

Ishida T, Yamanaka M, Takeda N, Aoki Y (2014) Knee rotation associated with dynamic knee valgus and toe direction. Knee 21:563–566

18.

Kristianslund E, Faul O, Myklebust G, Krosshaug T (2014) Sidestep cutting technique and knee abduction loading: implications for ACL prevention exercises. Br J Sports Med 48:779–783

19.

Levine JW, Kiapour AM, Quatman CE, Wordeman SC, Goel VK, Hewett TE, Demetropoulus CK (2013) Clinically relevant injury patterns after an anterior cruciate ligament injury provide insight into injury mechanisms. Am J Sports Med 41:385–395

20.

Macrum E, Bell DR, Boling M, Lewek M, Padua D (2012) Effect of limiting ankle-dorsifleixon range of motion on lower extremity kinematics and muscle activation patterns during a squat. J Sports Rehabil 21:144–150

21.

Mandelbaum BR, Silvers HJ, Watanabe DS et al (2005) Effectiveness of a neuromuscular and proprioceptive training program in preventing anterior cruciate ligament injuries in female athletes: 2-year follow up. Am J Sports Med 33:1003–1010

22.

Markolf KL, Burchfield DM, Shapiro MM, Shepard MF, Finerman GAM, Slauterbeck JL (1995) Combined knee loading states that generate high anterior cruciate ligament forces. J Orthop Res 13:930–935

23.

Mauntel TC, Begalle RL, Cram TR, Frank BS, Hirth CJ, Blackburn T, Padua DA (2013) The effects of lower extremity muscle activation and passive range of motion on single leg squat performance. J Strength Cond Res 27:1813–1823

24.

Myklebust G, Engebretsen L, Braekken IH, Skjolberg A, Olsen OE, Bahr R (2003) Prevention of anterior cruciate ligament injuries in female team handball players: a prospective intervention study over three seasons. Clin J Sports Med 13:71–78

25.

Quatman CCE, Kiapour AM, Demetrropoulus CK, Kiapour A, Wordeman SC, Levine JW, Goel VK, Hewett TE (2014) Preferential loading of the ACL compared with the MCL during landing: a novel sim approach yields multiplanar mechanisms of dynamic valgus during ACL injury. Am J Sports Med 42:177–186

26.

Padua DA, Bell DR, Clark MA (2012) Neuromuscular characteristics of individuals displaying excessive medial knee displacement. J Athl Train 47:525–536

27.

Sigward SM, Ota S, Powers CM (2008) Predictors of frontal plane knee excursion during a drop land in young female soccer players. J Orthop Sports Phys Ther 38:661–667

28.

Stevenson JH, Beattie CS, Schwartz JB, Busconi BD (2014) Assessing the effectiveness of neuromuscular training programs in reducing the incidence of anterior cruciate ligament injuries in female athletes: a systematic review. Am J Sports Med. doi:10.1177/0363546514523388

29.

Withrow TJ, Huston LJ, Wojyts EM, Ashton-Miller JA (2006) The effect of an impulsive knee valgus moment on in vitro relative ACL strain during a simulated landing task. Clin Biomech 21:977–983

30.

Withrow TJ, Huston LJ, Wojyts EM, Ashton-Miller JA (2006) The relationship between quadriceps muscle force, knee flexion, and anterior cruciate ligament strain in an in vitro simulated jump landing. Am J Sports Med 34:269–274
Acknowledgments
The authors would like to acknowledge support through the National Center for Advancing Translational Sciences, National Institutes of Health, Grant Number 8UL1TR000055.
Conflict of interest
No disclosures or conflicts of interest to report.
Additional information
This study was approved by the Institutional Review Board at Marquette University.
About this article
Cite this article
Malloy, P., Morgan, A., Meinerz, C. et al. The association of dorsiflexion flexibility on knee kinematics and kinetics during a drop vertical jump in healthy female athletes. Knee Surg Sports Traumatol Arthrosc 23, 3550–3555 (2015). https://doi.org/10.1007/s00167-014-3222-z
Received:

Accepted:

Published:

Issue Date:
Keywords
ACL injury

Ankle flexibility

Kinematics

Kinetics

Landing mechanics